A classic matchup for two top U-18 girls' teams in Jefferson Cup opener
By Jimmy LaRoue
For the VSA Heat Blue and PDA Crush Under-18 players, it would seem that, on the surface, they have little to play for at the Jefferson Cup.
After all, all but one VSA Heat Blue player has committed to playing for an NCAA Division I college, and all of PDA Crush's players are college bound.
But many of them have been playing together for their club teams for the last four years or more, and this is their last go-around before they all go their separate ways, so there's the matter of creating even more memories together.
The games also continue to ready the players for the upcoming rigors of college soccer.
These two teams, who have seen each other at tournaments in previous years, are familiar with each other, and evenly matched at that, being two of the top U-18 club teams in the nation, so it was no surprise that the game ended in a scoreless tie.
Still, that didn't mean the match was devoid of action. On the contrary, the skill that has led the myriad college coaches to take on these players in their programs was evident, as PDA pushed the action in the first half, trying to keep possession and play balls to forward diagonally or over the top, only for VSA's stalwart back line thwarting the Crush in the final third.
"Their back line is very good," said PDA Crush coach John Jenks of VSA's defenders. "They were very solid, especially in the first half and toward the end of the second half, just sliding in and making defensive plays and stopping our attack and our midfielders."
Jenks, with just one reserve, wanted his players to keep everything in front of them and not allow balls over the top or allow their midfielders or forwards to get behind their defense. He said his midfield did a good job of closing VSA down and not allowing their attacking players to run at them, with its own back line holding firm.
"We tried to do a good job of that and keep our shape, but we got tired in the second half," Jenks said. "They're a good team, and they have some good players and overall they did a good job with it."
In the second half, VSA took advantage of PDA's lack of depth and pushed the play, spreading the ball around and finding seams to attack up the right side, putting in dangerous crosses but finding their shots errant in the end.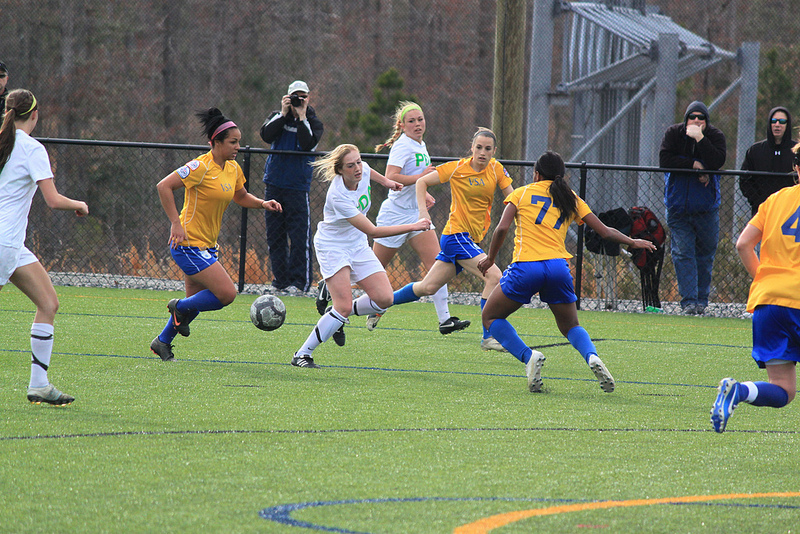 "The game definitely changed its momentum from first to second half, and we kind of expected it with the wind going against us and then again, them being a good team," Jenks said. "But overall, the girls, they're fighters, and we've got some good players ourselves, so it was, just a couple of chances at the end, I felt, we could have done a little better on."
PDA ended up with the best opportunity late in the match, as forward Katelyn Walters put a ball in the box for forward Madison Tiernan – both of whom will be teammates at Rutgers in the fall – only for her shot to be parried away by the left-hand of VSA's Taylor Kerxton, committed to Wake Forest.
Jenks said with PDA's season just getting underway, he wants to build on the solid performance in game one of the Jefferson Cup, as the Crush gets a couple of more players in Saturday and push possession, still keeping an eye for the next time the two teams meet.
"It's a great matchup, and every time we play them it's a good game, " Jenks said. "We look forward to it. They look forward to it. And we'll probably see them again in Region I. We're looking forward to that too."
Score:
VSA Heat Blue   0–0––0
PDA Crush           0–0––0
Goal scorers: None
Stats
Shots                          
VSA Heat Blue          1–4––5
PDA Crush                6–4––10
Shots on goal            
VSA Heat Blue         0–0––0
PDA Crush                2–2––4
Fouls                      
VSA Heat Blue          3–1––4
PDA Crush                  2–2––4
Corners   
VSA Heat Blue          1– 1–– 2
PDA Crush                  3– 0 ––3
Saves                          
VSA Heat Blue          2– 2––4
PDA Crush                  0–0––0
Bookings: None
Lineups:
VSA Heat Blue – Starters: 11-Taylor Kerxton; 15-Autumn Berry, 4-Meghan Cox, 3-Caitlin Hite, 77-Haley Roberson; 5-Alexa Wagoner, 2-Ivana Szwejkowski, 23-Lindsey Egbers; 7-Cassidy Mercier, 99-Vanessa Kovar, 33-Savannah Miller; Reserves: 1-Tori Buress, 10-Daniela Neves, 34-Christina Corbin, 9-Quincy Slora
PDA Crush – Starters: 18-Melissa Gall; 77-Elianna DeCarlo, 99-Kristin Sullivan, 5-Abbey Romano, 15-Erin Smith; 7-Julie Spracklin, 9-Nicole Varela, 12-Victoria Prager, 22-Olivia Blaber; 73-Madison Tiernan, 8-Katelyn Walters; Reserve: 3-Iris Dayton