40 of 96 teams clinch US Youth Soccer National Championships berths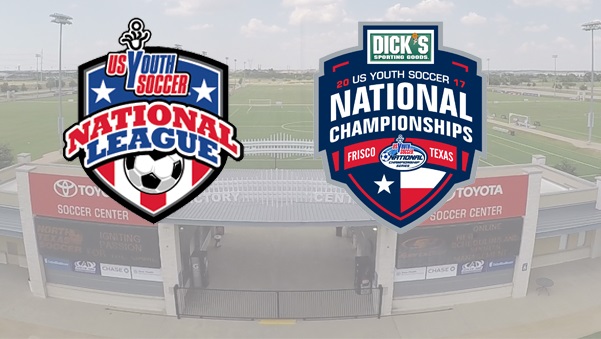 FRISCO, Texas (Via US Youth Soccer) — US Youth Soccer has announced the US Youth Soccer National League 15U, 16U, 17U, 18U and 19/20U Boys and Girls teams that have qualified to compete in the 2017 US Youth Soccer National Championships, which are being held July 24-30 in Frisco, Texas.
Just six teams clinched their position as division champions prior to the final weekends of play in March in Las Vegas, where the remaining division champions were crowned. Of the 27 National League titles captured during play in Las Vegas, 13 were decided on the respective final day of the boys' and girls' seasons — showcasing the league's depth of talent.
+READ: US Youth Soccer National League Girls cap off season in Las Vegas
By way of their success in the 2016-17 US Youth Soccer National League, the division winners in each age group, along with second-place finishers in the 15U and 19/20U age groups, have earned a direct path to the National Championships. Annually, the final leg of the competition provides the opportunity for additional exposure to collegiate and national staff scouts and the chance to capture the National Championship title in their respective age group.
2016-17 National League representatives for the 2017 US Youth Soccer National Championships
15U Girls
Blue Champion: Nationals Union 02 Black (MI)
Blue Runner-up: Legends FC 02 Academy 1 (CA-S)*
Red Champion: Cincinnati United Premier Gold (OH-S)*
Red Runner-up: La Roca-PO 02 (UT)*
16U Girls
Black Champion: Florida Elite 2001 (FL) *
Blue Champion: Michigan Jaguars 01 Green (MI)
Red Champion: CUP Gold 01 (OH-S)
White Champion: Legends FC 01 Academy (CA-S)*
+READ: US Youth Soccer National League Boys wrap up season in Las Vegas
17U Girls
Black Champion: CUP 00 Gold (OH-S)*
Blue Champion: Midwest United FC 00 Royal (MI)#
Red Champion: Scottsdale Blackhawks Taylor (AZ)*
White Champion: Legends FC 00 Academy (CA-S)*
18U Girls
Black Champion: Nationals Union 99 Black (MI)*
Blue Champion: TSC Showcase (TN)*
Red Champion: Legends FC 99 Academy (CA-S)*
White Champion: FC Pennsylvania Strikers (PA-E)
19/20U Girls
Blue Champion: Beach FC 98 Academy (CA-S)*
Blue Runner-up: Team Chicago Academy 1998 Elite (IL)*
Red Champion: YMS Premier Xplosion 98 (PA-E)*#
Red Runner-up: 98 CR Academy (NC)
15U Boys
Blue Champion: Boca Juniors OC 02 White (CA-S)*
Blue Runner-up: Solar Chelsea Red 02 Stricker (TX-N)*
Red Champion: Midwest United FC 02 Royal (MI)*
Red Runner-up: St. Louis Scott Gallagher SC Elite (MO)*
16U Boys
Black Champion: Raiders FC (IL)*
Blue Champion: CUP Gold 01 (OH-S)*
Red Champion: Lobos Rush 01 Premier (TN)
White Champion: LVSA 01 Red (NV)*
17U Boys
Black Champion: McLean 00 Green (VA)#
Blue Champion: West Coast FC Armour 2000 (CA-S)*
Red Champion: Raiders FC (IL)*
White Champion: Sparta 00 JK (UT)*
18U Boys
Black Champion: OP Green (OH-S)*
Blue Champion: BRYC 99 Elite (VA)*
Red Champion: WPFC 99 Black (WA)*
White Champion: CUP 99 Gold (OH-S)*
19/20U Boys
Blue Champion: Chicago Fire Juniors South (IL)*
Blue Runner-up: Challenger Crew Jrs Gold 98 (OH-N)*
Red Champion: Penn Fusion 98 (PA-E)
Red Runner-up: FC United (IL)*
*Qualified during final weekend in Las Vegas
# Defending National Champion
By US Youth Soccer State Association: California-South (7), Ohio-South (6), Illinois (5), Michigan (5), Eastern Pennsylvania (3), Tennessee (2), Utah (2), Virginia (2), Arizona (1), Florida (1), Missouri (1), Nevada (1), North Carolina (1), North Texas (1), Ohio-North (1) and Washington (1)