2012 ACC Men's Soccer Championship field set, organizers urge advance ticket ordering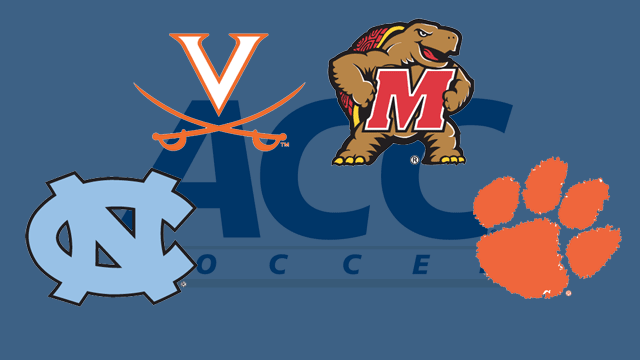 GERMANTOWN, MD. – Following an ACC Tournament first round which saw two one-goal matches and the other two matches being decided in penalty kicks, it will be No. 2 Maryland taking on Clemson and No. 3 North Carolina facing Virginia in the semifinals on Friday evening at the Maryland SoccerPlex.
The Tarheels won 1-0 over Duke Tuesday in the first round and will travel to the Maryland SoccerPlex to play Friday's opening match of the semifinals at 5:30 p.m. against the Cavaliers, who defeated No. 18 Wake Forest in PK's after playing to a 2-2 draw in regulation and two overtime periods with the strongly favored Demon Deacons.
The top-seeded Terps defeated ninth-seeded Virginia Tech 2-1 Tuesday in the quarterfinals and will make the short trip to the SoccerPlex from College Park to play the No. 4 seed Tigers, 0-0 PK winners over fifth seed Boston College, in the night cap at 8 p.m. on Friday night.
In a match also scheduled to be held at Maryland SoccerPlex Stadium, the winners of the semifinal matches will square off Sunday at noon in the ACC Championship Final with an automatic NCAA Tournament bid and a conference title on the line.
 (Order ACC Championship tickets at: https://tickets.mdsoccerplex.org/)
With local fan favorites Maryland and UVA entering the semifinals on different sides of the bracket, Maryland SoccerPlex organizers expect large crowds at both matches Friday evening and are encouraging fans to use the venue's new sophisticated e-ticketing software in lieu of walk-up box office purchases.
"We don't want fans making the trip to the stadium only to be turned away if we don't have the tickets to sell." Said Trish Heffelfinger, who oversees stadium operations as executive director of the Maryland Soccer Foundation, "Ordering online not only saves money for fans, a successful purchase online will ensure they are admitted to the stadium."
Heffelfinger's concerns are well-founded given the SoccerPlex sold out the 2006 edition of the same ACC Tournament without offering online sales in advance.
Ordering online in advance will provide fans with a self-printable eTicket, enabling them to go directly to a stadium gate equipped with the SoccerPlex's new bar code scanners. Online purchasers will also save $5 and $3 per day for adult and youth tickets respectively, with even deeper discounts available when purchasing a package including both game days.
Weekend passes admit entry into both of Friday's semifinal matches and Sunday's championship match, with online pricing just $17.50 for adults and $10.50 for youth, a savings of $7.50 and $4.50, respectively from game day sales. Online tickets for just the semifinal round cost $10 for adults and $7 for youth which also provide savings of at least 30 percent relative to game day pricing. ACC Student pricing is $5 both online and at the stadium while supplies last, with purchasers required to show a current ACC student ID for each ticket. ACC Students may order online in advance as well, but will have to show ID at the gates to gain entry.
In 2011, the North Carolina Tarheels defeated Boston College 3-1 in the ACC Championship and would go on to become National Champions after a remarkable run in the College Cup. Don't miss out on what may be the start of another magical title run for the defensively dominant Tarheels, the favorite Terps or dark horses Clemson and UVA playing for the automatic NCAA Tournament bid.