Jeff Cup: Congestion complicates life for NEFC Elite U17s
By Charles Boehm
RICHMOND, Va. – A full day's drive down one of the most heavily used highways in the world is not the ideal pregame preparation, yet that's what the New England FC Elite Under-17 squad had to contend with before their Jefferson Cup showcase match against McLean MPS Fury Green '95 (Va.) on Friday afternoon.
The Massachusetts side traded blows with their Virginia counterparts on the manicured grass surface at the West Creek fields, but no one could find the net as the contest ended 0-0, prompting mixed feelings on both sides.
"We're struggling to put the ball in the net, [but] w're playing well, we're carrying the play on most of our opponents," said NEFC Elite coach Carl Tarabelli. "Unfortunately a lot of our kids drove down today. After nine hours in the car, we didn't have our legs, really, today."
Most out-of-state Jeff Cup participants arrive the night before their first match, but with a 4:20 p.m. kickoff, the decision taken by some NEFC parents to save on Thursday night hotel costs was understandable, and one that many soccer moms and dads would have taken.
Unfortunately, Friday's traffic on Interstate 95 was even worse than usual, with heavy congestion throughout the Mid-Atlantic region, to say nothing of the bridge work that is presently snarling parts of I-95 closer to downtown Richmond.
"Actually one [player] came as the game started and three came 20 minutes before," said Tarabelli. "I would've liked them here the night before, but you know, the cost of all these tournaments that we're going to kind of adds up, between Disney [Soccer Showcase in Fla.], CASL [Showcase in N.C.] and here – So I can understand why the parents are trying to do that. But we felt it."
For their part, McLean Fury Green were not at full strength thanks to injuries, and coach Brent Leiba professed his satisfaction with the draw given that fact. Tarabelli feels improvement is needed on days two and three.
"They're a quality team, they're ranked a little bit higher than us," said Tarabelli of Fury Green, "so we played good enough to get the draw, not good enough to win.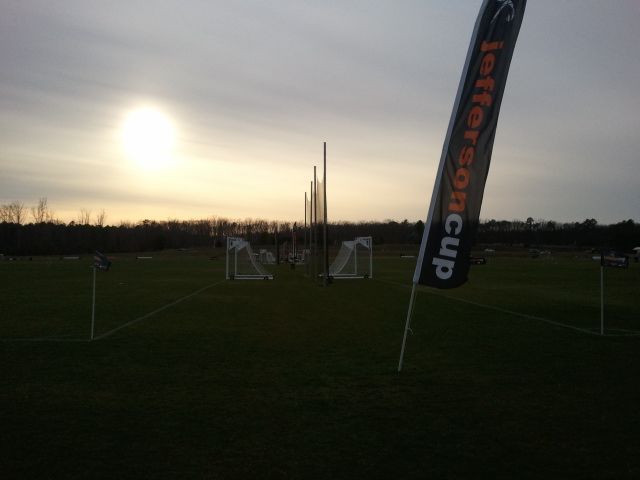 "We can play better, we didn't possess the ball as much as I'd like. Especially in the second half against the wind, I was hoping we'd keep the ball on the ground and ping it around, but they rushed it a little bit. But this is quality competition, a great tournament."
Several college scouts watched the match, but for teams at this level of competition – in addition to regular appearances in top national tournaments, both teams made deep runs in their respective State Cup tournaments and NEFC finished well in the Region I Northeast League – that's become a familiar routine.
"They're used to it," said Tarabelli. "The coaches have all seen them. Pretty much, they know where they want to go and the coaches are looking at them for the last time here. Last year they did a lot of showcase tournaments as [U-]16s so they're not as nervous.
"Now they're used to seeing these coaches on the sidelines, and they get to know them, so it works out well."