120 athletes identified, developed at US Club Soccer id2 Training Camp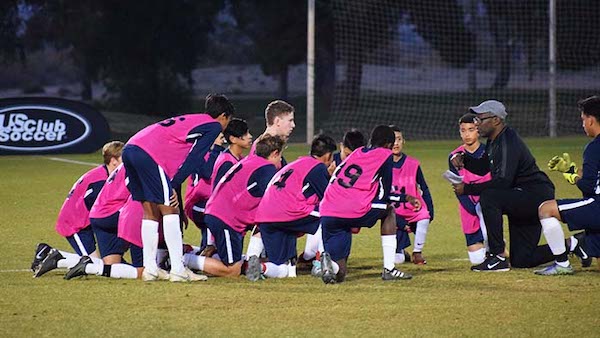 Rosters – Boys / Girls | Photos | Daily log | usclubsoccer.org/id2
CASA GRANDE, ARIZ. (Via US Club Soccer) – The third and final id2 Training Camp of the 2018 cycle targeting 2005 boys and 2004-05 girls was held December 6-9, at Grande Sports World in Casa Grande, Arizona. A total of 60 boys and 60 girls attended the camp, hailing from 71 clubs across 24 states, ranging from Hawaii to New York. The athletes participated in training sessions and classroom sessions each day, including multiple on-field sessions on Friday and Saturday, as well as being treated to presentations from coaches throughout the four-day camp.
The on-field sessions emphasized both technical and tactical principles, such as dribbling, passing, attacking shape and building out of the back. After the second day of camp, the teams were shuffled ahead of the last matches, played on Saturday evening for the girls players and Sunday morning for the boys.
The classroom sessions ranged from presentations on scouting focus and priorities, positioning and maintaining the balance of a competitive, ambitious – yet, healthy, mentality. Players First partner Beyond Pulse was also on-site to provide the athletes with player monitoring smart belt technology, and Mark Wilson, co-founder and former Manchester United midfielder, presented the players with an analysis of their data recorded throughout the weekend.
+READ: Youth and High School Coaches of the Year announced for 2018
Id2 boys program director Gerry McKeown and girls program director Tricia Taliaferro were on-site to implement and oversee the id2 curriculum. Filling out the boys coaching staff was: Mutanda Kwesele (Snohomish United), Ian Mork (NorCal Premier), Tyler Stakiwicz (PDA), Tom Shields (STA) and Robert Smith Jr. (Philadelphia Union).  The girls were coached by: Victoria Corsaro (Keeper Institute), George Fotopoulos (Tampa Bay United), Russell Gee (Challenge Soccer Club), Scott Parkinson (Utah Royals) and David Robertson (Davis Legacy SC). Leo Garcia, NPL General Manager and US Club Soccer Vice President of Competitions, was also on-site to oversee the camp.
With this year's 2005 boys and 2004-05 girls cycle now complete, US Club Soccer will invite top performers from the previous three id2 training camps to participate in id2 National Selection programming. Eighteen boys from this cycle will be invited to the 2019 id2 National Selection International Tour this Spring, while US Club Soccer and ECNL will co-host a domestic camp for the girls id2 National Selections in the summer.