Which youth clubs had the most U.S. Youth WNT call-ups in 2018?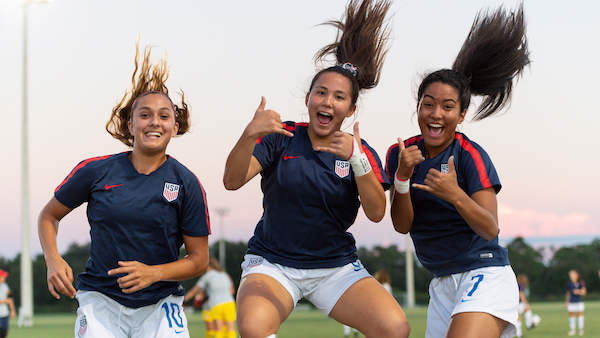 A total of 17 youth clubs across the country had at least five current players earn U.S. Girls' and Women's National Team call-ups during the year 2018. Of those 17, four clubs – NTH Tophat (GA), So Cal Blues (CA), Solar SC (TX) and San Jose Earthquakes Academy (CA) – saw 10 or more of their female players named to U.S. National Team rosters.
See below for a look at the clubs which saw five or more players earn call-ups in 2018.
*Players listed by club affiliation at time of National Team call-up. Some players who completed their freshman season of college soccer in Fall 2018 are included, having played club soccer earlier in 2018.
NTH Tophat: 12
| | | | |
| --- | --- | --- | --- |
| First | Last | Pos. | Team(s) |
| Madeline | Baker | D | U14 |
| Isabella | Briede | M | U19 |
| Baleigh | Bruster | D | U15, U16 |
| Talia | DellaPeruta | D | U17 |
| Maggie | Graham | M | U16 |
| Regan | Lundstedt | F | U14 |
| Arianna | Manrique | F | U15, U16 |
| Ayo | Oke | D | U15, U16 |
| Brianna | Pinto | M | U19, U20 |
| Ella | Shamburger | M | U18 |
| Evelyn | Shores | D | U14, U15 |
| Natalia | Staude | D | U17 |
So Cal Blues: 12
| | | | |
| --- | --- | --- | --- |
| First | Last | Pos. | Team(s) |
| Isabella | D'Aquila | F | U17 |
| Madelyn | Desiano | D | U18, U19 |
| Riley | Gleason | M | U15 |
| Penelope | Hocking | F | U19, U20 |
| Jayde | Holley | D | U15 |
| Annie | Karich | M | U15 |
| Tabitha | LaParl | D | U16 |
| Josephine | Master | F | U15 |
| Trinity | Rodman | F | U17 |
| Reilyn | Turner | F | |
| Cassandra | Villanueva | F | U14 |
| Kennedy | Wesley | D | U17 |
Solar SC: 12
| | | | |
| --- | --- | --- | --- |
| First | Last | Pos. | Team(s) |
| Emily | Cox | D | U15 |
| Makhiya | McDonald | F | U15 |
| Macy | Blackburn | D | U15 |
| Messiah | Bright | D | U18 |
| Treasure | Byars | F | U14 |
| Trinity | Byars | F | U15, U16, U17 |
| Georgia | Leb | D/M | U14 |
| Samantha | Meza | F | U17 |
| Alexis | Missimo | M | |
| Olivia | Ramsey | GK | U14 |
| Abby-Lee | Sango | D | U14 |
| Sydney | Simmons | M | U20 |
San Jose Earthquakes Academy: 10
| | | | |
| --- | --- | --- | --- |
| First | Last | Pos. | Team(s) |
| Jasmine | Aikey | F | U14 |
| Abigail | Borchers | F | U16 |
| Elise | Evans | D | U14, U15 |
| Mia | Fontana | F | U17, U19 |
| America | Frias | F | U14, U15 |
| Sophia | Jones | M | U17 |
| Kathryn | Kelly | D | U14 |
| Yuna | McCormack | M | U14, U15 |
| Jadyn | Shinn | M | U17, U18 |
| Alexandra | Thompson | F | U15 |
Concorde Fire: 7
| | | | |
| --- | --- | --- | --- |
| First | Last | Pos. | Team(s) |
| Croix | Bethune | M | U17 |
| Anna | Castenfelt | M | U14 |
| Madison | Haugen | D | U17 |
| Maria | Kemp | GK | U15 |
| Amber | Nguyen | F | U16 |
| Nicole | Payne | D/F | U17, U18, U19 |
| Astrid | Wheeler | M | U17, U19 |
San Diego Surf: 7
| | | | |
| --- | --- | --- | --- |
| First | Last | Pos. | Team(s) |
| Sadie | Dunphy | D | U15 |
| Mia | Fishel | M | U17 |
| Nya | Harrison | D | U16 |
| Madison | Mercado | M | U17 |
| Isabella | Piete | M | U15 |
| Nona | Reason | GK | U14, U15 |
| Maggie | Taitano | D | U14 |
Eclipse Select SC: 6
| | | | |
| --- | --- | --- | --- |
| First | Last | Pos. | Team(s) |
| Ainsley | Ahmadian | F | U17 |
| Hannah | Bebar | M | U17 |
| Isabella | Cook | M | U17, U18, U19 |
| Emma | Phillips | D | U15 |
| Carol | Soto | F | U15 |
| Kalyssa | Van Zanten | F | U17 |
Internationals SC: 6
| | | | |
| --- | --- | --- | --- |
| First | Last | Pos. | Team(s) |
| Jordan | Brewster | D | U19, U20 |
| Sydney | Dawson | D | U18, U19 |
| Taylor | Huff | F | U16 |
| Olivia | Petit | D | U19 |
| Loren | Sefcik | F | U18 |
| Emma | Stransky | M | U14 |
Legends FC: 6
| | | | |
| --- | --- | --- | --- |
| First | Last | Pos. | Team(s) |
| Mikayla | Abrencia | M | U14 |
| Courtney | Boone | D | U15, U16 |
| Lindsey | Chau | D | U14 |
| Ally | Lemos | F | U14 |
| Madison | Perez | D | U16 |
| Kali | Trevithick | F | U18, U19 |
Real Colorado: 6
| | | | |
| --- | --- | --- | --- |
| First | Last | Pos. | Team(s) |
| Juliauna | Hayward | M | U14, U15 |
| Shae | Holmes | D | U19 |
| Jaelin | Howell | M | U19, U20 |
| Halle | Mackiewicz | GK | U17, U19 |
| Taeya | Schueppert | F | U17 |
| Sophia | Smith | F | U19, U20 |
SC Del Sol: 6
| | | | |
| --- | --- | --- | --- |
| First | Last | Pos. | Team(s) |
| Rachael | Black | GK | U17 |
| Maggie | Cagle | M | U14, U15 |
| Kate | Faasse | F | U14 |
| Sophia | Fisher | D | U15 |
| Makayla | Roe | D | U19 |
| Farrah | Walters | F | U15 |
Seattle Reign Academy: 6
| | | | |
| --- | --- | --- | --- |
| First | Last | Pos. | Team(s) |
| Lauren | Chin | M | U14 |
| August | Hunter | D | U15 |
| Smith | Hunter | D | U17 |
| Alexandra | Schoenstadt | D | U14 |
| Ava | Uribe | F | U14 |
| Sakura | Yoshida | M | U18, U19 |
Beach FC: 5
| | | | |
| --- | --- | --- | --- |
| First | Last | Pos. | Team(s) |
| Taylor | Bloom | D | U14 |
| Sierra | Castles | M | U18 |
| Emma | Egizii | M | U15, U16 |
| Onyeka | Gamero | F | U14 |
| Olivia | Moultrie | M | U14, U15 |
FC Dallas Youth: 5
| | | | |
| --- | --- | --- | --- |
| First | Last | Pos. | Team(s) |
| Samar | Guidry | D | U16, U17 |
| Jordyn | Gunnarson | GK | U15 |
| Diana | Ordoñez | F | U17, U18 |
| Jayme | Ramirez | F | U14 |
| Jaedyn | Shaw | F | U14, U15 |
MVLA: 5
| | | | |
| --- | --- | --- | --- |
| First | Last | Pos. | Team(s) |
| Joelle | Jung | M | U14 |
| Karlie | Lema | F | U15 |
| Allison | Montoya | D/F | U14, U15 |
| Leah | O'Brien | F | U14 |
| Charis | Toney | D | U14 |
NC Courage Academy: 5
| | | | |
| --- | --- | --- | --- |
| First | Last | Pos. | Team(s) |
| Peyton | Goldthwaite | F | U16 |
| Katie | Groff | D | U16 |
| Tori | Hansen | D | |
| Shea | O'Malley | D | U15 |
| Elaine | Rouse | D | |
West Coast FC: 5
| | | | |
| --- | --- | --- | --- |
| First | Last | Pos. | Team(s) |
| Noelle | Bond-Flasza | M | U15 |
| Annabella | Folino | M | U18 |
| Delanie | Sheehan | M | U18, U19, U20 |
| Teagan | Wy | GK | U14, U15 |
| Leila | Yee | D | U14 |
College Recruiting Commitment Tracker