Players That Impressed: February 2021 (Boys)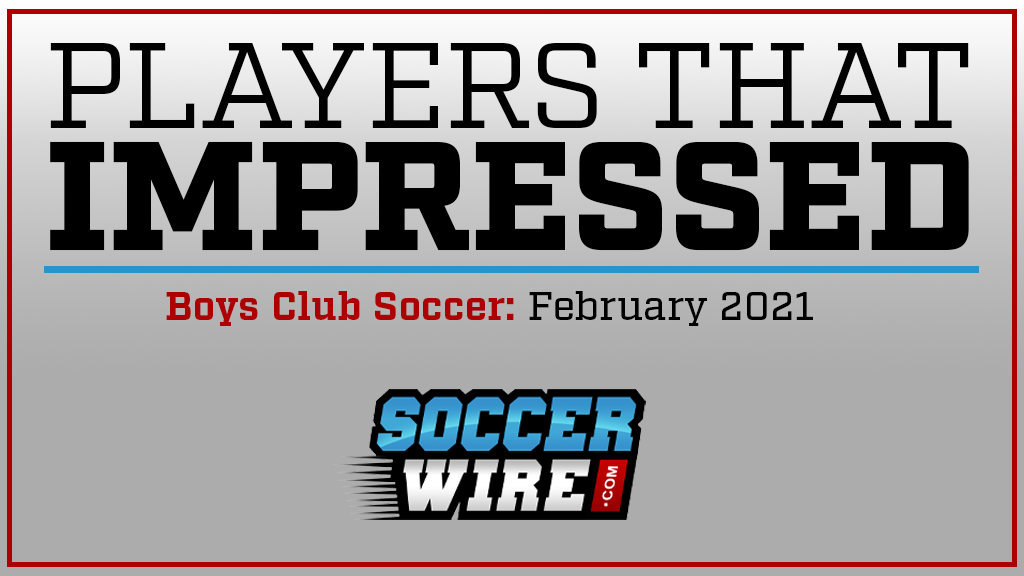 With club soccer back in action across the country in 2021, SoccerWire is re-launching its 'Players That Impressed' feature.
Each month, youth soccer players who stood out for their teams will be highlighted on a rolling basis. Coaches, parents and athletes are invited to submit nominations for up to two (2) players per team in a given month.
See below for a listing of Boys Players That Impressed so far in February 2021.
[Submit Your 'Players That Impressed']
—
Eliel Estrada | Forward
Inter Miami CF U-13 (FL)
High-energy play paid off for Estrada, highlighted by a remarkable individual effort in which an interception at the top of the box led to a quick goal for the talented forward.
—
Sebastian Bourget | Midfielder
North Carolina FC U-13 (NC)
Spearheaded the NCFC offense by turning in a hat trick during his team's 6-2 win over NC Fusion.
—
Kai Tamashiro | Forward
IMG Academy U-16 (FL)
Netted both goals for IMG Academy in their 2-1 victory over Weston FC.
—
Nate Kennedy | Goalkeeper
IMG Academy U-16 (FL)
Secured a pair of clean sheets over the last two weekends, holding Chargers and South Florida Football Academy off the scoreboard.
—
Andre Gitau | Midfielder
Houston Dynamo U-16 (TX)
Powered the Houston attack with a brace as they began the spring season with a 3-1 victory in MLS NEXT action.
—
Italo Addimandi | Forward
Inter Miami CF U-17 (FL)
Found the net with an impressive lunging volley after making a long, patient run down the field in his successful spring season debut.
—
Drew Kerr | Midfielder
North Carolina FC U-17 (NC)
Finished a wild 4-4 match against NC Fusion with a hat trick, as NCFC came back from a 3-1 deficit to earn a draw.
—
Joseph Farouz | Forward
Houston Dynamo U-17 (TX)
Notched a hat trick in MLS NEXT competition against RISE SC, helping his squad open the spring campaign with a 7-0 rout.
—
Reese Miller | Defender
Houston Dynamo U-17 (TX)
Played a key role on the Dynamo back line during their dominant clean sheet effort against RISE SC.
—
Coleman Gannon | Midfielder
Atlanta United U-19 (GA)
Sparked Atlanta's offense with a brace against SSA in MLS NEXT league play.
—
Logan Erb | Goalkeeper
Houston Dynamo U-19 (TX)
Tallied his first clean sheet of the spring vs. RISE SE in a hard-fought scoreless draw, landing him on Houston's Team of the Week.
College Recruiting Commitment Tracker