LeBolt: For America to win a World Cup, we have to do the one thing we can't bear

Thank goodness we lost. Now we can address this unsightly "respect" issue and get on about the business of winning. That's what I hear from Jurgen Klinsmann who is calling on his USA players to "toughen their mental approach" as he sets course for the 2018 FIFA World Cup.
"I think there is a little bit too much respect when it comes to the big stage," he said. "I don't know how many years that takes to change but it's something we have to go through. The players have got to realize they have to take it to the opponent."
Yes, this is what parents yell at their kids every weekend on the pitch. Get her! Don't let him push you like that! This aggression quickly turns its attention to the referee, the opponent and sometimes the child who has not lived up to expectations. As parents we are an odd dichotomy of rescue and indictment. Both of these personas undermine the confidence of our soccer-playing kids, and open the door to fear. On the one hand, they fear under-performing for their competition-driven parents. On the other, they fear facing the internal truth that they actually are not better than the other team, something that our 'preserve their self-esteem' child-rearing culture has equated with good parenting. Fear wins every time.
[ +READ: World Cup Competition: The best and worst we can be]
Klinsmann wants to field players who will play without fear from the opening whistle. Jurgen's "proactive, inventive, creative" offense seems a long way off because America is not growing those players. Kudos to Klinsmann who didn't take long to see that this is ingrained in our soccer development system. This has to change, he says, but it may take some time to work its way through the ranks. Lasting change requires us to address the cause of the problem.
The problem: we don't handle losing well. The solution: we need to let our kids lose. As hard as it is, we must let them fail, without excuses and without shifting blame.
That may sound bleak, but actually it's a positive message. In fact, if you ask successful athletes about the turning point in their athletic careers, you hear this again and again. 'The moment I became a champion was the moment I was defeated and chose to rise from it."
[ +READ: MLS academy system needs revamp to be stronger feeder to USMNT]
For me it was on the golf course. (I know, is golf even a sport? but bear with me here) I am 12 years old and have just "graduated" to play on the "big 18" after winning the 9-hole championship the year before. I qualify for the (U-18) junior club championship and find myself paired with the reigning champion, Michelle. At 18 and headed off to college in the fall, she has won the tournament the last 4 years running. Hey, runner up to her is respectable, right?
We have never played head-to-head until we are pitted against each other in a twosome, stroke play, for the final round. Respect her? You bet. It's more like awe. But over the course of 15 holes, she doesn't pull ahead and the thought creeps in: How much better is this girl than I am? Yeah, she's older. Yeah, she has more experience. Okay, she has lots more wins. But is her game really any better than mine? I had never even considered it until the 15th fairway, with three holes left in the match.
We approach the 18th tee all even. A small crowd has gathered. Friends and family members line the fairways; some even ride along with us in golf carts. I hit first and knock it straight down the middle. Michelle hits it left in the rough and puts her second shot safely onto the green but a long ways away. Just as I ready to hit my second shot, a cart slams on its breaks in the fairway behind me. It is Michelle's younger sister, messing around. It doesn't faze me. I stand up to that iron shot and knock it two feet from the pin.
[ +READ: LeBolt: Open letter to Ann Coulter]
I take the long walk up to the green. Michelle misses her birdie attempt but taps it in for par; I study the couple of feet I have left for the birdie. If I sink that putt, I win and dethrone the reigning champion. Oh my. Until that moment I have never considered the possibility. Now my knees knock. The putt I have made 1000 times is unreadable. My hands shake. Everything I might do wrong goes through my mind. What if I miss?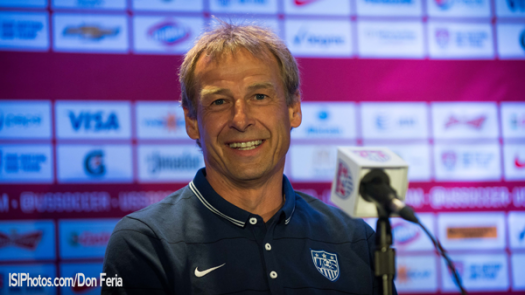 Fear wins, of course, and I miss. I go on to lose the match on the first extra hole. I am runner-up, just like I expected. Respectable, but unacceptable; I can still remember it like it was yesterday. That's the day, in fact missing that putt was the moment, I became a champion. I realized I actually could play with the best, but to compete, I had to prepare to beat them. I had to learn how to win and that began with believing I could.
Of course, no one can guarantee winning, but we can definitely talk ourselves into losing if we have never learned to believe that we can win. While the American men's team run through this World Cup had us bellowing and posting and sharing the "I believe that we will win" phrase, our belief, no matter how heart-felt and enthusiastic, cannot take the place of believing it themselves. Each player must believe, in real time, with real evidence and real feedback, that what he puts into play is good enough to win. If he forgets, doubts or falls short, it is back to the training ground, until he is better or until another takes his place.
That sounds so…American. But Klinsmann has noticed it is lamentably absent. Showing "too much respect" is a nice way of saying we're not producing sufficiently confident, world class players in our development systems. Caution kills on the big stage.
So, Mr. Klinsmann, how can we help? We want our kids to succeed. We are dying to get them on the national team. But must we really stand silently by while our kids lose, even though we could prevent or excuse it? In the U.S., particularly with our talented, elite kids, we don't do this well. We 'support' them with our resources.
Whatever it costs, we'll pay it.
Whatever time it takes, we'll dedicate it.
Whatever influence we can supply, we'll impose it.
Whatever team is the best, we'll get them on it.
Would we do all these things if we realized we were actually disabling our kids?
When we ante up, we make the dollars speak but silence the kids.
When we sacrifice everything, we make ourselves the martyr and our kids feel responsible.
When we are heavy-handed, we make kids the currency for our own self-esteem.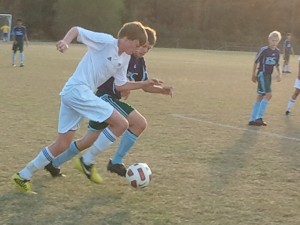 And if we are "fortunate" enough, after all the money, time and influence, to get our kid on that star-studded team so 'at least he can train against the best,' he'll know he doesn't belong and so will his teammates. Artificial elevation almost guarantees failure and increases the odds of future failure because it sows the seeds of doubt. Even if he gets playing time, he falters, because fear absolutely has a field day with doubt when the jaunty opponent has way more experience and a ton of trophies on his shelf.
How can parents help kids believe that they will win?
Park your helicopter. There are so many small disappointments in life with the potential to shape us, why would we undermine those opportunities?
Don't make excuses. If you point the finger of blame at other kids that are mean or the ref that was blind or the coach who doesn't know what he's doing, kids learn to excuse themselves rather than take responsibility for their own circumstances.
Encourage them to compete. Cheer and congratulate good play. It is, of course, more fun to win. But there is nearly always more to learn from a loss than a win. Don't steal that opportunity.
Let them fail. If they are on a crash course, step in. Otherwise, let them spiral in for a landing. Then support them as they dig themselves out.
Remember, that losing done well, leads to winning in the long run. It will help them defeat the fear that disables. That moment has the potential to change their trajectory. And, maybe, prevent them from being helicopter parents one day themselves.
Once they believe, without others telling them, that they have what it takes to compete, they will actually seek out opportunities to play against the best. Not recklessly, not unrealistically, but with the proper respect. They'll want to play against the best competition on the biggest stage, in the biggest tournaments. They'll demand we keep score.
"I'll show them I can play with anyone," they'll say, and mean it. Win or lose, doing it on their own terms, they win. As the old adage has it, it's not how many times you fall, it's how many times you get back up. Letting our kids fall is something we need to practice here in America. Winning a World Cup likely begins at home, with a voluntary grounding of our helicopter fleet.
College Recruiting Commitment Tracker