ECNL drops another hint about boys expansion in vision, philosophy statement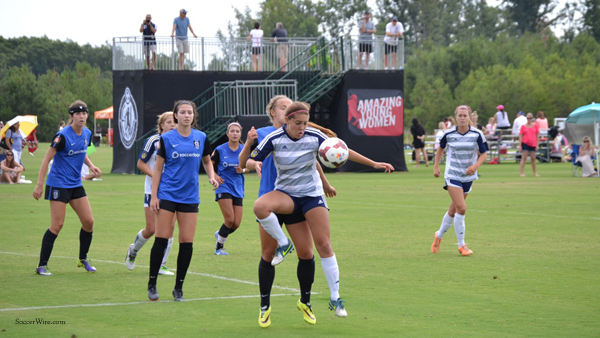 In the wake of the U.S. Soccer Federation's bombshell move to found a girls Development Academy, the Elite Clubs National League continues to lay out its response to that new development, most recently with a lengthy statement on the league's website which amounts to a reaffirmation of the ECNL philosophy, and a strong hint that a boys division is on the way.
Staking its claim as the home of independent, club-centric, development-driven youth soccer in the United States, this week ECNL posted a document explaining the five core principles that have guided the league's founders and current leadership, and making specific note of the fact that they are "not gender-specific," echoing SoccerWire.com's recent reporting about ECNL's plans to launch boys play in 2017.
The statement notes that the ECNL's leaders believe (ECNL's italics and bolding):
"Club soccer is the Primary Platform for Long-Term Player Development
Club soccer leaders should be the Driving Force in determining the Standards and Structures of the Competitions and Platforms in which they participate.
Club soccer leaders should be Empowered to operate their clubs in the manner they see fit, within Ethical and Professional Guidelines.
Collaboration between soccer leaders creates the most Innovative, Efficient, and Impactful Programs within soccer.
Empowered leaders, with Freedom to Pursue their Own Vision, will develop the best players in the country."
When asked about rumors of an expansion into elite boys play earlier this month, ECNL president Christian Lavers told SoccerWire that "membership has been asking about a boys ECNL for a long time, and we've also heard from a lot of great boys clubs from outside of the girls ECNL," and added that the "leadership and governance model, club-focused philosophies, and programming quality that built and represents the girls ECNL aren't gender-specific."
This week's document reaffirms and expands upon those ideas.
"The ECNL was founded on these core principles, and they are deeply embedded in the culture of the organization and its members. These principles are not gender-specific, and they are not unique to sport," it stated. "These principles are requirements for community building, necessities for progress, and a reflection of respect for the individual.  These are the principles that have and will continue to permeate the ECNL, and will spark a constant, relentless drive to improve, raise standards, and be on the leading edge of innovation in the game."
College Recruiting Commitment Tracker