Dure: 2015 was a great year for arguing about soccer

Have we ever seen a better year for U.S. soccer … arguments?
The state of the U.S. men's program under Jurgen Klinsmann is a guaranteed fight-starter. U.S. Soccer, after years of free-market, laissez-faire attitudes toward youth soccer, handed down mandates and immediately had to deal with pushback and pointed questions.
The U.S. women's team won the World Cup — after furious arguments about personnel and tactics. Then it went out on a Victory Tour that kicked up debates over artificial turf and definitions of "sharp rocks."
+READ: TurfGate part 2: Lingering questions link U.S. Women, Aloha Stadium and Aerosmith
How fitting that the last major event of the U.S. calendar, Abby Wambach's farewell game, was shrouded in controversy over Wambach's comments on the Men's National Team, which she believes should fire Klinsmann and use fewer foreign-born players.
Wambach's comments were blown out of proportion, with everyone from national teamer Mix Diskerud to sports pundit Colin Cowherd weighing in to defend immigrants' contributions to everything from the U.S. military to Google — none of which Wambach had attacked. Wambach merely echoed what a lot of national team fans have said over the years — indeed, Landon Donovan immediately chimed in with similar sentiments.
But the Klinsmann argument itself is productive and healthy, as are many of the other arguments.
Klinsmann has failed to articulate a coherent style and vision for the national team, let alone produce the revolution in U.S. youth soccer development we've all been promised. The prevalence of foreign-born players on the U.S. team is a symptom of the problem. So are the wayward results of U.S. youth teams and the inability of any U.S.-produced players under age 25 to impose themselves in top-flight soccer.
+ LISTEN: U.S. Club Soccer's Kevin Payne on youth development
On the women's side, the World Cup victory papers over a few questions. The USA didn't look sharp at all in the run-up to the World Cup or in the group stage. Then Jill Ellis abruptly changed tactics, ditching the "Whack It To Wambach" style and watching Carli Lloyd have a couple of games for the ages.
The upside for the women's team, other than sending off Wambach with the one trophy that had eluded her all these years, is the upside. Julie Johnston rocketed from promising NWSL player to defensive cornerstone. Crystal Dunn was controversially omitted from the World Cup squad and responded by tearing up the NWSL, then making her mark on the Victory Tour. Lindsey Horan, Stephanie McCaffrey and Emily Sonnett also made cases for inclusion not just down the road but in the near future.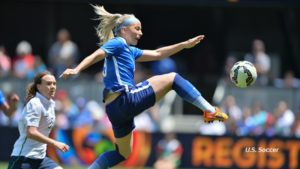 Did Ellis give all these players opportunities as part of a long-range plan or out of necessity as players were injured or retired? Either way, it means we may see fierce competition for spots on the 18-player Olympic roster. (And more arguments.)
At the youth level, U.S. Soccer stepped in with a few mandates of variable weight. One was a long-overdue initiative on heading. It wasn't much more than a couple of recommendations, but it at least provided some guidance in a murky topic.
+ READ: U.S. Soccer takes good first step with heading initiative
And it was more welcome than the switch to birth-year age groups, a mandate that either poorly thought out or poorly presented. U.S. Soccer and other organizations spent weeks clarifying a few points — recreational programs don't have to set up birth-year leagues, most leagues will use the second half of an academic year to calculate the age groups, but the Development Academy will spend at least one year computing the age from the first half.
The other half of the mandate was on small-sided games, pushing U-11s and U-12s out of 11v11 games. This mandate was less controversial — most youth soccer coaches at least agreed on the intent — but some of the specifics drew questions.
Are we really going to cram 7v7 games onto a 47×30 field, where players will surely keep bunching up like they usually do in U-8 and below? How much money do clubs and towns need to spend to retrofit their facilities? And if players are going to jump up two age groups in the fall — from U-9 to U-11, for example — don't they lose the benefit of the smaller-sided games?
+READ: Dure: Garber picks media battles wisely before 20th MLS Cup
By the end of the year, the entire tenor of youth soccer discussion had changed. U.S. Youth Soccer, U.S. Club Soccer, AYSO and other organizations in the fractured soccer-industrial complex were talking with each other.
So many of these arguments aren't just talk-show fodder. They have the potential to change this sport for the better. There's never been a better time to speak up on The Beautiful Game.
See you in 2016.
College Recruiting Commitment Tracker