Don Garber advocates for solidarity payments for MLS Academies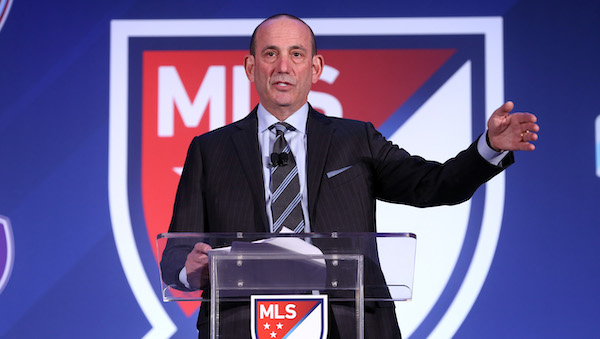 Major League Soccer commissioner Don Garber advocated strongly for the implementation of solidarity and training compensation for MLS clubs when their top U.S. Soccer Development Academy prospects end up signing to play in foreign professional leagues.
While MLS clubs seen increasing success with the signing of Homegrown Players directly from their Development Academy programs, a significant portion of their investment has not paid off as some of the most promising blue chip prospects elect to sign their first pro contracts outside the MLS.
"It's a big issue for our league," Garber said on Friday during the 2018 MLS State of the League Address. "I don't know that it's entirely about young players chasing their dreams as much as it's international clubs chasing our young players. That's something we've got to wrap our collective minds around and figure out how do we manage that in a way that justifies our owners investing this year, North of $100 million outside of our first team rosters."
+READ: Atlanta United wins 2018 MLS Cup, defeating Portland Timbers 2-0
Although many leagues around the world participate in a FIFA-regulated solidarity payment system, which compensates youth clubs for developing players, MLS Academies do not currently receive benefits when their top players depart.
"We are not as a country participants in solidarity and training compensation. I think that probably has to change," Garber said. "We've got to find a way that if it's going to happen, how do we at least get compensated for it? I don't know how we can justify making the kind of investments that we've been making."
The issue has become a more urgent one for Garber and the MLS owners in the past couple of years, as more high profile MLS Academy products have signed with European clubs after two seasons or less of professional experience with their domestic club. Players such as Weston McKennie (FC Dallas), Giovanni Reyna (New York City FC) and Alphonso Davies (Vancouver Whitecaps FC) – all of whom left their MLS clubs for Germany's Bundesliga over the past two year, are part of the growing trend.
"Our view about this whole area is very different than it was two, three, four or five years ago," Garber said. "The product that we're developing have become some of the most important assets that we need to start figuring out ways that we're either protecting, or we're finding ways to get compensated for if we can't protect them or can't sign them."
With MLS Academies leading the way, other domestic youth clubs – such as Christian Pulisic's Development Academy club PA Classics – could also receive compensation for helping train and develop some of the world's top prospects.
College Recruiting Commitment Tracker