Youth Soccer Top 25 Twitter Rankings for January 2016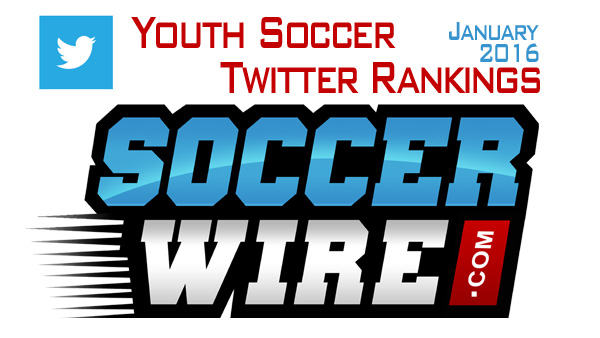 With the global Twitter audience up to over 307 million and growing, the platform offers a unique opportunity for associations, leagues, clubs, and tournaments to directly engage with players and parents. In this spirit, SoccerWire.com has launched a new monthly feature which spotlights the 25 youth soccer organizations that have accumulated the largest audiences on Twitter.
U.S. Soccer's Youth National Teams (@ussoccer_ynt) Twitter account takes the top spot in the new SoccerWire.com Monthly Youth Soccer Twitter Rankings feature, with their 64,957 followers nearly doubling the total by runners-up US Youth Soccer (@USYouthSoccer) at 33,610 followers. That total almost doubles the 17,521 who follow U.S. Soccer's Development Academy (@ussoccer_acad) account, with positions four through 25 seeing much narrower gaps between their nearest rivals, including the 25th position held by New Jersey Youth Soccer (@NJYouthSoccer).
While the USSDA takes the crown as the most followed league, the Elite Clubs National League (@theECNL) is not far behind at No. 5 overall and 14,962 followers. In the No. 6 spot with 13,865 followers, the US Youth Soccer National Championship Series (@usysncs) is the top-ranking account for any tournament series, while the Dallas Cup (@dallascup) is the leading individual tournament with 7,653 followers, coming in at No. 9. St. Louis Scott Gallagher SC (@SLSGsoccer) is the most followed club with 5,844, ranking No. 10 overall. Among the five state associations to make the list, Cal South Soccer (@CalSouthSoccer) is the highest at No. 12 with 4,792.
The list was compiled by SoccerWire.com Editors, who reviewed hundreds of top associations, leagues, clubs, and tournaments believed most likely to boast large Twitter followings. However, we only published the top 25 for fear too many worthy accounts may have been missed beyond that threshold, and encourage other organizations fitting the criteria to contact @TheSoccerWire on Twitter or using this form to be added to the list for future months.
[table "" not found /]
*This list does not include news organizations, individual teams or athletes, or any organization with a primarily professional focus or one outside of youth soccer.
In future months additional information on growth of account followings will be tracked and shared in a similar space.
*Note, if you want to follow all of these 25 and all future additions in one place, we've created a Twitter List here: https://twitter.com/TheSoccerWire/lists/top-youth-soccer-twitters