Youth Soccer Top 25 Twitter Rankings for February 2016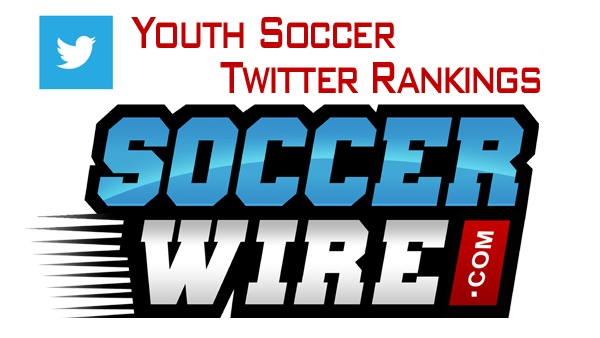 SoccerWire.com has launched a new monthly feature which spotlights the 25 youth soccer organizations that have accumulated the largest audiences on Twitter. Entering February 2016 – the second edition of the rankings – U.S. Soccer's Youth National Teams (@ussoccer_ynt) Twitter account once again takes the top spot in the overall rankings, with their 65,518 followers ahead of runner-up US Youth Soccer (@USYouthSoccer) at 34,379 followers. Each of the top 15 accounts remain in their previous positions, while a total of five accounts between the No. 16 and No. 25 positions experienced minor shifts following the month of January.
+Read: Youth Soccer Top 25 Twitter Rankings for January 2016
The Virginia Youth Soccer Association (@vayouthsoccer) and the Jefferson Cup (@JeffersonCup) had by far the largest percentage increases in total followers during January, climbing by 6.8 percent and 5.9 percent, respectively. US Youth Soccer ODP (@usysodp) added the second-most followers (633) during January, an increase of 3.9 percent, which ranks third. US Youth Soccer's main account (@USYouthSoccer) added more followers (769) than any other account on the list, seeing a 2.3 percent increase which ranks 10th.
Twitter Rankings – Last 4 Weeks
[table "" not found /]
Twitter Rankings – Overall
[table "" not found /]
*This list does not include news organizations, individual teams or athletes, or any organization with a primarily professional focus or one outside of youth soccer.
The list was compiled by SoccerWire.com Editors, who reviewed hundreds of top associations, leagues, clubs, and tournaments believed most likely to boast large Twitter followings. However, we only published the top 25 for fear too many worthy accounts may have been missed beyond that threshold, and encourage other organizations fitting the criteria to contact @TheSoccerWire on Twitter or using this form to be added to the list for future months.
*Note, if you want to follow all of these 25 and all future additions in one place, we've created a Twitter List here: https://twitter.com/TheSoccerWire/lists/top-youth-soccer-twitters