NCAA Women's College Cup semifinal match-ups set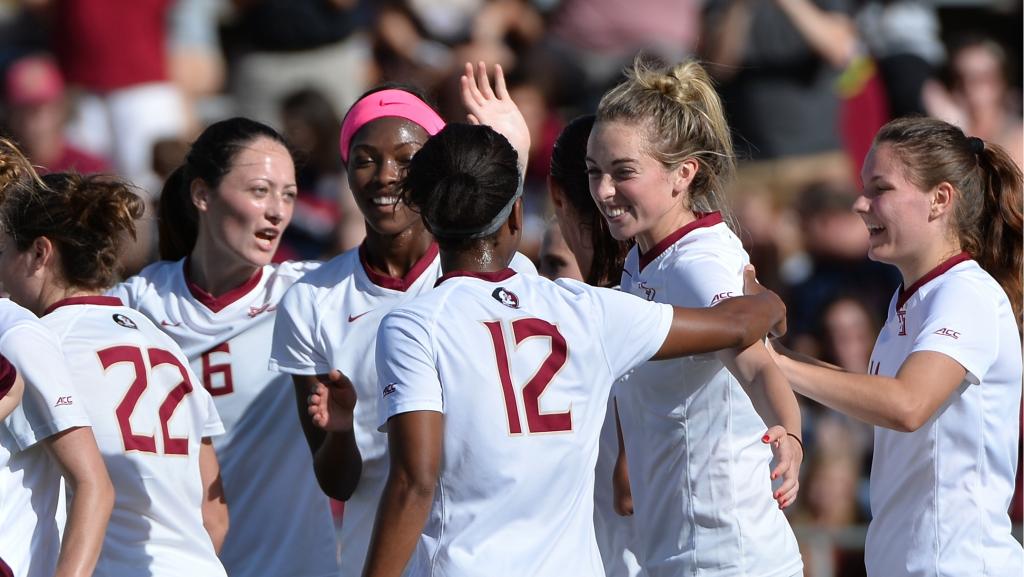 Photo by Larry Novey
+Read: NCAA Men's Soccer Tournament Elite Eight match-ups set
+NCAA Women's Soccer Championship Interactive Bracket
College Cup Semifinal Match-ups (Friday)
Florida State vs. Duke
Penn State vs. Rutgers
(Via nwslsoccer.com) – Then there were four. Duke, Penn State, Rutgers and defending national champions Florida State all punched their tickets this past weekend to the College Cup with Elite Eight victories in the 2015 NCAA Division I Women's Soccer tournament.
Elite Eight Recap
Duke 1-1 Stanford (Duke wins in PKs)
The No. 3 Blue Devils booked their place in the Final with a 3-2 win in a penalty shootout following a 1-1 draw with No. 1 seed Stanford.
Junior midfielder Toni Payne gave Duke (13-5-5) a 1-0 lead with her goal in the 14th minute before the Cardinal leveled the match through freshman midfielder Michelle Xiao's equalizer in the 39th minute.
The two sides remained deadlocked throughout the second half and overtime before going to penalties where Blue Devils goalkeeper EJ Proctor made two saves – to go along with the seven she made during the match – to lift Duke into the national semifinals for just the third time in program history and the first time since 2011.
Penn State 2-0 West Virginia
No. 1 seed Penn State returns to the College Cup for the first time since they were runners up in 2012 after blanking No. 2 seed Western Virginia 2-0 behind a three-save performance from redshirt senior goalkeeper Britt Eckerstrom.
The Nittany Lions (20-3-2) struck twice in the first half through goals from sophomore midfielder Emily Ogle and sophomore forward Frannie Crouse. It was the fourth consecutive shutout victory at the tournament for Penn State, who has outscored their opponents 17-0 this postseason.
Rutgers 0-0 Virginia (Rutgers wins in PKs)
Rutgers will be making its first appearance at a College Cup in program history after emerging with a 7-6 penalty-shootout win after a scoreless draw against No. 1 seed Virginia.
Sophomore goalkeeper Casey Murphy made two saves over the course of regulation and overtime before stopping two shots – including the decisive save against junior midfielder Tina Iordanou – to send the Scarlett Knights (19-3-3) and continue their sensational run.
Rutgers is also yet to allow a goal during the tournament and became the first team to shutout out the Cavaliers (19-1-3) all season as senior defenders Brianne Reed and Erica Skroski helped keep Virginia off the scoresheet for 110 minutes.
Florida State 5-0 Texas A&M
The only team returning to the College Cup from last season is Florida State.
The Seminoles (18-2-4) breezed into their fifth consecutive Final Four with a 5-0 victory over Texas A&M as they seek to become the only school other than North Carolina to repeat as national champions.
Freshman forward Elin Jensen scored twice, while senior midfielder Michaela Hahn, senior forward Cheyna Williams and freshman midfielder Megan Connolly each added a goal in the win for Florida State – who joins Penn State and Rutgers as one of the three teams in the Final Four who have yet to concede a goal at the tournament.
The College Cup will be played in Cary, N.C. this year and begins Friday before a national champion will be crowned Sunday.