Williams names U.S. U-17 Men's National Team roster for Josip Katalinski International Tournament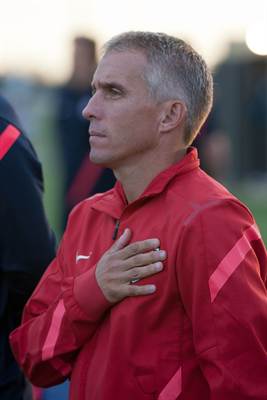 CHICAGO – U.S. Under-17 Men's National Team head coach Richie Williams has named a 22-player squad for the Josip Katalinski International Tournament that runs from April 3-6 in Sarajevo, Bosnia-Herzegovina. Following the tournament, the team will also play two friendly matches against the Croatia U-17 national team in Zagreb, Croatia.
To begin the Katalinski tournament, the USA will face the Montenegro U-17 national team on April 3 and the Sarajevo Select team the following day. The results will help determine which Placement Match the team plays in on April 6 against one of the Bosnia U-17 national team, Belgrade Select or the Macedonia U-17 national team.
The U.S. U-17 MNT will then cap off its trip, which comes on the heels of its recent March tour of the Pacific Northwest, with a pair of friendlies against Croatia on April 8 and 10.
Eighteen players on the current roster took part in the team's three-match tour of Seattle and Portland and are joined by Joe Gallardo (Monterrey) and Luca de la Torre (Fulham), who return to the roster, after having last been involved in the team's victorious run to the Aegean Cup title in February. Daniel Barbir and Weston McKennie (FC Dallas) also rejoin the team after last taking part in the 2013 Nike International Friendlies. McKennie has been part of U.S. Soccer's Residency Program in Bradenton, Fla., this semester, while Barbir is currently in training at Manchester City.
Of the 17 players on the roster currently registered with U.S. Soccer Development Academy clubs, seven play for MLS club academies, including Tyler Adams and Matthew Olosunde both with the New York Red Bulls, McKennie and Alejandro Zendejas both with FC Dallas, Hugo Arellano (Chivas USA), George Braima (Crew Soccer Academy) and Haji Wright (LA Galaxy).
U.S. U-17 MNT SCHEDULE:
Josip Katalinski International Tournament:
April 3: U.S. U-17 MNT vs. Montenegro; Otoka Stadium
April 4: U.S. U-17 MNT vs. Sarajevo Select; Otoka Stadium
April 6: U.S. U-17 MNT vs. TBD (Placement Match); Grbavica Stadium
International Friendlies:
April 8: U.S. U-17 MNT vs. Croatia; Stadium SRC Zapresic (NK ​​Inter Zapresic)
April 10: U.S. U-17 MNT vs. Croatia; GNK Dinamo (Field No. 3)
U.S. U-17 MNT ROSTER BY POSITION:
GOALKEEPERS (2): William Pulisic (Richmond Strikers; Mechanicsville, Va.), Kevin Silva (PDA; Bethlehem, Pa.)
DEFENDERS (8): Tyler Adams (New York Red Bulls Academy; Wappingers Falls, N.Y.), Hugo Arellano (Chivas USA Academy; Norwalk, Calif.), Daniel Barbir (Unattached; Allentown, Pa.), Tanner Dieterich (TN Soccer Club; Nashville, Tenn.), Edwin Lara (De Anza Force; San Leandro, Calif.), John Nelson (Internationals; Medina, Ohio), Matthew Olosunde (New York Red Bulls Academy; Trenton, N.J.), Alexis Velela (San Diego Surf; San Diego, Calif.)
MIDFIELDERS (6): George Braima (Crew Soccer Academy; Columbus, Ohio), Eric Calvillo (Real So Cal; Palmdale, Calif.), Luca de la Torre (Fulham; San Diego, Calif.), Thomas McCabe (PDA; South Orange, N.J.), Christian Pulisic (PA Classics; Hershey, Pa.), Alejandro Zendejas (FC Dallas Academy; El Paso, Texas)
FORWARDS (6): Pierre Da Silva (New York Soccer Club; Port Chester, N.Y.), McKinze Gaines (Lonestar SC; Austin, Texas), Joe Gallardo (Monterrey; San Diego, Calif.), Weston McKennie (FC Dallas Academy; Little Elm, Texas), Elijah Rice (Chicago Magic PSG; Highland Park, Ill.), Haji Wright (LA Galaxy Academy; Los Angeles, Calif.)