William & Mary alum to receive 2018 Jerry Yeagley Award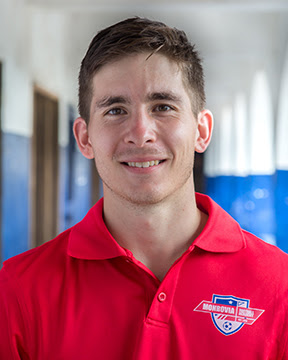 KANSAS CITY, Mo. (Via United Soccer Coaches) – United Soccer Coaches announced on Wednesday that William Smith, Executive Director of LEAD Africa and co-founder of the Monrovia Football Academy, will be honored with the association's 2018 Jerry Yeagley Award for Exceptional Personal Service.
"From the time Will enrolled at William & Mary we knew he was going to be a special person someday," said former W&M head coach and United Soccer Coaches Past President, Al Albert, who nominated Smith for the honor. "His natural leadership abilities have helped him achieve more at his age than many people do in a lifetime. And I think the best is yet to come."
Smith starred at William & Mary from 2010-13, helping the Tribe to a conference championship during his freshman season. He was a three-time All-Colonial Athletic Association (CAA) honoree and was named CAA Defender of the Year as a senior in 2013, when he also earned United Soccer Coaches First Team All-Region honors. He was also a two-time team MVP.
+READ: Youth and High School Coaches of the Year announced for 2018
Smith was just as successful in the classroom. He was a Freshman Academic Achievement Award winner and twice received CoSIDA Academic All-District accolades. Three times he earned William & Mary's Alumni Award for the highest GPA on the team and he graduated Phi Beta Kappa with Bachelor of Arts degrees in government and french. He has a degree in social entrepreneurship from Santa Clara University and holds an MSc in African studies from Oxford University. He is a 2018 Cordes Fellow and one of 40 global leaders on the Barça Foundation and UNICEF's Working Group on Sport for Development.
"We are extremely proud of Will. He is a remarkable young man and one of the finest leaders I've ever been around, said William & Mary Head Coach Chris Norris. "In addition, he has always exhibited the courage and determination to dream big and accomplish goals. It is amazing to witness his achievements thus far, particularly the positive impact he's had on the lives of countless Liberian children through the mediums of education and soccer."
In 2018, Smith worked with several prominent African leaders to establish LEAD Africa, a network of progressive leadership academies that are founded and run by local champions. Each academy is based on the model of LEAD's flagship, Monrovia Football Academy in Liberia, which Smith co-founded with former Liberian international Sekou Dgeorges Manubah in 2015.
In addition to his work at LEAD and the Monrovia Football Academy, Smith has consulted for sport for social change organizations in Côte d'Ivoire, Rwanda, the United Kingdom, and Zimbabwe. As a social entrepreneur from the United States, he advocates for a radical rethinking of international development, with a focus on increased investment in locally-driven, evidence-based solutions.
The Jerry Yeagley Award for Exceptional Personal Service is presented annually to a former collegiate soccer student-athlete who has demonstrated extraordinary accomplishments beyond the sport itself. The award is named in honor of the legendary Indiana University soccer coach and will be presented at the All-America Ceremony & Reception on Jan. 12, 2019 at McCormick Place West in Chicago in conjunction with the 2019 United Soccer Coaches Convention.