Washington Spirit partners with Reston Soccer, finds home for Girls DA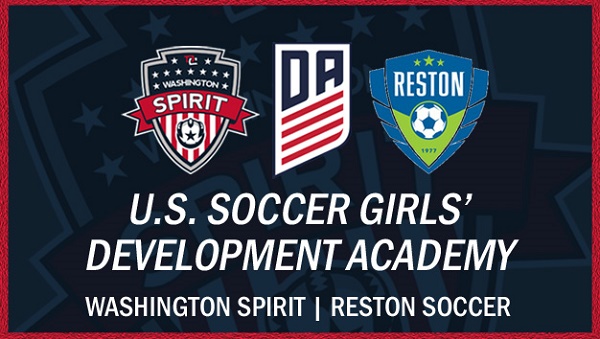 (Via Washington Spirit) – The Washington Spirit has announced that the club will base its U.S. Soccer Girls' Development Academy program in Reston, Virginia as part of a new partnership with Reston Soccer Association that will see both clubs benefit from sharing resources and developing new programming for youth female players at every level.
All four Development Academy teams will be based in Reston beginning in the late summer, offering the top level of elite youth soccer competition for players born between 1999 and 2005. The Spirit professional team staff will also team up with Reston Soccer's technical staff to develop several new opportunities for existing members, while also expected to attract new players to the Fairfax, Virginia based club at all levels.
"We are thrilled to partner with the Washington Spirit and to enhance the quality of soccer programming offered to girls in Reston," said Reston Soccer president Roberto Anguizola. "It is fantastic to have a U.S. Soccer Girls' Development Academy right here in Reston. Reston is a vibrant community and bringing in top notch youth sports programs like this will keep Reston strong for generations to come."
+READ: Washington Spirit, Baltimore Armour join forces for Girls' DA
While the inaugural year of Girls' Development Academy play doesn't begin until September, the clubs are not wasting any time getting started. The Spirit have already hosted two elite player Identification Days in Northern Virginia this winter, where some of the nation's top players have attended hoping to get connected on the professional player pathway. Preseason training will begin in August but will be preceded by additional ID Days, a Gap Program and the fielding of elite summer teams in the USL Super Y League.
The partnership will bring some of the nation's top female athletes to the vibrant Fairfax County community for years to come, while providing unique opportunities for local players of every ability. A fact not lost on Reston resident and Fairfax County Park Authority Chairman William G. Bouie.
"Congratulations to Reston Soccer and the Washington Spirit for this new partnership. It is always great to see partnerships between the Non Profit and Commercial sectors," said Bouie. "This will also serve as an example to the many young women that play soccer and aspire to a playing at a higher lever."
Both clubs' technical staffs are also collaborating on new opportunities to offer Reston's current players, as well as scheduling coaching education seminars and unique opportunities for Reston members to engage with some of the Spirit's professional players and coaches.
+READ: Development Academy adds 17 new clubs for 2017-2018 season
Professional team head coach Jim Gabarra is the Acting Technical Director for the Virginia Development Academy but is close to selecting a full time director. Gabarra, a former U.S. Men's National Team player and 1988 Olympian, is the only person to have coached a team in every season of professional women's soccer in the United States and is confident the new partnership with Reston was the right move following months of due diligence with several clubs throughout the region.
"After nearly a year of exploring partnership options and navigating the complex girls club soccer landscape in Northern Virginia we are elated to have found a partner that values the connection with our U.S. Soccer Developmental Academy," Gabarra explained. "Reston is an ambitious club with a historically strong technical leadership that we look forward to working with.This partnership marks the beginning of the process of change in the region for the elite girls player and will help both clubs reach our goals more quickly."
The Spirit will also operate the sole U.S. Soccer Girls' Development Academy program in Maryland under the name Washington Spirit Baltimore Armour. This providing the ideal player development platform that spans both sides of the Potomac River. Together, the Washington Spirit Development Academies make up two of the nearly 70 other top female youth clubs and NWSL DA programs around the nation as the top direct path for players to earn opportunities on U.S. Youth National Team and, eventually, professional opportunities.