Washington Spirit, Baltimore Armour join forces for Girls DA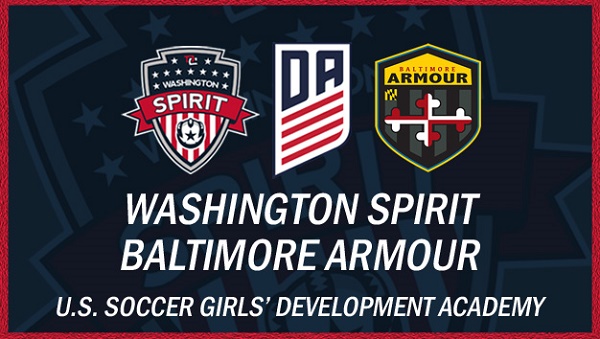 BOYDS, Md (Via Washington Spirit) – The Washington Spirit has added Baltimore Armour as a U.S. Soccer Girls' Development Academy partner for the state of Maryland, which will now be called "Washington Spirit Baltimore Armour." This partnership adds to the relationship already in place with Montgomery Soccer Incorporated (MSI), creating a direct "path to the pros" for over 11,000 female players in one of the nation's top soccer player development markets.
"When we began the process of creating a U.S. Soccer Development Academy, this Spirit Baltimore Armour partnership was our optimal vision to add to MSI," said Washington Spirit professional team head coach and Academy technical director Jim Gabarra. "The commitment this partnership represents will provide a platform to develop world class players and coaches here in Maryland."
Baltimore Armour was created in early 2015 through a partnership between Soccer Association of Columbia (SAC) and Pipeline Soccer Club (Pipeline) and currently boasts one of the top U.S. Soccer Boys' Development Academies in the nation. By partnering with the Washington Spirit, Baltimore Armour is now directly connected to a professional club in the top female league in the world, the National Women's Soccer League.
+READ: Development Academy adds 17 new clubs for 2017-2018 season
"This is a monumental day for girls soccer in Maryland," said Pipeline Soccer Club co-founder and vice president, as well as former U.S. National Team and D.C. United star Santino Quaranta. "The staff at Baltimore Armour are thrilled to work with the Washington Spirit and build a world class academy."
Washington Spirit Baltimore Armour will be managed overall by Spirit 1st Assistant Coach Denise Reddy, who will be naming the full coaching staff in the coming weeks. With Reddy at the helm, players involved in the Development Academy will have unprecedented access to learn from and impress someone who not only knows what it takes to succeed as female professional players, but someone who can provide them with that opportunity directly when the time comes.
+READ: Loudoun Soccer, FC Virginia announce Development Academy partnership
The clubs will announce the first opportunity for female players born from 1999-2005 to show off their talent later this week. Teams will be formed in the 19 and under, 17 and under, 15 and under, and 14 and under age groups, with exceptionally talented players born in 2005 also considered for the 14 and under team. Additionally, travel soccer players on teams at SAC, Pipeline, and MSI as of the fall 2017 season, will be eligible to participate in Development Academy activities and a limited number of games as "Developmental Players."
Together, Washington Spirit Baltimore Armour and Washington Spirit Virginia Development Academy programs will begin play in the first ever Girls' Development Academy season this August, joining nearly 70 other top female youth clubs and NWSL DA programs around the nation as the top direct path for players to earn opportunities on U.S. Youth National Team and, eventually, professional opportunities.