Vlatko Andonovski names 24-player USWNT roster for Identification Camp in December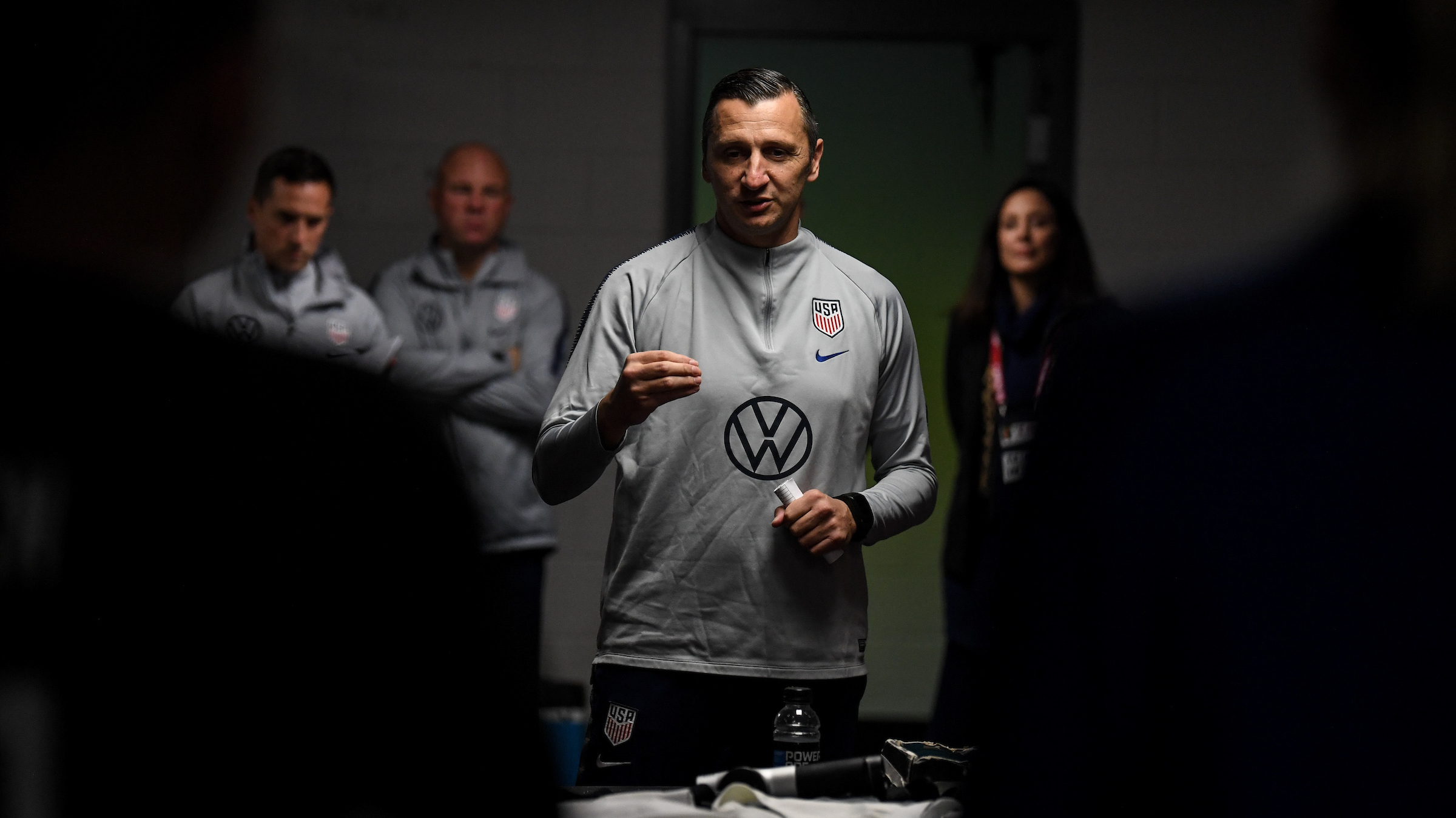 CHICAGO (Nov. 27, 2019) – U.S. Women's National Team head coach Vlatko Andonovski has named a 24-player roster for an Identification Camp that will take place from Dec. 9-14 in Bradenton, Florida and will complete the year of activity for the USWNT.
Andonovski's second training camp roster – he officially came on board on Oct. 28 – will not include any players from the USA's 2019 World Cup Team, all of whom are on a well-deserved end-of-year break. This event is being staged to evaluate younger players from the college game and those who have performed well in the National Women's Soccer League or in pro leagues abroad, with the goal of deepening the player pool and positioning players for possible future call-ups to events in 2020.
USWNT Roster – December Training Camp (Club/School; WNT Caps/Goals)

GOALKEEPERS (2): Jane Campbell (Houston Dash; 3/0), Casey Murphy (Reign FC; 0/0)
DEFENDERS (9): Maycee Bell (UNC; 0/0), Malia Berkely (Florida State; 0/0), Imani Dorsey (Sky Blue FC; 0/0), Emily Fox (UNC; 3/0), Naomi Girma (Stanford; 0/0), Sarah Gorden (Chicago Red Stars; 0/0), Hailie Mace (Rosengård FC, SWE; 3/0), Kiara Pickett (Stanford; 0/0), Margaret Purce (Portland Thorns FC; 1/0)
MIDFIELDERS (7): Danielle Colaprico (Chicago Red Stars; 2/0), Vanessa DiBernardo (Chicago Red Stars; 0/0), Jordan DiBiasi (Washington Spirit; 0/0), Sarah Killion (Sky Blue FC; 0/0), Kristie Mewis (Houston Dash; 15/1), Brianna Pinto (UNC; 0/0), Ashley Sanchez (UCLA; 0/0)
FORWARDS (6): Bethany Balcer (Reign FC; 0/0), Madison Haley (Stanford; 0/0), Ashley Hatch (Washington Spirit; 2/0), Paige Monaghan (Sky Blue FC; 0;0), Sophia Smith (Stanford; 0/0), Ally Watt (Texas A&M; 0/0)
"One of our main goals heading into 2020 is to expand the player pool, but with Olympic Qualifying coming up soon, we don't have much time to do that, so this camp is a great opportunity for the players and the coaches," said Andonovski. "For the players, it's a chance to try to earn invitations to future camps so we can evaluate them against the veteran players, and for the coaches, it's a very valuable few days to try to add depth to positions where we may need it."
The roster features 17 uncapped players, six with three caps or less and Houston Dash midfielder Kristie Mewis, older sister of 2019 World Cup champion midfielder Samantha Mewis, who earned 15 caps over 2013 and 2014.
"It's important to reward players who have done well for their college teams and for their professional teams in the NWSL or overseas, and it's also important for talented young players to get a taste of the National Team environment as breaking into the full team can often be a marathon and not a sprint," said Andonovski. "Many of these players have done very well for our Youth National Teams and in college, but the international game at the senior level is a huge jump for them and we need to find out which of these players can make that transition."
Additional Notes:
Due to the short duration of the camp, which will consist of five days of training, players traveling from overseas would not have sufficient recovery time between travel and the start of camp. As a result, only currently domestic-based players were selected.
The roster includes 14 professional players and 10 collegiate players, including Brianna Pinto and Maycee Bell from UNC and Naomi Girma and Sophia Smith from Stanford, all of whom were born in 2000 and are age-eligible for the next FIFA U-20 Women's World Cup. The USWNT has yet to cap a player born after the historic 1999 FIFA Women's World Cup. Girma was voted the 2019 Pac-12 Defensive Player of the Year. The 5-foot-11 Bell was named the ACC Freshman of the Year. Pinto and Smith trained with the senior National Team in 2017 when they were 16. These are their first WNT call-ups since then. Pinto was the youngest player in the modern era to make a tournament roster for the senior Women's National Team at the 2017 SheBelieves Cup, but did not play.
Pinto, who was named All-ACC First Team, has started all 24 games for the Tar Heels so far this season and is second on the team in scoring with 10 goals and six assists.
Two players come into National Team camp after recovering from major injuries in midfielder Kristie Mewis, who rebounded from an ACL tear to have a fine 2019 NWSL season with the Houston Dash, and Smith, who broke her leg at the end of her freshman year in 2018 but has 14 goals and eight assists this season.
Smith scored in a U.S. Youth National Team-record nine consecutive international games for the U.S. U-20 WNT in 2018 when she tallied 15 total goals. She has 23 career international goals in 27 U-20 caps.
Ten players are earning their first call-up to the senior National Team. Defenders Bell, Girma, Sarah Gorden, Malia Berkely and Kiara "Kiki" Pickett, midfielder Jordan DiBiasi, and forwards Bethany Balcer, Madison Haley, Paige Monaghan and Ally Watt.
Players with prior training camp experience with the USWNT but who have yet to be capped are goalkeeper Casey Murphy, defender Imani Dorsey (who was in for the November friendlies this year), midfielders Sarah Killion, Vanessa DiBernardo, Ashley Sanchez and Pinto, and forward Smith.
Defender Margaret "Midge" Purce was also with the team for the November friendlies and earned her first cap, starting against Costa Rica on Nov. 10.
Defender Emily Fox earned her first two WNT caps at the end of 2018, playing against Portugal in Lisbon and Scotland in Glasgow, and then her third against France in Le Havre in January of 2019. She has yet to earn a cap inside the USA. Fox was an All-ACC First-Team selection this season for the Tar Heels.
DiBernardo and Killion were key parts of the midfield for the U.S. team that won the 2012 FIFA Under-20 Women's World Cup in Japan. That team also featured 2019 World Cup champions Samantha Mewis, Crystal Dunn, Julie Ertz and Morgan Brian.
DiBernardo, who scored in the quarterfinal victory against North Korea in that tournament, is the daughter of Angelo DiBernardo, who won the 1978 Hermann Trophy for Indiana and played for the Men's National Team between 1979-1985. The USWNT has never capped a player whose father played for the USMNT.
DiBernardo, midfielder Danielle Colaprico and Gorden all played major roles in helping the Chicago Red Stars finish second in the NWSL this past season and advance to its first title game in club history.
Gorden, 27, who has a five-year old son, is the only player on this training camp roster who is receiving her first National Team call-up at any age level.
Almost the entire training camp roster has experience with the USA's Youth National Teams and 22 of the 24 players have played with the U.S. U-23 Women's National Team, 15 of them over the past two years. That total goes up to 17 over the past three years.
Thirteen players on the roster have played for the USA in a FIFA Youth Women's World Cup: goalkeepers Jane Campbell (2012 U-17, 2014 U-20) and Casey Murphy (2016 U-20), defenders Emily Fox (2016 U-20, 2018 U-20), Girma (2016 U-17, 2018 U-20) and Pickett (2016 U-17, 2018 U-20), midfielders DiBernardo (2012 U-20), Pinto (2016 U-17, 2018 U-20), Killion (2012 U-20), Sanchez (2016 U-17, 2016 U-20, 2018 U-20) and Kristie Mewis (2008 U-17, 2010 U-20) and forwards Purce (2014 U-20), Smith (2016 U-17, 2018 U-20) and Watt (2016 U-20).
Balcer, the 2019 NWSL Rookie of the Year for Reign FC, is the first player from an NAIA College to earn a WNT call-up. She attended Spring Arbor University in her native Michigan. She was the only Reign FC player to appear in all 24 of the club's regular season matches and scored a team-high six goals with two assists.
Of the 10 collegiate players named to the roster, nine are still alive in the NCAA Tournament, which will play its quarterfinals this coming Friday and Saturday.
Three players on the roster were named U.S. Soccer Young Female Player of the Year in Mewis (2008), Sanchez (2016) and Smith (2017).
Haley is the daughter of five-time Super Bowl champion defensive lineman Charles Haley. Haley is third in scoring this year at Stanford – behind Catarina Macario and Smith – with 11 goals and 10 assists.
Pickett, an All-Pac 12 First-Team selection this year, has started all 22 games for the Cardinal so far this season.
Murphy started her pro career in France with Montpellier – where she was in the nets for 35 matches over 15 months – but returned to the USA this past season with Reign FC, for whom she played every minute of 19 matches this season.
Campbell, who has three WNT caps, played every minute of all 24 matches in goal this past NWSL season for the Houston Dash. She is the youngest goalkeeper to be called into the senior National Team. She trained with the U.S. team at the age of 17 in January of 2013.
As a redshirt sophomore during the 2018 college season, Berkely was a key player on Florida State's 2018 NCAA Championship team. She was the only player to start all 27 games and has started every game this season as well when she was named the ACC Defensive Player of the Year as a redshirt junior.
Sanchez trained with the full U.S. Women's National Team during a camp in Orlando, Fla. in April of 2016 when she was 17, but this is her first senior WNT call-up since then. She has come up through the U.S. Youth WNT system, having played for the U.S. U-14, U-15, U-17, U-20 and U-23 levels. She has seven goals and 14 assists for the Bruins this season.
In 2016, Sanchez played in both the FIFA U-17 Women's World Cup, where she scored three goals and one assist as the team captain, and in the U-20 Women's World Cup, where she scored one goal with two assists, becoming the first American female player to play in both the U-17 and U-20 World Cups in the same cycle.
Defender Hailie Mace's three caps came during the fall of 2018 during the qualifying tournament for the 2019 FIFA Women's World Cup. She has been playing with Rosengård FC in the Damallsvenskan, Sweden's top division, that finished play at the end of October. She had four goals and three assists in 16 matches this season in helping her club win the Swedish title and qualify for the 2020-21 UEFA Women's Champions League.
Ashley Hatch's first cap came against Switzerland in 2016 in Sandy, Utah, when she was still a student-athlete at BYU. Her second cap came in 2018 against Mexico in Jacksonville, Fla. She scored seven times for the Washington Spirit this past NWSL season to lead the team.
Kristie Mewis played in the 2008 FIFA U-17 Women's World Cup in New Zealand, where she won the Bronze Ball as the third best player in the tournament, and in the 2010 U-20 World Cup in Germany.
The Mewis siblings are one of just two pairs of sisters to have played together on the USWNT and the only sisters to have both played in a FIFA Youth World Cup together.
Monaghan, the first player from Butler University to earn a WNT call-up, scored twice for Sky Blue FC this past season. DiBiasi scored four times for the Washington Spirit.
Forward Ally Watt, who scored 16 goals with seven assists during her senior season for Texas A&M this fall, scored twice for the USA off the bench at the 2016 FIFA U-20 Women's World Cup.