Virginia ODP 1999 Girls, 2000 Boys win Region I titles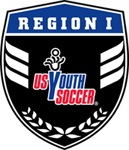 2015 US Youth Soccer Region I ODP Tournament
College coaches | Full results
The Virginia Youth Soccer Association (VYSA) 1999 Girls and 2000 Boys Olympic Development Program (ODP) teams captured regional titles over the weekend at the US Youth Soccer Region I ODP Tournament in New Castle, Delaware.
After going a perfect 3-0-0 with four goals scored and none allowed to sweep Bracket B, the VYSA 1999 Girls continued their dominant run on championship weekend at Kirkwood Soccer Complex.  They defeated Massachusetts 4-2 in the semifinals on Saturday, June 20 and outlasted Maryland (MDYSA) 5-4 in nine rounds of penalty kicks on Sunday to win the Region I Tournament.
The VYSA 2000 Boys dominated Bracket D with a 3-0-0 record in group play, scoring 18 goals and giving up only two. At the semifinals and finals this weekend, they earned a narrow 4-3 win over New York West on Saturday and trounced Eastern New York (ENYYSA) 3-0 in the final on Sunday. Allexon Saravia netted two set piece goals in the victory.
Both teams have earned their places in the next US Youth Soccer ODP Championships, which begin in February.
What a game! What a win in Pk's! 99G Region I Champs. @grammacl @heatherpe8 @dalegparker #VAODP @vayouthsoccer pic.twitter.com/Sm28DqXrox

— Gerardo Ramirez (@17_gramirez) June 21, 2015
Great way to finish Regional championship. Good possession of the game and a lot tactical discipline. 3-0 Won #VAODP pic.twitter.com/jp6nJKDYPy — Alex Pinto (@alexpintosoccer) June 21, 2015
VYSA Girls 1999 Roster
Jessica Berlin
Cassidy Boyes
Kimberly Lewis
Emily Schoka
Chloe Beverina
Colleen Norton
Lucy Kellogg
Madeline Kelsey
Stephanie Nguyen
Grace Sklopan
Starland White
Sydney Austin
Genevieve Foster
Anna Heilferty
Mariana Hershner
Rebecca Crouch
Chloe Chiles
Ashley Ventura
VYSA Boys 2000 #2 Roster
Garrett Haugh
Miro Everaert
Kahlil Dover
Carson Khadka
Martin Hockey III
Aidan Sullivan
Nicolas Lopez
Mason Moriarty
Thomas Perrigo
Allexon Saravia
Cory Hogge
Andrew Villegas
Evans Moyo
Joshua Moneme
Esteban Quijano Carvajal
Eliott Racey
James Laing
Josh Williams IV
Wills Boggess