Virginia wins College Cup title in PKs after scoreless match vs. UCLA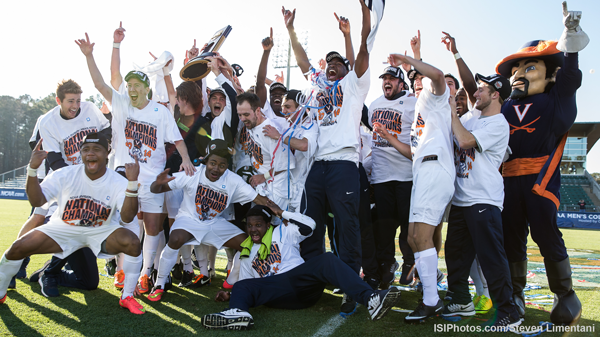 CARY, N.C. (Via University of Virginia) – Five years and a day after members of the University of Virginia men's soccer team posed for a celebratory photo in this town, each one holding six fingers in the air, the scene was repeated on the same field.
This time at WakeMed Soccer Park, though, the Cavaliers held up seven fingers — one for each of the program's NCAA championships. Moments earlier, sophomore forward Riggs Lennon had secured the title with a strike that gave Virginia a 4-2 victory in its penalty-kick shootout with UCLA.
"It's the best feeling I've ever had," Lennon said.
For George Gelnovatch, the NCAA crown was his second in his 19 seasons as UVa's head coach. He was an assistant under Bruce Arena on Virginia's first five championship teams.
"This one's pretty rewarding," Gelnovatch said. "It's hard to say more rewarding than 2009, because that was my first one [as head coach], but pretty close."
UVa (14-6-3) entered the 48-team NCAA tournament as the No. 16 seed.
"It's not my most talented team in my 19 years," Gelnovatch said. "In fact, of the five College Cup teams that I've had, it probably ranks as one of the lowest teams in terms of talent … But the team spirit and chemistry and intelligence and adaptability to tactics [of this group was] off the charts."
Virginia won NCAA title No. 6 in a penalty-kick shootout against Akron. No. 7 came in the same fashion, this time against the tournament's No. 2 seed, which entered the College Cup final as a decided favorite Sunday afternoon.
The Bruins (14-5-5), seeking their fifth NCAA title, went home unhappy, frustrated by UVa's tactics. The Wahoos (14-6-3) hunkered back on defense, as they had in their previous three games in this NCAA tournament — against No. 1 seed Notre Dame, No. 8 seed Georgetown and unseeded UMBC — and never cracked against an immensely talented opponent.
UCLA finished with 15 shots, to nine for UVa.
"It was a little nerve-wracking," senior defender Kyler Sullivan said, "but with the guys I have behind him and next to me and in front of him, I knew that if we just absorbed, absorbed, absorbed until we had to, until that clock ran out and we went to PKs, we'd be able to take it to them and get this championship."
Each team was credited with three shots on goal Sunday.
The Cavaliers "were difficult to break down," UCLA coach Jorge Salcedo said. "There's a saying in soccer that sometimes teams park a bus in front of the goal. It felt like today there were two buses in front of the goal."
Even so, Salcedo said, "I really think we had enough chances, to be quite honest. Our chances were there."
Neither team scored in 90 minutes of regulation, or in the two 10-minute overtime periods that followed. And so the game went to a five-round penalty-kick shootout. The `Hoos won the coin flip and chose to kick first, as they had against Georgetown in the quarterfinals.
"If you go first, you put pressure on the other team, and that's exactly what we did," UVa junior Todd Wharton said.
Wharton stepped forward to take the first PK, and he converted. UCLA's Brian Iloski answered to make it 1-1, Next up for Virginia was junior Scott Thomsen. Goalkeeper Earl Edwards Jr. stopped Thomsen's shot, but then UCLA's Gage Zerboni hit the crossbar with his attempt.
After UVa sophomore Sam Hayward, a spectator to that point Sunday afternoon, hammered home his shot to make it 2-1, UCLA's Willie Raygoza hit the crossbar, as Zerboni had, and the fans in the Cavaliers' section roared their approval.
It didn't hurt the `Hoos, of course, that Calle Brown, a Bunyanesque figure at 6-foot-5, takes up so much of the goal.
"Calle has an enormous frame," Virginia senior Eric Bird said. "Whenever you're looking at a guy like that who can cover so much of the goal, it's going to get in your head."
Brown said: "In practice we're always going through PKs, and the guys tell me whenever I reach up and touch the bar, it's intimidating and can throw you off your rhythm."
Sophomore Patrick Foss, after a long, deliberate run-up, knocked the ball past Edwards to make it 3-1. Larry Ndjock answered for the Bruins, which gave Lennon a chance to be the hero.
He seized his opportunity. Edwards moved to his left, and Lennon struck the ball down the middle to secure the NCAA championship for the `Hoos, after which he pulled off his shirt in triumph as his teammates raced to engulf him.
"It was beautiful," Lennon said moments later on a field strewn with red, white and blue confetti.
Lennon, who scored five goals as a freshman in 2013, when UVa lost in the NCAA semifinals to Maryland, managed only a single point this season, on an assist. An ankle injury sidelined him for seven games, and he struggled to find his rhythm, but that none of that mattered Sunday.
"I told Riggs before the game, `You're going to play a huge part in this game,' " Bird, the Cavaliers' captain, recalled afterward, "because Friday night he got taken out after 20 minutes, and he was pretty disappointed. I looked at him and I said, `This isn't over. You're going to have a big part to play in this game. Just watch.' "
Six Cavaliers were named to the all-tournament team: junior forward Darius Madison, freshman midfielder Jake Rozhansky, redshirt freshman midfielder Pablo Aguilar, Kyler Sullivan, redshirt freshman defender Sheldon Sullivan (Kyler's brother) and Brown, who also was honored as the College Cup's defensive MVP.
"Hats off to my defense," Brown said. "I couldn't have earned that MVP without them. They played their heads off today."
Against UMBC in the first semifinal, Madison scored in the game's fifth minute, and that was all the offense the Cavaliers needed Friday night.
"In the UMBC game, we had a few more chances coming out of their pressure," Gelnovatch said. "[The Bruins] got a chance to see our tactics, so when we did come out, they were getting on us pretty quickly and making it tough for us to be a counter team.
"We surprised UMBC a little bit, let's put it that way. I don't think we surprised UCLA. But the game plan was the game plan. That wasn't going to change just because they did a good job."
The `Hoos finished the season with 27 goals, the fewest of any team in Gelnovatch's tenure as head coach at his alma mater. After a 3-0 loss at Notre Dame in the ACC quarterfinals, Virginia changed tactics, sitting back more on defense and taking fewer chances on offense. The new strategy paid huge dividends.
"We found who we were," associate head coach Matt Chulis said.
In 1997, Chulis starred on the UVa team that fell 2-0 to UCLA in the NCAA title game. Seventeen years later — to the day — the Cavaliers had the satisfaction of avenging that loss.
"So many emotions," Bird said. "This group of guys, that's what makes it the most special, the fact that you get to share it with these guys who you've formed bonds with for the last four years."
Wharton said: "We all love each other, we all play for each other. It's just an incredible team, and we showed today how special we are."
Throughout a year in which injuries sidelined many key players, Gelnovatch said, the `Hoos were "constantly changing, constantly adapting, and the whole team was an unbelievably coachable group that listened to everything we had to say. Executed every game plan, and we had a lot of them."
One of the standouts of the 2009 title team, Hunter Jumper, is now a student assistant at UVa, and he broke out his championship ring for the College Cup final.
"He's been wearing it all week, actually," Bird said, smiling. "He's been like, `You guys want one of these? You gotta work hard.' "
These Cavaliers worked hard, and then some, and they prevailed when other teams might have succumbed.
"We talked about it before the game," Bird said. "We might not have been the most talented team, but we were the best team [in terms of] camaraderie, togetherness. This was the closest team that we've seen in college soccer, and I think that really played into our success, and that's why we were able to come up with the win, and that's what makes this whole thing so special."
Brown, a fifth-year senior, didn't start his first college game until the 2013 regular-season finale, and he wasn't always sure he wanted to spend his final season of eligibility at UVa.
He's glad he did.
"This is the most rewarding experience, I think, in my life so far," Brown said. "It couldn't have been a better decision on my part to come back and play with these guys and make it this far again and actually win this time."
At the postgame press conference, Brown still wore his goalkeeper gloves.
"I'm not taking these off for a while," he said.