VIDEO: US Club Soccer id2 National Selection Team arrives in Belgium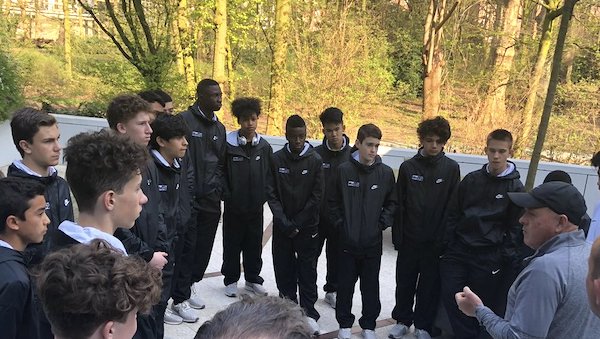 ANTWERP, Belgium (Via US Club Soccer) – The first video journal chronicling the 2019 id2 National Selection International Tour is now available, showing the domestic camp portion of the trip and the arrival in Belgium. The id2 National Selection team – made up of 18 top boys players (17 born in 2005, 1 born in 2006) – is in the midst of a two-week journey highlighted by four games against top academies in Belgium and France.
In the next seven days, the American delegation will face the 2005 academy teams of PSG, Reims, KRC Genk and KV Mechelen. This is the first time in id2 Program history that the esteemed international tour travels to Belgium and France.
But, before the team landed in Brussels, Belgium on April 1, the boys met in New Jersey for a three-day domestic camp. id2 Boys Program Director Gerry McKeown and his experienced coaching staff acclimated the players through training sessions, off-the-field meetings and a scrimmage March 31 against PDA 2004s.
The roster features 18 players from 17 clubs. These athletes are following in the footsteps of some of the U.S.'s brightest stars in the game. Notable id2 National Selection alumni include: Christian Pulisic (2012), Jonathan Gonzalez (2013), Tyler Adams (2013), Corey Baird (2010) and Timothy Weah (2013). Last month, McKeown named his All-Time Best XI alumni of id2 boys programming.
The team is now preparing for its first major test: a match against KV Mechelen 2005s in Antwerp, Belgium. The game begins at 6 p.m. CET (12 p.m. ET), and you can follow along on Twitter and Instagram for live updates. Throughout the trip, the daily log and Facebook photo album are updated regularly, as well.
The game schedule is as follows (all times referenced are local time zone):
April 2 at 6 p.m. vs. KV Mechelen 2005s (Antwerp, Belgium)
April 4 at 11 a.m. vs. KRC Genk 2005s (Antwerp, Belgium)
April 6 at 10:30 a.m. vs. PSG 2005s (Paris, France)
April 8 at 11:30 a.m. vs. Reims 2005s (Paris, France)
Consistent with US Club Soccer's philosophy that identification and development should be free to players, the organization is funding the trip in conjunction with the strong support of Nike; there is no cost to players, including airfare, lodging, meals and gear. The id2 Program is an Olympic Development Program approved by the United States Olympic Committee and U.S. Soccer Federation.
In addition to Nike's steadfast support of this experience, Premier International Tours is offering its resources to enhance the 2019 id2 National Selection International Tour – serving as an on-site liaison for the duration of the trip.