USWNT set to kickoff Tokyo Olympics against Sweden on Wednesday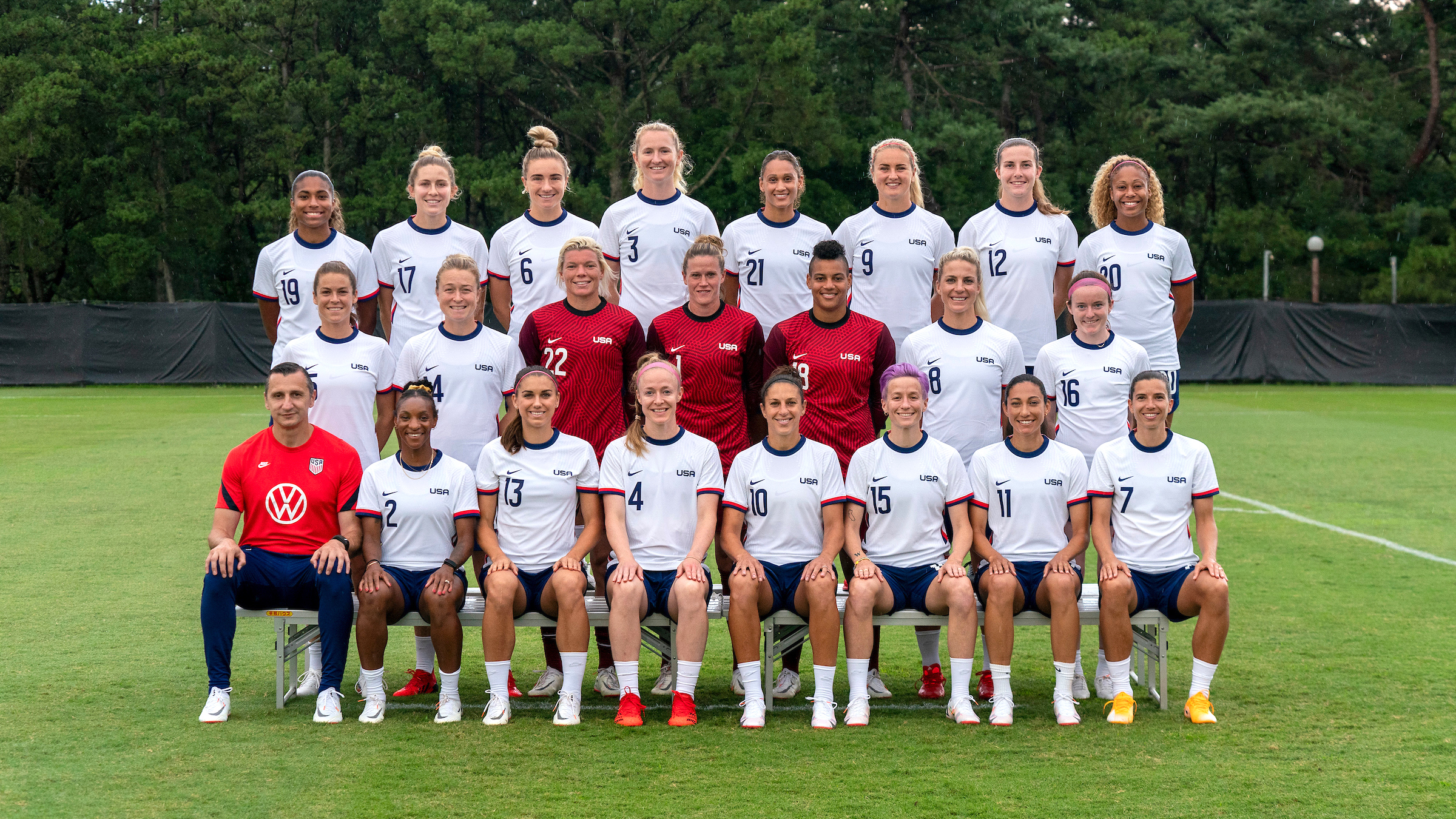 CHICAGO – After a year of waiting, the U.S. Women's National Team will launch its Olympic campaign on July 21, taking on Sweden in its first match at the delayed Tokyo 2020 Olympics.
Kickoff is at 5:30 p.m. local/4:30 a.m. ET at Tokyo Stadium in Tokyo and the match will be broadcast in the United States on the USA Network and Telemundo, with streaming coverage also provided at NBCOlympics.com and through the Telemundo Deportes App. The match will also be replayed later that day on NBCSN at 8:30 a.m. ET and 6 p.m. ET.
The USA enters the tournament looking to capture its fifth gold medal and, in the process, become the first reigning Women's World Cup champion to capture Olympic gold. Seventeen players on the USA's Olympic roster helped the USA win its fourth World Cup title in France during the summer of 2019.
To do so, the USA will not only have to navigate a grueling schedule with only two rest days between matches in the heat and humidity of the Japanese summer, but will also have to contend with a talented field of opposition, beginning with Sweden.
Ranked fifth in the world, Sweden played the USA to a 1-1 draw on April 10 in Stockholm — the only match the USA has failed to win since January of 2019 – and has been a common foe for the Americans at world championships. Sweden and the USA have met six times in World Cup play and this will be the third meeting between the nations at the Olympic Games. Sweden knocked the USWNT out of the 2016 Olympics on penalty kicks in the Quarterfinals and eventually went on to win the silver medal.
Following the match against Sweden, the USA will be back on the field three just days later for its second group stage match against New Zealand on July 24 (8:30 p.m. local/7:30 a.m. ET; NBCSN, Telemundo, NBCOlympics.com. Telemundo Deportes App).
USWNT OLYMPIC WOMEN'S SOCCER ROSTER BY POSITION (CAPS/GOALS)

GOALKEEPERS (3): 22-Jane Campbell (Houston Dash; 5), 18-Adrianna Franch (Portland Thorns FC; 6), 1-Alyssa Naeher (Chicago Red Stars; 73)

DEFENDERS (7): 17-Abby Dahlkemper (Manchester City, ENG; 71/0), 12-Tierna Davidson (Chicago Red Stars; 34/1), 2-Crystal Dunn (Portland Thorns FC; 116/24), 20-Casey Krueger (Chicago Red Stars; 34/0), 5-Kelley O'Hara (Washington Spirit; 140/2), 4-Becky Sauerbrunn (Portland Thorns FC; 188/0), 14-Emily Sonnett (Washington Spirit; 56/0)

MIDFIELDERS (6): 8-Julie Ertz (Chicago Red Stars; 110/20), 9-Lindsey Horan (Portland Thorns FC; 98/22), 16-Rose Lavelle (OL Reign; 56/14), 19-Catarina Macario (Olympique Lyon, FRA; 7/1), 6-Kristie Mewis (Houston Dash; 26/4), 3-Samantha Mewis (North Carolina Courage; 77/23)

FORWARDS (6): 7-Tobin Heath (Unattached; 171/35), 10-Carli Lloyd (NJ/NY Gotham FC; 306/126), 13-Alex Morgan (Orlando Pride; 180/110), 11-Christen Press (Unattached; 149/63), 15-Megan Rapinoe (OL Reign; 179/59), Lynn Williams (North Carolina Courage; 37/11)
LET THE GAMES BEGIN!
One of three countries to appear at every Olympics for women's soccer since its inception in 1996, the USA boast an overall record of 25-2-5. in Olympic competition. The USA's 25 wins are the most by any team in the history of the tournament and the four-time gold medalists have outscored the opposition by an overall margin of 64-32 across its 32 all-time Olympic matches. On five of its previous six trips to the Olympics, the USA has opened the tournament with a win, the lone blemish coming in a 2-0 loss to Norway in the opening match of 2008. The USA would still go on to win gold that year.
The 2020 Olympic tournament will run from July 21-Aug. 6 with six group games taking place on each of the first-round dates — July 21, 24 and 27 — giving all nations only two days of rest between matches. The 12 qualified teams have been drawn into three groups — E, F and G — of four teams each with the top two finishers in each group plus the two best third-place teams advancing to the quarterfinals. Should teams be level on points and the end of group play, the first tie-breaker is superior goal difference followed by most total goals scored.
For the first time in a world championship event, teams will be allowed five substitutes each, plus one potential concussion substitute according to the new established protocols, in addition to an extra sub if a match in the knockout rounds goes into overtime. Two yellow cards in separate games over the first four matches will result in a one-game suspension, but single yellow cards will clear after the Quarterfinals.
OLYMPIC ROSTERS EXPANDED
On June 30, the International Olympic Committee agreed to a more flexible approach towards the participation of the alternate players in the Olympic Football Tournaments, ruling that all participating countries are now entitled, if they choose, to reconstitute their teams ahead of every match. This means that while each team must still only have 18 players on its game day roster for each Olympic match, teams now can choose those 18 from a total of 22 players – the original 18 named to the Olympic Team plus the four named alternates, who are now members of the 2020 U.S. Olympic Women's Soccer Team. The IOC made it clear that this is an exception made only for the Tokyo 2020 Games and does not create a precedent for future Olympics.
INSIDE THE SERIES: USA vs. SWEDEN
The USA has played Sweden 41 times dating back to 1987 – the fourth most of any country behind Canada, China PR and Norway. The ninth meeting all-time between the teams at a world championship means that Sweden surpasses Brazil, Japan and Norway – all of whom the USA has faced eight times as world championships – as the USWNT's most frequent foe at the World Cup and Olympics.
The USA and Sweden have played six times at the World Cup – including each of the last five tournaments – and twice previously at the Olympics. At the 1996 Olympics, which was the first Olympics to feature women's soccer, the USA defeated Sweden, 2-1, in the second match of the group stage. In 2016, Sweden was the team that knocked the USA out on penalty kicks in the Quarterfinals and eventually went on to won the silver medal. D espite getting out-shot 27-6 during regulation in that Quarterfinal match in Brasilia, Sweden played a tactically savvy and aggressive match, earning a 1-1 tie in regulation before holding the USA at bay in overtime and then prevailing 4-3 in PKs. Blackstenius scored for Sweden in the 61st minute while Alex Morgan came up with the equalizer for the Americans in the 77th minute.
The teams most recently met on April 10, 2021, in Stockholm, a 1-1 tie that featured a header goal off a set play from Lina Hurtig in the 38th  minute and a late penalty kick equalizer from Megan Rapinoe in the 87th minute after Kelley O'Hara was brought down on the right edge of the penalty box. The draw brought an end to the USA's 16-game winning streak, which was the third-longest in USWNT history, and marked the first time the USWNT had trailed at any point in a match under head coach Vlatko Andonvoski. Andonovski's first match in charge of the USA came against Sweden on Nov. 7, 2019, in Columbus, Ohio. The USA won 3-2 on two goals from Carli Lloyd and one from Christen Press. Both of Sweden's goals were scored by forward Anna Anvegard, who was not on the roster for the game in Stockholm but is on the Olympic Team roster. The 24-year-old Anvegard has eight goals in her 19 caps.
In the last 15 matches with Sweden dating back to 2010, the USA is 7-3-6, making for one of the most competitive rivalries among top teams in recent years. In fact, seven of the last eight meetings between the USA and Sweden have been decided by one goal or fewer, with the USA 3-1-4 over that span.
GROUP G AT A GLANCE
Following the match between the USA and Sweden, Australia and New Zealand will kick off at 8:30 p.m. local/7:30 a.m. ET to round of the action in Group G. Co-hosts for the 2023 FIFA Women's World Cup, Australia is currently ranked No. 9 in the world while New Zealand is 22nd.
Should the U.S. advance to the second round by winning the group, it would meet a third-place team from Group E or F. If the USA finishes second in the group, it would face the first-place team from Group F. A third-place finish could mean a possible meeting with the first-place team from Group E.
Group E is comprised of Japan, Canada, Great Britain and Chile. Group F consists of the Netherlands, Brazil, China PR and Zambia.
USWNT EYES OLYMPIC HISTORY
The U.S. Olympic Women's Soccer Team had advanced to the gold medal game of every Olympic Women's Soccer Tournament that had been contested until 2016, when the Americans were knocked out in penalty kicks in the quarterfinal round by Sweden. The USA won the inaugural gold medal in 1996 in Atlanta, won silver in 2000 in Sydney and then won three straight golds after standing atop the podium in Athens, Greece in 2004, Beijing in 2008 and London in 2012.
The USA has lost just one game in regulation in the Olympics, that coming in the opening match of the 2008 Beijing Games, a 2-0 setback to Norway, but the USA would go on to win the gold. The USA has not lost an Olympic match in regulation time since that tournament, winning all six matches in England in 2012 and winning two and tying two in Brazil in 2016, which included that penalty kick loss Sweden. That match officially counts as a draw. The other four draws were against China PR (1996), China PR (2000), Australia (2004) and Colombia (2016). In the 2000 Olympic gold medal game, the USA lost 3-2 to Norway on a controversial "golden goal" that hit the arm of forward Dagny Mellgren, causing the ball to move forward toward the goal before she scored past U.S. goalkeeper Siri Mullinix.

USA ROSTER NOTES
Carli Lloyd has the most Olympic appearances coming into the tournament with 16 and the most Olympic goals with eight. Tobin Heath has made 12 Olympic appearances. The USWNT record for most Olympic appearances is 22, held by Christie Pearce Rampone. Lloyd is currently tied for second in Olympic appearances with Julie Foudy, Kate Markgraf, Kristine Lilly, Joy Fawcett and Hope Solo. Heath's 12 caps are tied for 12th all-time in USWNT Olympic history.
The 18-player roster named on June 23 averages 113 international caps per player and has a combined total of 77 Olympic appearances and 17 Olympic goals, courtesy of Lloyd (8), Alex Morgan (5), Megan Rapinoe (3) and Crystal Dunn (1). By comparison, at the time of roster announcement for the 2019 FIFA Women's World Cup roster, the squad averaged 80 caps per player while the 2016 Olympic roster averaged 77 caps per player heading into the Send-Off matches with a total of 53 combined Olympic caps. Once the alternates were made full members of the roster, the average cap number drops to 92 per player.
The average age of the 22 players on the Olympic Team roster is just under 30 years of age.
So far this year, 12 players have scored the USA's 37 goals: Megan Rapinoe (7), Samantha Mewis (5), Christen Press (5), Alex Morgan (3), Lindsey Horan (3), Carli Lloyd (3), Kristie Mewis (2), Tobin Heath (2), Margaret Purce (2), Lynn Williams (2), Rose Lavelle and Catarina Macario.
Thirteen different players have also tallied an assist in 2021: Carli Lloyd (6), Lindsey Horan (4), Christen Press (4), Samantha Mewis (3), Rose Lavelle (2), Megan Rapinoe (2), Kristie Mewis (2), Alex Morgan (2), Crystal Dunn (2), Ali Krieger, Emily Sonnett, Casey Krueger and Tierna Davidson.
Overall, 16 different players have been directly involved in at least one of the USWNT's 37 goals in the 2021 calendar year.
Rapinoe (7 goals, 2 assist), Press (5 goals, 4 assists) and Lloyd (3 goals, 6 assists) lead the way with nine goal contributions while and Samantha Mewis (5 goals, 3 assists) has been involved in eight.
IN FOCUS: SWEDEN | FIVE THINGS TO KNOW
FIFA World Ranking: 5
UEFA Ranking: 4
Olympic Appearances: 7th (1996, 2000, 2004, 2008, 2012, 2016, 2020)
Best Olympic Finish: Silver Medal (2016)
Overall Record in Olympics: 7-12-6 (GF: 24; GA: 32)
Record vs. USA: 6-23-12
Head Coach: Peter Gerhardsson
SWEDEN OLYMPIC WOMEN'S SOCCER ROSTER BY POSITION

GOALKEEPERS (3): 12-Jennifer Falk (Hacken), 1-Hedvig Lindahl (Atletico Madrid, Spain), 22-Zecira Musovic (Chelsea, England)

DEFENDERS (6): 2-Jonna Andersson (Chelsea, England), 14-Nathalie Bjorn (Rosengard), 6-Magdalena Eriksson (Chelsea, England), 4-Hanna Glas (Bayern Munich, Germany), 13-Amanda Ilestedt (Bayern Munich, Germany), 3-Emma Kullberg (Hacken)

MIDFIELDERS (6): 9-Kosovare Asllani (Real Madrid, Spain), 16-Filippa Angeldal (Hacken), 5-Hanna Bennison (Rosengard), 8-Lina Hurtig (Juventus, Italy), 20-Julia Roddar (Washington Spirit), 17-Caroline Seger (Rosengard)

FORWARDS (7): 19-Anna Anvegard (Rosengard), 11-Stina Blackstenius (Hacken), 21-Rebecka Blomqvist (Wolfsburg), 10-Sofia Jakobsson (Real Madrid, Spain), 7-Madelen Janogy (Hammarby), 18-Fridolina Rolfo (Wolfsburg, Germany), 15-Olivia Schough (Rosengard)
SWEDEN ROSTER NOTES
The USA and Sweden will be meeting for the 42nd time overall and for the third time in the Olympics. The USA leads the Olympic series 1-0-1, though Sweden knocked the USA out of the 2016 Olympics in penalty kicks in the quarterfinals.
Nine players from Sweden's 2016 Olympic Roster are back for the 2020 competition, headlined by midfielder Caroline Seger, who is the nation's all-time caps leader with 215 international appearances.
Sweden qualified for the 2020 Olympics by virtue of a third-place finish at the 2019 FIFA Women's World Cup.
Sweden has some of Europe's and world's best attacking players in Stina Blackstenius (17 career international goals) who scored against the USA at the 2016 Olympics, Sofia Jakobsson (23 career goals), Fridolina Rolfo (14 career goals), Lina Hurtig (12 career goals), who scored against the USA on April 10 of this year, and Kosovare Asllani (38 career goals).
While Sweden has one of the most competitive professional leagues in the world, it has 12 players playing for top clubs outside the country, seven of them on teams that are won titles in their respective leagues last season. Three players play in England for reigning champions Chelsea FC, two in Spain (for Real Madrid and Atletico Madrid), five in Germany (three for current champions Bayern Munich, and two for Wolfsburg) and one in Italy for league champions Juventus.
Defender Julia Roddar is the only player based in the USA where she plays for the Washington Spirit.