USWNT set to face Romania on Thursday in San Jose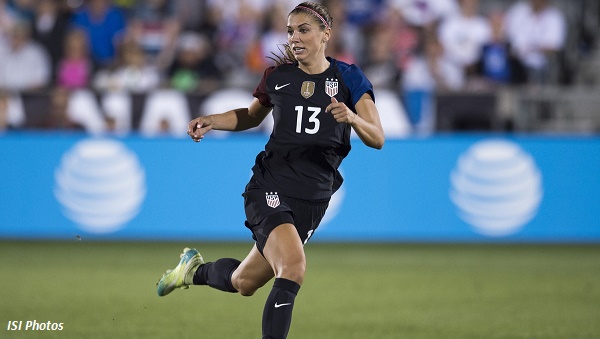 USA vs. Romania
Avaya Stadium; San Jose, California
Nov. 10, 2016 (7 p.m. PT on ESPN2)
International Friendly Match
(Via U.S. Soccer) – The U.S. Women's National Team will wrap up its 2016 schedule with a pair of matches against Romania in California beginning on Thursday, Nov. 10 at Avaya Stadium in San Jose (7 p.m. PT on ESPN2), followed by a second game on Sunday, Nov. 13 at StubHub Center in Carson (6:30 p.m. PT on FS1). These will be the USA's first games against Romania in the history of the programs.
FAMILIAR NAMES RETURN AS EDMONDS, MENGES AND MCDONALD GET FIRST CALL-UPS: Four veterans of the 2015 Women's World Cup Team and 2016 Olympic Team who were not called in for the games against Switzerland in October return to the roster: defenders Julie Johnston and Ali Krieger, midfielder Megan Rapinoe and forward Alex Morgan. Additionally, five of the six players that earned their first cap against Switzerland last month return to this roster: Forwards Lynn Williams and Kealia Ohai, defenders Casey Short and Abby Dahlkemper and midfielder Andi Sullivan. Three uncapped players have been called up for the first time: Kristen Edmonds, who led the NWSL's Orlando Pride with six goals scored, defender Emily Menges from Portland Thorns FC and forward Jessica McDonald from the Western New York Flash, with the latter two replacing original call-ups Jaelene Hinkle (ankle) and Meghan Klingenberg (back) who were ruled out due to injuries. McDonald is coming off a fantastic season with the 2016 NWSL Champion Western New York Flash. She started 19 games and scored 10 goals, second-most on the team behind NWSL MVP and Golden Boot winner Lynn Williams, as well as second-most in the league. She finished in the top three in league standings for most assists (7), most shots (61) and most shots on goal (34). In the NWSL Championship game, McDonald provided the crucial assist to Williams that allowed the Flash to tie the match in the 124th minute. In her third season as a professional player, Menges started all 20 games and played every minute for the 2016 NWSL Shield winners Portland Thorns. She was part of a back line that allowed just 19 goals all year, the fewest in the league, and racked up an 8-1-1 home record. She was named to the 2016 NWSL Best XI. Goalkeeper Adrianna Franch, who has been in with the U.S. team for several camps over the last few years, was originally called into camp as well but was unable to join the team due to a family commitment.
+Read: USMNT roster named for final round of World Cup qualifying
U.S. Women's National Team Roster by Position:
GOALKEEPERS (2): Alyssa Naeher (Chicago Red Stars), Ashlyn Harris (Orlando Pride)
DEFENDERS (7): Abby Dahlkemper (Western New York Flash), Julie Johnston (Chicago Red Stars),Ali Krieger (Orlando Pride),Emily Menges (Portland Thorns FC),Kelley O'Hara (Sky Blue FC),Becky Sauerbrunn (FC Kansas City), Casey Short (Chicago Red Stars),
MIDFIELDERS (8): Morgan Brian (Houston Dash), Kristen Edmonds (Orlando Pride),Tobin Heath(Portland Thorns FC),Lindsey Horan (Portland Thorns FC),Allie Long (Portland Thorns FC),Samantha Mewis (Western New York Flash),Megan Rapinoe (Seattle Reign), Andi Sullivan(Stanford)
FORWARDS (6): Crystal Dunn (Washington Spirit), Jessica McDonald (Western New York Flash),Alex Morgan (Orlando Pride),Kealia Ohai (Houston Dash),Christen Press (Chicago Red Stars), Lynn Williams (Western New York Flash)
CALIFORNIA TIES: The games in San Jose and Carson will represent a homecoming of sorts for several players on the roster as they all have ties to either the Bay Area, Southern California or the state of California itself. Julie Johnston (Santa Clara), Kelley O'Hara (Stanford), Alex Morgan (California), Christen Press (Stanford) and Andi Sullivan (Stanford) all attended (or attend in the case of Sullivan) colleges in the Bay Area and within 50 miles of Avaya Stadium. Additionally, Morgan (Diamond Bar) and Press (Palos Verdes Estates) are native to Southern California, while Williams, who attended Pepperdine in Malibu (not far as the crow flies from the StubHub Center) calls Fresno home. Abby Dahlkemeper, a Menlo Park native, went to school at UCLA, as did her club and country teammate, Samantha Mewis. Megan Rapinoe, is also a native of the state, as she hails from Redding up in the very north part of California about 120 miles from the Oregon border.
USA LOOKS TO STAY UNBEATEN IN REGULATION IN 2016: The USA is 20-0-3 in 2016 (the penalty kick loss to Sweden in the Olympics officially counts as a tie), earning 15 shutouts while allowing just nine goals. The USA started the year with a 5-0 win against the Republic of Ireland and then won two tournaments early on – taking the title at the CONCACAF Olympic Qualifying Tournament in February and the SheBelieves Cup in March. The USA played two friendly matches against Colombia in April,winning 7-0 and 3-0 with seven different players scoring the 10 goals; and two against Japan in June, a wild 3-3 draw on June 2 in Commerce City, Colo., and a rematch in Cleveland that the USA won 2-0 during a game that was stopped in the 76th minute due to inclement weather. In July, the USA faced South Africa on July 9 in the first meeting between the teams, winning just 1-0 as the WNT logged a dominating if somewhat uneven performance. The USA dominated Costa Rica in its final Olympic send-off match on July 22, winning 4-0 , and earned the full six points from its first two matches of the 2016 Olympics Games with a 2-0 win against New Zealand and a 1-0 win vs. France. The USA picked up a point in its final first-round match against Colombia to finish atop Group G and earn a quarterfinal meeting with Sweden, where the Americans dominated, out-shooting their opponents 27-6, but eventually fell in the shootout. The first post-Olympic match was a rousing success as the USA powered home nine goals , which included three goals and four assists from Carli Lloyd to send Heather O'Reilly into retirement in grand fashion. The USA kept it rolling with a 3-1 victory against a strong Netherlands team on Sept. 18 and a 4-0 win against Switzerland on Oct. 19 that featured goals from four different players . It then went on to defeat Switzerland 5-1 on Oct. 23 in front of record-crowd of 23,400 in Minneapolis for its 20th win of the year. Seven different players scored the USA's nine goals in the two matches against Switzerland. This is the 11th time the U.S. Women have won 20 or more games in a calendar year and fourth time in the last decade.
U.S. TEAM AND ROSTER NOTES:
The USA is 20-0-3 in 2016 and will try to remain unbeaten in regulation for just the third time in a calendar year in which it has played 10 or more matches. The USA went 18-0-4 in 2006 and 13-0-3 in 2013. The penalty kick loss to Sweden in the Olympics officially counts as a tie. Fourteen different players have scored for the team in 2016.
Thirteen of the 18 players that were on the 2016 Olympic Team were named to this roster, plus two of the four alternates.
U.S. captain Carli Lloyd will not be on the roster for these games as she is getting married this month.
Alex Morgan comes into the camp with 71 career goals and needs four more to tie Cindy Parlow for seventh on the USA's all-time goal scoring list. Morgan has 15 goals in 2016 and has earned 118 caps.
The only other time Morgan scored double-digit goals for the USA in a calendar year was in 2012 (28 goals), which also happened to be an Olympic year. Her six Olympic goals place her in sole possession of third place behind Carli Lloyd (8) and Abby Wambach (10) on the USA's Olympic goals-scored list.
Morgan's two goals on

Sept. 15

marked her 19th career multi-goal game.
OnJan. 23, 2016, Morgan became the 34th female player in U.S. history to play 100 times for her country. Morgan debuted for the USA on Oct. 2, 2010, vs. China and she's averaged 0.60 goals per game in her international career.
Morgan's goal 12 seconds into the match against Costa Rica on

Feb. 10

was the earliest in U.S. WNT history. She also scored the latest goal in U.S. history, tallying after 122 and 22 seconds against Canada in the semifinal of the 2012 Olympics. It was also the quickest in CONCACAF qualifying history, besting Abby Wambach (35 seconds vs. Dominican Republic on Jan. 20, 2012).
Morgan scored three goals in the Olympic Qualifying semifinal match against Trinidad & Tobago on

Feb. 19

. It was her third career hat trick and the first since Nov. 28, 2012 against Ireland.
Andi Sullivan, currently a junior at Stanford, is the only collegiate player in camp. She played for the USA in the 2012 FIFA U-17 Women's World Cup and the 2014 FIFA U-20 Women's World Cup. She earned her first two caps against Switzerland on Oct. 19 and Oct. 23, starting both matches. She also earned her first international assist on Oct. 23. Sullivan is Stanford's leading scorer this year with 10 goals and six assists. She scored four goals in two games since returning from her first WNT camp.
For the games against Switzerland, Sullivan was the first active college player to earn a cap for the U.S. WNT since Emily Sonnett started vs. Brazil on Oct. 25, 2015, in Orlando during her senior year at UVA. Mallory Pugh, who has 17 caps this year, has earned them all before enrolling in college.
2016 NWSL Golden Boot winner Lynn Williams scored 11 times for the Western New York Flash last season, plus two more in her club's playoff semifinal victory over the Portland Thorns and the dramatic equalizer in overtime of the championship game before her team triumphed in penalty kicks. She set a record for fastest goal in a WNT debut when she scored 49 seconds after coming on at halftime against Switzerland on Oct. 19. The record would last just four days. Williams started her first career match against Switzerland on Oct. 23 and also earned her first assist, setting up Crystal Dunn's goal.
Houston Dash forward Kealia Ohai, who also scored 11 goals during the regular season, did Williams one second better, scoring 48 seconds into her debut on Oct. 23 after coming on as a substitute against Switzerland in the 81st minute. She also famously scored the game-winning goal in the 2012 FIFA Under-20 Women's World Cup Final as the USA defeated Germany, 1-0, to win its third championship for that age level.
Former U.S. Under-17 Women's National Team captain Abby Dahlkemper came off the bench in both matches against Switzerland in October to earn her first two caps.
Chicago Red Stars defender Casey Short started both matches against Switzerland, one at outside midfield and one at outside back, to earn her first two caps. She played 90 minutes in both games.
First-time call-up Kristen Edmonds played professionally in Iceland and Russia after a college career at Rutgers.
Ashlyn Harris earned her second start in goal of the year against Switzerland on Oct. 23 and earned her 10th cap.
Against Switzerland on Oct. 19, U.S. goalkeeper Alyssa Naeher notched her fourth start in goal in 2016 and fifth appearance this year. She has nine career caps and six shutouts.
Allie Long has three goals (all on headers) and two assists in 2016. Against Switzerland on Oct. 19, for the first time in her WNT career, Long played as a center back in the center of a three-player back line. She played in the same position in the second match Swiss on Oct. 23. Long has 18 career caps.
Tobin Heath has 126 caps, a mark reached by just 26 players in U.S. history. Heath had two assists in the 2016 Olympic Games, both coming on Lloyd's goals, and now has seven in 2016 and 28 for her career with the WNT. She scored against Switzerland on Oct. 19, her fifth goal this year and 17th international tally.
Kelley O'Hara picked up her 11th career assist on Carli Lloyd's first goal on Oct. 23. She has 89 international appearances and two career goals. She is tied on 37th place with Stephanie Cox in the all-time caps list.
Both Christen Press and Crystal Dunn scored in the matches against Switzerland, with Press scoring one goal on Oct. 19 and again on Oct. 23 and Dunn tallying in the second match. They are both tied for the team lead in appearances this year with 23. After her goals against Switzerland, Press now has 37 goals in 78 international appearances. Press has now moved past April Heinrichs and Sydney Leroux into 14th place on the U.S. WNT all-time goals list. She is averaging just under a goal for every two games she plays (0.47 goals per game) for the WNT. She has eight goals and three assists in 2016.
Against Switzerland on Oct. 23, Dunn recorded the 17th goal of her international career and 13th of 2016, putting her third behind Lloyd (17) and Morgan (15). She added an assist on Heath's goal against Switzerland on Oct. 19. Dunn has six assists in 2016, fourth-most on the team. She has 43 caps.
Before the match against Puerto Rico in the Olympic Qualifying tournament on

Feb. 15

, Dunn had scored five goals for the U.S. WNT. She doubled that total vs. Puerto Rico, notching five goals to tie a U.S. record for most goals scored in a match. She became the seventh U.S. player to achieve that feat. The other six were: Brandi Chastain (1991), Michelle Akers (1991), Tiffeny Milbrett (2002), Abby Wambach (2004), Amy Rodriguez (2012) and Sydney Leroux (2012). It was Dunn's first multi-goal game for the WNT.
Dunn and Mallory Pugh each notched a goal against Colombia on

Aug. 9

at the Olympics. It was the first Olympic goal for each player. Additionally, with that goal Pugh became the youngest American player to ever score at the Olympic Games. She also became the youngest American female player to start in an Olympic match when she took the field against New Zealand on

Aug. 3

.
Pugh is not in this camp as she is preparing for the U-20 Women's World Cup in Papua New Guinea which kicks off on

Nov. 14

. Pugh was called up by Jill Ellis for the USA's January training camp this year, making her one of the youngest field players called into the full U.S. WNT in the past 15 years. Pugh was a starter at the age of 16 in the 2014 FIFA U-20 Women's World Cup in Canada.
After earning her first two caps at the 2013 Algarve Cup, now 22-year-old Lindsey Horan got her first three starts at the end of last year, switching positions to holding midfielder where she excelled in the Olympic Qualifying tournament and the SheBelieves Cup. Since then, she has played several positions in the midfield. Horan, who was the first American female player to skip college and head overseas to play professionally, left for Europe in July of 2012 after she graduated from high school and spent more than three years in France with Paris Saint-Germain. She scored her first WNT goal against T&T at the end of last year and scored her second to break open a tight match against Canada in the championship of Olympic Qualifying. Her third was one to remember, coming off the bench in her hometown of Denver on

June 2

to head home an apparent game-winner in the 89th minute, but Japan equalized in the third minute of stoppage time. Horan's goal against Japan was her second of 2016 and third of her career. She also has four assists this year.
Against Canada on

Feb. 21

in the championship game of the Olympic Qualifying tournament, U.S. co-captain Becky Sauerbrunn became the 35th U.S. female player to reach 100 caps. She picked up her third assist of 2016 and fifth of her career on Dunn's 70th minute goal against Thailand on

Sept. 15

. She now has 117 caps.
IN THE RECORD BOOKS:
Alex Morgan has 71 goals and is in eighth place on the USA's all-time goal scoring list. Next in line is Cindy Parlow with 75 career goals.
Ali Krieger earned her 95th cap against Netherlands on

Sept. 18

and is now five away from becoming the 36th player in WNT history to reach the century mark
Lynn Williams added her name to the U.S. WNT history books on Oct. 19 vs. Switzerland with a goal (the game-winner) in her first game for the WNT and became the 20th U.S. WNT player to score in her first cap. In addition, her goal 49 seconds into the second half after coming on as a substitute was the quickest in a debut in U.S. history. The record would only last four days.
Kealia Ohai also scored on her debut, 48 seconds after coming into the game in the 81st minute. She became the 21st player in WNT history to score in her first cap.
Morgan Brian earned her 50th cap at the young age of 23 on

March 6

. Now with 61, she is tied with Leslie Osborne in 47th place on the all-time caps list.
The three goals for each team during the 3-3 draw on

June 2

against Japan equaled the highest-scoring draw in WNT history. It has occurred only three previous times, most recently vs. GER in 2013.
The USA's three goals in the first four minutes and four seconds of the

Sept. 15

match against Thailand was the quickest three goals to start a match in U.S. history. The quickest prior to that was three goals in less than six minutes against Martinique in Women's World Cup qualifying in 1991 as Mia Hamm scored in the first minute, April Heinrichs scored in the third and Michelle Akers tallied in the sixth.
LYNN FOR THE WIN: Lynn Williams, 23, is the fourth consecutive NWSL Golden Boot winner to also win the MVP award, joining FC Kansas City's Lauren Holiday in 2013, Seattle Reign FC's Kim Little in 2014 and the Washington Spirit's Crystal Dunn in 2015. The Fresno, California native concluded the 2016 season with 11 goals in 19 games, tied with Houston Dash forward Kealia Ohai for the most goals in the league, but won the Golden Boot based on her five assists as opposed to Ohai's four. The Pepperdine University product played 1,670 minutes and led the league in shots (70), ranked second in shots on goal (34) and tied for fourth in assists (5). Seven of her 11 goals came in the second half of games – including a dramatic tying goal in the 93rd minute on July 30 vs. the Dash to earn a 3-3 draw. Williams led one of the best offenses in league history as the Flash scored 40 goals in 20 games to become just the third team in NWSL history to average 2.00 or more goals per game. She scored two goals in a game on two separate occasions during the regular season – May 27 in a 4-0 victory over the Boston Breakers and June 24 in a 7-1 win also over the Breakers. In the NWSL playoff semifinal, she scored two goals in extra time to lead the Flash to a 4-3 victory in extra time over 2016 NWSL Shield winners Portland Thorns FC, setting the stage for her Championship Game heroics.
BY THE NUMBERS:
0.39 Goals per game the USA allowed in 2016
1 USA's FIFA ranking
2 Times the USA has gone unbeaten in regulation in a calendar year when playing 10 or more games
3.43 Goals per game the USA scored in 2016
4 Goals needed by Alex Morgan to catch Cindy Parlow (75) for 7th on the USA's all-time scoring list
5 Caps Ali Krieger needs to become the 36th woman in U.S. history to reach 100 caps
7 Number of players' debut in 2016: Pugh, Sullivan, Short, Williams, Dahlkemper, Hatch, Ohai
14 Number of different U.S. players to score a goal in 2016
99 Minutes on the field per goal averaged by Abby Wambach in her career
104 Minutes on the field per goal averaged by Alex Morgan in her career
130 Minutes on the field per goal averaged by Mia Hamm in her career
JILL ELLIS FACT FILE : After leading the USA to the Women's World Cup title, U.S. head coach Jill Ellis was rewarded with a multi-year contract extension on Aug. 5, 2015. She is the third U.S. coach – and first female American coach — to win a Women's World Cup at the senior level, following Anson Dorrance (1991) and Tony DiCicco (1999). Ellis was named the 2015 FIFA World Coach of the Year for Women's Soccer on Jan. 11, 2016, at the FIFA Awards Gala in Zurich, Switzerland. She was also named the CONCACAF Female Coach of the Year. Ellis, who previously served two stints as interim head coach of the U.S. WNT, is the eighth official head coach in U.S. history. She coached seven games as interim coach in 2012 (5-0-2) and two games (1-0-1) as interim in 2014 before she officially came on board, which gave her a 6-0-3 record before she ever was formally named the head coach in May of 2014. She has gone 50-3-10 since then for an overall record of 56-3-13, earning her 50th career WNT win on July 22 vs. Costa Rica. Since taking over as head coach, Ellis has won four tournaments: the 2015 Algarve Cup, the 2015 Women's World Cup, the 2016 CONCACAF Women's Olympic Qualifying Championship and the 2016 SheBelieves Cup. After an early exit from the 2016 Olympics, Ellis will now start focusing on building a team to qualify for the 2019 FIFA Women's World Cup,
Prior to becoming head coach, Ellis had extensive experience in the U.S. Women's National Team programs having served as an assistant coach for the U.S. Women's National Team under Pia Sundhage, helping the team to a gold medal at the 2008 Olympics. She has served two stints as head coach of the U.S. Under-20 Women's National Team, guiding the squad to the CONCACAF title in 2010 and to the FIFA U-20 Women's World Cup in Germany.
Ellis also had two stints as the head coach of the U.S. Under-21 Women's National Team, the second starting in the middle of 2005, after which she guided the team to the Nordic Cup in Sweden. She also coached the U-21s to the Nordic Cup title in Germany in 2000.
Ellis was a scout for the USA at the 2000 Olympics in Sydney, and has served as an assistant coach with the U.S. U-21s and U-16 Girls' National Teams.
Ellis joined U.S. Soccer full-time after a highly successful 12-year run as the head women's soccer coach for the UCLA Bruins. Ellis led UCLA to eight NCAA Final Fours, including seven in a row from 2003-2009, and won six straight conference titles from 2003-2008. She finished her time in Westwood with a record of 229-45-14. Ellis, who was also head coach at the University of Illinois, has an all-time collegiate coaching record of 248-63-14.
She was the 2000 NSCAA National Coach of the Year after leading the Bruins to the NCAA Final in just her second season as head coach.
Ellis arrived in Westwood after heading the University of Illinois women's soccer program for two years. In 1998, she brought the Fighting Illini to a 12-8 record and a first Big Ten Tournament berth. Prior to coaching at Illinois, Ellis served as an assistant coach at the University of Virginia for one year (1996-97), at Maryland for three years (1994-96) and at North Carolina State for another three years (1988-90). As an assistant coach at North Carolina State, Ellis helped the Wolfpack secure the 1988 ACC title and an NCAA Final Four appearance.
A forward during her playing days at the College of William & Mary from 1984-87, Ellis was a Third-Team All-American in 1987. In 1984, Ellis helped Braddock Road in Virginia to the Under-19 club national championship.
Ellis was the keynote speaker at the 2016 commencement exercises at William & Mary. Her theme for the speech: "Be bold."
Ellis grew up in Portsmouth, England, and came to the United States in 1981 at the age of 15. She also lived in Singapore for two years while her father helped to develop a national soccer program in that country. She earned her B.A. in English Literature and Composition from the College of William & Mary in 1988 and currently resides in Miami. She has a USSF "A" coaching license.
AT AVAYA STADIUM: The match in Northern California will mark the USA's eighth visit to San Jose, but just the second visit to Avaya Stadium, home of the San Jose Earthquakes. The USA's previous six matches in San Jose were all at historic Spartan Stadium. The USA last played at Avaya Stadium on Mother's Day in 2015, a 3-0 win vs. the Republic of Ireland. The U.S. Women have never lost in San Jose, going 7-0-0 while scoring 28 goals and allowing one.
IN FOCUS: ROMANIA
FEDERATIA ROMANA DE FOTBAL
FIFA World Ranking: 36
UEFA Ranking: 22
World Cup Appearances: 0
Best World Cup finish: None
Record vs. USA: 0-0-0
Head Coach: Mirel Albon
Romania Women's National Team Roster by Position:
GOALKEEPERS (2): 12-Roxana Oprea (Olimpia Cluj), 1-Linda Kajtar (Vasas Femina Odorheiu Secuiesc)
DEFENDERS (5): 2-Andreea Corduneanu (Olimpia Cluj), 3-Lidia Havristiuc (Olimpia Cluj), 6-Maria Ficzay (Medyk Konin, POL), 16-Ana Maria Gorea (ASA Târgu Mures), 15-Teodora Meluta (Olimpia Cluj)
MIDFIELDERS (7): 4-Ioana Bortan (Olimpia Cluj), 5-Adina Giurgiu (Olimpia Clurj), 7-Raluca Sarghe (Konak Belediyespor, TUR), 8-Stefania Vatafu (Olimpia Cluj), 10-Andreea Voicu (Olimpia Cluj), 13-Beatrice Tarasila (Olimpia Cluj), 21-Cristina Carp (Olimpia Clurj)
FORWARDS (5): 9-Laura Rus (Icheon Daekyo, KOR), 14-Alexandra Lunca (Olimpia Cluj), 17-Mara Batea (Olimpia Cluj), 18-Mihaela Ciolacu (Olimpia Cluj), 19-Loredana Popa (Olimpia Cluj)
ROMANIA NOTES:
Romania, currently 36th in the FIFA rankings, finished second behind France in Group 3 of qualifying for the 2017 UEFA Women's Euro, earning a spot in the playoffs against Portugal for the final berth to the 16-nation tournament being held in the Netherlands. Romania barely missed out on being one of the six best group runners-up, and thus qualifying directly for the final tournament. Russia edged Romania for the sixth spot by just one more goal scored.
Midfielder Ştefania Vătafu was the top scorer for Romania during Euro qualifying, tallying four goals in eight games, while Alexandra Lunca, Laura Rus, Adina Giurgiu and Andreea Voicu notched two each. These five players combined for 12 of Romania's 18 goals in the qualifying tournament and they are all in this roster.
In the playoffs, Portugal and Romania drew 0-0 in the first leg in Portugal, but a 1-1 draw in Romania gave Portugal the final berth to the Euros next summer on away goals.
Substitute Laura Rus scored to equalize the second leg with nine minutes to go but Romania's debut playoff ended as it could not get another goal.
USA VS. ROMANIA SERIES
The two friendlies will mark the first matches between the USA and Romania in women's soccer. Romania is the 51st different country the U.S. Women have played in their history.
LAST TIME…
On the field for the USA:
Oct. 23, 2016 – U.S. Bank Stadium; Minneapolis, Minnesota
International Friendly
USA 5 Lloyd 25, 51; Press 53; Dunn 63, Ohai 82
SUI 1 Mauron 7
Lineups:
USA: 24-Ashlyn Harris; 4-Becky Sauerbrunn (14-Abby Dahlkemper, 67), 20-Allie Long, 8-Casey Short; 5-Kelley O'Hara (23-Christen Press, 46), 19-Andi Sullivan, 6-Morgan Brian (3-Samantha Mewis, 46), 16-Crystal Dunn (7-Kealia Ohai, 81), 17-Tobin Heath; 10-Carli Lloyd (capt.) (9-Lindsey Horan, 74), 13-Lynn Williams
Subs not used: 1-Alyssa Naeher, 12-Emily Sonnett
Head Coach: Jill Ellis
SUI: 1-Gaëlle Thalmann (12-Stenia Michel, 46); 15-Caroline Abbé (capt.), 22-Vanessa Bernauer, 18-Viola Calligaris, 6-Selina Kuster; 5-Noelle Maritz, 14-Rahel Kiwic (3-Melanie Müller, 88), 11-Lara Dickenmann; 8-Cinzia Zehnder (7-Martina Moser, 59), 19-Eseosa Aigbogun (4-Fabienne Bangerter, 71), 20-Sandrine Mauron (2-Patricia Willi, 85)
Subs not used: 21-Seraina Friedli, 16-Fabienne Humm, 23-Barla Deplazes
Head Coach: Martina Voss-Tecklenburg