USWNT set to begin 2020 SheBelieves Cup vs. England on Thursday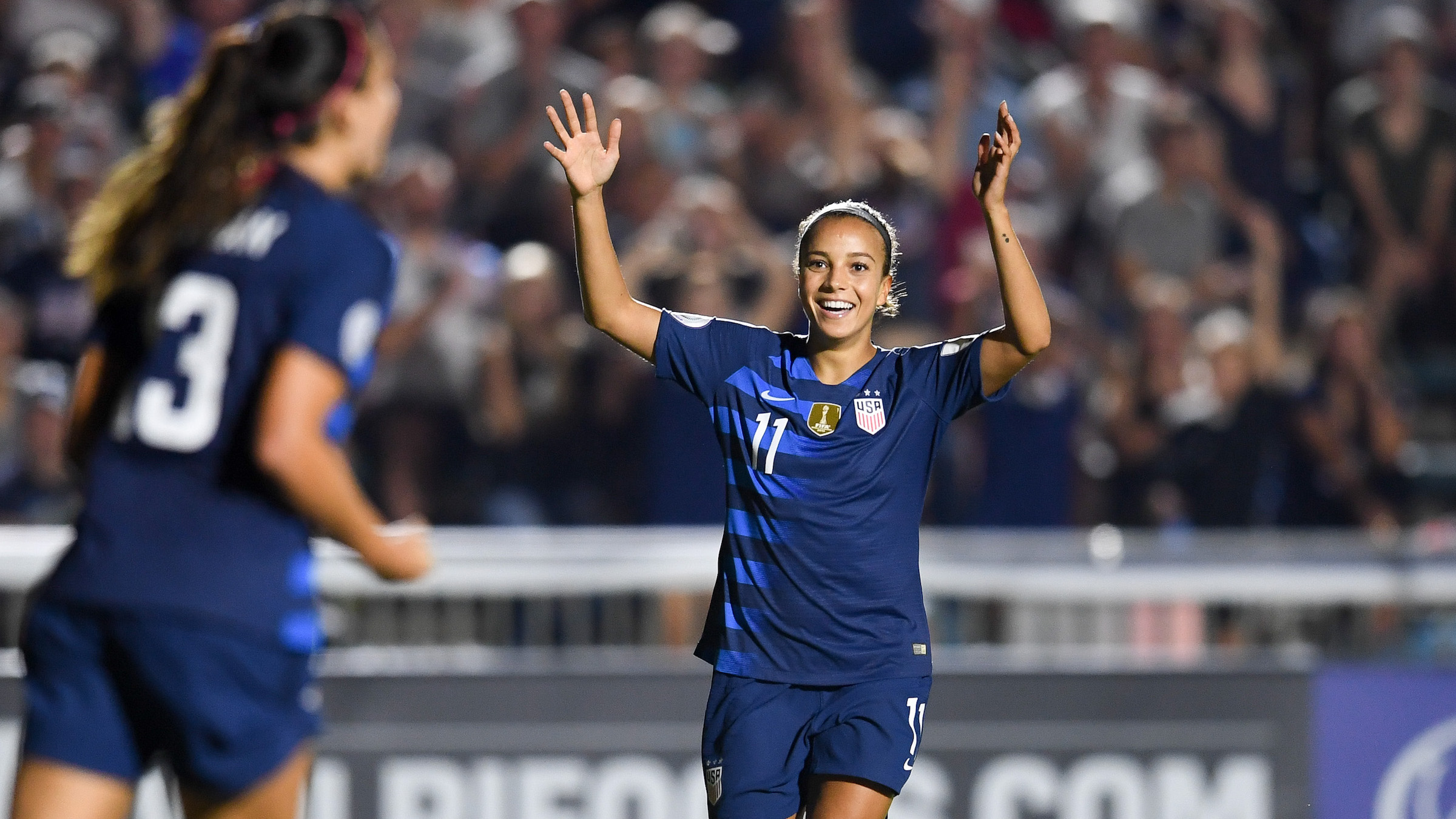 After outscoring its opposition 25-0 at the 2020 Concacaf Women's Olympic Qualifying tournament and qualifying for the 2020 Olympics in Japan, the U.S. Women's National Team now embarks on an ambitious pre-Olympic preparation schedule, beginning with the 2020 SheBelieves Cup.
The USA has participated in all six Olympic Games in which women's soccer has been contested, winning four gold medals (1996, 2004, 2008, 2012) and a silver (2000).
SHEBELIEVES CUP BRINGS TOGETHER FOUR OF WORLD'S TOP TEAMS: Inspired by the USWNT players, the #SheBelieves campaign was launched in the run-up to the FIFA Women's World Cup 2015 but has since grown into a special bond between the team and its fans, spreading its powerful message of empowerment and believing in oneself. The SheBelieves Cup is the showcase event for the campaign and brings together many of the world's most talented women soccer players to compete in the U.S., providing a stage to shine the spotlight on role models (athletes and non-athletes alike) and showcase their accomplishments both on the field and in culture at large. The 2020 SheBelieves Cup will take place from March 5-11 as three of the top teams in the world – No. 6 England, No. 10 Japan and Nov. 13 Spain – join No. 1 USA for one of the most elite international tournaments in women's soccer. The tournament will mark the USA's first meetings with England and Spain since last summer's World Cup. The USA defeated Spain in the Round of 16 and England in the Semifinal, both by 2-1 scores. The SBC game schedule will be the same as the previous four years with the teams participating in three doubleheader events at three different venues over a seven-day period. All the matches will be broadcast on the ESPN networks and in Spanish on TUDN.
SBC FORMAT: The tournament format for the 2020 SheBelieves Cup will be the same as the first four years. The winner will be determined by total points (three for a win, one for a draw), with the first tiebreaker being overall goal difference, followed by goals scored, then head-to-head result. If teams are still tied, the next tiebreaker will be the Fair Play ranking. Each team is allowed six substitutes per game at the SheBelieves Cup. England has played in each of the four previous SheBelieves Cup tournaments. This will be the second appearance for Japan, after participating last year, and the first for Spain.
2020 SHEBELIEVES CUP SCHEDULE
Date Matches Stadium City Kickoff (TV)
Mar. 5 Spain vs. Japan Exploria Stadium Orlando, Fla. 4:15 p.m. ET on ESPN3
Mar. 5 USA vs. England Exploria Stadium Orlando, Fla. 7 p.m. ET on ESPN2, TUDN
Mar. 8 Japan vs. England Red Bull Arena Harrison, N.J. 2:15 p.m. ET on ESPN3
Mar. 8 USA vs. Spain Red Bull Arena Harrison, N.J. 5 p.m. ET on ESPN, TUDN
Mar. 11 England vs. Spain Toyota Stadium Frisco, Texas 4:15 p.m. CT on ESPN3
Mar. 11 USA vs. Japan Toyota Stadium Frisco, Texas 7 p.m. CT on ESPNews, TUDN XTRA 1
USWNT SheBelieves Cup Roster by Position (Club; Caps/Goals):

GOALKEEPERS (3): Adrianna Franch (Portland Thorns FC; 3), Ashlyn Harris (Orlando Pride; 25), Alyssa Naeher (Chicago Red Stars; 61)
DEFENDERS (8): Abby Dahlkemper (North Carolina Courage; 58/0), Tierna Davidson (Chicago Red Stars; 25/1), Crystal Dunn (North Carolina Courage; 101/24), Ali Krieger (Orlando Pride; 107/1), Kelley O'Hara (Utah Royals FC; 129/2), Becky Sauerbrunn (Utah Royals FC; 174/0), Casey Short (Chicago Red Stars; 31/0), Emily Sonnett (Orlando Pride; 44/0)
MIDFIELDERS (5): Julie Ertz (Chicago Red Stars; 99/19), Lindsey Horan (Portland Thorns FC; 83/18), Rose Lavelle (Washington Spirit; 42/12), Samantha Mewis (North Carolina Courage; 64/18), Andi Sullivan (Washington Spirit; 16/0)
FORWARDS (7): Tobin Heath (Portland Thorns FC; 165;33), Carli Lloyd (Sky Blue FC; 291/122), Jessica McDonald (North Carolina Courage; 17/4), Christen Press (Utah Royals FC; 135/56), Mallory Pugh (Sky Blue FC; 62/18), Megan Rapinoe (Reign FC; 165/51), Lynn Williams (North Carolina Courage; 25/9)
GOALS GALORE: Nine players have scored so far for the USA in 2020, all in the Olympic Qualifying tournament, which represented the USA's first five games of the year. Lindsey Horan (6), Christen Press (5), Samantha Mewis (4), Lynn Williams (3), Rose Lavelle (2), Jessica McDonald (2), Carli Lloyd, Tobin Heath and Megan Rapinoe all have scored in 2019. Fourteen different players scored for the USA over 2019. Lloyd led the team with 16 goals and Alex Morgan and Rapinoe had nine each.
ERTZ100: Should Julie Ertz play in the opening game vs. England, it will be her 100th cap, making her the 40th U.S. female player to hit the century mark. Ertz debuted for the USA on February 9, 2013 against Scotland but earned just five caps with one start before 2015. She was inserted into the lineup at center back in March of 2015 at the Algarve Cup and would famously go on to earn a starting spot, playing every minute of all seven games at the 2015 FIFA Women's World Cup. Since then, she has become one of the world's most impactful players and captained the USA for the first time in her 99 th cap, the 3-0 win vs. Canada in the 2020 Olympic Qualifying championship game. She is the 2019 U.S. Soccer Female Player of the Year and was named to the 2019 FIFA World XI.
USWNT HAS A LONG HISTORY IN ORL: The USWNT has played many games in the Orlando area (including two at the 1996 Olympics), but this will be just the second match at Exploria Stadium, home of the Orlando Pride of NWSL and Orlando City SC of MLS. The USA also played at Exploria Stadium during the 2018 SheBelieves Cup, a 1-0 win against England, which is also the USA's opponent in Orlando for this year's tournament. Orlando has played a major part in the USA's history as the team held residential training camps here – in Lake Mary, Fla. to be more precise — before the 1995 Women's World Cup, the 1996 Olympics and 1999 Women's World Cup.
U.S. ROSTER NOTES
TEAM
The USA is riding a 28-game unbeaten streak and have scored two or more goals in 25 of those games.
All 20 players that were a part of the Olympic Qualifying were chosen for the training camp roster prior to the SheBelieves Cup and also made the final 23 player roster for the tournament.
Of the three players on this roster who were not on the Olympic qualifying squad, two were on the 2019 FIFA Women's World Cup championship team in forward Mallory Pugh and defender Tierna Davidson.
Three players who were not on the World Cup Team made the 2020 SheBelieves Cup roster in defender Casey Short, midfielder Andi Sullivan and forward Lynn Williams.
In just his fifth event, Andonovski has already looked at 50 different players.
Since its inception in 1985, the USWNT has compiled a record of 526 wins, 66 losses and 77 ties. Over the history of the program, the USA has gone 299-20-31 (90% winning percentage) at home, 53-18-13 away (71%) and 174-28-33 (81%) on neutral ground. Of the USA's 66 losses, 12 (18%) came at the Algarve Cup in Portugal.
The USA has scored in 56 consecutive matches and has averaged more than three goals per game in that time. Since the end of the 2015 World Cup, the USA has played 99 matches and has an 84-5-10 record.
Lloyd has 58 WNT goals since the start of 2015. Morgan, who has 57, is the only other player with more than 30 goals over the four years.
The USA's 1-1 draw with Korea Republic on Oct. 6, 2019, ended a streak of scoring multiple goals in 16 consecutive matches. The USA had not scored multiple goals in 14 straight games since March 19-June 13, 1995. That draw also ended the USA's winning streak at 17 consecutive matches, the third-longest winning streak in team history and one short of a team record. The U.S. Women had not won 15 games in a row since Feb. 10-July 23, 1996. That 17-game streak was the longest since July 25, 1990 – May 25, 1991, which included 18 wins.
The U.S. Women are unbeaten on home soil over its last 45 matches, 40 wins and five draws. The last loss at home was July 27, 2017 vs. Australia, a 1-0 setback in Seattle.
Eleven of the USA's 47 goals in its last 12 games have been headers, including two vs. Haiti, one vs. Panama and one vs. Costa Rica in Olympic qualifying. The U.S. scored 21 goals from set pieces in 2019 (27% of the goals scored), including nine at the Women's World Cup.
Several players will be working to represent the USA at their clubs' home grounds at Exploria Stadium in Orlando and Red . Three players on the roster play for the Orlando Pride in defender Ali Krieger, goalkeeper Ashlyn Harris and defender Emily Sonnett, and three more players play for Sky Blue FC in Carli Lloyd, Mallory Pugh and Margaret Purce.
Nine players scored in Olympic Qualifying, led by Lindsey Horan (6 goals) and Christen Press (5). Samantha Mewis had four goals from two braces and Lynn Williams found the net three times, including the game-winner in the title game against Canada.
All 23 players on the U.S. roster play in the NWSL. The roster features five NWSL No. 1 overall draft picks in Crystal Dunn (2014), Emily Sonnett (2016), Rose Lavelle (2017), Andi Sullivan (2018) and Tierna Davidson (2019).
USWNT is unbeaten in its last 12 matches in all competitions against European nations, winning the last 10 in a row by an aggregate score of 29-5. The last European nation to beat USA was France in January of 2019.
FORWARDS
Carli Lloyd is the USA's all-time active caps leader with 292 and has moved past Mia Hamm into third all-time in career caps. She is eight caps away from becoming the third American, and third player ever, to play 300 or more times for her country (where she would join former teammates Kristine Lilly and Christine Rampone), and just eight goals behind Lilly for third all-time in goals in U.S. history.
She led the USA in scoring in 2019 with 16 goals, the third-most she's scored in a calendar year. Lloyd is the highest active goal scorer in U.S. history with the players ahead of her – Hamm, Wambach and Lilly – all retired.
Lloyd has hit the back of the net in seven of her last 11 appearances for the USA, scoring nine times. She has netted in three of her six matches under Andonovski.
Lloyd has the most Olympic Qualifying appearances of anyone on the roster, playing in 18 games (2008, 2012, 2016 & 2020) while scoring 13 goals. She is the only U.S. player to have appeared in four different Olympic Qualifying tournaments and along with Tobin Heath, one of two American players who have scored in four different Olympic Qualifying tournaments.
After getting two assists against Costa Rica, Lloyd now has 57 career assists and has moved past Julie Foudy for sixth all-time.
On Oct. 7, 2018 vs. Panama at World Cup Qualifying, Lloyd scored her eighth career hat trick. With that hat trick, Lloyd tied Mia Hamm for most 3-goal games in WNT history. In that game, she also became the oldest player to score a hat trick for the USWNT (36 years, 83 days). She broke Wambach's record of 34 years, 186 days. Kristine Lilly is the oldest player to score a goal for the USA at 38 years, 264 days.
With her two goals against Sweden on Nov. 7, Lloyd moved ahead of Kristine Lilly and Cindy Parlow into fifth all-time in multi-goal games with 22. Alex Morgan is in third all-time with 27 career multi-goal games.
Lloyd scored 36 international goals between the time she debuted (six days before her 23rd birthday) and her 30th birthday. Since turning 30, she has scored a remarkable 86 goals in 155 games over a span of seven-plus years. The 155 games played after the age of 30 is the second-most all-time in U.S. history in that category. Christie Rampone is far and away the leader with 175.
At the end of last year, Lloyd passed 20,000 minutes played in a U.S. uniform, something achieved by just five other USWNT players.
Megan Rapinoe had an epic 2019 as she collected numerous prestigious awards including the Golden Ball and Golden Boot at the World Cup, The Best FIFA Women's Player of the Year, the France Football Ballon d'Or and the Sports Illustrated Sportsperson of the Year. Her penalty kick goal in the World Cup Final was her 50th career goal.
She picked a good time to score her first goal since the World Cup Final when she tallied the third and last score in the USA's 3-0 victory over Canada in the title game of the 2020 Concacaf Women's Olympic qualifying tournament.
That goal was her 51st and puts her in 12th place on the all-time U.S. scoring list.
During Olympic Qualifying, Rapinoe played the final 28 minutes against Haiti on Jan. 28 in what was just her third match since the World Cup and then started and played 61 minutes against Panama on Jan. 31. She came off the bench to play 26 minutes against Costa Rica and got the start in the semifinal against Mexico, playing 68 minutes. In the championship game against Canada, she came off the bench to play the final 28 minutes and scored the clinching goal.
Against Haiti, she made an immediate impact and picked up assists on goals for Williams and Horan. Against Mexico, she assisted on the first two goals and now has 67 assists for her career, moving her past Tiffeny Milbrett into sole possession of fourth place on the U.S. all-time list. Abby Wambach is third all-time with 73 assists.
Afterscoring on an epic no-look finish against Panama, Tobin Heath has 33 career international goals which includes 15 goals in her last 33 matches and 13 in her last 28. The 15 goals are 45% of her career total. She has 40 career assists, moving past Lauren Holiday and into 13th place on the USA's all-time assist list. She did not play against Haiti on Jan. 28 as she continued her return to fitness from a minor muscle injury but got 19 minutes against Panama, 26 minutes against Costa Rica and 68 as a starter vs. Mexico. She sat out the championship game.
Christen Press had a fantastic Olympic Qualifying tournament and won the Golden Ball as MVP after scoring five goals with one assist over the five matches. She scored in all three group games, including a pair of golazos vs. Costa Rica, and then tallied a magical goal in the semifinal against Mexico. She did not tally in the title game, ending a streak of scoring in six consecutive games dating back to the final two matches of 2019. She has 135 caps, 56 career goals and 36 career assists. Her assist vs. Costa Rica was her first of the year. She had four multi-assist games in 2019.
The USWNT record for consecutive games with a goal was set way back in 1991 by Michelle Akers, who scored in nine straight matches. Press is the first player to score in six straight games since Carli Lloyd did so in 2014 when she scored in seven consecutive games.
Press was the 5th U.S. player to score in six straight matches, joining April Heinrichs, Lloyd, Mia Hamm and Akers.
Press' goal vs. Sweden on Nov. 7, 2019, gained her entry into a group of 10 other American female players who have scored 50 career goals. She is tied for 10th place on the all-time WNT goals with legendary forward Carin Gabarra. Press was one of only two players to play in all 24 WNT games in 2019.
Press has been directly involved in 22 goals in her last 23 appearances for the USAA, scoring nine goals and assisting 13 more.
Mallory Pugh scored the USA's first goal of 2019 against France on Jan. 19. She has six goals in 2019 and has 18 for her career after scoring the second in the 2-0 victory against Korea Republic on Oct. 3, 2019. The Denver native had a brace on April 4 against Australia in front of her hometown crowd. It was the second two-goal game of her career. She scored 37 seconds after entering the match in the 66th minute, her shortest time on the field before scoring in her WNT career. Pugh was the fifth different player to record a brace off the bench since 2015.
Pugh scored in her senior team debut (the 19th USWNT player to score in her first cap) on Jan. 23, 2016, vs. Ireland at 17 years, 8 months and 25 days old, becoming the youngest player to debut for the U.S. in the previous 11 years. Since then, and still just 21, she has earned 62 total caps.
Jessica McDonald 's first cap came against Romania on Nov. 10, 2016. She earned her second career cap and start vs. Portugal on Nov. 8 and scored the game-winning goal – her first USA goal. She is now up to 17 caps and scored in the final two Group A games of Olympic Qualifying, giving her four career WNT goals.
After scoring against Haiti on Jan. 28 off a header, against Panama on Jan. 31 and the opening goal of the Olympic Qualifying championship game on a blast from inside the penalty area, Lynn Williams finished with three goals and five assists in the Olympic Qualifying tournament.
She scored one goal and assisted on the other two in the Qualifying title game. She now has 25 caps and nine goals with 10 WNT starts for her career.
Before coming on at halftime for Press against Sweden on Nov. 7, 2019, she had not played for the USA since March of 2018 at the SheBelieves Cup.
She scored her first goals since 2017 when she tallied twice vs. Costa Rica on Nov. 10, 2019.
Her 12 goals in 2019 for the Courage were second in the league and most by an American. Her 50 career regular season goals in the NWSL is second all-time behind Sam Kerr in league history.
She played briefly on loan in Australia for the Western Sydney Wanderers this off-season, scoring four goals before mutually agreeing to terminate her contact due to her WNT commitments during January camp, Olympic qualifying and the SheBelieves Cup.
MIDFIELDERS
Despite playing center back and defensive midfield for her entire WNT career, Julie Ertzhas 19 career international goals, seven off free kicks and eight off corner kicks. Nine of her 19 goals have been headers, nine were scored with her right foot and one with her left. Impressively, 37% of her goals (7 of 19) have been game-winners. She played the third-most minutes on the team in 2019 with 1,665. With 98 caps, Ertz is just two away from hitting the century mark.
Ertz had an assist on Carli's Lloyd's goal against Haiti to make it 4-0. It was her fourth career assist.
In the Olympic Qualifying championship game vs. Canada, she captained the USA for the first time. It was her 99th cap.
After scoring against Panama and Mexico during Olympic Qualifying, Rose Lavelle now has 42 caps – with 35 starts – and 12 goals. She had her first career brace against T&T on Oct. 10, 2018, during the Concacaf Women's Championship.
Lavelle scored the clinching goal in the World Cup Final on her brilliant dribbling run and shot that will go down as one of the most memorable goals in history.
Lindsey Horan scored her first career hat trick – and first multi-goal game – against Panama on Jan. 31, and also picked up two assists. She tallied on a header against Haiti to open Olympic Qualifying and also scored against Costa Rica in the Group A Finale, and against Canada in the championship game, giving her 18 goals for her career and six during the Olympic Qualifying tournament, which was the most for the USA in the competition and also so far this year. She was the second-leading scorer in the tournament.
Samantha Mewis , who has grown into a vitally important contributor to the midfield, currently has 64 caps and 18 goals. She scored four goals in the Olympic Qualifying tournament via her fourth and fifth career braces, against Costa Rica on Feb. 3 and Mexico on Feb. 7. She had six goals in 19 games in 2019 after scoring 8 in her first 41 matches for the WNT and has four in four games so far in 2020.
Andi Sullivan , who had an excellent second NWSL season in 2019, returned to the U.S. squad for the January Camp in Europe in 2019 but did not play in either match. She saw her first action since the end of 2018 when she came off the bench against Korea Republic last year on Oct. 3, and also played on Oct. 6 vs. Korea, against Sweden on Nov. 7 and Costa Rica on Nov. 10, to up her cap total to 15. She saw her only action of Olympic Qualifying on Jan. 31, playing all 90 vs. Panama to earn her 16th cap.
Jordan DiBiasi gets her second call-up to the senior National Team. She participated in the USA's Identification Training Camp last December in Florida. DiBiasi, the 3rd overall pick in the 2019 NWSL Draft, had a fine season for the Washington Spirit last year after a stellar career at Stanford.
DEFENDERS
Becky Sauerbrunn is the 20th player, and just the third who has played exclusively as a defender, to play 150 or more times for the WNT. She currently has 174 caps, moving past legendary defender and her childhood idol Carla Overbeck for 16th place all-time. Since 2014 has started 118 of 125 caps. She was rested in the Olympic Qualifying final due to a minor injury.
Her next cap will be her 175th, making her one of just 16 players in U.S. history to reach that mark, all of whom except for Carli Lloyd are retired.
Abby Dahlkemper played full 90s in 17 of her 23 games in 2019. She played the most minutes of any U.S. player in 2019 with 1,877 despite sitting out the last game of the year. Dahlkemperhas started in 51 of her 58 caps and against Portugal on Sept. 3, 2019, became 59th female player in U.S. history to play in 50 or more games. She led the USA in minutes played during the Olympic Qualifying tournament with 388, one more minute than Crystal Dunn.
Crystal Dunn solidified her spot as an outside back for the USA in 2018, a position she has consistently since the 2018 SheBelieves Cup and received excellent reviews for her play in the World Cup. She was the only U.S. player to start all five games at Olympic Qualifying. The former USWNT attacker has She has scored 24 international goals.
Against Mexico on Feb. 7, Dunn became the 39th female player in U.S. history to hit 100 career caps. She debuted for the USA against Scotland in February of 2013 and will be honored for hitting the century mark on May 8 in Harrison, New Jersey during the SheBelieves Cup. She hails from Rockville Centre, New York.
Kelley O'Hara has 129 caps to go along with two goals, one of which was scored in the 2015 World Cup semifinal vs. Germany and the other scored 2016 Olympic Qualifying.
At the World Cupin the Semifinal match against England she had a brilliant far-post cross from the right side to Christen Press for her header goal. She also picked up an assist on Samantha Mewis' second goal vs. Costa Rica and has 18 for her career. In the Olympic Qualifying championship game, she came off the bench to play forward for the last nine minutes, helping seal the victory. It was a throwback to her early days in college and with the USA's Youth National Teams when she won the MAC Hermann Trophy at Stanford and was one of the USA's top scorers at the youth level.
Ali Krieger is a veteran of the USA's last three World Cup Teams and last two Olympics. Krieger earned her 100th cap on May 16, 2019, against New Zealand as she came off the bench at halftime and became the 38th USWNT player to hit the century mark. She played a key role in the World Cup Final, coming in at halftime for O'Hara and helping the USA win the World Cup. She got the start at center back in the final two games of Group A play, playing 90 minutes in each, and played all 90 at center back in the championship game as well.
Emily Sonnett made her World Cup debut against Chile on June 16 (it was just her 34 thcap) and has consistent consistently shown her abilities at outside back but can also play centrally where she plays in the NWSL.
Against Australia on April 4, Sonnett started and played 79 minutes, picking up assists on two of the five goals – to Tobin Heath and Mallory Pugh – which were the second and third of her career. She came off the bench against Haiti on Jan. 28 to open the Olympic Qualifying tournament and got the starts against Panama on Jan. 31, Costa Rica on Feb. 3, and Canada on Feb. 9, to up her career cap total to 44.
Tierna Davidson, who turned 21 on Sept. 19, made her World Cup debut in style on June 16 against Chile, playing all 90 minutes at left back and earning two assists on corner kicks. She was the first defender since at least 2011 with multiple assists in a WWC match. At age 20, she is youngest US. player to start a World Cup match since Tiffany Roberts in 1995.
She was not available for selection for the Olympic Qualifying tournament as she recovered from an ankle injury.
Davidson helped lead Stanford to the NCAA Championship in 2017 as a sophomore and was a consistent USWNT call-up in 2018 as the youngest player on the roster. She started and played the entire 90 minutes to earn her first cap in the 5-1 victory against Denmark on Jan. 21 in a game where she picked up the game-winning assist on Julie Ertz' goal. Against Chile on Aug. 31, 2018, Davidson scored her only career goal, via a header off a Tobin Heath corner kick
Davidson is the third teenager since 2013 to earn a first cap for the WNT. Mallory Pugh (17 in 2016) and Lindsey Horan (19 in 2013) are the most recent teenagers to debut for the WNT. She currently has 25 career caps.
During 2018, Casey Short was in the mix for the World Cup Team, playing in eight matches last year including one group game at the Concacaf Women's Championship and at the very end of the title game, but had not played for the National Team in 2019 before her substitute appearances against Portugal on Aug. 29, 2019 in Philadelphia. She has started 21 of her 31 games for the USA, playing mostly left back, but has also played some outside midfield and centrally. She was not on the roster for the first match against Korea last October during the Victory Tour, but due to injuries to World Cup players, she was added for the second match on Oct. 6 in Chicago, where she plays for the NWSL's Chicago Red Stars, and started, playing 82 minutes. She got the start and played 90 minutes against Sweden on Nov. 7, earning a PK with a foray into the left side of the box, but Carli Lloyd knocked her shot over the goal.
Margaret "Midge" Purce has had a fine first two seasons in the NWSL for the Portland Thorns, playing a variety of positions, but was traded to Sky Blue FC in the off-season. She scored eight goals last season, second on the team, and was a key factor for the Thorns while the World Cup players were in France. The Harvard grad and USYNT veteran was in with the USA during the summer of 2018 but injured her ankle during training and had not been back in until the end of 2019 when she earned her first cap in the final match of the year vs. Costa Rica. She also attended the USA's Identification Camp last December in Florida.
GOALKEEPERS
Alyssa Naeher has 34 career shutouts in her 61 caps, including a shutout in the World Cup Final, becoming the fifth goalkeeper to earn a shutout in a Women's World Cup Final. Naeher earned 13 caps in 2017, 16 in 2018 and had 19 in 2019, the most she has played in a calendar year since she debuted in 2014. She has moved past Nicole Barnhart to become the third-most capped goalkeeper in U.S. history.
Naeher had an assist against Australia on April 4. She is the first U.S. 'keeper to record an assist since Hope Solo did in July of 2012 against France on an Alex Morgan goal in the opening game of the Olympics.
The USA got a victory-securing penalty kick stop from Naeher late in the second half of the Semifinal against England on July 2. The Lionesses were awarded a penalty kick after VAR revealed that Ellen White had been inadvertently tripped by U.S. defender Becky Sauerbrunn. England captain Stephanie Houghton stepped up to take the spot kick, but Naeher read her well and got down to her right for the massive save. It was the first penalty kick save by a U.S. goalkeeper in regulation time at a World Cup.
Veteran Ashlyn Harris has 25 caps, earning her most recent vs. Panama on Jan. 31 as she played 90 minutes to earn her ninth career shutout. Against Brazil on March 5, 2019, she went 90 minutes to earn the shutout and made several important plays in the SheBelieves Cup match.
Adrianna Franch earned her first WNT cap against England on March 2, 2019. She became the 27th player to earn her first cap during this cycle (post-WWC 2015). She has been getting call-ups to the senior side since 2012 after she was a member of the USA's 2010 FIFA U-20 Women's World Cup Team and has seen training time with the WNT on and off for the past six years. Franch earned her second cap and her first shut-out in the USA 4-0 win vs. Portugal on Sept. 29 in Philadelphia.
Jane Campbell has three career caps for the USA, two earned in 2017 and one in 2018. She has been the starting goalkeeper for the Houston Dash for the past two and a half seasons and has playing in 60 games for the club.
SHEBELIEVES CUP HISTORY
Of the first 12 SheBelieves Cup matches over 2016 and 2017, 11 were decided by one or less goal, with just nine goals scored over the six games in both 2016 and 2017.
In 2018, the teams combined for 16 goals and two matches saw three-goal margins of victory with England beating France 4-1, and France beating Germany 3-0.
In 2019, the teams combined for 19 goals over the six matches with two ties, two one-goal wins, a two-goal win for Japan over Brazil (3-1) and a three-goal win for England over Japan (3-0).
In the previous four editions of this tournament, no individual player has scored more than two goals in a tournament. Eight players have scored twice: Alex Morgan in 2016, Camille Abily of France in 2017, Ellen White of England and Eugénie Le Sommer of France in 2018, and Beth Mead of England, Yuka Momiki of Japan and Tobin Heath and Megan Rapinoe in 2019.
2019 SBC
In the 2019 SheBelieves Cup, the USA finished second, in part because the Americans allowed an equalizer in second half stoppage time in a 2-2 draw with Japan to open the tournament. The USA then drew England, 2-2, and beat Brazil, 1-0, but England won the event after a 2-1 win over Brazil and a 3-0 win against Japan. Japan went 1-1-1, beating Brazil 3-1 to finish third, while Brazil failed to win a game and finished fourth. This tournament saw even more goals scored than in 2018, with 19 hitting the back of the net.
2018 SBC
In the 2018 SheBelieves Cup, the goals finally started flowing. After the first two tournaments produced nine goals each, 16 were scored over the six games in 2018. The U.S. games were tight as the Americans defeated Germany 1-0 on a goal from Megan Rapinoe, tied France 1-1 on a goal from Mallory Pugh, and then defeated England 1-0 on an England own goal that was created by a Megan Rapinoe cross to take the trophy. England finished second by virtue of its 4-1 win against a France team playing a few reserves and a 2-2 draw with Germany. France finished third but did end on a high note with a 3-0 victory against Germany while the Germans finished fourth after failing to win a game.
2017 SBC
In the 2017 SheBelieves Cup, the USA defeated Germany 1-0 in the opening match on a goal from Lynn Williams but fell to England 1-0 and France 3-0. France flipped the script and won the tournament, Germany was second, England third and the USA finished fourth. France defeated England 2-1, drew 0-0 with Germany and downed the USA 3-0.
2016 SBC
In the 2016 edition of the SheBelieves Cup, the USA defeated England and France by 1-0 scores and downed Germany, 2-1, in the de facto championship game to take the inaugural tournament title. Germany finished second, England was third and France fourth. None of the games were decided by more than one goal, as the tournament included three 1-0 victories, two 2-1 victories and one 0-0 draw.
IN FOCUS: ENGLAND
England Football Association
FIFA World Ranking: 6
UEFA Ranking: 5
Olympic Appearances: 1 (2012 as Great Britain)
Best Olympic finish: Quarterfinal
Record vs. USA: 4-11-2
Head Coach: Phil Neville
England Women's National Team Roster by Position:
GOALKEEPERS (3): Sandy MacIver (Everton; 0/0), Ellie Roebuck (Manchester City; 4/0), Carly Telford (Chelsea; 24/0)
DEFENDERS (7 ): Millie Bright (Chelsea; 34/0), Rachel Daly (Houston Dash, USA; 33/3), Grace Fisk (West Ham United; 0/0), Alex Greenwood (Lyon, FRA; 44/3), Steph Houghton (Manchester City; 117/13), Abbie McManus (Manchester United; 17/0), Demi Stokes (Manchester City; 57/11), Leah Williamson (Arsenal; 14/1)
MIDFIELDERS (5): Jordan Nobbs (Arsenal; 60/7), Jill Scott (Manchester City; 146/24), Lucy Staniforth (Birmingham City; 15/2), Georgia Stanway (Manchester City; 16/2), Keira Walsh (Manchester City; 26/0)
FORWARDS (7): Toni Duggan (Atletico Madrid, ESP; 76/22), Bethany England (Chelsea; 5/2), Lauren Hemp (Manchester City; 3/0), Chloe Kelly (Everton; 1/0), Nikita Parris (Lyon; 47/14), Alessia Russo North Carolina, USA; 0/0), Ellen White (Manchester City; 89/35)
USA VS. ENGLAND
The USA is 11-4-2 all-time against England. Out of the last six meetings between the teams, four have been 1-0 results – three wins for the USA and one for England – one was a 2-2 draw and most recently, the USA beat England, 2-1, in the 2019 FIFA Women's World Cup semifinal.
The meeting in the World Cup was a match for the ages, with Christen Press – who started the match in place of the mildly-injured Megan Rapinoe – scoring a header in the 10thminute off a cross from Kelley O'Hara. England's star forward Ellen White equalized in the 19th minute before Alex Morgan – on her 30th birthday — scored what would prove to the game-winner, knocking home a header in the 31 st minute off a perfect service into the box from Lindsey Horan.
There was quite a bit of drama to come, though, with a White goal being correctly waved off for offside. England earned a penalty kick on a VAR decision (Becky Sauerbrunn was ruled to have clipped White from behind in a play that was not whistled during the run of play) only to have Alyssa Naeher save team captain Steph Houghton's spot kick, creating one of the most indelible and emotional moments of the World Cup, and in USWNT history.
The teams also met at the 2019 SheBelieves Cup, a 2-2 draw that saw goals from Megan Rapinoe and Tobin Heath for the USA, and Nikita Parris and Steph Houghton for England.
The meeting at the 2018 SheBelieves Cup saw the U.S. win 1-0 with the lone goal coming when a Megan Rapinoe cross hit off defender Millie Bright and off goalkeeper Karen Bardsley before spinning into the net.
The USA beat England 1-0 on Feb. 13, 2015, in Milton Keynes, England with the goal coming from an Alex Morgan header (a similar score to her goal in the 2019 World Cup in fact) and by the same score at the 2016 SheBelieves Cup in Tampa, Fla. on a brilliant goal from Crystal Dunn. The meeting with England in Milton Keynes, England, sparked a 24-game unbeaten streak which included the run to the World Cup title in 2015.
England turned the tables on the USA at the 2017 SheBelieves Cup, scoring in the 89th minute when Ellen White finished from close range after a goal mouth scramble from a set play.
Prior to the 2015 meeting, the USA and England hadn't played since a 2011 friendly in London that saw England defeat the USA 2-1. Prior to that, the teams hadn't met since the 2007 Women's World Cup, a 3-0 victory for the USA during the quarterfinal in Tianjin, China.
The USA lost its first two matches against England, played in 1985 and 1988, both in Italy. The 1985 match was the third ever played by the U.S. Women's National Team, a 3-1 loss.
Two players on the U.S. roster for this tournament have played club soccer in England. Crystal Dunn played a season with Chelsea over 2017-218 and Carli Lloyd had a stint with Manchester City in 2017.
ENGLAND NOTES:
England will technically be participating in the 2020 Olympic Games based on being one of the top-three finishers from Europe in the 2019 FIFA Women's World Cup, but the side, which will be coached by Phil Neville, will compete under the moniker of Great Britain, as do all of the UK's Olympic athletes.
Normally, no team represents the whole of the United Kingdom in women's soccer, as separate teams compete for England, Scotland, Wales and Northern Ireland in the World Cup and the European Championship.
Women's soccer was first was introduced to the Olympic Games in 1996, but Great Britain did not enter the soccer events. This changed when the 2012 Summer Olympics were hosted in London, and Olympic soccer teams were created to take the automatic qualifying place of the host nation. Following an agreement between the British Olympic Association (BOA) and The Football Association (FA), which operates the England team, the FA selected the British team, which could include players from across the United Kingdom. The women reached the quarterfinals in 2012, losing to Canada.
FIFA stated that they would not allow entry of a British team in future Olympics unless all four Home Nations agreed. No agreement was reached ahead of the 2016 Summer Olympics, but a deal was formed for the 2020 tournament, with Great Britain qualifying for that tournament as England secured its spot in France this summer.
The GB team will of course be made up primary of English players, but expect to see some talented Scottish players make the final roster as well, and perhaps Welsh legend Jessica Fishlock?
England's SBC roster includes 15 of 23 players who were included on Phil Neville's World Cup squad, including eight of 11 players who started the semifinal.
England will be without a few players though, as World Cup semifinal starters Karen Bardsley (GK) (who grew up in Southern California and attended Cal State Fullerton), Lucy Bronze (D) and Beth Mead (F) are injured.
Among the new faces are three players with recent U.S. college connections. North Carolina forward Alessia Russo has a year of eligibility remaining, while defender Grace Fisk (South Carolina, but now plays for West Hamm) and goalkeeper Sandy MacIver (Clemson) concluded their eligibility last fall.
Fisk has made 30 appearances for England at youth level and captained the bronze-medal winning U-20 World Cup squad.
Russo led UNC in goals last season with 13 and also had three assists.
England finished fourth at the 2019 FIFA Women's World Cup, falling 2-1 to Sweden in the Third-Place Match. England got off to a bit a slow start in France, but still won Group D handily with a 2-1 victory against Scotland, a 1-0 victory against Argentina and a 2-0 win vs. Japan.
The Lionesses amped up their play in the knockout rounds, registering two straight 3-0 wins – over Cameroon and Norway – with forward Ellen White leading the way. She scored in five of her team's first six matches and won the Bronze Boot as the third leading scorer in the tournament with six total goals.
No other player scored more than one goal, with single tallies from Nikita Parris (against Scotland), Jodie Taylor (against Argentina), Step Houghton (against Cameroon), Alex Greenwood (also Cameroon), Jill Scott (against Norway), Lucy Bronze (against Norway) and Fran Kirby (against Sweden).
The 2018 SheBelieves Cup marked the debut of England head coach Phil Neville, the former Manchester United and Everton star and England National Team defender.
England has brought a youthful side to the SheBelieves Cup but is generally an extremely experienced side and has some of the top players in the world. Usual captain and central defender Steph Houghton has 117 caps with 13 goals and England still brings a deep and dangerous forward line, with Ellen White (89 caps/35 goals), Toni Duggan (76/22) and Nikita Paris (47/14) all able to create danger and damage.
White has scored seven goals in her last seven appearances for the Lionesses, after netting just two goals in her previous 11 games in all competitions.
Veteran midfielder Jill Scott is one of the world's tallest players and has the most caps of anyone on the squad with 146 to go with her 24 career goals.
England has one NWSL player on the roster in Rachel Daly of the Houston Dash, long an attacking player who has switched to defender for her country. Daly tied for the lead in goals last season with the Dash with five.
England had a rough go of it after losing in the Third-Place Match of the World Cup, putting some pressure on Neville and make this tournament even more important. After the World Cup, England drew Belgium 3-3, lost to Norway, 2-1, lost to Brazil 2-1, beat Portugal, 1-0 and then lost to Germany 2-1 in front of a record crowd of 77,768 at Wembley Stadium. White scored for England.
England won its most recent fixture, defeating the Czech Republic on goals from Beth England, Beth Mead and a game-winner from Leah Williamson in the 86th
Six of Neville's 23-player squad competed for the Young Lionesses at the 2018 FIFA U-20 World Cup as the team continues to prep for the 2021 UEFA Women's Euros which will commence in about 500 days.
As host of the Euros, England is not going through qualifying, and there's SheBelieves Cup matches will served as valuable preparation.