USWNT set for strenuous tests at European powers France, England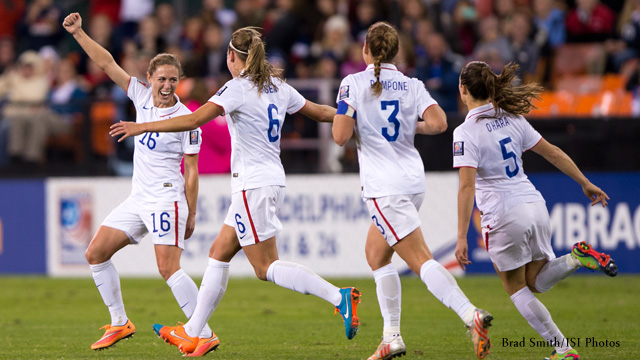 The U.S. Women's National Team meets a powerful France squad at Stade du Moustoir in Lorient, France on Sunday (noon ET, broadcast live on ESPN2), the first stop on a two-game trip to Europe that represents perhaps the most competitive matches they will play prior to this summer's Women's World Cup.
While next month's Algarve Cup will provide good competition vs. quality European sides, those opponents simply aren't quite at the same standard as France or England, who will host the U.S. in Milton Keynes next Friday (3 p.m. ET, Fox Sports 1). And the home friendlies leading up to the World Cup are even less competitive, as the USWNT faces the likes of New Zealand, Mexico, Ireland and South Korea.
Sydney Leroux scored the game-winning goal in the USWNT's 1-0 victory over France last summer when the two sides met in Tampa, Florida. Les Bleus held the Americans to a 2-2 draw just a few days later in Hartford, Connecticut. Both American goals in that match came courtesy of Alex Morgan, who had just returned from injury.
+READ: Does U.S. Soccer have what it takes to carry out its women's youth dev. initiatives?
Meanwhile, England and the U.S. haven't met since 2011, when the "Three Lionesses" upset the Yanks 2-1.
Once again, Morgan's return from injury will coincide with a game against France. Coach Jill Ellis commented recently that Morgan is finally back to match fitness and was a full participant during the recent three-week January camp held in Southern California.
France have continued their steady upward trajectory after a disappointing loss in the bronze medal match of the 2012 Olympics to Canada. The squad have generally had the quality within their side to do great things, but somehow they manage to let games slip away just as they did against Canada in the 2012 Olympics, when they dominated the game in almost every way except the one that mattered, goals.
Following their loss in June, left back Laure Boulleau mentioned that her team needed to improve their confidence and that the first half of the game France allowed themselves to be intimidated by the U.S. The 2-2 draw in the second match offered some evidence that France's confidence was growing. Sunday's match is an important opportunity for France to demonstrate that this is no longer a core weakness within the program.
Another factor in favor of France for the match: The French league is currently in season, so the players may be in better form than the Americans, who have been in various camps and tournaments since the NWSL ended in August.
Ellis has experimented with a 4-3-3 formation, but in order to contain France's explosive attack, the USWNT may elect to shift to the traditional 4-4-2 going forward as well as defending, which would line her team up in the familiar two blocks of four that helped them stifle Brazil late last year.
With Morgan finally healthy, there is little doubt she will be included in the starting XI. The open question is who will join her. Based on the starting lineups during the Brazil tournament, past history would indicate Morgan will be paired with Abby Wambach.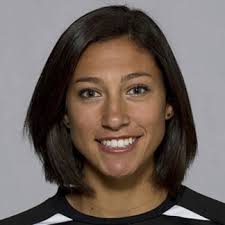 However, given the pace and technical acumen of France, Christen Press looks better suited for Sunday's contest, compared with the less mobile target forward Wambach, the athleticism of Leroux or quick-footed Amy Rodriguez.
Moving to the midfield, as happened at the end of the Brasilia tournament, Morgan Brian could be paired with Lauren Holiday to take on the defensive responsibilities in midfield, while Carli Lloyd takes up the attacking role. The fourth midfielder (or potentially, third striker) is a bit of a mystery. With Megan Rapinoe out due to a knee injury, it is likely that Tobin Heath or Heather Reilly will get the start on Sunday.
+READ: USWNT Commentary: Pressure Makes Us….shortsighted
With Christie Rampone injured, there is little doubt Whitney Engen and Becky Sauerbrunn will start together and further improve their center-back pairing. Meanwhile on the wings, Ali Krieger has been the in-form right back with Meghan Klingenberg recently getting several starts on the left.
However, Lori Chalupny's addition to the squad and her limited, but quality, minutes at the end of 2014 indicate she is a serious challenger for the starting spot.
Ellis faces an interesting conundrum regarding who to play in goal during Hope Solo's suspension. Nicole Barnhart has the most experience, but has been plagued by injury so it makes sense for Ellis to look to give Ashlyn Harris or Alyssa Naeher minutes. Harris appeared to have been close to locking down the No. 2 spot behind Solo, before having to miss games at the end of 2014 because of a broken finger.
Though Naeher appears to be third on the depth chart, the France game could be a good test for Ellis to determine if Naeher can look as impressive against quality opponents as she did in the NWSL. Currently, Naeher's lone senior team cap was in a one-sided CONCACAF World Cup qualifier.
Throughout 2014, USWNT observers went searching for answers regarding the direction of the team. This match will begin to provide those answers, as the countdown to Canada 2015 begins in earnest.
Whether we like them or not remains to be seen.