USWNT Lost & Found: Lori Chalupny returns, five years later
Lori Chalupny is going to Brazil.
The veteran player was called up to the latest U.S Women's National Team roster on Friday, ending a strange stint in which she hasn't competed for the Stars and Stripes since 2009, when a series of concussions left her sidelined temporarily, and then triggered what looked like a permanent exodus from the USWNT.
+READ: USWNT announces two-game tour of Europe to face France and England in February
In 2010, shortly after she stopped receiving callups to the national team, Chalupny spoke with Washington Post writer Steven Goff, telling him, "I am 100 percent healthy and I have doctors to back me up," Chalupny said.
"If I felt I was putting myself at risk, I wouldn't be playing."
Chalupny echoed her earlier sentiments regarding her fitness to play in an interview with SoccerWire's own Charles Boehm in 2013. U.S. Soccer responded and noted that Chalupny had never formally approached the federation to have her case re-evaluated.
In August of this year, Chalupny did just that. She initiated conversation directly with the federation to have a series of evaluations to determine if she could be medically cleared to be eligible to be a part of the USWNT player pool.
Regarding the timing of her outreach, she mentioned, "I have been playing five years now. I thought it was a good time to contact U.S. Soccer and see if I could be in consideration again for selection for the team."
During the last five years Chalupny has played professionally for several different clubs in the US and abroad, having been cleared by team doctors to do so.
+READ: Missing woman: Concussion debate strands Lori Chalupny in USWNT purgatory
She played for St. Louis Athletica and later the Atlanta Beat in WPS, then for the Chicago Red Stars in WPSL Elite before a short stint in Sweden. Most recently, Chalupny has captained the Chicago Red Stars in the NWSL.
U.S. Soccer Chief Medical Officer George Chiampas described the process broadly on a conference call on Thursday evening.
"We sat down with Lori and looked her history previous to 2010 and since 2010," explained Dr. Chiampas. "We reached out to some of the experts in the US that deal with types of injuries, both externally and internally within U.S. Soccer. We made a collective decision with the information we have, with Lori's best interest in mind.
"One of the biggest things is to ensure that at this stage in her life, neurocognitively, that is she at baseline and asymptomatic. All those factors came into play in regard to this decision."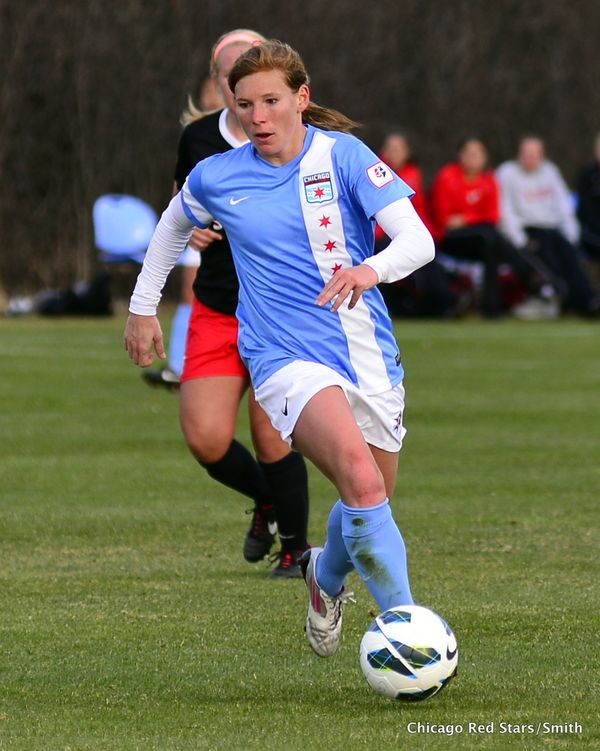 Chalupny declined to provide an estimate on the number of concussions she has sustained during her career, preferring to keep that information between herself and her doctor.
However, she did shed light on why she feels ready to come back, saying "the combination of how I am feeling with what I have heard from doctors, I feel very confident in coming back." Chalupny added "I wouldn't be playing [for the national team] and I wouldn't have been playing these past five years if I felt that I was at a substantial risk."
This clearance is a massive step for the experienced USWNT defender and midfielder, a decision that has the potential to put Chalupny back on the track she left five years ago. Her energy and enthusiasm was palpable as she described being a part of head coach Jill Ellis' roster for the Brasilia Tournament. "I am beyond excited for this opportunity, she said.
"When everything happened a couple of years ago I understood U.S. Soccer's position and definitely appreciated that they were looking out for my best interest."
Ellis emphasized that Chalupny's inclusion on the roster was entirely due to performance. When asked what the veteran would add to her tournament squad, Ellis responded "she has a sweet left foot, she is a tremendous competitor, positionally, she is very versatile, and she is a technical player."
While Ellis mentioned her positive impression of Chalupny from her two years of play in the NWSL, she also mentioned that the tournament will be an important test of whether she is able to compete at the high level necessary to be successful on the national team.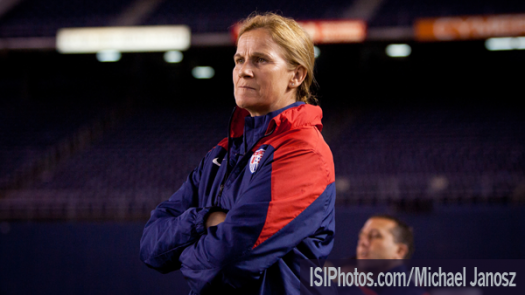 Her inclusion on the Brasilia roster will come as a surprise to the rest of the team, as Chalupny said she didn't tell any of them about her ongoing discussions with U.S. Soccer.
"I didn't want to be a distraction for them and what they are doing," she remarked. "I just wanted to pursue this see what happened. It will be fun to get reunited with them in the airport to see what they are up to."
+READ: Morgan Brian named U.S. Soccer Young Female Athlete of the Year
Ellis mentioned that she sent an e-mail to the other players included on the roster on Thursday evening to inform them of Chalupny's inclusion. The e-mail also included mention of another late addition, Sam Mewis, whose college team, the UCLA Bruins, exited the NCAA tournament a bit earlier than expected.
The Red Stars midfielder appears to have the skill set necessary to provide depth at two positions the national team is currently in need of additional talent–left back and central midfield. Chalupny's versatility and experience could be a massive boost to a squad looking to fill in gaps heading into the World Cup this summer.
Chalupny's clearance to play for U.S. Soccer is a massive step, but she made it clear this step is just the first one of many on the challenging path to making a World Cup roster.
"I am extremely excited and I can't wait to get to Brazil, but I also know that the process is just beginning and breaking into this roster is not going to be an easy task. The team is playing great. I am extremely excited for the opportunity to go and compete."