USWNT: Hope Solo's latest drama goads U.S. Soccer officials into public warning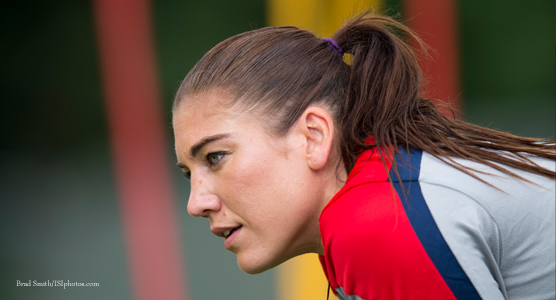 Hope Solo is a game-changing talent, one of the top players of her generation and perhaps the best goalkeeper in women's soccer history.
But the latest in her steady accrual of ugly incidents and untoward headlines finally drove U.S. Soccer to discipline her last week, after her husband Jerramy Stevens was arrested – a reportedly combative Solo at his side, though she was not detained – for driving a U.S. Women's National Team van under the influence near the team hotel in the wee hours during a training camp in Southern California.
+READ: Hope Solo suspended from USWNT for 30 days as U.S. Soccer cites "poor decision"
The U.S. Soccer Federation issued what was intended as a stern warning in the form of a 30-day suspension that forces her to miss next month's highly-anticipated visits to France and England for international friendlies. Federation president Sunil Gulati, USWNT head coach Jill Ellis and other U.S. Soccer officials will consider Solo's behavior (read: her ability to stay out of trouble) over the next month when they re-evaluate her status at the end of that period.
And at that point they'll decide whether she's ready to return to the team for their final stretch of preparation for the Women's World Cup.
That was the message Gulati & Co. took care to publicize by way of a conference call with a few select media outlets on Monday – SoccerWire.com was not among them – where it was emphasized that Solo's transgressions are being taken seriously. It was also noted, albeit obliquely, that her problems are seen as "health-related," raising the possibility that Solo is battling full-on addiction or pathology of one sort or another.
"The situation warranted a consequence, and we thought it was reasonable," Ellis told reporters. "Obviously from the perspective of two very big games, this is important for us to be able to focus the players that we have on these games and allow Hope some time to sort of reflect on some things. I think as far as the specifics, we're not going to get into those.
"There are things that we think are important for her to continue with our program. I think they're certainly achievable."
+READ: USWNT: Jillian Loyden calls for Hope Solo's benching amid domestic violence case
To put it more simply: Federation officials desperately hope they can seize the full attention of their star shot stopper, and goad her towards change in time for her to produce her best at this summer's FIFA Women's World Cup. And those who've watched the USWNT closely of late would have no trouble believing that Solo's abilities aren't just an ingredient, but a pivotal element of the team's World Cup title hopes.
The USWNT program is known for its loyalty and stability – some would say to a fault – so there's something of a family mentality at work here. Unlike in 2007, when her outburst of frustration regarding then-coach Greg Ryan's bewildering decision to bench her in favor of veteran Briana Scurry in the Women's World Cup semifinals saw her cast out from the team's leading clique, Solo's unique gifts now mean she's something very close to essential for the starting 11.
And there's actually something to be said for a woman's superlative athletic talents finally earning a few extra second chances, just like those routinely handed out to elite male players of all sports. It's just that U.S. Soccer decision makers don't want to make things appear quite that obvious.
+READ: LeBolt: Hope Solo needs us to try and understand
"She just couldn't keep her nose clean," one source close to the USWNT lamented to SoccerWire, expressing the aggravation of those who'd staked their own credibility on her ability to move forward and avoid further controversy after the misdemeanor domestic assault case that entangled Solo, her half-sister and nephew over the second half of 2014.
That unfortunately-timed controversy unfolded during a media storm sparked by several noteworthy domestic violence incidents in the National Football League. U.S. Soccer officials opted to let Solo continue playing for the USWNT as the legal proceedings rumbled on, and soon found themselves deflecting widespread public condemnation as a result.
Essentially, the federation is pleading for Solo to show a basic desire to put her team and their title dreams first and foremost, for the next six months at the very least. If she can't, it will probably have a deeper impact on the World Cup campaign than anyone is prepared to let on.