USWNT facing Sweden on Thursday in Columbus, Ohio as Andonovski era begins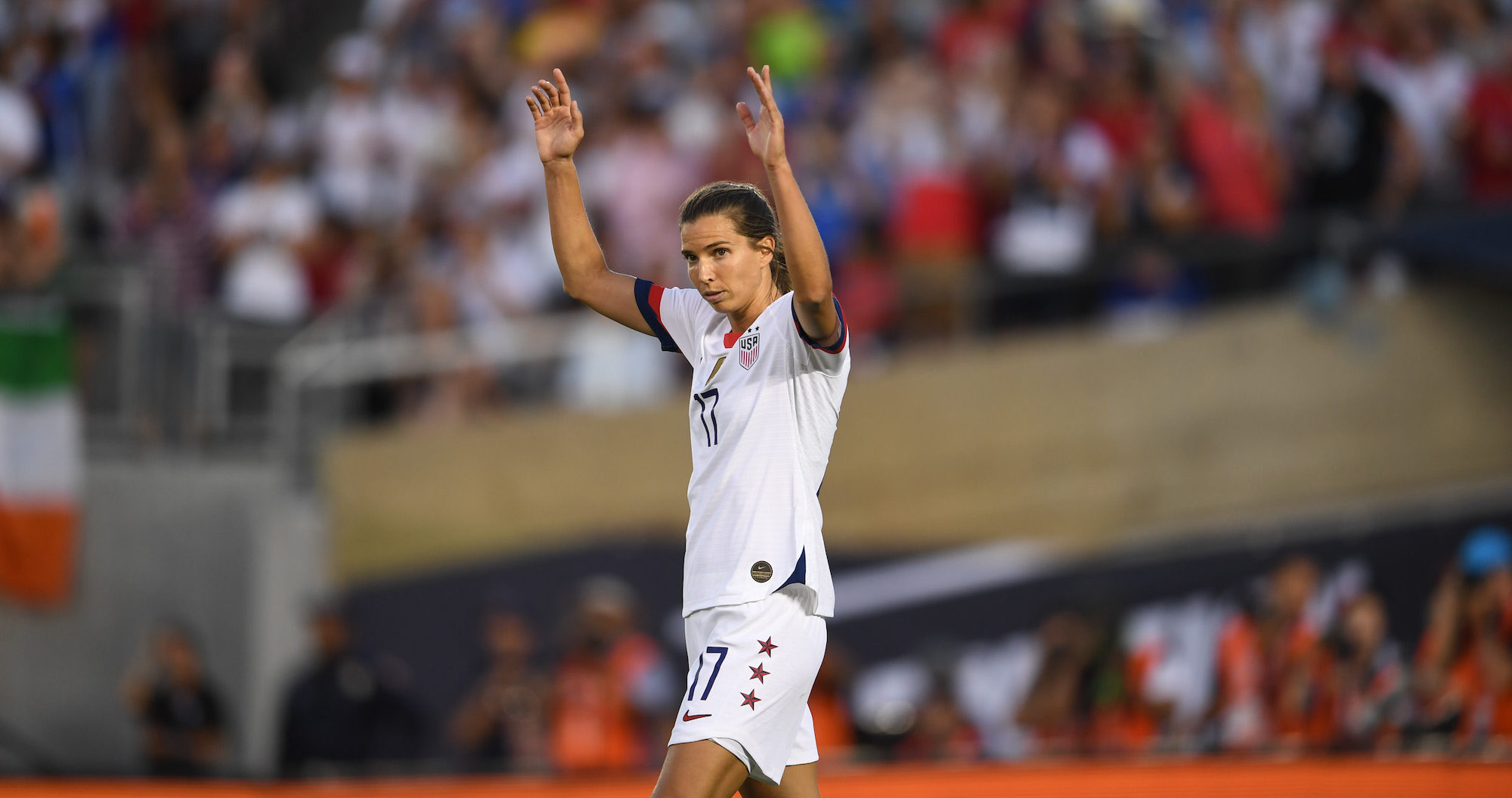 USA vs. Sweden
International Friendly
Nov. 7, 2019 | MAPFRE Stadium; Columbus, Ohio
ANDONOVSKI ERA BEGINS AS USA TAKES ON SWEDEN FOR FIRST TIME SINCE 2019 WORLD CUP: The U.S. Women's National Team will play its final two matches of a historic year when it takes on Sweden on Nov. 7 at MAPFRE Stadium in Columbus, Ohio (7:30 p.m. ET on FS1 & TUDN) and Costa Rica on Nov. 10 at TIAA Bank Field in Jacksonville, Fla. (8 p.m. ET on ESPN2 & TUDN). The matches also mark the first games for newly-appointed U.S. head coach Vlatko Andonovski. The USA played five matches on its 2019 Victory Tour following the Women's World Cup triumph, winning four and drawing one, as it said goodbye to former head coach Jill Ellis, but now sets its sights on preparation for the Olympic qualifying tournament that will be held in late January and early February of next year. The USA is 18-1-3 so far in 2019 and is riding a 21-match unbeaten streak. The USA dropped the first game of the year, a 3-1 setback to France in Le Havre, a result that was avenged in Paris in the quarterfinal of the 2019 FIFA Women's World Cup.
2019 U.S. WOMEN'S NATIONAL TEAM ROSTER (CAPS/GOALS)
GOALKEEPERS (4): Aubrey Beldsoe (Washington Spirit; 0/0), Adrianna Franch (Portland Thorns FC; 2/0), Ashlyn Harris (Orlando Pride; 23/0), Alyssa Naeher (Chicago Red Stars; 56/0)
DEFENDERS (6): Alana Cook (Paris Saint-Germain; 0/0), Abby Dahlkemper (NC Courage; 52/0), Imani Dorsey (Sky Blue FC; 0/0), Becky Sauerbrunn (Utah Royals FC; 169/0), Casey Short (Chicago Red Stars; 30/0), Emily Sonnett (Portland Thorns FC; 38/0)
MIDFIELDERS (7): Morgan Brian (Chicago Red Stars; 86/7), Julie Ertz (Chicago Red Stars; 93/19), Lindsey Horan (Portland Thorns FC; 77/12), Rose Lavelle (Washington Spirit; 36/10), Allie Long (Reign FC; 50/8), Samantha Mewis (NC Courage; 59/14), Andi Sullivan (Washington Spirit; 13/0)
FORWARDS (7): Tobin Heath (Portland Thorns FC; 160/32); Carli Lloyd (Sky Blue FC; 286/118), Jessica McDonald (NC Courage; 13/2), Christen Press (Utah Royals FC; 128/49), Mallory Pugh (Washington Spirit; 60/18), Margaret Purce (Portland Thorns FC; 0/0), Lynn Williams (NC Courage; 19/4)
Follow the USWNT on Social: Twitter , Instagram andFacebook.
ANDONOVSKI ERA BEGINS: On Oct. 28 at a press event in New York City, Vlatko Andonovski became the ninth official head coach in U.S. WNT history. Andonovski (Ann-DON-ahv-skee), 43, comes to U.S. Soccer after serving as a head coach during all seven seasons of the National Women's Soccer League, a stint which included two championships with FC Kansas City (2014 and 2015). He spent five seasons with FC Kansas City (2013-2017) and the last two with Reign FC (2018-2019). He was twice named NWSL Coach of the Year, in 2013 and again after the just completed 2019 season. He named his first roster on Oct. 31 and coached the team in his first training camp during this week in Columbus. Andonovski is the third-youngest coach to take over the U.S. WNT program in its history.
LAST TIME AT MAPFRE? The U.S. Women have played at MAPFRE Stadium (formerly Columbus Crew Stadium) eight times. With the Columbus Crew moving to a new downtown stadium in 2021, this could be the final U.S. WNT match at this stadium which has been the site of some important history for the USA. The WNT first played in Columbus in 1999 in a match after the famous World Cup victory. The USA also played a 2003 FIFA Women's World Cup match at the venue, defeating North Korea 3-0 as defender Cat Whitehill became the first and so far, only U.S. defender to score twice in a game. More recently in Columbus, the USA said goodbye to legend Heather O'Reilly in a 9-0 victory against Thailand during her farewell game on Sept. 15, 2016, and also downed Germany, 1-0, in cataclysmic weather conditions during the 2018 SheBelieves Cup. The USA is 6-1-1 all-time at MAPFRE.
"THE BEST" NIGHT IN MILAN: On Sept. 23 at the famed Teatro alla Scala in Milan, Italy, Megan Rapinoe, who took the world by storm in France this summer, was named The Best FIFA Women's Player of 2019, and Jill Ellis, who led the USA to its second consecutive World Cup title, was named The Best FIFA Women's Coach. U.S. forward Alex Morgan, who was one of the three finalists for The Best FIFA Women's Player, finished second in the voting behind Rapinoe. In addition, U.S. players made up almost half of the FIFA FIFPro Women's World11 with Rapinoe, Morgan, midfielders Julie Ertz and Rose Lavelle and defender Kelley O'Hara being honored. This year marks the sixth time an American woman has been named FIFA Women's World Player of the Year following Carli Lloyd's selection in 2015 and 2016, Abby Wambach in 2012 and Mia Hamm in 2001 and 2002, which were the first two years the award was presented. Ellis was also named FIFA World Coach of the Year in 2015 after the USA won the World Cup in Canada.
U.S. ROSTER NOTES
TEAM
Andonovski named 17 players from the 2019 FIFA Women's World Cup roster along with seven other players that include three first-time call-ups. Goalkeeper Aubrey Bledsoe, who had a fine season with the Washington Spirit and was named to the NWSL Best XI and NWSL Goalkeeper of the Year, defender Alana Cook, a former Stanford star who is playing in France with Paris Saint-Germain, and defender Imani Dorsey, who was the NWSL Rookie of the Year in 2018 for Sky Blue FC while playing mostly in attacking positions, have all played with the U.S. Under-23 WNT but will see their first training camp action with the senior side.
In addition, defender Casey Short and midfielder Andi Sullivan return to the roster. Short and Sullivan – two players who were in the mix for the World Cup Team – were called into the USA's Victory Tour matches due to injuries to World Cup Team players.
Forwards Lynn Williams and Margaret "Midge" Purce also return to a camp roster. Williams has 19 caps and four international goals but has not played for the USA since the 2018 SheBelieves Cup and the uncapped Purce has not been in with the USA since the summer of 2018.
In addition, Kelley O'Hara, Ali Krieger, Tierna Davidson, Crystal Dunn and Megan Rapinoe were not available for selection as they continue to recover from injuries but attended the training camp for a few days at the start.
On Oct. 23, U.S. forward Alex Morgan announced that she and husband Servando Carrasco, a midfielder for the Los Angeles Galaxy, were expecting their first child, a girl. Morgan is due in April of 2020.
Twelve different players have scored the USA's 68 goals this year. Carli Lloyd leads the team with 13 and Morgan and Rapinoe have nine each. Tobin Heath has eight goals, Samantha Mewis and Mallory Pugh have six and Lindsey Horan have five each. Rose Lavelle has four and Christen Press has three. Allie Long has two, and Jessica McDonald, Julie Ertz, Morgan Brian and have one each. The USA has benefited from one own goal.
The U.S. Women's National Team reached an impressive milestone on Nov. 8, 2018 with its 1-0 victory against Portugal that was the 500th win in program history. Since its inception in 1985, the USWNT has compiled a record of 519 wins, 66 losses and 77 ties. Over the history of the program, the USA has gone 292-20-31 (90% winning percentage) at home, 53-18-13 away (71%) and 174-28-33 (81%) on neutral ground. Of the USA's 66 losses, 12 (18%) came at the Algarve Cup in Portugal.
The USA has scored in 49 consecutive matches and has averaged more than three goals per game in that time. Since the end of the 2015 World Cup, the USA has played 92 matches and has a 77-5-10 record.
Lloyd has 54 WNT goals since the start of 2015. Morgan (57) is the only other player with more than 30 goals over the four years.
The USA's 1-1 draw with Korea Republic on Oct. 6 ended a streak of scoring multiple goals in 16 consecutive matches. The USA had not scored multiple goals in 14 straight games since March 19-June 13, 1995.
That draw also ended the USA's winning streak at 17 consecutive matches, the third longest winning streak in team history and one short of a team record. The U.S. Women had not won 15 games in a row since Feb. 10-July 23, 1996. This current streak is the longest since July 25, 1990 – May 25, 1991, which included 18 wins.
The U.S. Women are unbeaten on home soil over its last 38 matches, 33 wins and five draws. The last loss at home was July 27, 2017 vs. Australia, a 1-0 setback in Seattle.
The USA is now unbeaten in 21 consecutive games after losing its first game of the year to France in Le Havre. That streak includes 18 wins and three ties.
Seven of the USA's 13 goals in its last five games have been headers, two more than the total from their previous 10 matches combined. The USA scored five headers in the game prior to that 10-game stretch (April 7, 2019 vs. Belgium). The U.S. has scored 21 goals from set pieces in 2019, including nine at the Women's World Cup – three more than any other team.
FORWARDS
Carli Lloyd is the USA's all-time active caps leader with 286. With her substitute appearance against Sweden on June 20, she moved past Mia Hamm into third all-time in career caps.
After scoring on a classy looping header against Ireland on Aug. 3, a volley on Aug. 29 against Portugal, two more against Portugal on Sept. 3, and against South Korea on Oct. 6, Lloyd has 118 international goals. She leads the USA in scoring this year with 13 goals. Lloyd is the highest active goal scorer in U.S. history with the players ahead of her – Hamm, Wambach and Lilly – all retired.
After earning an assist on Allie Long's goal vs. Portugal on Aug. 29, Lloyd has 54 career assists and has moved past Heather O'Reilly into 7th place all-time.
Lloyd's goal off the bench against Thailand and two against Chile in her first start of this World Cup gave her 10 career WWC goals, ahead of Morgan and Rapinoe, who both have nine. Hamm and Kristine Lilly have eight. Against Chile, at 36 years, 11 months old, Lloyd became the oldest player to score more than once in a single WWC game, overtaking Cristiane's record set in this year's tournament for Brazil vs. Jamaica (34 years, 25 days).
Lloyd became the first player to score in six consecutive appearances at the Women's World Cup. She's scored eight goals across those six games, the last four games of 2015 and the first two of 2019.
Lloyd scored her historic 100th goal on April 8, 2018 vs. Mexico to become the sixth player to score 100 or more for the USA and the first since 2009, when Abby Wambach scored her 100th.
On Oct. 7, 2018 vs. Panama at World Cup qualifying, Lloyd scored her eighth career hat trick. With that hat trick in World Cup qualifying, Lloyd tied Mia Hamm for most three-goal games all-time in WNT history. Hamm also had two four-goal games in her career. Lloyd has moved ahead of Kristine Lilly and Cindy Parlow into fifth all-time in multi-goal games with 21. Alex Morgan has 26 career multi-goal games. Against Panama, Lloyd (36 years, 83 days) became the oldest player to score a hat trick for the USWNT. She broke Wambach's record of 34 years, 186 days. Kristine Lilly is the oldest player to score a goal for the USA at 38 years, 264 days.
Lloyd scored 36 international goals between the time she debuted (six days before her 23rd birthday) and her 30th birthday. Since turning 30, she has scored 82 goals in 149 games over a span just over seven years. The 149 games played after the age of 30 is the second-most all-time in U.S. history in that category. Christie Rampone is far and away the leader with 175.
Lloyd scored five goals in the USA's last four friendly games before the World Cup, all but one of them off the bench, scored three times in the World Cup, two as a starter, and scored five times in four Victory Tour matches as a starter.
Tobin Heath has 32 career international goals. She earned her 150th cap against Mexico on May 26 to become the 22nd U.S. female player to hit that mark. She has 14 goals in her last 28 matches and 12 in her last 23. The 14 goals are 43% of her career total. She has 38 career assists, moving past Lauren Holiday and into 13th place on the USA's all-time assist list.
At the World Cup in the final match of group play, she appeared to score vs. Sweden at the beginning of the second half, but the goal was later changed to an own goal after it was confirmed to have deflected off a Sweden defender and into the net. Heath saw the full 90 minutes of play against Spain in the Round of 16 on June 24 and earned the first penalty kick after a brilliant series of moves inside the box. She saw the full 90 minutes vs. France and had a goal called offside. Heath's early pressure in the Semifinal against England produced the game's initial breakthrough. Her through-ball was dummied by Lavelle, and Kelley O'Hara ran onto the ball down the right wing before whipping in a far post cross to the head of Christen Press. In the championship game, she played the first 87 minutes before coming off to a rousing ovation.
Mallory Pugh scored the USA's first goal of 2019 against France on Jan. 19. She has six goals in 2019 and 18 for her career after scoring the second in the 2-0 victory against Korea Republic on Oct. 3. The Denver native had a brace on April 4 against Australia in front of her hometown crowd. It was the second two-goal game of her career. She scored 37 seconds after entering the match in the 66th minute, her shortest time on the field before scoring in her WNT career. Pugh was the fifth different player to record a brace off the bench since 2015.
Against Thailand on June 11, she netted her 17th career goal, scoring off the bench in her Word Cup debut and became the third-youngest goal scorer in a WWC match in U.S. history.
She made her first career World Cup start in the match against Chile on June 16 and came off the bench against Sweden in the final group match but then did not see the field again in the tournament.
Pugh scored in her senior team debut (the 19th USWNT player to score in her first cap) on Jan. 23, 2016, vs. Ireland at 17 years, 8 months and 25 days old, becoming the youngest player to debut for the U.S. in the previous 11 years. Since then, she has earned 60 total caps and has been one of the USA's most dangerous players, mostly attacking from the wings.
Christen Press assisted on both first half goals vs. Portugal on Aug. 29, and now has 128 caps, 49 career goals and 33 career assists. The Los Angeles native set up Tobin Heath's goal in the first Victory Tour game on Aug. 3 at the Rose Bowl and Heath's goal in the second Victory Tour game. Both goals put the USA up 1-0.
She has four multi-assist games in 2019 and leads the team in assists with 10, three more than any other player.
Press, who was dangerous over her entire second half appearance had several golden chances to score on Oct. 3 vs. Korea Republic, only to be denied by the post and/or the Korean goalkeeper, needs just one more goal to join 10 other American female players who have scored 50 career goals. She is in 12th place on the all-time WNT goals list. Press is one of only two players to play in all 22 games so far this year for the USWNT.
Press had a quality run-up to the World Cup and played in all seven matches in France, five off the bench. She came off the bench against Thailand at the World Cup and caused havoc, picking up the assist on Alex Morgan's third goal. Against Chile, she was unfortunate not to score multiple goals as she was the victim of several world class saves from Chile goalkeeper Christiane Endler. Due to Rapinoe's injury, Press got the start in the Semifinal against England and scored one of the most important goals of her career, giving the USA an early lead after powering a header past England's goalkeeper Carly Telford. It was her only goal of the tournament. She came off the bench in the World Cup Final to finish out the game.
Forward Jessica McDonald's first cap came against Romania on Nov. 10, 2016. She earned her second career cap and start vs. Portugal on Nov. 8 and scored the game-winning goal – her first USA goal. She earned her 13th career cap off the bench on Oct. 6. vs. Korea Republic. She has two international goals.
At the age of 31, she made her World Cup debut on June 16 against Chile, coming off the bench at halftime and almost scored, curling a shot off the right post.
Lynn Williams , the fourth all-time leading scorer in NWSL history, has 19 caps with seven WNT starts for her career. She scored her fourth international goal on Oct. 22, 2017, and got the start against Canada on Nov. 9, 2017, playing in her first away match for the WNT. She has not played for the USA since March of 2018 at the SheBelieves Cup.
Her 12 goals this season for the Courage were the most by an American and her 50 career NWSL is second all-time behind Sam Kerr.
Margaret Purce has had a fine first two seasons in the NWSL for the Portland Thorns, playing a variety of positions. She scored eight goals this year, second on the team, and was a key factor for the team while the World Cup players were in France. The Harvard grad and USYNT veteran was last in with the USA during the summer of 2018, but injured her ankle during training and had not been back until this camp.
MIDFIELDERS
Julie Ertz has 19 career international goals, of which 15 have come off set plays – seven off free kicks and eight off corner kicks. Nine of her 19 goals have been headers, nine were scored with her right foot and one with her left. Impressively, 37% of her goals (7 of 19) have been game-winners. She has played the second-most minutes on the team this year with 1,620. Ertz scored her first World Cup goal on June 16 against Chile. She has 93 caps and has become one of the USA's most important players.
Rose Lavelle played in the first Victory Tour match against Ireland but missed the matches against Portugal due to injury before return to play 66 minutes against Korea Republic on Oct. 3 and was one of the USA's best players. She played the first half on Oct. 6. She now has 36 caps – with 29 starts – and 10 goals.
She made her World Cup debut and scored twice against Thailand in the opening game in France. It was her second career brace. She had her first career brace against T&T on Oct. 10, 2018, during the 2018 Concacaf Women's Championship. Lavelle famously scored the clinching goal in the World Cup Final on her brilliant dribbling run and shot that will go down as one of the most memorable goals in U.S. and World Cup history.
Lindsey Horan scored her 11th career goal in the first game of the Victory Tour on Aug. 3 at the Rose Bowl and her 12th against Portugal on Sept. 3 in St. Paul, Minn. She missed the final two Victory Tour games as she was in concussion protocol stemming from a knock during NWSL play.
She made her World Cup debut against Thailand and scored her first World Cup goal and got the start against Chile on June 16 as she returned to Paris where she started her professional career with PSG. Against Sweden on June 20, she scored her second World Cup goal and the quickest of the tournament to that point when she tallied in the 3rd minute. Horan was a vital starter in the Semifinal match against England on July 2. She lofted a sumptuous cross into the center of the box for Alex Morgan to head home, allowing the U.S. to regain the lead in the 31st minute and ultimately head to the WWC Final.
Currently at 59 caps, Samantha Mewis has put in some excellent performances this year. She is tied for fifth on the U.S. team in goals this year with six. She did not play in the final two Victory Tour games as she rehabbed a minor knee injury. She has 14 career goals and six goals this year after eight in her first 43 matches for the WNT.
She got her first World Cup start and first two World Cup goals vs. Thailand, which was her third career brace.
Veteran Allie Long saw her first World Cup action against Chile on June 16, coming off the bench in the second half. It was her only World Cup appearance.
She capped the scoring against Portugal on Aug. 29 with a header and got a second career goal with her feet on Oct. 3, scoring the game-winner of a set play to up her career total to eight goals. Her most recent cap on Oct. 6 was her 50th and she became the 60th U.S. player to play 50 or more times for the USA.
Morgan Brian returned to fitness just in time make her second Women's World Cup Team. Sheplayed in 12 games in 2018, starting seven, but had played in just one match this year, going 90 minutes in the first game of the year against France, before getting the start and playing 90 against Chile on June 16. On Aug. 29 vs. Portugal, she played in her third match, and scored on a header for her seventh career goal. It was her first goal for the U.S. since November of 2016 when she scored in a win over Romania. She played in her fourth match of the year on Sept. 3 vs. Portugal and her fifth vs. Korea on Oct. 6 and now has 86 career caps at 26-years-old.
Andi Sullivan , who had an excellent sophomore season in the NWSL, was called into the April camp last year, but did not see action in either game. She returned to the squad in the USA's European January Camp this year but did not play in either match. Before that, her most recent call-ups were in April of 2018 for the two friendlies against Mexico and then again for the USA's trip to Europe last November where she started against Portugal on Nov. 8, earning her 11th cap. She saw her first action since the end of 2018 when she came off the bench against Korea Republic on Oct. 3 and Oct. 6 to up her cap total to 13.
As a senior, Sullivan led Stanford to the NCAA title and won the MAC Hermann Trophy as the top player in college soccer. She was a key player for the USA in both the 2012 FIFA U-17 Women's World Cup and the 2014 FIFA U-20 Women's World Cup. She was taken #1 overall in the 2018 NWSL Draft when she was selected by her home area Washington Spirit.
DEFENDERS
Becky Sauerbrunn is the 20th player, and just the third who has played exclusively as a defender, to play 150 times for the WNT. She currently has 169 caps and since 2014 has started 113 of those caps.
She was held out of the World Cup opener on June 11 due to a minor quad issue but returned to play 90 minutes in the remaining six matches at the WWC, once again anchoring a U.S. defense that allowed just three goals.
She was recently named the 2019 NWSL Defender of the Year, her fourth time winning the award.
Abby Dahlkemper has played full 90s in 16 of her 22 games this year and is one of only two players to play in all 22 games so far in 2019. She played the most minutes of any U.S. field player in the World Cup with 622, starting all seven games, and has the most minutes of any U.S. player this year with 1,787. She played her first World Cup match on June 11 vs. Thailand. Dahlkemperhas started in 46 of her 52 caps and against Portugal on Sept. 3, she became 59th female player in U.S. history to play in 50 or more games.
Emily Sonnett made her World Cup debut against Chile on June 16, coming off the bench to earn her 34th cap, and has shown her consistent abilities this year at right back. Against Australia on April 4, she started and played 79 minutes, picking up assists on two of the five goals – to Tobin Heath and Mallory Pugh – which were the second and third of her career. She played in the first four Victory Tour matches to up her cap total to 38.
During 2018, Casey Short was in the mix for the World Cup Team, playing in eight matches last year including one group game at the Concacaf Women's Championship and at the very end of the title game, but had not played for the National Team in 2019 before her substitute appearances against Portugal on Aug. 29 in Philadelphia. She has started 20 of her 30 games for the USA, playing mostly left back, but has also played some outside midfield and centrally. She was not on the roster for the first match against Korea on Oct. 3, but due to injuries to World Cup players, she was added for the second match on Oct. 6 in Chicago, where she plays for the NWSL's Chicago Red Stars, and started, playing 82 minutes.
Imani Dorsey was a star at Duke (she scored 29 career goals) and was selected by Sky Blue FC with the fifth overall pick in the 2018 NWSL Draft. She has played mostly attacking positions with Sky Blue – scoring six goals over two seasons – but will get a run at outside back for the USA. She was the 2018 NWSL Rookie of the Year.
Dorsey was in with the U.S. U-23 WNT earlier this year and has six career U-23 caps and three goals.
Alana Cook went directly to Europe after an excellent career at Stanford and currently plays with Paris Saint-Germain in France. She was the Pac-12 Defender of the Year in 2012. She has played with the USA at the U-17, U-20 and U-23 levels. She played with the U.S. U-23 WNT earlier this year and has five career U-23 caps.
GOALKEEPERS
Alyssa Naeher has 30 career shutouts in her 56 caps, including a shutout in the World Cup Final, becoming the fifth goalkeeper to earn a shutout in a Women's World Cup Final. Naeher earned 13 caps in 2017, 16 in 2018 and has 18 in 2019.
After the matchup against Spain in Round of 16, she became the fourth goalkeeper in U.S. history to earn 50 caps and has now moved past Nicole Barnhart to become the third-most capped goalkeeper in U.S. history.
Naeher had an assist against Australia on April 4. She is the first U.S. 'keeper to record an assist since Hope Solo did in July of 2012 against France on an Alex Morgan goal in the opening game of the Olympics.
The USA got a victory-securing penalty kick stop from Naeher late in the second half of the Semifinal against England on July 2. The Lionesses were awarded a penalty kick after VAR revealed that Ellen White had been inadvertently tripped by U.S. defender Becky Sauerbrunn. England captain Stephanie Houghton stepped up to take the spot kick, but Naeher read her well and got down to her right for the massive save. It was the first penalty kick save by a U.S. goalkeeper in regulation time at a World Cup.
Veteran Ashlyn Harris has 23 caps, earning her most recent vs. Korea on Oct. 3 as she played 90 minutes to earn her eighth career shutout and wore the captain's armband to honor her fiancée Ali Krieger, who was honored before the match for earning her 100th back in May, but could not play due to a knee injury. Against Brazil on March 5, she went 90 minutes to earn the shutout and made several important plays in the match.
Adrianna Franch earned her first WNT cap against England on March 2. She became the 27th player to earn her first cap during this cycle (post-WWC 2015). She has been getting call-ups to the senior side since 2012 after she was a member of the USA's 2010 FIFA U-20 Women's World Cup Team and has seen training time with the WNT on and off for the past six years. Franch earned her second cap and her first shut-out in the USA 4-0 win vs. Portugal on Sept. 29 in Philadelphia.
Aubrey Bledsoe earns her first WNT call-up coming off a season for the Washington Spirit where she was the NWSL Goalkeeper of the Year and named to the NWSL Best XI. She has one cap with the U.S. U-23, earned in 2014. Bledsoe, 27, led the NWSL in saves (86), recoveries (290), catches (25), and ranked second in the league for clean sheets (9). She started every match for the Spirit.
IN FOCUS: SWEDEN
FIFA World Ranking: 5
AFC Ranking: 4
World Cup Appearances: 8 (1991, 1995, 1999, 2003, 2007, 2011, 2015, 2019)
Best Women's World Cup finish: Runners-Up (2003), Third-Place (2019)
Record vs. USA: 6-22-11
Head Coach: Peter Gerhardsson     
Sweden Women's National Team Roster by Position:
GOALKEEPERS (3): 1-Hedvig Lindahl (VFL Wolfsburg, GER), 12-Jennifer Falk (Kopparbergs/Göteborg FC), 21-Zecira Musovic (FC Rosengård)
DEFENDERS (7): 2-Jonna Andersson (Chelsea FC, ENG), 3-Linda Sembrant (Juventus, ITA), 4-Hanna Glas (Paris Saint-Germain FC, FRA), 5-Nathalie Björn (FC Rosengård), 6-Magdalena Eriksson (Chelsea FC, ENG), 15-Jessica Samuelsson (FC Rosengård), 23-Emma Kullberg (KIF Örebro)
MIDFIELDERS (3): 9-Kosovare Asllani (CD Tacón, ESP), 17-Caroline Seger (FC Rosengård), 22-Michelle De Jongh (Vittsjö GIK)
FORWARDS (10): 7-Madelen Janogy (Piteå IF DFF), 8-Lina Hurtig (Linköpings FC),10-Sofia Jakobsson (CD Tacón, ESP), 11-Stina Blackstenius (Linköpings FC), 13-Julia Karlernäs (Piteå IF DFF), 14-Hanna Bennison (FC Rosengård), 16-Julia Zigiotti Olme (Kopparbergs/Göteborg FC), 18-Pauline Hammarlund (Kopparbergs/Göteborg FC), 19-Anna Anvegård (FC Rosengård), 20-Loreta Kullashi (Eskilstuna United DFF)
SWEDEN NOTES:
Gerhardsson named 15 players from his 2019 WWC Team to the 23-player roster for this match.
Sweden and the USA both advanced out of Group F at the 2019 FIFA Women's World Cup and both made it to the semifinal round, where the USA beat England 2-1, but Sweden fell to the Netherlands, 1-0.
Sweden would go on to defeat England in the Third-Place match for its best finish at a Women's World Cup since finishing second to Germany at the 2003 tournament.
Sweden and the USA both came into their much-hyped Women's World Cup group match with six points. Sweden struggled a bit to put away Chile in its opening game before scoring twice late for the 2-0 victory, and then dispatched Thailand with aplomb, winning 5-1.
The USA's 2-0 victory in the Group F finale gave the USA the group title – and the more difficult path to the Final, which went through Paris and host France – but Sweden certainly had no walkovers, dispatching Canada in the Round of 16 (1-0) and then rival Germany in the Quarterfinal (2-1), a team it hadn't beaten in major tournament play since 1991. Sweden's goal scorers in the World Cup were: Kosovare Asllani (3), Sofia Jakobson (2), Stina Blackstenius (2), Madelen Janogy, Linda Sembrant, Fridolina Rolfö, Linda Hurtig and Elin Rubensson.
Sweden's top finishes in major tournaments were at the 1984 EURO (Champions), the 2003 FIFA Women's World Cup (runners-up) and at the 2016 Olympics (runners-up).
Sweden has world class players in numerous positions, including at goalkeeper with Hedvig Lindahl, who was a finalist for the FIFA Best Goalkeeper of the Year, at defender with Nilla Fischer (who was named to the FIFA Women's Best XI but is not on this roster) and Linda Sembrant, in the midfield with Kosovare Asllani and Caroline Seger and up front with Sofia Jakobsson and Stina Blackstenius.
Despite having one of the most competitive professional leagues in the world, Sweden has seven players playing for top clubs outside the country, two in England, two in Spain, and one in Germany, France and Italy.
Two of Sweden's top players – Asllani and Jakobsson – are currently playing in Spain with CD Tacón – which will officially become the women's club for Real Madrid in the summer of 2020 as the Spanish giant makes its first foray into women's professional soccer.
Sweden has begun its qualifying for the 2021 UEFA Women's Euro, to be staged in England, downing Latvia 4-1 in September, then routing Hungary (5-0) and Slovakia (7-0) in October.
Asllani, Blackstenius, Madelen Janogy and Sembrant have scored twice each in qualifying. Nathalie Björn, Magdalena Eriksson, Lina Hurtig, Amanda Ilestedt, Jakobsson, Loreta Kullash, Fridolina Rolfö and Seger all have single scores.
USA VS. SWEDEN
The meeting with Sweden, which is ranked fifth in the world after its third-place finish at the World Cup this summer, comes less than five months after the teams met in the final Group F match in Le Havre, France, a 2-0 victory for the Americans on goals from Lindsey Horan and a Sweden own goal that was created by Tobin Heath.
The match at the World Cup was the sixth time – and fifth World Cup in a row – in which the U.S. played Sweden. The teams met in the USA's first Women's World Cup match in 1991, and also in 2003, 2007, 2011 and 2015, all in the group stage. After the win in France, the USA is 4-1-1 against the Swedes at the Women's World Cup.
The USA's last loss in regulation time at a World Cup came against the Swedes – a 2-1 defeat in 2011. The USA is 13-0-3 in World Cup games since.
Before the match in Le Havre this summer, the USA and Sweden met most recently in Gothenburg on June 8, 2017, as Rose Lavelle scored the game-winner in the 56th minute for the 1-0 U.S. victory.
That match was the first between the teams since quarterfinal of the 2016 Olympics which saw Sweden triumph in a penalty kick shootout after a 1-1 tie through regulation and overtime. Blackstenius scored for Sweden and Alex Morgan scored for the USA. The USA out-shot Sweden 27-6 in the match. Sweden would go on to win the Olympic silver medal.
The USA has played Sweden 39 times dating back to 1987 – the fourth most of any country (behind Canada, China PR and Norway). In the last 14 matches with Sweden dating back to 2010, the USA is 6-3-5, making for one of the most competitive rivalries among top teams in recent years.
Before the victory in Gothenburg in the summer of 2017, the USA had failed to beat Sweden in the previous four games between the teams, losing 1-0 at the Algarve Cup in 2014, tying 1-1 at the Algarve Cup in 2013, tying 0-0 in group play at the 2015 Women's World Cup and falling in penalties at the 2016 Olympics.
The USA was coached by a Swede from 2008-2012 when Pia Sundhage – the current head coach of Brazil — compiled a 91-6-10 record and won two Olympic gold medals.
The USA had not beaten Sweden with Pia as head coach of Sweden until the final game between the teams in which she was on the bench, that coming in the summer of 2017 in Gothenburg.