USWNT: Enormous turnout as World Cup champs hit NYC for victory parade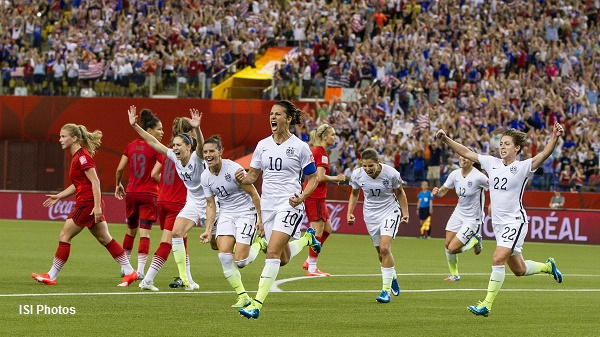 The U.S. Women's National Team were hailed by thousands of fans and well-wishers in downtown Manhattan on Friday, as New York hosted a victory parade through the "Canyon of Heroes" – today rebranded the "Canyon of Heroines" – in honor of their Women's World Cup championship run.
Extraordinary view from the Canyon of Heroines. Go #USWNT! https://t.co/mpeLRPn3cS

— Bill de Blasio (@BilldeBlasio) July 10, 2015
Multiple television and web-based outlets aired live broadcasts as the USWNT, whose players and staff were spread among several floats, were showered with more than two tons of ticker tape – or more accurately, the modern version: shredded office documents – along a route from Battery Park to New York City Hall. +READ: President Obama congratulates USWNT after World Cup win Most of the route was marked by thick crowds packed densely along the sidewalks despite the event starting at 11 a.m. local time on a weekday, and the #USWNTparade hashtag soon became one of Twitter's top "trending topics." The number of media outlets requesting to cover the parade was so large that the U.S. Soccer Federation had to adjust their plans for player interview availability.
We love you, NYC! #BestFansInTheWorld #USWNTParade pic.twitter.com/jyBiXKRkqf — U.S. Soccer WNT (@ussoccer_wnt) July 10, 2015
It was the first such parade ever held for a women's sports team, and the first such parade held for any female athlete since Olympic gold medal-winning figure skater Carol Heiss was so honored in 1960.
The event was capped by a ceremony at City Hall in which Mayor Bill DeBlasio awarded the USWNT the symbolic keys to the city.
Great photo gallery of today's #USWNTParade from the Daily Mail: http://t.co/NkOCLlD1Wu pic.twitter.com/NveTOmZi14

— Caitlin Murray (@caitlinmurr) July 10, 2015