USWNT: Crystal Dunn facing both dreams, pain on return to World Cup training camp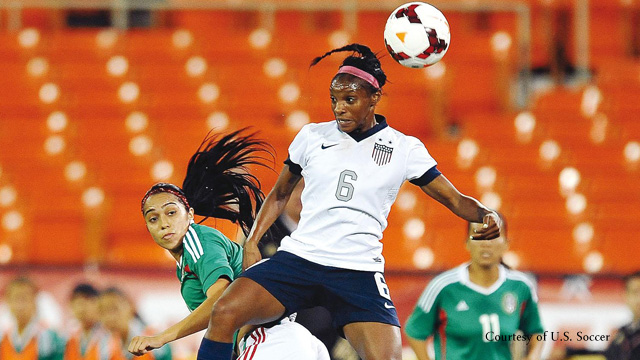 WASHINGTON — Crystal Dunn was one of the final cuts from the U.S. Women's National Team's roster for the Women's World Cup, a decision that prompted frustration and even outrage from a segment of USWNT fans eager to see her speed, skill and versatility brought to bear on the world's biggest stage.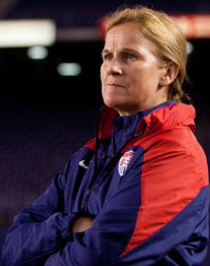 Now the 22-year-old Washington Spirit star has been called back to the USWNT camp, filling the spot vacated by the injured Tobin Heath as coach Jill Ellis' side runs through their final preparations before heading to Canada for this summer's big event.
+READ: USWNT: Boxx in, Dunn out as Ellis unveils Women's World Cup roster ahead of schedule
Will this be a second chance for Dunn to earn a place on that plane, or is she just being set up for another round of heartbreak?
While mainstream observers focus on Abby Wambach's final hunt for World Cup glory, Dunn's situation might be the most compelling USWNT subplot between here and Vancouver.
"I can't even imagine what she's gone through emotionally," Spirit coach Mark Parsons told SoccerWire.com in an exclusive conversation on Monday. "But if it were me, I'd want to get the call early, and have very clear expectations and targets set for me. Jill [Ellis] has done that."
While he was one of the first to speak out on Dunn's behalf when she was left off the roster last month, Parsons praised the professionalism and honesty of Ellis and her staff, who are carefully monitoring several injury situations on their squad amid the countdown to the United States' WWC opener vs. Australia in Winnipeg on June 8.
No promises have been made to Dunn. But over the next two weeks she'll have the chance to show her abilities and put herself in contention should Ellis & Co. be forced to consider roster changes. And she's been cleared to rejoin the Spirit for match play, starting with this weekend's high-profile visit to Portland Thorns FC.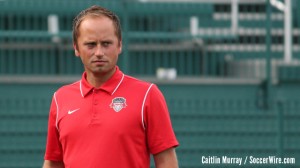 "Crystal is locked in [mentally] right now," said Parsons, who echoed the sentiments of Anson Dorrance, her coach at North Carolina,  that Dunn could become one of the best dribblers of the ball in USWNT history. "She's absolutely on fire [in NWSL play].
"It could be tough on her confidence to take her out of an environment she's doing so well in … But I've suggested to her that she look at it as an opportunity to spend two weeks at the absolute highest level possible and improve herself as a player."
Dunn has hardly dwelled on her USWNT snub, scoring three goals (two game-winners) and an assist in four NWSL matches to date. Parsons says she's preparing and performing at an extremely high level, noting that after last weekend's 3-1 road loss to Seattle Reign FC, Dunn submitted her personal evaluation of her own performance to him just hours after the final whistle – before he'd even finished his team evaluations.
Dunn's red-hot form owes as much to the USWNT as it does the Spirit, said Parsons.
+READ: Christine Nairn, Crystal Dunn lift Washington Spirit over FC Kansas City 3-1
"She's come in on fire from the start, and she spent the past six months in national team camp," said Parsons. "So it's a tribute to the work that Jill and [USWNT strength and fitness coach] Dawn Scott have done with the national team.
"Those [US national team] players are on another level from the rest of the NWSL. As they should be … how it compares to the rest of the world, we'll have to wait and see."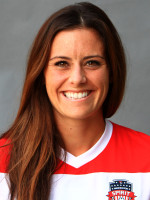 It's quite unclear whether Dunn, even at her best, will get another legitimate chance to go to Canada. Ali Krieger, Dunn's Spirit teammate and possible competitor for the USWNT right back spot, is expected to return to full-speed training any day now as she recovers from a concussion sustained in NWSL play.
And sources with knowledge of the situation tell SoccerWire.com that Heath's hamstring injury is minor, with her sitting out primarily as a precautionary measure.
But Dunn is in the daily mix. And given how well she's weathered disappointment this year already, it looks unwise to count her out.