USSF hints at punishment as Rapinoe extends kneeling gesture to USWNT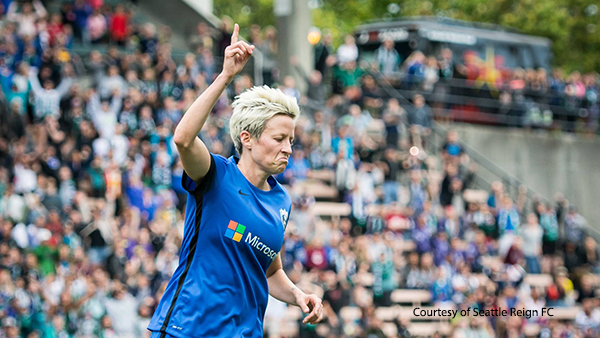 The U.S. Women's National Team faced no uncertainty whatsoever on the field at Mapfre Stadium in Columbus, Ohio on Thursday night, as they tore humble Thailand to shreds 9-0 in an international friendly that marked Heather O'Reilly's international retirement.
Outside the lines, however, drama and intrigue swirled. Megan Rapinoe continued her gesture of kneeling during the playing of the national anthem despite pregame adminishments from the U.S. Soccer Federation and USWNT head coach Jill Ellis not to. That prompted the fed to release a statement hinting at possible punishment for the veteran winger, while Ellis did much the same in her postgame remarks to the media.
"Representing your country is a privilege and honor for any player or coach that is associated with U.S. Soccer's National Teams. Therefore, our national anthem has particular significance for U.S. Soccer," read the USSF statement.
"In front of national and often global audiences, the playing of our national anthem is an opportunity for our Men's and Women's National Team players and coaches to reflect upon the liberties and freedom we all appreciate in this country. As part of the privilege to represent your country, we have an expectation that our players and coaches will stand and honor our flag while the national anthem is played."
+READ: Rapinoe kneels during anthem at NWSL game in nod to Kaepernick
Rapinoe began kneeling during the anthem at an NWSL match in Bridgeview, Illinois between her Seattle Reign FC and the Chicago Red Stars in what she termed "a little nod" to NFL quarterback Colin Kaepernick, who sparked a national firestorm with a similar gesture before San Francisco 49ers games in a statement about racial injustice and police killings of minorities.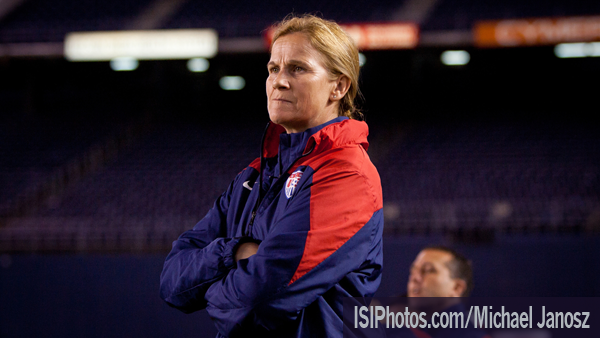 She was subsequently prevented from making the gesture at a road game vs. the Washington Spirit, who played the anthem while both teams were in the locker rooms in a move the Spirit explained was intended to prevent Rapinoe from "hijacking" a tribute its owner, Bill Lynch, regards as a patriotic tradition.
Both before and after the Thailand game, Ellis suggested that Rapinoe's gesture would have repercussions for the player were she to continue it while wearing her country's colors.
+READ: Washington Spirit beset by Rapinoe conflict as owner, players differ
"We haven't gone there yet. But I think the way I am and how I'm wired, it's going to warrant a conversation, and then a determination of which direction in terms of how I want to play this out," said Ellis in an ESPN interview pregame.
"I've given this a lot of thought and a lot of contemplation," the USWNT boss told ESPNW after Rapinoe, who started the game on the bench and came on as a second-half substitute. "And I think tonight I was not going to get caught up in an emotional response in the moment. I'm pretty measured in everything I do, and certainly even to the game plan was measured in minutes and that was factored in, including Megan. I think that's just how I am. Now it's continued conversations and thoughts on my part and probably with the federation.
"I was very clear in what I expected and needed. Everything for me, from the day I took over this job, it's about the team. And if something supersedes the team, that's where I get concerned. And I think that's something I have to reflect on now at this point."
Rapinoe said she recognizes the extra weight of making her gesture on national-team duty, but considers it an act of patriotism that falls within her First Amendment rights. Asked about potential discipline from the federation, she called it "a secondary thought of mine" and said that she had been in "conversations" about her stance with Ellis and other USSF employees.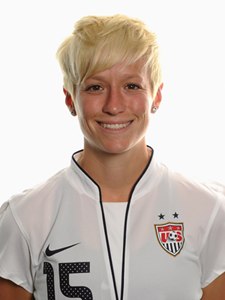 "I think that the term 'represent your country when you play for the national team' is thrown about a lot," said Rapinoe, "and I truly feel like I am representing my country in doing this, and representing everybody that lives in this country, not just the people that look like me or the people that I know or that I have experiences with. I've taken a little bit deeper look at what that means to me and I'm very proud to pull on the shirt and be able to play for my country, and also represent my country in a different way, in speaking out for people that are oppressed.
"I think that we need to look at all the things that we say that the flag and the anthem means, and everybody that it represents and all the liberties and the freedoms that we want it to mean to everybody, and ask ourselves: Is it protecting everybody in the same way? Is it giving all the freedoms to everybody in in this country in the same way? Or are there certain people who don't feel as protected as I do every day? That's how I feel about it. And I understand it's a time-honored tradition, and it's something, especially in a sports environment, that this country is very passionate about. But there's a bigger conversation here that needs to happen that's far bigger than sports."
On Friday a USSF spokesperson told SoccerWire.com that "there's always a possibility for action" in regards to Rapinoe's situation but declined to "talk about hypotheticals" and echoed Ellis' statement that "there will be continued discussions."