Development Academy Playoffs set to conclude group stage on Monday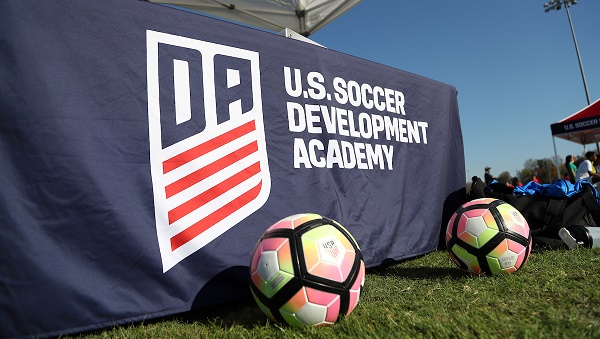 (Via U.S. Soccer) – After completing the first two days of games of the U-15/16 and U-17/18 Academy Playoffs at Grand Park in Westfield, Ind., 64 teams are set to officially conclude the 2017 Summer Showcase and Playoffs event, participating in their final playoff group games taking place on Monday, June 26. The 32 games are set to kick off starting at 2:30 p.m. ET and ending with a winner-take-all U-17/18 showdown between hometown favorites Indiana Fire and MLS powerhouse Orlando City SC at 7 p.m. ET from the Grand Park Stadium Field.
Known as the most intense day of the year for Development Academy competition, the third and final round robin set of group games features no shortage of drama. With 46 teams still alive, each one of them will be fighting to win their group and advance to the Knockout Round on July 6 and 7.
Check out the complete group standings here and learn about the Development Academy's tie-breaker protocol here.
FOR ALL THE MARBLES
In the U-15/16 age group, nine teams have been officially eliminated from contention, and three of the 23 teams still in the hunt control their own destiny, needing solely a win to advance: Weston FC (Group E), Crew SC Academy Wolves (Group F) and New York Red Bulls (Group H). Their three opponents, who also control their own fate, can advance from the group with a win or tie: Sporting Kansas City (Group E), FC Dallas (Group F) and Seattle Sounders (Group H). Each of those games will be streamed and fans can find links to each live broadcast here.
Additionally, at the U-17/18 age group, Monday's matchups will be the last game of the 2016-2017 Academy season for nine clubs. Of the 23 remaining teams, another set of three teams controlling their own destinies and needing a win are Real So Cal (Group E), Orlando City SC (Group G), Vancouver Whitecaps FC (Group H). Two direct opponents and one additional team can punch their tickets to the knockout phase with a win or tie: Colorado Rapids (Group F), Indiana Fire (Group G), Real Salt Lake AZ (Group H).
PLAYING SPOILER
Three U-15/16 squads may be mathematically out, but you can bet that won't stop them from playing the role of spoiler and ensuring that their Monday foe also does not advance.
| | | |
| --- | --- | --- |
| Group | Spoiler | Hoping to not get spoiled |
| B | Cedar Stars Academy – Monmouth | Colorado Rapids |
| D | Capital Area Railhawks – CASL | Bethesda SC |
| G | Real Colorado | Sacramento Republic FC |
At the U-17/18 level, the following five teams are also playing the role of villain:
| | | |
| --- | --- | --- |
| Group | Spoiler | Hoping to not get spoiled |
| A | Bethesda SC | Crossfire Premier |
| B | FC Boston Bolts | LA Galaxy |
| D | Sacramento Republic FC | Texans SC Houston |
| E | Philadelphia Union | Crew SC Academy Wolves |
| F | Capital Area Railhawks – CASL | Baltimore Armour |
UNDERDOGS ON TOP
Before the Academy Draw took place, the top 32 teams from each age group were seeded from 1 to 32 based on points-per-game-played average. Seeds 1-8 were placed into the top grouping, ensuring that none of the top eight teams would face each other in the same Playoff group. The same was done for seeds 9-16 (second highest group), 17-24 (third highest group) and 25-32 (bottom group). Entering Monday's showdown of games, three teams from the top groupings have been eliminated, while eight teams from the (25-32) bottom grouping, combined from both age groups, are still alive.
Lowest seeds still in the hunt (regular season seed earned)
U-15/16 Group A: Montreal Impact FC (27)
U-15/16 Group C: Houston Dynamo (30)
U-15/16 Group D: Oakwood Soccer Club (28)
–
U-17/18 Group A: Crossfire Premier (27)
U-17/18 Group B: LA Galaxy (32)
U-17/18 Group C: Beachside Soccer Club (29)
U-17/18 Group E: Real So Cal (28)
U-17/18 Group F: Colorado Rapids (30)
DOUBLE DATE CONTENDERS
Of the record-high 23 Academy programs that made the Playoffs in both age groups, 14 clubs are still in contention to send both of their teams to the Knockout Round. Those clubs are:
Atlanta United
Chicago Fire
Colorado Rapids
Crossfire Premier
FC Dallas
LA Galaxy
Montreal Impact FC
Weston FC
New York Red Bulls
Real Salt Lake AZ
Real So Cal
Seattle Sounders FC
Sporting Kansas City
Vancouver Whitecaps FC
CONCACAF & FIFA WORLD CUP PLAYERS STILL ALIVE
With 90% of U.S. Soccer Youth National Team players coming from Development Academy clubs, it's always a safe bet that the third and final day of round robin play will feature some of the nation's top young talent. In 2017, five players from 2017's U-17 CONCACAF World Cup Qualifying roster are still in contention with their Academy Clubs:
Taylor Booth Real Salt Lake AZ U-17/18
Christopher Gloster New York Red Bulls U-17/18
Zyen Jones Atlanta United U-15/16
Jaylin Lindsey Sporting Kansas City U-17/18
Bryan Reynolds Jr. FC Dallas U-17/18
U-20 World Cup rostered player Lagos Kunga, of Atlanta United, is also expected to play a pivotal role for his U-17/18 side.