USMNT opens 2016 campaign Sunday against Iceland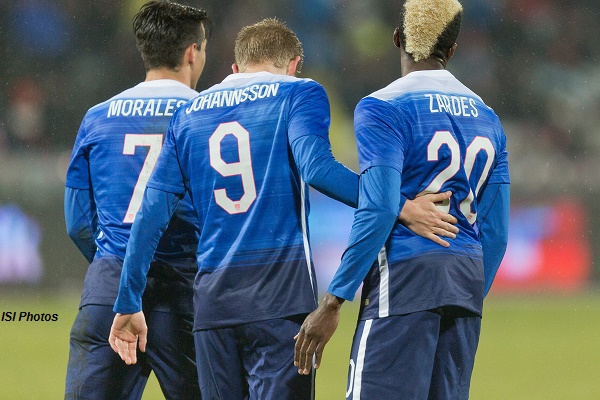 CHICAGO (Via U.S. Soccer) – The U.S. Men's National Team opens the 2016 campaign against Iceland on Sunday, January 31 at StubHub Center in Carson, Calif. Kickoff is set for 12:45 p.m. PT, and the match will be broadcast live on ESPN2, WatchESPN, UniMas and Univision Deportes Network.
The mixed roster senior team players and U-23's is preparing players for a pair of key home-and-home series in March. The MNT will face Guatemala in the semifinal round of 2018 FIFA World Cup Qualifying, while the U-23 MNT will play Colombia in a playoff series for the final berth in the 2016 Summer Olympics in Brazil.
A total of 22 of the 25 players on the camp roster represent 15 different Major League Soccer teams, including three each from Columbus Crew SC and the Chicago Fire. The camp, which serves as the start of preseason for both club and country, brings 10 players seeking their first cap.
+Read: U.S. U-18 MNT concludes first camp of 2016 with pair of friendlies
The USA and Iceland are meeting for the seventh time, but first since 1994. After meeting once in 1955 and again in 1978, the teams met four times from 1990-1994. The last match was on April 14, 1994, with Iceland claiming a 2-1 win in San Diego, California.
The MNT is 9-2-2 all-time at StubHub Center, outscoring its opponents 31-9, most recently a 2-0 win against Panama on Feb. 8, 2015.
MNT BRINGS 26-MAN ROSTER FOR ICELAND FRIENDLY : USA head coach Jurgen Klinsmann has a 26-man roster for the friendly against Iceland, which consists of a mix of senior team players and a host of players age-eligible for the U-23 MNT. Five players are veterans from the 2014 FIFA World Cup roster, 10 are seeking their first-ever cap, and nine are eligible for the U-23 MNT that will look to secure a spot in the Summer Olympics. With the departure of Matt Miazga from camp, Klinsmann added Club Tijuana defender Michael Orozco to the game-day roster.
U.S. Roster by Position:
GOALKEEPERS (3): David Bingham (San Jose Earthquakes), Sean Johnson (Chicago Fire), Luis Robles (New York Red Bulls)
DEFENDERS (9): Kellyn Acosta (FC Dallas), Matt Besler (Sporting Kansas City), Steve Birnbaum (D.C. United), Eric Miller (Montreal Impact), Michael Orozco (Club Tijuana), Tim Parker (Vancouver Whitecaps FC), Matt Polster (Chicago Fire), Brandon Vincent (Chicago Fire), Brad Evans (Seattle Sounders FC)
MIDFIELDERS (8): Michael Bradley (Toronto FC), Mix Diskerud (New York City FC), Jermaine Jones (unattached), Perry Kitchen (unattached), Darlington Nagbe (Portland Timbers), Lee Nguyen (New England Revolution), Tony Tchani (Columbus Crew SC), Wil Trapp (Columbus Crew SC)
FORWARDS (6): Jozy Altidore (Toronto FC), Ethan Finlay (Columbus Crew SC), Jerome Kiesewetter (VfB Stuttgart), Jordan Morris (Seattle Sounders FC), Khiry Shelton (New York City FC), Gyasi Zardes (LA Galaxy)
ROSTER NOTES:
The five veterans from the 2014 FIFA World Cup roster are: Michael Bradley, Jozy Altidore, Matt Besler, Mix Diskerud and Jermaine Jones.
While a total of 16 players have previously been capped, only six have made more than seven appearances: Bradley (109), Altidore (89), Jones (56), Diskerud (36), Besler (29), Brad Evans (25), Gyasi Zardes (19).
Steve Birnbaum, Perry Kitchen, Darlington Nagbe, Wil Trapp and Zardes all made their MNT debuts in 2015. Of the 10 players who received their first cap in 2015, seven are from MLS.
A total of nine players are age-eligible to compete at the 2016 Summer Olympic Games: Kellyn Acosta (20), Jerome Kiesewetter (22), Eric Miller (23), Jordan Morris (21), Tim Parker (22), Matt Polster (22), Kyrie Shelton (22), Wil Trapp (23) and Brandon Vincent (21).
Kiesewetter, Morris, Polster and Trapp were all members of the Under-23 Men's National Team that recently placed third in CONCACAF Men's Olympic Qualifying. Kiesewetter and Morris tied for the team lead with six goals each in 2015.
Kiesewetter and Orozco are the only two players on the roster currently playing for clubs outside the United States.
Ten players were also in attendance at last year's January camp: Besler, Birnbaum, Bradley, Diskerud, Johnson, Jones, Kitchen, Nguyen, Trapp and Zardes.
Acosta, 20, is the youngest player on the roster. He was a member of the USA's 2015 Under-20 MNT's CONCACAF Championships as well as the 2015 FIFA U-20 World Cup in New Zealand.
Zardes tied DeAndre Yedlin for the team lead in appearances in 2015 with 19 total. Michael Bradley was second with 18, and his 18 starts were a team-high.
Morris made 23 combined appearances for the MNT and U-23 MNT in 2015, starting one of his six appearances on the senior side and 10 of his 11 matches with the U-23 MNT. He scored his first senior team goal on

April 15

against Mexico.
Nineteen of the 25 players at the time of the Iceland match are 26 years old or younger; three are over 30.
Following his MNT debut at last year's January camp, Gyasi Zardes earned 19 appearances in 2015, tying Claudio Reyna in 1994 for most caps by a U.S. player in their debut year with the National Team.
Columbus midfielder Ethan Finlay and New York Red Bulls goalkeeper Luis Robles were both named to the 2015 MLS Best XI. Robles was also named MLS Goalkeeper of the Year.
Robles last appeared for the MNT in 2009, first serving as the third goalkeeper in the 2009 FIFA Confederations Cup in South Africa and then making his lone MNT appearance in a 2-2 draw with Haiti on

July 11

in the 2009 CONCACAF Gold Cup in Foxboro, Mass.
Of the three goalkeepers in camp, Sean Johnson has the most appearances with 5. His last appearance was in a 45-minute stretch as a second half sub where preserved a 2-0 shutout win on Feb. 8, 2015 against Panama.
Eleven players have ties to the Development Academy: Acosta (FC Dallas Academy), Birnbaum (Pateadores), Kitchen (Chicago Magic PSG), Miller (Minnesota Thunder Academy), Morris (Seattle Sounders Academy), Nagbe (Internationals), Parker (Albertson SC), Shelton (Lonestar SC), Trapp (Crew Soccer Academy), Vincent (Real So Cal), Zardes (LA Galaxy Academy).
Morris and Vincent led Stanford University to the 2015 NCAA College Cup title in December. Morris earned the MAC Hermann Trophy as the nation's best college player. Vincent was selected by the Chicago Fire while he was in the January camp, while Morris signed with his hometown Seattle Sounders FC. He played for the Sounders Academy team and claimed the 2013 U.S. Soccer Development Academy Player of the Year.
Nagbe made his international debut on

Nov. 13

in a World Cup qualifier against St. Vincent and the Grenadines. The match was also the first World Cup qualifier for Zardes and Morris.
The camp marks the fourth-straight January camp call-up for Besler.
2015 RECAP:
The USA posted a 10-6-4 record in 2015, with matches against European nations Belgium, Denmark, Germany, Holland and Switzerland; CONMEBOL countries Brazil, Chile and Peru, and CONCACAF's Mexico, Trinidad and Tobago, St. Vincent and the Grenadines, Jamaica, Haiti, Panama, Guatemala, Honduras, Cuba, and Costa Rica.
The MNT went on a nine-game unbeaten run from

March 31

–

July 21

, going 8-0-1 during that span. The wins included back-to-back road victories against sixth-ranked Netherlands and defending World Cup champion Germany
A total of 49 players from nine different leagues earned caps in 2015.
A total of 10 players earned their first cap in 2015: Ventura Alvarado, Steve Birnbaum, Matt Hedges, Perry Kitchen, Matt Miazga, Darlington Nagbe, Wil Trapp, Andrew Wooten, William Yarbrough, Gyasi Zardes
Six scored their first international goal: Jordan Morris (4/10 vs. Mexico), Gyasi Zardes (6/5 vs. Netherlands), Danny Williams (6/5 vs. Netherlands), Bobby Wood (6/5 vs. Netherlands), Timmy Chandler (7/3 vs. Guatemala), Omar Gonzalez (7/18 vs. Cuba)
The total attendance for MNT matches played in the USA in 2015 was 542,696, resulting in an average of 38,764 per game.
IN THE RECORD BOOKS:
Jurgen Klinsmann tied Bob Bradley for second on the MNT's all-time coaching wins list at 43
Jozy Altidore scored his 11th and 12th goals in FIFA World Cup qualifying when he tallied twice against St. Vincent and the Grenadines in November in the opening game of 2018 World Cup qualifying cycle. He is tied for third place all-time in U.S. World Cup qualifying scoring and is one goal away from the all-time record of 13, which is shared by Landon Donovan and Clint Dempsey.
Altidore, entering his 10th season with the MNT at 26 years old, is fourth on the all-time goals list with 31. He now sits behind only Landon Donovan (57), Clint Dempsey (48) and Eric Wynalda (34).
With 89 games under his belt, Altidore is the closest active player to reaching the 100-cap milestone. Should he reach it, he would become the 17 th player in MNT history to hit the century mark in appearances.
Michael Bradley is currently tied for 10th place on the all-time caps list at 109 with Eric Wynalda. With his next appearance he would tie Carlos Bocanegra and Paul Caliguiri. Next on the list and in seventh place is Claudio Reyna with 112. Cobi Jones is the all-time leader in appearances with 164.
Bradley became just the eighth player to start 100 matches when he was in the first XI versus Mexico on Oct. 9, 2015. He enters 2016 with 102 starts in 109 appearances.
Bradley also registered six assists in 2015, the most in any of his 10 years with the MNT and bringing his total to 18 – which places him fourth all-time. Donovan (58), Cobi Jones (22) and Claudio Reyna (19) are the top three.
The USA has an all-time record of 48-28-29 in matches played in California, outscoring its opponent 206-119.
ROAD TO RUSSIA: The USA plays its third game of the Semifinal Round of 2018 FIFA World Cup Qualifying on March 25 against Guatemala at Estadio Mateo Flores in Guatemala City. The team will then host Guatemala on March 29 at MAPFRE Stadium in Columbus, Ohio.
The MNT began the road to Russia 2018 last November with a 6-1 win against St. Vincent and the Grenadines in St. Louis and picked up an important road point with a draw against Trinidad and Tobago .
The U.S. and Trinidad & Tobago are tied atop Group C in CONCACAF Qualifying with four points each. Guatemala sits in third with three points and St. Vincent and the Grenadines is last with zero. The top two teams from each Semifinal group advance to the Final Round of World Cup Qualifying, known as the Hexagonal, or "The Hex," which begins in November 2016.
ROAD TO BRAZIL: The U.S. Under-23 Men's National Team will face off with Colombia in a home-and-away playoff in March of 2016 for the final berth in the 2016 Olympic Games in Rio de Janeiro. Exact dates, venues, TV and ticket information for both games will be announced in the coming weeks.
The U.S. earned its spot in the playoff after finishing third in the CONCACAF Men's Olympic Qualifying Championship, while Colombia earned its place after finishing in second place in the 2015 South American Youth Championship.
USA VS. ICELAND:
The USA is 2-2-2 all-time against Iceland, including 2-1-0 in matches played in the United States.
Aug. 25, 1955: USA 2, ISL 3 (Reykjavik, Iceland)
Sept. 3, 1978: USA 0, ISL 0 (Reykjavik, Iceland)
April 8, 1990: USA 4, ISL 1 (St. Louis, Mo.)
April 17, 1993: USA 1, ISL 1 (Costa Mesa, Calif.)
Aug. 31, 1993: USA 1, ISL 0 (Reykjavik, Iceland)
April 24, 1994: USA 1, ISL 2 (San Diego, Calif.)
Last meeting (April 24, 1994):
USA lineup: Brad Friedel, Marcelo Balboa (Dominik Kinnear), Alexi Lalas, Jeff Agoos (Paul Caliguiri), Fernando Clavijo, Thomas Dooley, Brian Quinn, Claudio Reyna, Cobi Jones, Hugo Perez, Frank Klopas.
IN FOCUS: Iceland
Football Association of Iceland (Knattspyrnusamband Íslands)
Founded: 1947
FIFA affiliation: UEFA
Head Coach: Heimir Hallgrímsson and Lars Lagerbäck
FIFA World Ranking: 36
Best World Cup Finish: Has never participated at a World Cup final phase
Leading Cap-Winner: Rúnar Kristinsson (104); current – Eidur Gudjohnsen (83)
Leading Goalscorer: Eidur Gudjohnsen (25)
ICELAND ROSTER BY POSITION:
GOALKEEPERS (2): 12-Gunnleifur Gunnleifsson (Breidablik), 1-Ögmundur Kristinsson (Hammarby, SWE)
DEFENDERS (6): 2-Birkir Már Sævarsson (Hammarby, SWE), 23-Ari Freyr Skúlason (Odense Boldklub, DEN), 3-Hallgrímur Jónasson (Odense Boldklub, DEN), 5-Jón Gudni Fjóluson (IFK Norrköping, SWE), 14-Diego Jóhannesson (Real Oviedo, SPA), 4-Hjörtur Hermannsson (PSV Eindhoven, HOL)
MIDFIELDERS (6): 10-Arnór Smárason (Hammarby, SWE), 8-Rúnar Már Sigurjónsson (GIF Sundsvall, SWE), 6-Gudmundur Thórarinsson (FC Nordsjælland, DEN), 17-Kristinn Steindórsson (GIF Sundsvall, SWE), 7-Aron Sigurdarson (Fjölnir), 18-Ævar Ingi Jóhannesson (Stjarnan)
FORWARD (4): 22-Eidur Smári Gudjohnsen (unattached), 11-Kjartan Henry Finnbogason (AC Horsens, DEN), 9-Gardar Gunnlaugsson (Í Akraness), 15-Aron Elís Thrándarson (Aalesund FK, NOR)
ICELAND NOTES:
Arguably the best-known player on the international level is Eidur Gudjohnsen, who won a UEFA Champions League with Barcelona and also played with Bolton, Chelsea, and Monaco, among other clubs.
Among players on the roster for the USA match, Gudjohnsen has the most caps for Iceland (83), followed by defenders Birkir Már Sævarsson (54) and Ari Freyr Skúlason (39) and goalkeeper Gunnleifur Gunnleifsson (26).
Of the 18 players on the roster, six play in Sweden, four in Denmark, four in Iceland and one each in Holland, Norway and Spain.
Iceland is coming off 2-1 loss to the United Arab Emirates on Jan. 16 in Abu Dhabi. Three days earlier Iceland defeated Finland 1-0, also in Abu Dhabi.
Last year Iceland became the smallest nation ever to qualify for European Championship by finishing second in Group A behind the Czech Republic.
They were drawn in Group F to face Portugal, Hungary and Austria for the Euro 2106 in France.
Iceland fell short of qualifying for the 2014 FIFA World Cup after they lost to Croatia in the playoffs by a 2-0 aggregate.
From UEFA.com: Did you know? Eidur Gudjohnsen, then 17-years-old, came on for his father Arnór in Iceland's 3-0 friendly win against Estonia in Tallinn on April 24, 1996 – the first time that a father and son had featured as players in the same international match .