USL Championship Playoffs Conference Quarterfinals highlighted by wild upsets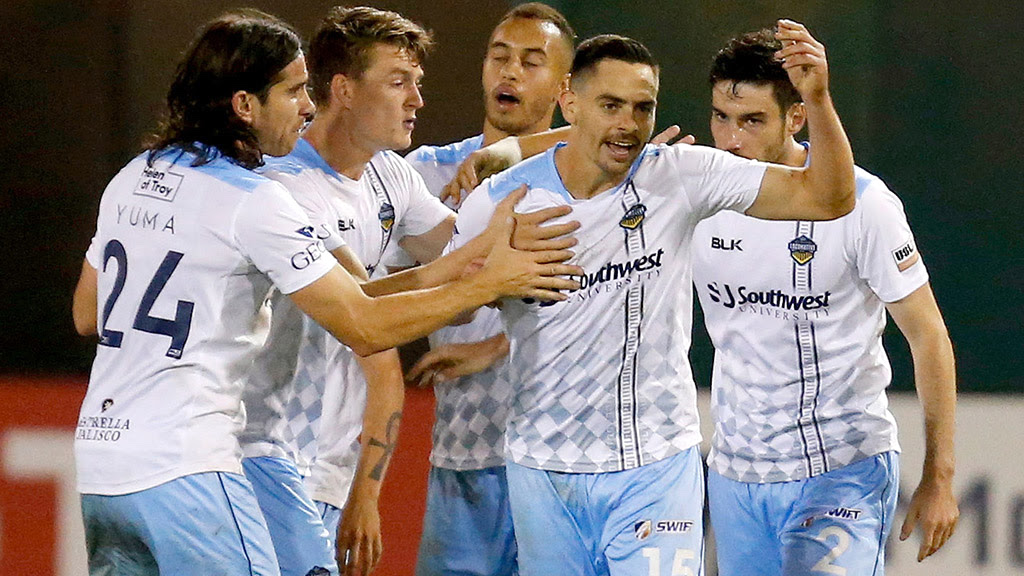 TAMPA, Fla. – The USL Championship's Western Conference lived up to its traditional status as the place for postseason wildness as No. 6 seed El Paso Locomotive FC and No. 7 seed Sacramento Republic FC pulled upsets on the road and No. 1 seed Phoenix Rising FC needed a penalty shootout to advance from the Conference Quarterfinals of the 2019 USL Championship Playoffs on Saturday night.
Rising FC got a scare from No. 8 seed Austin Bold FC, which held the side that set a record for the most goals in a regular season scoreless through 120 minutes prior to a shootout that went nine rounds before the visitors slipped up and allowed Phoenix to clinch passage through. Republic FC and Locomotive FC, meanwhile, will meet in the Conference Semifinals after each racking up three goals on the road in their respective victories.
The Eastern Conference proved more predictable as the top four seeds all advanced safely through their opening contests of the 2019 USL Championship Playoffs, setting up a pair of mouthwatering matchups next weekend when the road to the 2019 USL Championship Final resumes.
EASTERN CONFERENCE
No. 1 Pittsburgh Riverhounds SC 7, No. 10 Birmingham Legion FC 0 (Full Report & Highlights)
PITTSBURGH – Neco Brett became the second player in USL Championship Playoffs history to record a four-goal game as he led the Hounds to victory against Legion FC at Highmark Stadium before a club-record crowd of 5,627 fans. Brett opened the scoring in bizarre circumstances after a shot by Robbie Mertz came back off the left post and off Legion FC goalkeeper Matt Van Oekel's back before being recycled to allow the Jamaican to shoot home. Brett was also on hand for Pittsburgh's second goal as a cross intended for him was turned home by Birmingham defender Kyle Fisher, but Brett completed a first-half hat trick inside the opening 35 minutes, the third coming from the penalty spot, before Jordan Dover scored in first-half stoppage time to put the Hounds ahead by five goals at the break. Mertz scored a second goal from the penalty spot for the Hounds just after the hour-mark as Birmingham's Zach Herivaux was sent off for denial of a goalscoring opportunity, and with 19 minutes to go Brett joined Orlando City SC's Dom Dwyer in the history book with his fourth goal of the night.
No. 2 Nashville SC 3, No. 9 Charleston Battery 1 (Full Report & Highlights)
NASHVILLE, Tenn. – Nashville SC earned its first playoff victory in the Championship as it held off the challenge of the Battery before a crowd of 6,253 fans at First Tennessee Park. Nashville took the lead in the 10th minute when Lebo Moloto found the net, but Charleston got back on level terms from the penalty spot 10 minutes before halftime when Zeiko Lewis converted with a low shot to the left corner. NSC went back on top before halftime, however, as Daniel Rios scored his 21st goal of the season and first in the Championship Playoffs for his career with a header off a cross from the left by Justin Davis. Charleston almost pulled level again eight minutes into the second half when A.J. Paterson's shot caromed off the right post, but after Rios was denied his second of the game late, Derrick Jones produced a brilliant individual effort to wrap up the victory for the hosts.
No. 3 Indy Eleven 1, No. 6 New York Red Bulls II 0 (Full Report & Highlights)
INDIANAPOLIS – Indy Eleven won its first USL Championship Playoffs game as it edged past the Red Bulls II, who fell in the Eastern Conference Quarterfinals for the first time in their history, before 5,175 fans at Michael A. Carroll Stadium. In blustery conditions after a day full of rain in the city, Karl Ouimette produced a moment of magic to lift the hosts to victory as he fired home a turning shot in the 27th minute off Macauley King's first-time pass to put Indy ahead. New York pushed to try and find a way back into the game with the win at its backs in the second half, but Indy goalkeeper Jordan Farr and his back line was equal to the challenge to move on.
No. 4 Louisville City FC 2, No. 5 Tampa Bay Rowdies 0 (Full Report & Highlights)
LOUISVILLE, Ky. – A pair of goals by Magnus Rasmussen led defending champion Louisville City FC past the Rowdies in what appears set to have been the final game at Slugger Field before the club moves into its 11,700-seat venue in the 2020 season. Rasmussen scored two goals 76 seconds apart midway through the first half, the first coming in the 23rd minute as he swept home a finish off a low cross by Niall McCabe. Almost immediately he had his second in a very similar fashion, McCabe's low cross from the left this time being touched on by Brian Ownby before Rasmussen applied the finishing touch. Tampa Bay almost pulled a goal back just before halftime when Kwadwo Poku shot just wide of the left post, but while the Rowdies did find the net with 10 minutes to go as Sebastian Guenzatti on a simple first-time finish there would be no comeback this time for the visitors as LouCity once again advanced to the Conference Semifinals.
WESTERN CONFERENCE
No. 1 Phoenix Rising FC 0, No. 8 Austin Bold FC 0 (Full Report & Highlights)
Phoenix wins 8-7 in a penalty shootout
PHOENIX – Phoenix Rising FC was taken to the brink by Austin Bold FC, but A.J. Cochran's ninth round penalty kick secured a place in the Conference Semifinals for the regular season title-winner after a scoreless 120 minutes at Casino Arizona Field. Phoenix went closest to scoring in the opening 45 minutes when Adam Jahn sent a header off the crossbar, while Austin goalkeeper Diego Restrepo made a crucial save in the second minute of stoppage time in the first period of extra time to keep out a close-range header by Kevon Lambert among his five saves in the contest. Phoenix goalkeeper Zac Lubin had to make three saves in regulation and extra time as Phoenix held a slip 19-18 edge in total shots, but then Lubin came up with an early save on Austin's Thomas de Villardi in the second round of the shootout to give Phoenix the edge. Restrepo responded in the fourth round with a low save on Lambert to allow his side back on equal terms, and the teams exchanged goals through the fifth, sixth, seventh and eighth rounds. When Bold FC's Jermaine Taylor shot too close to Lubin to open the ninth round, however, it opened the door for the hosts and Cochran sent his side through confidently.
No. 7 Sacramento Republic FC 3, No. 2 Reno 1868 FC 1 (Full Report & Highlights)
RENO, Nev. – Sacramento rallied from an early deficit for the second time in as many postseason outings as goals by Cameron Iwasa and Thomas Enevoldsen sent them through against Reno at Greater Nevada Field. Reno got out to a flying start as Corey Hertzog took advantage of a poor backpass to score the opening goal in the fifth minute, but Republic FC responded back three minutes later on a sharp finish by Sam Werner. The second half then saw Sacramento take control as Iwasa took advantage of a fine pass by Villyan Bijev to put the visitors ahead with 20 minutes to go, and five minutes later Enevoldsen tucked home a low finish after a clever piece of creativity by Iwasa saw him lift a through-ball into the penalty area that was intended for Darek Formella, but ended up being swept home by the Dane as he scored his second goal of the postseason and clinched a second victory in four days.
No. 6 El Paso Locomotive FC 3, No. 3 Fresno FC 2 (Full Report & Highlights)
FRESNO, Calif. – El Paso Locomotive FC continued its stellar inaugural season as it took victory in a topsy-turvy contest that saw the visitors score twice in the final 15 minutes to rally past Fresno FC at Chukchansi Park. El Paso took the lead against the run of play in the 19th minute when Josue Gomez's half-volleyed finish from James Kiffe's corner just cross the line before a last-ditch clearance attempt and could have added to its lead before halftime. Fresno came roaring back in the second half, however, and took the lead behind goals from Christian Chaney and Alex Cooper inside the opening 15 minutes of the second half. Locomotive FC found a final surge, however, as Kiffe fired home a spectacular equalizer before Sebastian Velasquez converted from the penalty spot after Gomez had been brought down in he penalty area to secure a home contest in the Conference Semifinals.
No. 4 Real Monarchs SLC 6, No. 5 Orange County SC 2 (Full Report & Highlights)
HERRIMAN, Utah – Real Monarchs SLC claimed its first postseason victory in club history as Maikel Chang, Jack Blake and Tate Schmitt all starred in the club's win against Orange County. Chang opened the scoring on the first postseason goal of his career as Schmitt set up the chance with a low cross from the left, and then Chang played provider as Douglas Martinez doubled Real's lead in the 28th minute. Orange County pulled a goal back through Michael Orozco on a spectacular scissor kick in the 35thminute, but four minutes into the second half the visitors were reduced to 10 men as Harry Forrester was dismissed for his second yellow card. That caused the floodgates to open for the Monarchs as Blake scored just before the hour-mark before Schmitt and Erik Holt added the fourth and fifth of the contest inside the final 15 minutes. Blake added his second of the game in the final minute before Michael Seaton scored a consolation goal for OCSC in stoppage time.
Follow the 2019 USL Championship Playoffs
Every game of the 2019 USL Championship Playoffs through the Eastern and Western Conference Finals can be seen in the United States on ESPN+ and internationally through the Championship's YouTube channel, with the Final set to air nationally on ESPN2 on Sunday, November 17 at 7:30 p.m. ET.
2019 USL Championship Playoffs
Eastern Conference Quarterfinals
Saturday, October 26
No. 1 Pittsburgh Riverhounds SC 7, No. 10 Birmingham Legion FC 0
No. 4 Louisville City FC 2, No. 5 Tampa Bay Rowdies 1
No. 3 Indy Eleven 1, No. 6 New York Red Bulls II 0
No. 2 Nashville SC 3, No. 9 Charleston Battery 1
Western Conference Quarterfinals
Saturday, October 26
No. 4 Real Monarchs SLC 6, No. 5 Orange County SC 2
No. 7 Sacramento Republic FC 3, No. 2 Reno 1868 FC 1
No. 1 Phoenix Rising FC 0, No. 8 Austin Bold FC 0
Phoenix wins 8-7 in a penalty shootout
No. 6 El Paso Locomotive FC 3, No. 3 Fresno FC 2
Eastern Conference Semifinals
Saturday, November 2
No. 1 Pittsburgh Riverhounds SC vs. No. 4 Louisville City FC, Highmark Stadium, 7 p.m. ET
No. 2 Nashville SC vs. No. 3 Indy Eleven, First Tennessee Park, 8 p.m. ET
Western Conference Semifinals
Friday, November 1
No. 1 Phoenix Rising FC vs. No. 4 Real Monarchs SLC, Casino Arizona Field, 10:30 p.m. ET
Saturday, November 2
No. 6 El Paso Locomotive FC vs. No. 7 Sacramento Republic FC, Southwest University Park, 9:30 p.m. ET