USA set to face Mexico in Concacaf U-17 Championship Final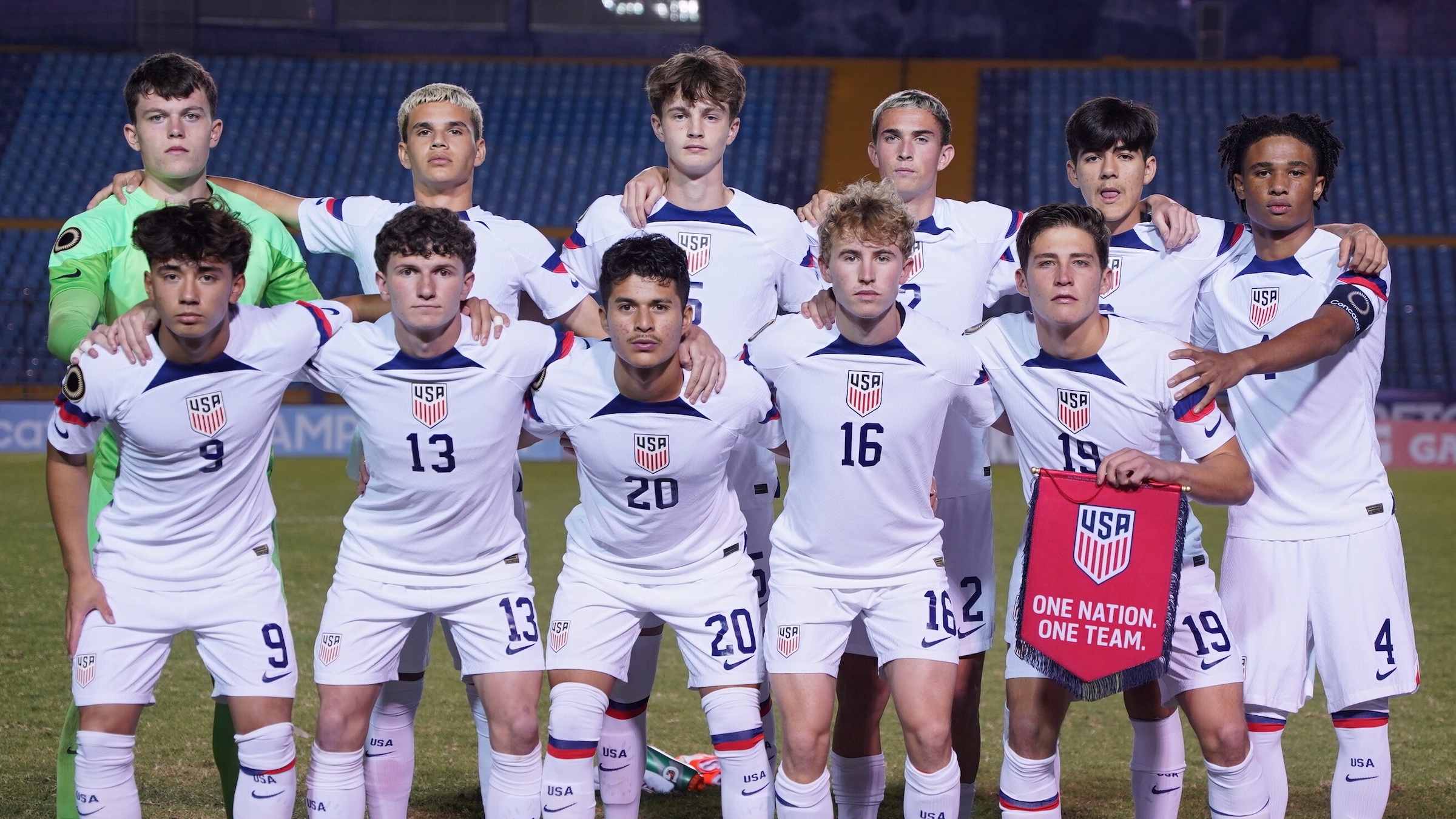 U.S. Under-17 Men's Youth National Team
2023 Concacaf U-17 Championship Final
USA vs. Mexico
Estadio Nacional Doroteo Guamuch Flores; Guatemala City, Guatemala
Feb. 26, 2023
8 p.m. ET (FS2, TUDN, ViX+)
CLÁSICO DE CONCACAF FOR U-17 TITLE: After six-straight victories to open the Concacaf U-17 Championship, the region's biggest rivalry is set to take center stage in the championship match as the U.S. U-17 Men's Youth National Team faces Mexico for the confederation crown.
The USA punched its FIFA U-17 World Cup ticket with a wild 5-3 win against host Guatemala and downed Canada 2-0 in the semis to reach the tournament final. Now, the young Americans are seeking the United States' first Concacaf title at this level since 2011. Mexico has similarly rolled through the competition thus far, compiling an undefeated 5-0-1 record and a +25 goal differential en route to a World Cup berth and the championship match.
All tournament matches are being broadcast in English on Fox Sports platforms and on the Fox Sports app with corresponding authentication. All matches are available in Spanish on ViX+, TelevisaUnivision's streaming service. Fans can sign up for a one-month subscription for just 99 cents.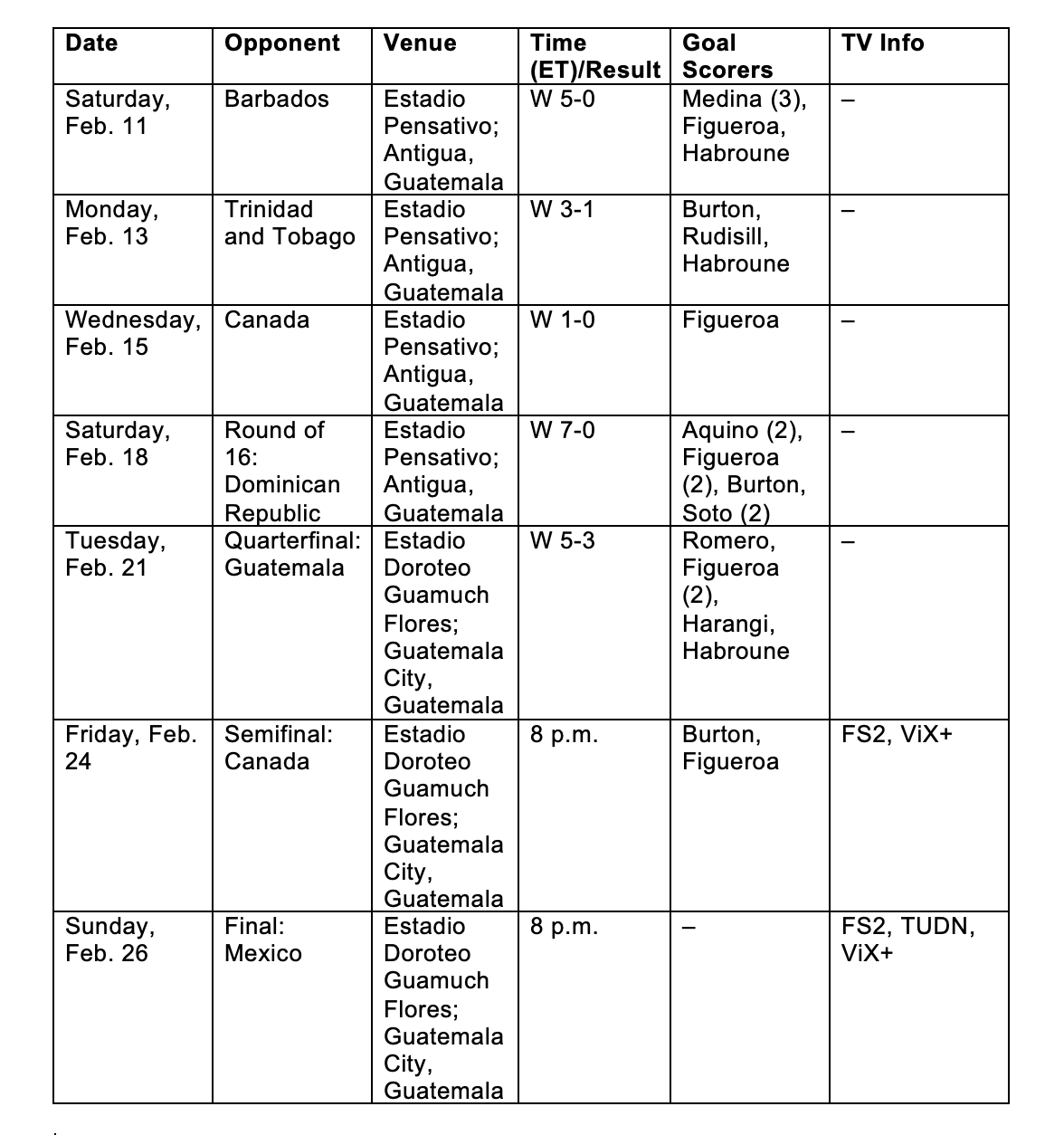 USA VS. MEXICO
The USA and Mexico have clashed in the last three Concacaf U-17 Championship Finals. Both teams are appearing in their fifth championship match at this tournament.
In 2017, the U.S. fell 4-5 in penalty kicks to El Tri. After Andrew Carleton opened the scoring in the 62nd, Mexico equalized in second-half stoppage time and claimed the title after the game went straight to PK's. The USA topped Mexico 4-3 in the group stage of the tournament, as current USMNT forward Josh Sargent bagged a brace.
In 2019, the U.S. was defeated 2-1 in overtime. The U.S. was on the front foot for much of the match and Griffin Yow put the Americans ahead in the ninth minute, but Mexico drew even in the 17th. El Tri found the winner in the second period of extra time.
Overall, the USA is 2-3-2 vs. Mexico at this tournament since their first clash in 1991.
Appearing in its 18th Concacaf U-17 Championship, Mexico has appeared in 14 FIFA U-17 World Cups and qualified for Peru 2023 after topping El Salvador in the quarterfinals. El Tri have won two world championships at the U-17 level and finished second at the 2019 U-17 World Cup.
Mexico has won CU17 a record eight times, including the last four tournaments.
Aiming for its first Concacaf U-17 title since 2011 and fourth title overall, the U.S. also took home the trophy at the inaugural 1983 tourney and in 1992.
Three of Mexico's 20 players are based in the USA: goalkeeper Fernando Dalgado, defender Javen Romero and forward Fidel Barajas. All three were previously called into U.S. U-17 training camps and Barajas made five international appearances for the U.S. in 2022.
Mexico's Stephano Carrillo's seven goals are currently tied with forward Keyrol Figueroa for the tournament scoring lead.
CRUISING PAST CANADA: After squaring off in their group stage finale, the U.S. faced Canada again in the semifinals for a spot in the Concacaf U-17 Championship Final, emerging with a strong 2-0 victory. The U.S. had a number of dangerous chances from the game's opening whistle, but it took until the 36th minute to find the breakthrough. Forward Micah Burton hit a wonder of a free kick from 25 yards out, drilling it to the top left corner to open the scoring. The U.S. pushed hard for an equalizer in the second half as midfielder Paulo Rudisill had a number of close calls on goal while Burton had a few solid chances to bag a brace. In the end, it was team-leading scorer Keyrol Figueroa who added the exclamation point, finishing a cross from David Vazquez in the final moments of second-half stoppage time.
MEXICO'S RUN TO THE FINAL: Mexico is also undefeated through its first six games at the Concacaf U-17 Championship, compiling a 5-0-1 record. El Tri topped Group E with a dominant 9-0 win vs. Curaçao, a 2-0 victory vs. host Guatemala and a 1-1 draw with Panama. Nicaragua, who advanced directly to the knockout stage after winning a pre-tournament qualifying group, awaited in the Round of 16 and El Tri left little doubt with an assertive 6-0 win.
In the decisive quarterfinals vs. El Salvador, a first-half goal from leading scorer Stephano Carrillo put Mexico up early before Jose Urias iced things with a second-half brace to secure his team's U-17 World Cup ticket via a 3-0 victory. The semifinal vs. Panama was tight early on, but Carrillo scored just before the break to make it 1-0 and the floodgates opened after halftime with four more goals as Mexico downed Los Canaleros 5-0.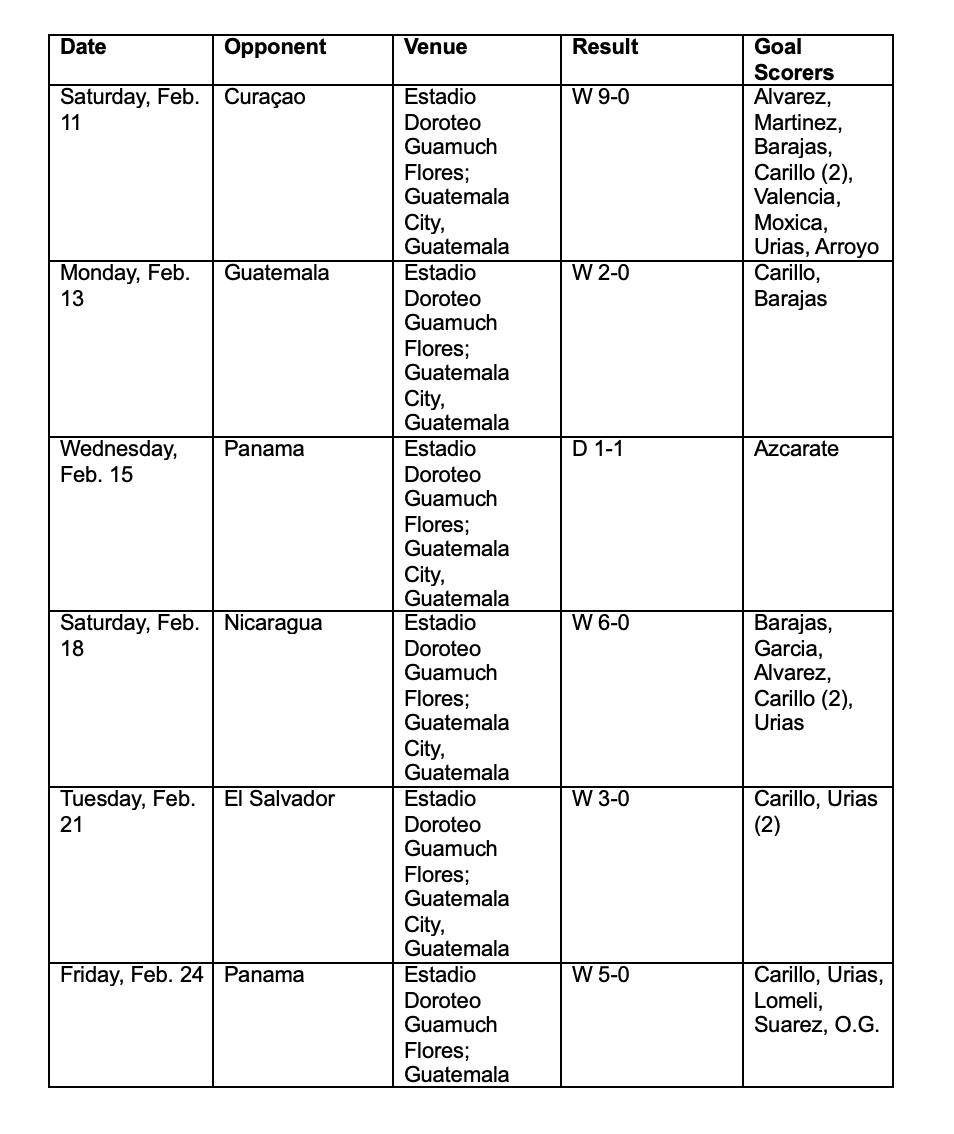 2023 CONCACAF U-17 CHAMPIONSHIP ROSTER BY POSITION (CLUB; U-17 CAPS/GOALS; HOMETOWN)
GOALKEEPERS (2): 12-Adam Beaudry (Colorado Rapids; 4/0; Castle Pines, Colo.), 1-Duran Ferree (San Diego Loyal; 3/0; San Diego, Calif.)
DEFENDERS (6): 15-Christian Diaz (LAFC; 9/0; San Bernardino, Calif.), 4-Tyler Hall (Inter Miami CF; 12/0; Miramar, Fla.), 13-Aiden Harangi (Eintracht Frankfurt/GER; 6/1; Zwingenberg, Germany), 5-Stuart Hawkins (Seattle Sounders FC; 12/0; Fox Island, Wash.), 3-Sawyer Jura (Portland Timbers; 8/0; Bend, Ore.), 2-Oscar Verhoeven (San Jose Earthquakes; 12/0; Pleasant Hill, Calif.)
MIDFIELDERS (7): 20-Christopher Aquino (Seattle Sounders FC; 4/2; Pasco, Wash.), 16-Adrian Gill (FC Barcelona/ESP; 9/0; Denver, Colo.), 14-Taha Habroune (Columbus Crew; 5/3; Columbus, Ohio), 10-Cruz Medina (San Jose Earthquakes; 13/5; San Francisco, Calif.), 6-Edwyn Mendoza (San Jose Earthquakes; 10/0; San Francisco, Calif.), 19-Paulo Rudisill (LA Galaxy; 13/2; Irvine, Calif.), 8-Pedro Soma (UE Cornella/ESP; 12/0; Coconut Creek, Fla.)
FORWARDS (5): 9-Micah Burton (Austin FC; 12/5; Mounds View, Minn.), 17-Keyrol Figueroa (Liverpool/ENG; Warrington, U.K.; 9/8), 7-Brian Romero (Charlotte FC; 12/2; Concord, N.C.), 18-Ezekiel Soto (Houston Dynamo FC; 14/5; Menifee, Calif.) 11-David Vasquez (Philadelphia Union; 9/0; Los Angeles, Calif.)
ADDITIONAL NOTES:
Forward Keyrol Figueroa's seven goals are the most scored by a U.S. player at the tournament since 1999.
Forward Gio Reyna netted six during the 2019 tourney, the first with the current 20-team format.
Should Figueroa win the Golden Boot in Guatemala, he'll be the first American to lead the tournament in goals since 2011 when Andrew Oliver finished in a three-way tie for top scorer.
Nine players have scored for the U.S. at CU17C: Figueroa (seven goals), Micah Burton, Taha Habroune, Cruz Medina (three), Chris Aquino, Ezekiel Soto (two), Aiden Harangi, Brian Romero and Paulo Rudisill.
Eight players have logged an assist: Paulo Rudisill and David Vazquez (four assists), Adrian Gill, Habroune, Romero (two), Figueroa, Sawyer Jura, Medina and Soto.
MEXICO ROSTER BY POSITION:
GOALKEEPERS (2): 1-Norberto Bedolla (Club America), 12-Fernando Dalgado (Real Salt Lake/USA)
DEFENDERS (6): 15-Jonathan Flores (UNAM Pumas), 3-Kevin Garcia (Santos Laguna), 13-Jose Muro (Monterrey), 4-Luis Navarrete (Toluca), 2-Jose Suarez (Cruz Azul), 5-Javen Romero (LAFC/USA)
MIDFIELDERS (9): 10-Gael Alvarez (Pachuca), 20-Yerar Azcarate (Pachuca), 14-Jose Miguel Arroyo (Toluca), 18-Cristian Inda (Chivas Guadalajar), 7-Brandon Lomeli (Nexaca), 6-Isaac Martinez (Chivas Guadalajara), 17-Israel Tello (Nexaca), 8-Alejandro Urias (Monterrey), 16-Alex Valencia (Santos Laguna)
FORWARDS (3): 11-Fidel Barajas (Charleston Battery/USA), 9-Stephano Carrillo (Santos Laguna), 19-Joaquin Moxica (Monterrey)
TOURNAMENT FORMAT: Using a variety of different formats since its inception in 1985, the 2023 Concacaf U-17 Championship uses the same 20-team tournament format introduced for the 2019 edition and since used for all of Concacaf's Youth World Cup qualifying championships. Sixteen countries are drawn into four groups of four, while four countries advance directly to the Round of 16 via a pre-qualifying tournament: Bermuda, Dominican Republic, Nicaragua and Puerto Rico.
The top three finishers in each group qualified to the Round of 16, where they're joined by the four teams from pre-qualifying. From there, it's a knockout bracket to the tournament final. The four winners of the quarterfinal matches qualified to the 2023 FIFA U-17 World Cup in Peru.
After the Oceania Football Confederation, Concacaf is the second confederation to host its qualifying tournament for the 2023 FIFA U-17 World Cup. In addition to host Peru, Concacaf's Canada, Mexico, Panama and the United States, plus New Caledonia and New Zealand from Oceania are the seven teams already set for the world championship this fall.
ROAD TO GUATEMALA: World Cup qualifying marks the eighth training camp for the U-17 MYNT since its cycle kicked off in November 2021. Since then, they've been challenged against top tier international opposition, including Argentina, Belgium, Germany, Italy, Portugal and Uruguay.
In May, the U-17s topped the table at a UEFA Development Tournament in Castelo Branco, Portugal, topping Belgium, 3-0, and the host, 2-1, to clinch first place. Most recently, they played three international matches against U-18 opposition at the Vaclav Jezek Tournament in the Czech Republic, finishing with a 4-1 win against the host nation.