USA roster announced for CONCACAF U-17 Championship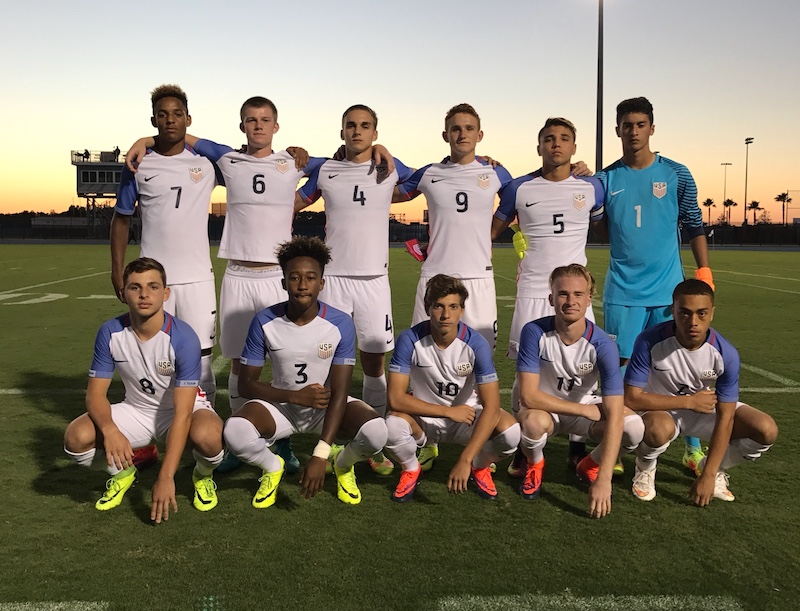 CHICAGO (Via U.S. Soccer) – U.S. Under-17 Men's National Team head coach John Hackworth has named the 20-player roster that will compete in the 2017 CONCACAF U-17 Championship, running from April 21-May 7 in Panama. The confederation championship doubles as the qualifying tournament for the 2017 FIFA U-17 World Cup to be played Oct. 6-28 in India.
The USA has been drawn into Group C along with Jamaica, Mexico and El Salvador. The U-17 MNT opens against Jamaica on Sunday, April 23 at 1:30 p.m. ET, followed by Mexico on Wednesday, April 26 at 6:30 p.m. ET and El Salvador on Saturday, April 29 at 11:30 a.m. ET. All three of the USA's matches will be streamed live on the CONCACAF Facebook page.
"Our team is looking forward to this competition and the opportunity to compete for a chance to participate in the FIFA U-17 World Cup this fall in India," Hackworth said. "The depth of the player pool in this age group is as good as we have ever seen. Thus, our decisions in selecting the final roster were difficult."
+READ: Champions decided at Dr Pepper Dallas Cup XXXVIII
The U.S. roster includes four players who signed Homegrown player contracts with Major League Soccer in 2016: midfielders Chris Durkin (D.C. United) and Chris Goslin (Atlanta United FC), and forwards Andrew Carleton (Atlanta United F.C.) and Bryan Reynolds (FC Dallas).
Roster by Position

GOALKEEPERS (2): Carlos Joaquim Dos Santos (Benfica; Philadelphia, Pa.), Justin Garces (Kendall SC; Miami, Fla.)
DEFENDERS (5): Christopher Gloster (New York Red Bulls; Montclair, N.J.), Jaylin Lindsey (Sporting Kansas City; Charlotte, N.C.), James Sands (New York City FC; Rye, N.Y.), Arturo Vasquez (FC Golden State; Mira Loma, Calif.), Akil Watts (IMG Academy; Fort Wayne, Ind.)
MIDFIELDERS (7): George Acosta (Weston FC; Hollywood, Fla.), Taylor Booth (Real Salt Lake AZ; Eden, Utah), Christopher Durkin (D.C. United; Glen Allen, Va.), Blaine Ferri (Solar Chelsea SC; Southlake, Texas), Christopher Goslin (Atlanta United FC; Locust Grove, Ga.), Indiana Vassilev (IMG Academy; Savannah, Ga.), Adrian Villegas (Portland Timbers; Hood River, Ore.)
FORWARDS (6): Ayomide Akinola (Toronto FC; Brampton, Ont.), Andrew Carleton (Atlanta United FC; Powder Springs, Ga.), Zyen Jones (Atlanta United FC; Clarkston, Ga.), Bryan Reynolds, Jr. (FC Dallas; Little Elm, Texas), Joshua Sargent (Scott Gallagher Missouri; O'Fallen, Mo.) Timothy Weah (Paris Saint-Germain; Rosedale, N.Y.)
[U-17 MNT CONCACAF Championship Roster Gallery]
Development Academy Ties:
All 20 players on the roster have registered at least one season in the U.S. Soccer Development Academy; 14 players have spent time with an Academy team during the 2016-2017 season.
Four players pace the roster with four seasons with a Development Academy club: defenders Christopher Gloster and Jaylin Lindsey, midfielder Adrian Villegas, and forward Josh Sargent.
Midfielder Christopher Durkin was named to the Development Academy's U-15/16 Eastern Conference Best XI for the 2014-2015 season; defender Jaylin Lindsey was named to the Development Academy's U-15/16 Central Conference Best XI for the 2015-2016 season.
Roster Notes:
Born in 2001, midfielders Taylor Booth and Indiana Vassilev, and forward Bryan Reynolds Jr. are the youngest players on the roster.
M.L.S. club Atlanta United FC has the largest representation of players with two first-team players (Carleton, Goslin) and the rights to one player currently playing in the organization's Development Academy (Zyen Jones).
Two U-17 MNT players are currently playing in Europe: Timothy Weah at French club Paris Saint-Germain and Carlos Joaquim Dos Santos with Portuguese side Benfica.
Tournament Notes:
Four countries will directly qualify from this tournament for the 2017 FIFA U-17 World Cup in India. The U.S. U-17 MNT is looking to qualify for its 16th trip FIFA U-17 World Cup or World Championship.
The USA finished tied for third at the 2015 CONCACAF U-17 Championship, after narrowly defeating Jamaica 5-4 in penalty kicks.
This year marks the 17th occasion that the U.S. U-17 MNT will compete in the CONCACAF Youth Tournament or Championship. The USA has won the CONCACAF U-17, formerly U-16, Championship title three times: (1983, 1992, 2011). The USA has also finished runner-up five times: (1987, 1988, 1991, 1994, 1996).
Qualifying Format Change
The CONCACAF U-17 Championship format has changed for 2017 and now comprises three groups of four teams. Under the new setup, the top two teams in each group will advance to a second-round classification stage, featuring two groups with three teams each. In this second group phase, the top two finishers in each group will qualify for the 2017 FIFA U-17 World Cup, with the first-place teams in each group playing for the tournament championship.
Eyes on India
The 2017 FIFA U-17 World Cup in India will be held from Oct. 6-28 in Kochi, Goa, Navi Mumbai, New Delhi, Guwahati, and Kolkata. The final draw will be held on July 7. The USA's best FIFA U-17 World Cup finish came as a squad featuring Landon Donovan, DaMarcus Beasley, Kyle Beckerman, Oguchi Onyewu and Bobby Convey placed fourth at the 1999 FIFA U-17 World Championship in New Zealand.