USA facing Slovakia with chance to finish sweep of Group B at FIFA U-20 World Cup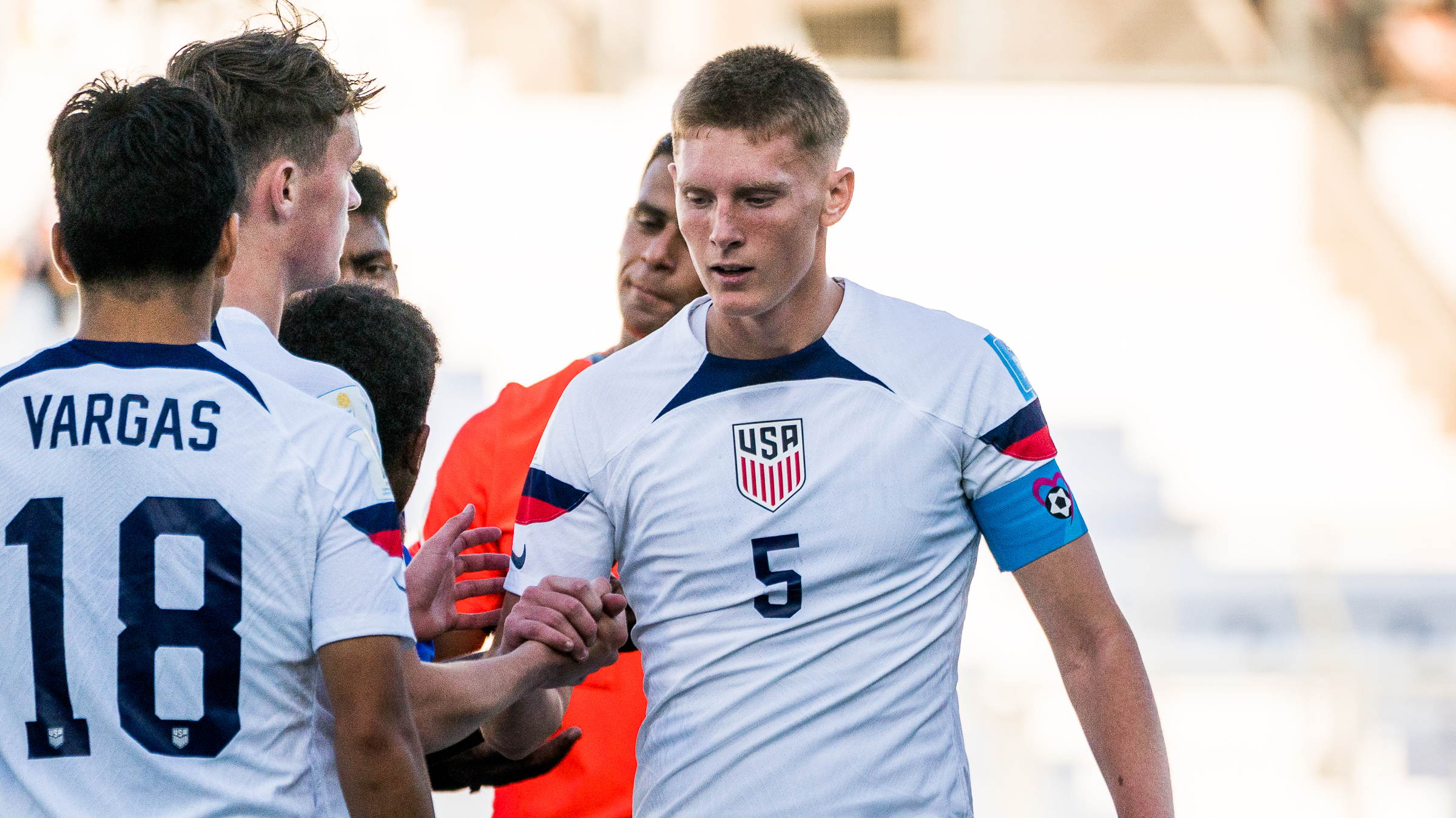 U.S. Under-20 Men's Youth National Team vs. Slovakia
2023 FIFA U-20 World Cup – Group B
Friday, May 26 | Estadio San Juan del Bicentenario; San Juan, Argentina
2 p.m. ET
FS2, Universo
USA LOOKS TO FINISH GROUP B STRONG: After two wins in two games secured the USA a place in the knockout round of the FIFA Under-20 World Cup, the U.S. U-20 Men's Youth National Team will face Slovakia for the top spot in Group B on Friday, May 26 (2 p.m. ET; FS2, Universo). The U.S. clinches first place in Group B with a win or draw vs. the Sokoli.
It's the first meeting between the USA and Slovakia at the U-20 World Cup. Slovakia is making its second appearance at the tournament and are currently second in Group B after rolling Fiji 4-0 in its opener and falling 2-1 to Ecuador in its second match.
The FIFA U-20 World Cup will be broadcast in English on Fox Sports platforms and on the Fox Sports app with corresponding authentication. Matches will be broadcast in Spanish on Telemundo platforms and the Telemundo app.
2023 FIFA U-20 WORLD CUP – USA GROUP B SCHEDULE/RESULTS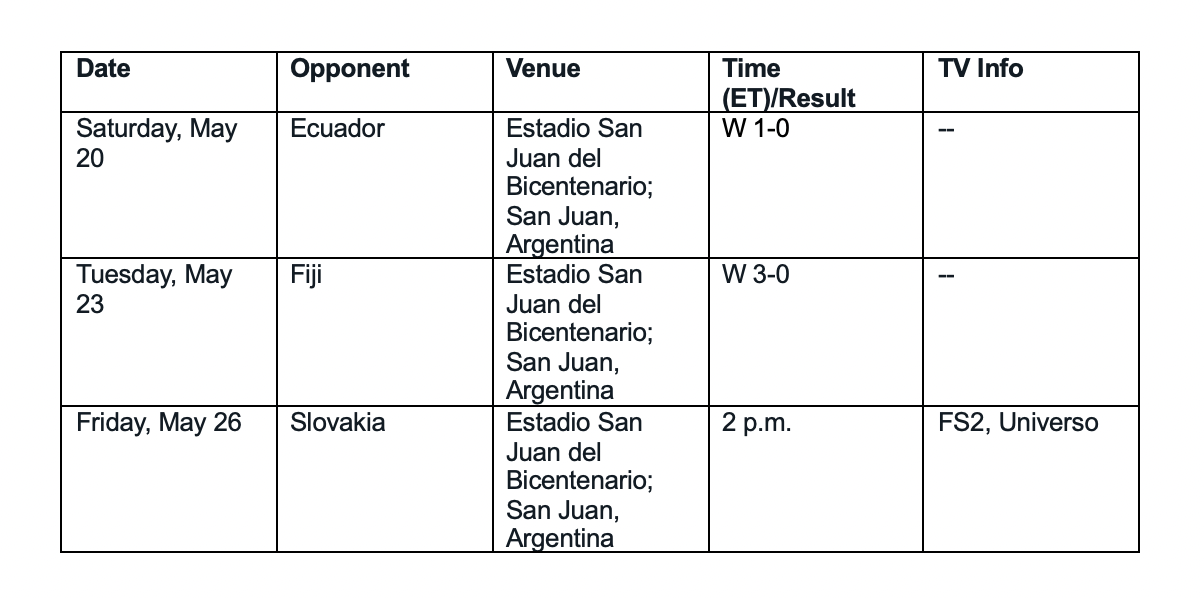 2023 FIFA U-20 WORLD CUP – GROUP B STANDINGS/RESULTS

May 20
USA 1, Ecuador 0
Slovakia 4, Fiji 0
May 23
USA 3, Fiji 0
Ecuador 2, Slovakia 1
2023 FIFA U-20 WORLD CUP ROSTER BY POSITION (CLUB; HOMETOWN; U-20 CAPS/GOALS)
GOALKEEPERS (3): 21-Alex Borto (Fulham/ENG; South Plainfield, N.J.; 2/0), 12-Antonio Carrera (FC Dallas; Frisco, Texas; 4/0), 1-Gaga Slonina (Chelsea/ENG; Addison, Ill.; 7/0)
DEFENDERS (7): 17-Justin Che (Hoffenheim/GER; Dallas, Texas; 7/0), 5-Brandan Craig (Philadelphia Union; Philadelphia, Pa.; 12/1), 14-Marcus Ferkranus (LA Galaxy; Santa Clarita, Calif.; 12/0), 13-Jonathan Gómez (Real Sociedad/ESP; Keller, Texas; 8/1), 2-Michael Halliday (Orlando City SC; Apopka, Fla.; 9/0), 3-Caleb Wiley (Atlanta United FC; Atlanta, Ga.; 7/1), 4-Joshua Wynder (Louisville City FC; Louisville, Ky.; 3/0)
MIDFIELDERS (7): 6-Daniel Edelman (New York Red Bulls; Warren, N.J.; 12/0), 10-Diego Luna (Real Salt Lake; Sunnyvale, Calif.; 18/5), 8-Jack McGlynn (Philadelphia Union; Middle Village, N.Y.; 18/2), 20-Rokas Pukstas (Hajduk Split/CRO; Stillwater, Okla.; 12/1), 15-Niko Tsakiris (San Jose Earthquakes; Saratoga, Calif.; 7/3), 18-Obed Vargas (Seattle Sounders FC; Anchorage, Alaska; 6/0), 16-Owen Wolff (Austin FC; Austin, Texas; 5/1)
FORWARDS (4): 9-Cade Cowell (San Jose Earthquakes; Ceres, Calif.; 8/3), 11-Kevin Paredes (Wolfsburg/GER; South Riding, Va.; 6/2), 7-Quinn Sullivan (Philadelphia Union; Philadelphia, Pa.; 17/7), 19-Darren Yapi (Colorado Rapids; Denver, Colo.; 5/0) 
PATIENCE PAYS OFF VS. FIJI: Three second-half goals boosted the USA to a 3-0 victory against Fiji in its second Group B match. After dominating the ball all afternoon and outshooting the Junior Bula Boys 31-6, second-half substitute Diego Luna finally found the breakthrough in the 66th minute. The U.S. pushed until the end as forward Cade Cowell netted in the 88th after menacing Fiji for much of the game from the left wing. Defender Caleb Wiley closed out the scoring in the ninth minute of stoppage time, tapping home the rebound of a well-hit free kick from defender Brandan Craig.
SOME GOOD, SOME BAD FOR SLOVAKIA: Making its second appearance at the U-20 World Cup, Slovakia kicked off the tournament with a strong 4-0 showing against Fiji. The Sokoli went up 2-0 within the first 25 minutes, as goals from forward Adam Gazi and midfielder Mate Szolgai pushed Slovakia to an early lead. Midfielder Artur Gajdos and forward Timotej Jambor added two more in the 70th and 79th, respectively, to cap off a convincing victory. Facing a hungry Ecuador squad in its second match, Slovakia fell 2-1 after a comeback effort from the South Americans. Szolgai opened the scoring in the 29th, but Ecuador's Justin Cuero equalized in first-half stoppage time and Jose Klinger found the winner in the 59th.
USA ROSTER NOTES
Goalkeeper Gaga Slonina, defenders Brandan Craig andJonathan Gómez plus midfielder Jack McGlynn have played all 180 minutes for the USA thus far in Argentina.
Players born on or after Jan. 1, 2003, are age-eligible for the 2023 FIFA U-20 World Cup. Head coach Mikey Varas selected 10 players born in 2003, eight born in 2004 and three born in 2005.
The three players born in 2005 — defender Joshua Wynder as well as midfielders Niko Tsakiris and Obed Vargas — are also age-eligible for the 2025 FIFA U-20 World Cup.
The roster features players from 18 clubs, including 11 from Major League Soccer, led by three players from the Philadelphia Union and two from the San Jose Earthquakes.
Six players are based abroad: two each in England and Germany and one player each in Croatia and Spain.
A total of 13 states are represented on the roster, with four players hailing from both California and Texas. A native of Anchorage, Vargas is a rare World Cup roster selection from Alaska.
Six players have earned call-ups with the full USMNT, including four who have already made their debut with the senior squad. Forward Cade Cowell (three caps) and defender Gómez (two caps) lead the charge, while goalkeeper Slonina made his debut last January against Serbia. More recently, defender Caleb Wiley picked up his first cap as a substitute in April's Allstate Continental Clásico against Mexico.
Defenders Justin Che and Wynder have been called into USMNT camp and are still in search of their full international debut.
The USA qualified for the 2023 U-20 World Cup as it took home its third straight confederation crown at last summer's Concacaf U-20 Championship in Honduras.
Forward Quinn Sullivan was named to the tournament Best XI after netting six goals in Honduras. Sullivan and goalkeeper Antonio Carrera, defenders Craig, Marcus Ferkranus and Michael Halliday, midfielders Daniel Edelman, Diego Luna, Jack McGlynn, Rokas Pukstas and Tsakiris and forward Cowell all return from that World Cup qualifying squad.
Every player on the roster has been capped at the U-20 level, led by Luna and McGlynn's 17 appearances.
Sullivan is the squad's leading scorer with seven international goals, six coming at World Cup qualifying.
Four players have appeared in eight of the 10 training camps held since the cycle kicked off in November 2021: Ferkranus, Luna, McGlynn and Sullivan.
USA VS. SLOVAKIA
CAUTION WATCH: Defender Josh Wynder plus midfielder Diego Luna and Jack McGlynn picked up yellow cards during the USA's first two group stage matches. Should any of the three be shown a second caution against Slovakia, they will be suspended for the USA's Round of 16 match.
Friday marks the first meeting between the USA and Slovakia at the FIFA U-20 World Cup.
This is Slovakia's second appearance at the U-20 World Cup after debuting at United Arab Emirates 2003. There, the Sokoli reached the Round of 16 before falling to eventual champion Brazil in added extra time.
Eighteen of Slovakia's 20-man roster are based domestically, with five players coming from Zilina, one of the country's most successful clubs. Three are based abroad in Austria, Italy and the Netherlands.
Head coach Albert Rusnak has coached in Slovakia's youth national team system since 2018 following a number of years coaching at Slovak clubs. He's the father of Seattle Sounders FC midfielder Albert Rusnak.
SLOVAKIA – 2023 FIFA U-20 WORLD CUP ROSTER BY POSITION
GOALKEEPERS (3): 1-Samuel Belanik (Zilina), 21-Adam Danko (Pohronie), 12-Adam Hrdina (Slovan Bratislava)
DEFENDERS (7): 3-Samuel Bagin (Trencin), 19-Samuel Kopasek (Zilina), 6-Sebastian Kosa (Spartak Trnava), 2-Simon Micuda (Trencin), 18-Nicolas Sikula (Zeleziarne Podbrezova), 5-David Ovsonka (Zeleziarne Podbrezova), 13-Marek Ujlaky (Spartak Trnava)
MIDFIELDERS (5): 8-Artur Gajdos (Trencin), 4-Jan Murgas (Traiskirchen/AUT), 20-Mario Sauer (Zilina), 17-Dominik Snajder (Zilina), 14-Mate Szolgai (Samorin)
FORWARDS (6): 7-Balint Csoka (Samorin), 11-Adam Gazi (Tatran Liptovsky Mikulas), 9-Adam Griger (Cagliari/ITA), 10-Timotej Jambor (Zilina), 15-Nino Marcelli (Slovan Bratislava), 16-Leo Sauer (Feyenoord/NED)
HOW THEY GOT HERE
Slovakia qualified for the World Cup as Europe's fifth and final representative after winning a playoff at the 2022 UEFA U-19 Championship.
Hosted in Slovakia, the Sokoli finished third in its group, topping Romania but falling to fellow World Cup participants France and Italy.
After the top two teams in each of the two groups qualified to Argentina, Slovakia faced fellow third-placed team Austria in a World Cup playoff match. Defender Samuel Kopasek lifted Slovakia to a 1-0 win in a match that saw Austria shown three red cards.
U-20 WORLD CUP HISTORY
The United States has qualified for 17 of 23 all-time U-20 World Cups, tied for second-most all-time with Argentina. The biennial tournament was staged for the first time in 1977 and Tunisia hosted the inaugural event, originally held as the FIFA World Youth Championship before becoming the FIFA U-20 World Cup in 2007. The USA's first qualification came at the 1981 tournament, which was held in Australia.
The USA has made it out of the group stage 11 times at the competition with the high watermark coming in 1989. Led by future legendary USMNT goalkeeper Kasey Keller, the U.S. finished fourth place in Saudi Arabia that year. Keller took home the Silver Ball at the tournament, while fellow future senior team players Mike Burns, Neil Covone and Chris Henderson also played key roles. While the U-20s advanced from group play with just one win, the USA took down Iraq in the quarterfinals before falling in extra time to Nigeria in the semis.