USA facing Morocco in Group A finale at FIFA U-17 Women's World Cup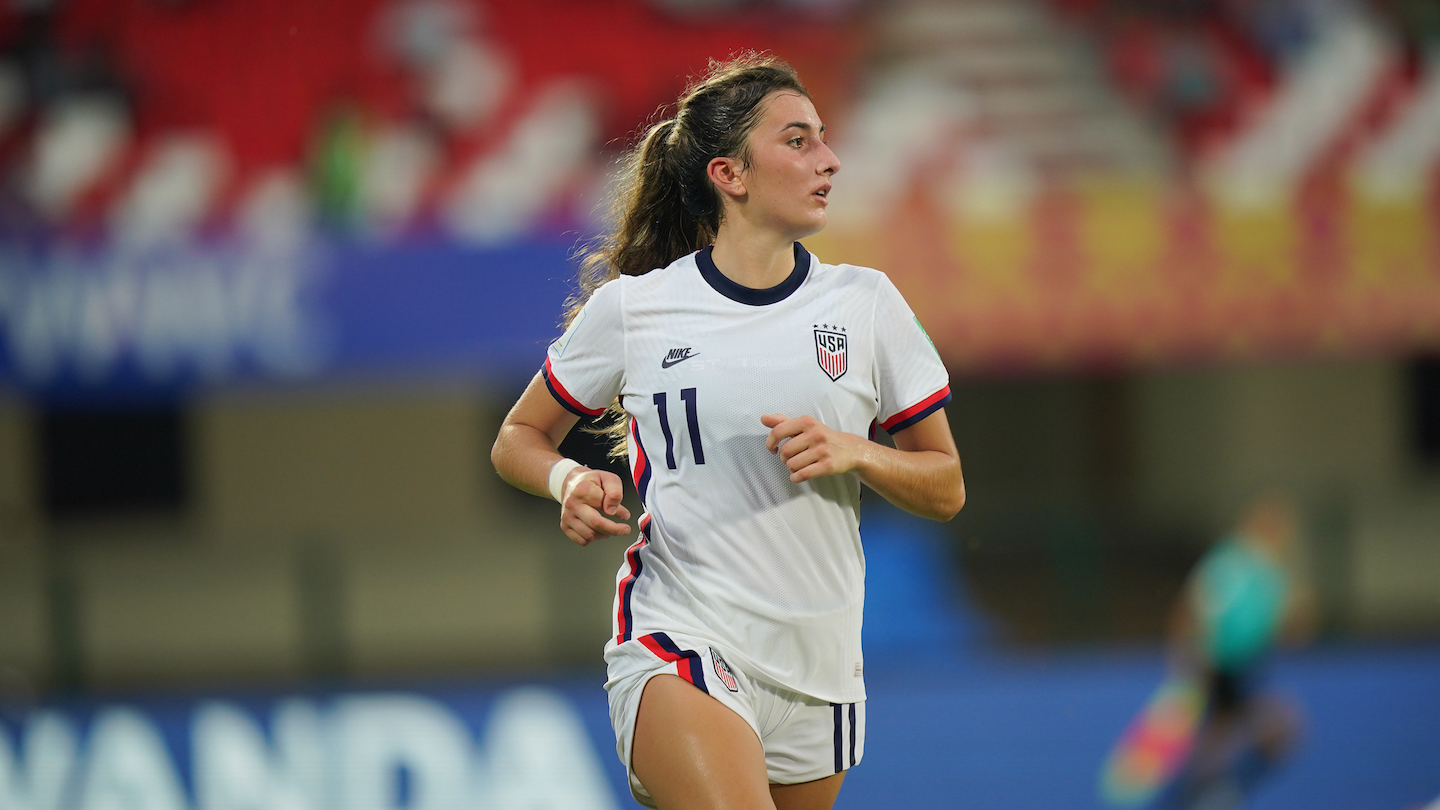 U.S. Under-17 Women's Youth National Team vs. Morocco
2022 FIFA Under-17 Women's World Cup – Group A
Pandit Jawaharlal Nehru Stadium; Goa, India
Oct. 17 – 10:30 a.m. ET
FS2, Telemundo Deportes App, Website and Streaming
U-17 WYNT FACES MOROCCO IN GOA WITH GROUP TITLE ON THE LINE:
After a record-breaking 8-0 win against host India in the opening match of the 2022 FIFA Under-17 Women's World Cup and a well-played 1-1 draw with Brazil in its second game, (10:30 a.m. ET; FS2, Telemundo Deportes App, Website and Streaming). The match will be played at Pandit Jawaharlal Nehru Stadium.
Brazil edged Morocco 1-0 in its first match while Morocco downed the hosts, 3-0, on the second matchday of Group A, which means the USA just needs a win or a tie in the group finale to advance to the knockout rounds. The top two finishers in each of the four groups will advance to the quarterfinals. Brazil and the USA are tied on points with four each from two games, but the USA has a plus-8 goal difference and Brazil sits at just plus-one. If both teams win their matches, Brazil will have to make up the massive difference to surpass the USA atop the group. If the USA ties Morocco, it would still qualify for the knockout round, but Brazil would win the group with a win over India. If Brazil ties India (seemingly unlikely), the USA could still win the group with a tie vs. Morocco, which would need to beat the USA to qualify for the quarterfinals. Host India, despite battling gamely in both its matches, has been eliminated from advancement after two games.
2022 FIFA U-17 WOMEN'S WORLD CUP
GROUP A STANDINGS
| | | | | | | | | |
| --- | --- | --- | --- | --- | --- | --- | --- | --- |
| TEAM | GP | W | L | D | GF | GA | GD | PTS |
| USA | 2 | 1 | 0 | 1 | 9 | 1 | +8 | 4 |
| BRA | 2 | 1 | 0 | 1 | 2 | 1 | +1 | 4 |
| MAR | 2 | 1 | 1 | 0 | 3 | 1 | +2 | 3 |
| IND | 2 | 0 | 2 | 0 | 0 | 11 | -11 | 0 |
If the USA advances, it will play a team from Group B in its quarterfinal. That group is shaping up to see Germany finish first and Nigeria finish second. The winner of Group A will play the second-place team in Group B and vice-versa.
WATCH FIFA U-17 WOMEN'S WORLD CUP ON FOX & UNIVERSO:
The USA's group stage matches are being broadcast on Fox Sports 2. All of the tournament's 32 matches are being carried on FS2 or Fox Soccer Plus and are available online at FoxSports.com and the Fox Sports App with corresponding authentication. In addition, the USA's group stage matches will be broadcast in Spanish on the Universo family of platforms. The the third group game vs. Morocco will be carried on the Telemundo Deportes App, website and streaming platforms.
FLYING START FOR USA:
The U-17 WYNT kicked off its World Cup campaign in India with an emphatic 8-0 victory against the hosts which marked the largest-ever victory for the USA at a youth Women's World Cup tournament. Forward Melina Rebimbas led the way with two goals, including the opener in the ninth minute, while six other players also got on the scoresheet: midfielder Charlotte Kohler, forward Onyeka Gamero, defender Gisele Thompson, defender Ella Emri, forward Taylor Suarez and midfielder Mia Bhuta.
LESSONS LEARNED VS. BRAZIL:
The young U.S. team learned some valuable lessons about international soccer at World Cups in its 1-1 draw with Brazil Oct. 11, but the performance was worthy of praise and the point earned a valuable one. A goal from forward and World Cup debutant Nicollette Kiorpes was the USA's only tally on the evening, but the USA was the far better team for a large portion of the match, stringing together quick sequences of passes all over the field and creating dangerous chances while playing entertaining, attacking soccer. If not for Brazilian goalkeeper Leilane, who was spectacular on the night while making six saves, including several from point-blank range, the USA would have cruised to a comfortable win. The U.S. fired 19 shots to Brazil's 14, but many of Brazil's attempts came from distance. The USA also took seven corner kicks compared to zero for Brazil.
MIA MAKES HISTORY:
Bhuta made history on Oct. 11, becoming the first player of Indian descent to represent the U.S. at a FIFA Women's World Cup at any level when she entered the match at halftime, doing so in India, while remarkably also scoring and getting an assist against the host country. The 16-year-old, whose father Vyom was born in Mumbai and grew up in Rajkot in Gujarat before emigrating to the USA when he himself was 16, teed up defender Ella Emri for a goal off a corner kick in the 51st minute and then scored one of her own in the 62nd, ripping a curler from distance into the top left corner. Bhuta, who also played the full 90 minutes against Brazil on Oct. 14, has been the subject of quite a bit of interest from Indian media and fans so far in her short time in the country of her ancestry.
MIA BHUTA STORIES:
2022 U.S. UNDER-17 WOMEN'S WORLD CUP TEAM ROSTER BY POSITION (CLUB; HOMETOWN; CAPS/GOALS):
GOALKEEPERS (3): Abigail Gundry (NC Courage; Wake Forest, N.C.; 5), Victoria Safradin (Internationals SC; Eastlake, Ohio; 9), Valentina Amaral (Florida Kraze Crush; Oviedo, Fla.; 2)
DEFENDERS (6): Ella Emri (San Diego Surf; San Diego, Calif.; 5/1), Nicola Fraser (Real Colorado National; Highlands Ranch, Colo.; 10/1), Jorydn Bugg (San Diego Surf; El Cajon, Calif.; 2/0), Savannah King (Slammers FC HB Koge; West Hills, Calif.; 11/0), Cameron Roller (Solar SC; Sherman, Texas; 10/1), Gisele Thompson (Total Futbol Academy; Studio City, Calif.; 11/1)
MIDFIELDERS (5): Mia Bhuta (Internationals SC; Pittsburgh, Pa.; 12/3), Riley Jackson (Concorde Fire; Roswell, Ga.; 10/2), Charlotte Kohler (MVLA; Woodside, Calif.; 10/7), Lauren Martinho (NC Courage; Cary, N.C.; 12/5), Ella Sanchez (Racing Louisville; Louisville, Ky.; 4/0)
FORWARDS (7): Emeri Adames (Solar SC; Red Oak, Texas; 5/2), Onyeka Gamero (Beach FC; Cerritos, Calif.; 11/6), Nicollette Kiorpes (NEFC; Worcester, Mass.; 9/6), Melina Rebimbas (PDA; Warren, N.J.; 12/10), Samantha Smith (Boise Thorns FC; Boise, Idaho; 10/3), Taylor Suarez (Charlotte SA; Charlotte, N.C.; 10/3), Amalia Villarreal (Michigan Jaguars FC; Lansing, Mich.; 11/8)
ROSTER NOTES:
Seventeen of the 18 field players on the U.S. roster have played so far in the tournament. The only players who have not seen the field are forward Samantha Smith and back-up goalkeepers Abby Gundry and Valentina Amaral.
Forward Onyeka Gamero and defender Savannah King are the only two field players who have played all 180 minutes. Vicki Safradin has gone the distance in goal in both games for the USA.
The USA's nine goals in the tournament are the most so far of any of the 16 teams. Germany has eight.
With her brace against India, forward Melina Rebimbas tallied her team-leading ninth and 10th career international goals. She is currently tied with six other players for the tournament lead.
Riley Jackson is tied for the tournament lead with four other players with two assists.
Rebimbas' brace was the sixth individual multi-goal game in the USA's history at the U-17 WWC.
The win marked the USA's largest ever in a U-17 Women's World Cup. The team's previous biggest margin of victory came against Gambia, 6-0, at Azerbaijan 2012. The eight goals are the most ever scored by the U.S. in a youth Women's World Cup match.
U.S. head coach Natalia Astrain used all five allowed subs vs. India, three at halftime, one in the 75th minute and one in the 82nd.
Against Brazil, in a match played in severe humidity, she made one at halftime, two in the 63rd, one in the 74th and one in the waning minutes as Nicki Fraser had to spell the cramping Gisele Thompson.
Against Brazil, Nicollette Kiorpes joined seven of her teammates from the India game to accomplish the feat of scoring in their first-ever World Cup match.
After coming into the India match as a halftime substitute, defender Jordyn Bugg earned her first U-17 WYNT cap. She also got the start and went 63 minutes against Brazil.
Fifteen of the 21 players on the World Cup roster helped the USA win the Concacaf U-17 Women's Championship this spring.
The six players on the World Cup roster who were not a part of the U.S. team at World Cup qualifying are Amaral, defenders Ella Emri and Bugg, midfielder Ella Sanchez and forwards Emeri Adames and Smith.
The roster is made up of players from 17 different youth clubs and 13 different states. Defender Gisele Thompson plays in MLS Next for the U-17 boys' team at Total Futbol Academy in Los Angeles.
Six players hail from California, four come from North Carolina and two are from Texas. Players also come from Colorado, Idaho, Florida, Georgia, Kentucky, Massachusetts, Michigan, New Jersey, Ohio and Pennsylvania.
The youth clubs who played multiple players on the roster are the NC Courage (3), San Diego Surf (2), Solar FC (2), and Internationals SC (2).
Of the 21 players on the roster, eight are currently high school seniors, 10 are in their junior year and two are sophomores. Bhuta has graduated from high school and will enroll early at Stanford University in January.
DRAMA GUARANTEED ON FINAL DAY OF GROUP PLAY:
Contested every two years, the FIFA U-17 Women's World Cup determines a champion for women's soccer at the Under-17 level. The 2022 competition is the first tournament since 2018 after the 2020 U-17 WWC was canceled due to the global COVID-19 pandemic. While the USA and Brazil have a leg up in Group A, the other three groups will be filled with drama after some upsets during the second round of group games.
GROUP B
Germany, one of two teams along with Japan to win its first two games, is comfortably on top and will face current bottom team New Zealand, but Nigeria and Chile are tied with three points each and will play for the second quarterfinal berth in the group. Nigeria has a large edge in goal difference after smashing New Zealand, 4-0, so the Baby Falcons just need a tie to go through while Chile needs to win.
GROUP C
After Colombia beat China PR, 2-0, and Mexico pulled off a huge upset of Spain, 2-1, all four teams in Group C are remarkably tied on points with three apiece. Adding to the drama, Colombia is atop the group with a plus-1 goal difference, both Mexico and Spain have a zero goal difference and China PR is at minus-one. Mexico currently sits in second place as it has scored three goals to Spain's two, but it will be all to play for in the final matches of the group as Colombia meets Mexico and Spain takes on China PR.
GROUP D
After Tanzania pulled off one of the greatest upsets in U-17 Women's World Cup history with its 2-1 defeat of France in a match that had six yellow cards and one red (late to Tanzania), the East Africans sit in second place with a great chance to go through in its first FIFA Women's World Cup at any level. Tanzania takes on group cellar-dwellers Canada while France has been left to battle Japan for its tournament life. Japan has rolled to two 4-0 wins while allowing zero goals.
"KICK OFF THE DREAM" IN INDIA:
This year marks a historic event for women's soccer as India hosts its first-ever FIFA women's tournament. First staged in 2008 in New Zealand, this year marks the seventh FIFA WWC at this age level. It's the second time that the tournament has been hosted in Asia, following the ground-breaking 2016 competition in Jordan, the first FIFA WWC held in the Middle East.
"Kick Off the Dream" is the tournament's official slogan, encapsulating the aspirational and empowering message of the tournament as FIFA aims to grow women's soccer around the globe and use the tournament to inspire girls of all ages in India and worldwide. Ibha, an anthropomorphic Asiatic lioness, is the official tournament mascot. Her name loosely translates to "good vision and a feeling of love."
U.S. U-17 WYNT VS. MOROCCO:
This marks the first-ever match between the USA and Morocco in women's international soccer at any level.
This is Morocco's first-ever appearance in Women's World Cup at any level.
Morocco qualified for this tournament via the 2022 African U-17 Women's World Cup Qualifying Tournament. The Atlas Lionesses got a bye in the first round, defeated Benin, 3-1, on aggregate in the second round, swamped Niger 18-0 on aggregate in the third round and booked its ticket to India with a hard-fought penalty kick win after tying Ghana 2-2 on aggregate. Both teams its home leg, 2-0, but Morocco then prevailed, 4-2, in penalty kicks.
Morocco is one of the best women's soccer stories in Africa right now, having not only qualified for this tournament, but also for the senior Women's World Cup next summer in Australia and New Zealand, becoming the first North African country to do so.
At the Women's African Cup of Nations, which was played in Morocco in front of huge crowds for the home team, the Lionesses of Atlas defeated Botswana in the quarterfinal to earn a World Cup berth then downed perennial African power Nigeria in the semifinal on penalty kicks before falling to the much more experienced South Africa in the final, 2-1.
Morocco is coached by Frenchman Anthony Rimasson, who worked in the development of female players for the French Football Federation for four years before taking this job. He's also worked in Canada and Portugal.
Morocco has one American player in goalkeeper Ameerah Maamry, who is a Louisville resident and plays with U.S. midfielder Ella Sanchez at Racing Louisville FC Academy, but obviously has Moroccan heritage. She has yet to play as Wissal Titah has gotten the nod in goal for both games.
The majority of Morocco's roster – 15 players – are not based in Morocco, courtesy of the Moroccan diaspora to Europe, as well as Morocco being a French colony from 1912 until gaining independence in 1956.
There is one player on the roster who plays in Germany, one from the USA, one in Belgium, four in the Netherlands and seven in France.
MOROCCO 2022 FIFA U-17 WOMEN'S WORLD CUP ROSTER BY POSITION (CLUB):
GOALKEEPERS (3): 1-Louisa Derbali (VfL Borussia Mönchengladbach/GER), 12-Wissal Titah (Chabab Atlas Khénifra), 16-Ameerah Maamry (Racing Louisville FC/USA)
DEFENDERS (7): 2-Hajar Said (Najah Souss Agadir), 3-Dania Boussatta (AFC DWS/NED), 4-Nadia Benassou (FC Vendenheim/FRA), 5-Hiba Karami (FUS Rabat), 8-Wissal El Assaoui (Chabab Atlas Khénifra), 13-Dania Mrabti (Excelsior/NED), 20-Fatima El Ghazouani (US Quevilly-Rouen/FRA)
MIDFIELDERS (5): 6-Lina Aich (Stade Reims/FRA), 9-Samya Masnaoui (AFC DWS/NED), 15-Houda Elmestour (AS FAR), 18-Ambre Basser (FC Girondins Bordeaux/FRA), 21-Iman El Hannachi (Tottenham Hotspur FCW/ENG) 
FORWARDS (6): 7-Kenza Laksiri (RSC Anderlecht,/BEL), 10-Djennah Cherif (Feyenoord/NED), 11-Doha El Madani (Association Étoile Avenir), 14-Kamilia Et Tayyeby (FC Mulhouse/FRA), 17-Yasmine Zouhir (AS Saint-Etienne/FRA), 19-Mina Bacha El Hamzaoui (RC Strasbourg/FRA)