USA continues U-20 Women's World Cup vs. New Zealand on Thursday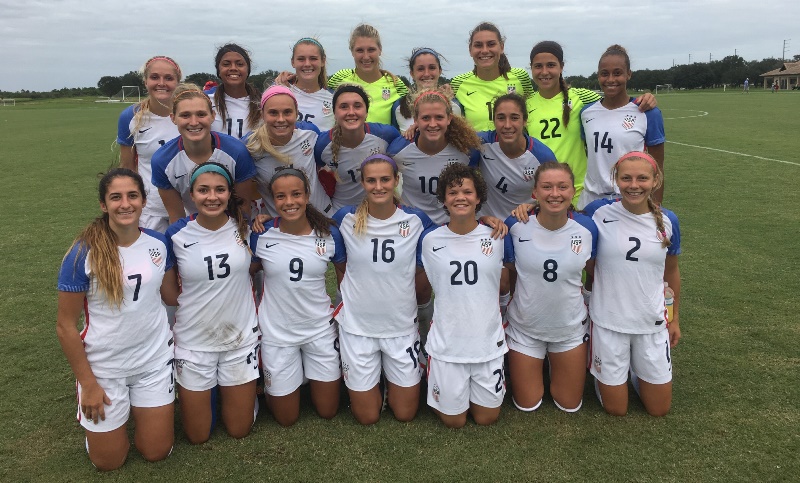 U.S. U-20 Women's National Team vs. New Zealand
2016 FIFA U-20 Women's World Cup
PNG Football Stadium; Port Moresby, Papua New Guinea
Nov. 17, 2016
(Via U.S. Soccer) – After a 0-0 draw with reigning European U-19 champions France in the opening game for both teams at the 2016 FIFA U-20 Women's World Cup, the U.S. Under-20 Women's National Team continues Group C play on Nov. 17 against New Zealand at PNG Football Stadium in Port Moresby, Papua New Guinea. The game can be watched live on FS1 at 4 a.m. ET, and like all the matches of the tournament, on FOX Sports GO and FOXSoccer2Go.
+Read: U.S. U-20 Women's National Team plays France to 0-0 draw in World Cup opener
USA-NZL will also be broadcast in Spanish on NBC Universo (4 a.m. ET). The match is a critical one for both teams as the Kiwis lead the group after a 1-0 victory against Ghana in the other Group C match. The USA will finish group play against Ghana on Nov. 21 (1 a.m. ET on FS1, live in ET on NBC Universo and delayed until 3 a.m. in PT) at Sir John Guise Stadium.
WATCH THE USA U-20 WNT ON FOX SPORTS; FOX PROVIDING FREE WEB STREAM OF 2016 FIFA U-20 WOMEN'S WORLD CUP: All of the USA's group games will be broadcast live on FS1 and all 32 matches of the tournament will be broadcast across the FOX platforms. A total of 19 matches will air on FS1 and 12 will be on FS2. All four of the quarterfinals, both semifinals, the third-place match and the championship game will be shown on FS1. All matches are also available for live and on-demand streaming via the FOX Sports GO app, the FOX Soccer 2GO app and online at FOXSportsGO.com and on-demand at FOXSoccer2GO.com . Fans can enter a free promo code to watch the games on the FOXSoccer2Go.com registration page. The promo code is "U20WNT" and is valid for entry on foxsoccer2go.com/buy from November 11until December 3 for 14 days of free access to FOX Soccer 2Go without credit card payment required. In addition, the NBC family of networks will show all 32 matches in Spanish on TelemundoDeportes.com and the En Vivo App or on NBC Universo.
+NCAA Women's Soccer Commitment Announcements: November 2016
2016 U.S. U-20 FIFA WOMEN'S WORLD CUP SCHEDULE
Date
Opponent
Time (ET)
TV
Venue
Nov. 14
France
0-0
—
PNG Football Stadium;

Port Moresby, PNG

Nov. 17

New Zealand

4 a.m.

FS1, FOX Soccer 2GO, FOX Sports GO, NBCU
PNG Football Stadium;

Port Moresby, PNG

Nov. 21

Ghana

1 a.m.

FS1, FOX Soccer 2GO, FOX Sports GO, NBCU
Sir John Guise Stadium;

Port Moresby, PNG
Group C Schedule:
Monday, Nov. 14
France 0, USA 0
Ghana 0, New Zealand 1
Thursday, Nov. 17
France vs. Ghana
New Zealand vs. USA
Monday, Nov. 21
New Zealand vs. France
USA vs. Ghana
Group C Standings:
| | | | | | | | |
| --- | --- | --- | --- | --- | --- | --- | --- |
| Team | W | L | T | GF | GA | GD | Pts |
| NZL | 1 | 0 | 0 | 1 | 0 | +1 | 3 |
| FRA | 0 | 0 | 1 | 0 | 0 | 0 | 1 |
| USA | 0 | 0 | 1 | 0 | 0 | 0 | 1 |
| GHA | 0 | 1 | 0 | 0 | 1 | -1 | 0 |
TOURNAMENT FORMAT: The FIFA U-20 Women's World Cup – which is staged every two years – features 16 nations divided into four groups of four teams each. The top two teams in each group advance to the quarterfinal stage being held Nov. 24 and 25. The semifinals will take place Tuesday, Nov. 29, and the Final and Third-Place matches are on Saturday, Dec. 3. All the matches will be staged on grass surfaces over the four stadiums, which are all in the capital of Port Moresby. Players eligible for this age group tournament must have been born on or after Jan. 1, 1996. The tournament will be played in smaller venues than in previous editions. Bava Park and PNG Football Stadium seat 5,000 fans while Sir John Guise Stadium and the National Football Stadium seat 15,000.
CONSISTENT U.S. PRESENCE: The USA has competed in all seven previous Women's World Cups held for this age group, winning the inaugural tournament in 2002 in Canada when it was a U-19 event, finishing third in 2004 in Thailand, finishing fourth in 2006 in Russia when it moved to U-20s, winning in 2008 in Chile on the strength of goal scoring from Alex Morgan and Sydney Leroux, and finishing fifth in 2010 in Germany. The USA returned to the top of the podium in 2012, winning the tournament in Japan on a goal from Kealia Ohai in the championship game, but lost in penalty kicks in the quarterfinal to North Korea in 2014. The U-19 tournaments featured 12 teams while the last five – including this one – have 16 nations.
U.S. ROSTER BY POSITION – DETAILED
GOALKEEPERS (3): Rose Chandler (Penn State; Atlanta, Ga.), Brooke Heinsohn (New England FC; Norfolk, Mass.), Casey Murphy (Rutgers; Bridgewater, N.J.)
DEFENDERS (7): Madeline Elliston (Penn State; Omaha, Neb.), Emily Fox (FC Virginia; Ashburn, Va.), Sabrina Flores (Notre Dame; Livingston, N.J.), Ellie Jean (Penn State; Coventry, Conn.), Natalie Jacobs (Notre Dame; Coto de Caza, Calif.), Taylor Otto (UNC; Apex, N.C.), Kaleigh Riehl (Penn State; Fairfax Station, Va.)
MIDFIELDERS (7): Marley Canales (San Diego Surf; San Diego, Calif.), Katie Cousins (Tennessee; Forest, Va.), Savannah DeMelo (Beach FC; Bellflower, Calif.), Kelcie Hedge (Washington; Post Falls, Idaho), Emily Ogle (Penn State; Strongsville, Ohio), Courtney Petersen (Virginia; Canton, Mich.), Parker Roberts (Florida; Leawood, Kan.)
FORWARDS (4): Ashley Sanchez (So Cal Blues: Monrovia, Calif.), Mallory Pugh (Real Colorado; Highlands Ranch, Colo.), Jessie Scarpa (North Carolina; Lakeland, Fla.), Ally Watt (Texas A&M; Colorado Springs, Colo.)
U.S. ROSTER NOTES
The match marked the first time the USA had opened the FIFA U-20 Women's World Cup with a 0-0 tie.
The draw with France was just the third scoreless tie for the Americans in the history of the U-20 Women's World Cup. The USA drew both the semifinal and the third-place match 0-0 in Russia in 2006 and lost both games in penalty kicks.
The USA also drew 0-0 with France to open the 2012 FIFA Under-17 Women's World Cup in Azerbaijan. France went on to win that tournament.
The USA entered the 2016 FIFA U-20 Women's World Cup having compiled a record of 15-4-3 over this two-year cycle in international matches. Two of the four losses were to youth WNT power Japan.
In the USA's first Group C match vs. France, neither team made a change at halftime in the hot conditions that hovered in the high 80s, but the USA made its first substitute when Savannah DeMelo replaced Parker Roberts in the 64th minute.
U.S. head coach Michelle French used her second sub to send on Emily Fox for Courtney Petersen in the 76th minute and the final change was Ally Watt for Jessie Scarpa in the 79th.
Team captain Mallory Pugh, in her second U-20 WNT cycle, is the most capped player on the roster with 24 U-20 international matches and the top scorer with 17 goals, but 19 players on the roster have 10 or more U-20 caps. Pugh was the youngest player on the 2014 U-20 Women's World Cup Team, where she started all four games, and is age-eligible to play in the 2018 tournament as well.
Pugh currently has 17 caps and four goals for the full WNT, which includes her goal against Colombia in the 2016 Olympics that made her the youngest American soccer player to score in an Olympic Games.
Pugh led the team with seven goals and four assists in CONCACAF U-20 qualifying, where she won the Golden Boot as top scorer and the Golden Ball as the best player.
Thirteen players on the roster have scored international goals, including Jessie Scarpa (6), Ally Watt (5), Marley Canales (4), Ashley Sanchez (4), Kelsey Hedge (4), and Emily Fox (3).
Of the 20 players who helped the USA win the 2015 CONCACAF U-20 Women's Championship and qualify for the World Cup last December (a tournament that was held during the college season, making several players unavailable), French chose 13 for the World Cup roster. Those players are: Canales, Chandler, DeMelo, Flores, Fox, Hedge, Heinsohn, Jacobs, Otto, Pugh, Roberts, Sanchez and Scarpa.
The age cut-off date for this Women's World Cup is players born on or after Jan. 1, 1996. Eight of the 21 players selected by French were born in 1996, eight were born in 1997, four in 1998 and one in 1999. The four '98s – DeMelo, Heinsohn, Fox and Pugh, as well as Sanchez, are age-eligible for the 2018 FIFA Under-20 Women's World Cup in France.
Sanchez, who captained the USA at the FIFA Under-17 Women's World Cup in Jordan while scoring three goals, is the youngest player on the team and the only one born in 1999. Sanchez had three goals with five assists at the CONCACAF U-20 qualifying tournament and scored the game-winning goal in the championship game win against Canada.
Fourteen different states are represented, led by California with four players and Virginia with three. New Jersey and Colorado have two each.
Nine different colleges are represented on the roster, led by Penn State with five players. Notre Dame and North Carolina each have two players.
The roster includes five players who helped Penn State win the NCAA Championship in 2015 in defenders Kaleigh Riehl, Madeline Elliston and Ellie Jean, midfielder Emily Ogle, and Rose Chandler, who was a back-up 'keeper.
Just five players on the roster have yet to start college with the rest having played at least one season so far (aside from Taylor Otto, who has started college but has yet to play a college match). The players who have yet to start college are UCLA commits Mallory Pugh and Ashley Sanchez, goalkeeper Brooke Heinsohn, who is headed to Duke, midfielder Savannah DeMelo (USC) and defender Emily Fox (UNC).
Besides Pugh, two other players were on the 2014 U-20 Women's World Cup roster in defender Kaleigh Riehl and goalkeeper Rose Chandler, but neither played in the tournament.
Chandler earned the Golden Glove as the best goalkeeper during the qualifying tournament and Riehl has been a steady leader of the backline during 2016.
Goalkeepers Casey Murphy and Brooke Heinsohn, who are both 6-foot-1, are the tallest GKs to represent the USA in a Women's World Cup.
Murphy has played the most games in goal for the USA this year with nine, starting eight, Chandler has played six times this year, starting four.
Nine members of the U.S. team that won the 2015 FIFA Women's World Cup also won a U-20 Women's World Cup. They are Lori Chalupny, Ashlyn Harris and Heather O'Reilly (2002), Meghan Klingenberg, Sydney Leroux, Alex Morgan and Alyssa Naeher (2008), and Julie Johnston and Morgan Brian (2012). Current U.S. WNT players Samantha Mewis, Kealia Ohai and Crystal Dunn also won a U-20 WWC in 2012.
U.S. U-20 WNT – USA vs. NZL Pre-Game Quotes
U.S. head coach MICHELLE FRENCH
On Mallory Pugh's performance against France:
"The most impressive thing about Mallory Pugh is her leadership on the field. You could see her out there pointing and directing. Her effort and energy, whether it was to close the ball or get in behind, really sets a standard for this group. I couldn't be more impressed the way she performed today. I know she would like a few of those chances back, but if she is not as determined as she was, she wouldn't even have gotten those chances."
U.S. forward MALLORY PUGH
On the match vs. France:
"I think we worked the whole 90 minutes. Everyone was all in and I think our defensive shape and how organized we were really helped us stop France attack as they are very talented. France is a very good team and they are hard to beat, so I am really proud of my team."
On the people in Papua New Guinea:
"Everyone has been very welcoming to us which has really helped us adapt to everything, and it means a lot to us."
On looking forward to the New Zealand match:
"We could get more players into the attack. Against France, we had to defend a lot and it was more of a transition game, getting more people into the attack and playing how we can play will really help us."
U.S. defender MADDIE ELLISTON
On the World Cup opener against France:
"The first match against France was kinda crazy. It was the first World Cup match I'd ever played in and that was the same for most of my teammates. It was high-tempo, a lot of energy, and you could see that in the first 10 minutes. It was everything that I thought it would be and more and I thought we did pretty well for a first game."
On the next match against New Zealand:
"Every team here has gotten to the World Cup because they do something really, really good. We respect New Zealand so we have come out with great energy and execute the plan the coaches have given us, which I know we will do."
U.S. forward ALLY WATT
On coming off the bench against France:
"I know my job on the bench was to support the team as much as I can and be ready if they needed me. Going in with 10 minutes left, you know that you need to make a difference when you get out there. It's hard mentally, but you know you are prepared. Your coaches have prepared you and your teammates are behind you so I went out there and tried my best to see what I could create."
"Cleary, we wanted to get the win, but we had a lot of fight and commitment to each other on the field and that's all we could ask for in the end. It was great to see everyone still staying together and committed through the whole game. That was a very good French team, but now we are hungry for a win against New Zealand so we have to transfer that fight and commitment to this game and I know we will."
BY THE NUMBERS
1.18 Goals allowed per international match by the U.S. U-20s this year
2.27 Goals scored per international match by the U.S. U-20s this year
7 Goals scored by Mallory Pugh in CONCACAF qualifying to lead the team
8 U-19/U-20 Women's World Cups for which the USA has qualified
24 Career U-20 caps for Mallory Pugh, the most on this Women's World Cup roster
31 Players to see action in a U.S. U-20 international match this year
25 Goals scored by the USA in 11 international matches this year
29 Goals scored through the first eight matches of the 2016 U-20 WWC, an average of 3.65 per game
900 Minutes played in international matches this year by Kaleigh Riehl, most on the team
IN FOCUS: FRANCE
New Zealand Football Federation
Head Coach: Leon Birnie
Best FIFA U-20 Women's World Cup Finish (sixth appearance): 2014 Quarterfinal
USA VS. NEW ZEALAND SERIES
While the full National Team has faced New Zealand several times in senior level world championships, the USA and New Zealand have never met in a U-20 Women's World Cup.
NEW ZEALAND ROSTER:
GOALKEEPERS (3): 1-Tessa Nicol (Lynn-Avon United AFC), 20-Emily Couchman (Forrest Hill Milford United), 21-Nadia Olla (Norwest United AFC)
DEFENDERS 6): 2-Sarah Morton (Norwest United AFC), 3-Sophie Stewart-Hobbs (Three Kings United SC), 4-Elizabeth Anton (Western Springs AFC), 5-Samantha Murrell (Norwest United AFC), 6-Meikayla Moore (Cashmere Technical FC), 17-Eileish Hayes (Claudelands Rovers FC)
MIDFIELDERS (5): 7-Isabella Coombes (Forrest Hill Milford United AFC),10-Daisy Cleverley (Eastern Suburbs AFC), 12-Malia Steinmetz (Forrest Hill Milford United AFC), 14-Jade Parris (Eastern Suburbs AFC), 18-Grace Jale (Eastern Suburbs AFC)
FORWARDS (7): 8-Jasmine Pereira (Three Kings United SC), 9-Martine Puketapu (Three Kings United SC), 11-Emma Rolston (Forrest Hill Milford United), 13-Paige Satchell (Three Kings United SC), 15-Hannah Blake (Three Kings United SC), 16-Tayla Christensen (Forrest Hill Milford United), 19-Jacqui Hand (Eastern Suburbs AFC)
NEW ZEALAND ROSTER NOTES
New Zealand pulled out a 1-0 victory in its opening Group C match, scoring through substitute Tayla Christensen in the 89th minute and currently leads the group. The Kiwis were efficient finishers on the night, scoring on one of its three shots on goal, while 16-year-old goalkeeper Nadia Olla played an excellent match to keep Ghana off the board.
New Zealand had the shortest trip to PNG off all the teams as they are the second Oceania representative in the tournament which usually only has one team from the Confederation.
This is the sixth consecutive appearance for New Zealand in the FIFA U-20 Women's World Cup. In Canada two years ago, the Kiwis won two group games and got the knockout round for the first time before falling in the quarterfinal by a 4-1 score to Nigeria, which was their best finish so far in this tournament.
New Zealand's debut in this tournament at the 2006 FIFA U-20 Women's World Cup in Russia – a first FIFA Women's tournament appearance for 15 years – saw the Junior Ferns secure their first point with a draw against a strong Brazil side.

Two years later

in Chile, they were seconds from creating history as the first male or female New Zealand side to reach the knockout stage of a FIFA tournament, only to be denied by England's injury-time equalizer. Germany 2010 was a disappointment with successive defeats, but NZL bounced back at Japan 2012, missing the quarterfinals despite earning four points, which included a draw against the hosts.
With traditional challengers Papua New Guinea not required to qualify, the New Zealanders breezed through a hugely one-sided qualifying campaign in October of 2015. New Zealand racked 69 goals to zero in their four wins over Samoa, Vanuatu, New Caledonia and hosts Tonga to qualify for PNG.
The NZL boasts extensive experience at international level, and eight participants in the qualifying tournament were veterans of the 2014 FIFA U-17 Women's World Cup. There are also several players who participated in Canada 2014, notably Jasmine Pereira and Daisy Cleverley, who also have significant experience with the senior side as well and were in the squad for the 2015 FIFA Women's World Cu.
Head coach Leon Birnie assumed the reins from Aaron McFarland in mid-2015. Papua New Guinea 2016 will be a unique opportunity for New Zealand to play on the world stage in their own continent – with the tournament being the first at this level to be played in Oceania.
Former UCLA Bruin Rosie White is one of the few players to score in three U-20 Women's World Cup tournaments. She scored three times in 2008 in New Zealand, once in 2010 in Germany and twice in 2012 in Japan.
LAST TIME
On the field for the USA:
Nov. 14, 2016 – PNG Football Stadium; Port Moresby, Papua New Guinea
2016 FIFA U-20 Women's World Cup – Group C
USA 0
FRA 0
Lineups:
USA: 1-Casey Murphy; 5-Madeline Elliston, 6-Taylor Otto, 3-Kaleigh Riehl, 14-Ellie Jean; 18-Ashley Sanchez, 10-Emily Ogle, 2-Parker Roberts (7-Savannah DeMelo, 65), 8-Courtney Petersen (16-Emily Fox, 76); 9-Mallory Pugh (capt.), 15-Jessie Scarpa (11-Ally Watt, 79)
Subs Not Used: 4-Sabrina Flores, 12-Rose Chandler, 13-Marley Canales, 17-Kelcie Hedge, 19-Natalie Jacobs, 20-Katie Cousins, 21-Brooke Heinsohn
Head Coach: Michelle French
FRA: 1-Mylene Chavas; 3-Sakina Karchaoui, 4-Hawa Cissoko, 12-Heloise Mansuy, 13-Thea Greboval (capt.), 14-Estelle Cascarino; 8-Onema Geyoro, 15-Maelle Garbino (9-Marie-Charlotte Leger, 69), 17-Juliane Gathrat; 7-Delphine Cascarino, 10-Clara Mateo (18-Valerie Gauvin, 83)
Subs Not Used: 2-Marion Romanelli, 5-Pauline Dhaeyer, 6-Laura Condon, 11-Louise Fleury, 16-Cindy Perrault, 19-Cathy Couturier, 20-Anna Clerac, 21-Jade Lebastard
Head Coach: Gilles Eyquem