USA completes sweep of Group A at CONCACAF U-15 Girls Championship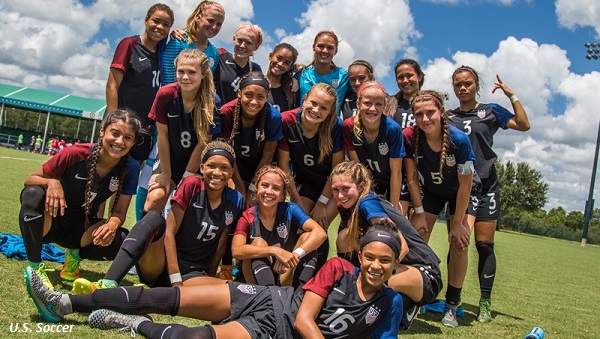 ORLANDO, Fla. (Via U.S. Soccer) – The Under-15 Girls' National Team defeated the Dominican Republic 6-0 to finish first in Group A at the 2016 CONCACAF U-15 Girls' Championship.
The win was the fourth in a row for the USA, which now awaits its quarterfinal opponent after the completion of group play in two days. The USA will face the winner of Group E, which will be either Bermuda or the Bahamas.
Group B winner Canada will play winner of Group D, Group A runner-up Mexico will play winner of Group C and the 2nd place team in Group B will play the 2nd place team in Group C.
+Read: U.S. U-15 Girls National Team edges Haiti 1-0 in CONCACAF group play
Samantha Meza and Sunshine Fontes both scored twice for the USA while Kalyssa Van Zanten and Payton Linnehan added single goals.
"I'm very proud and happy that we were able to finish at the top of the group with four shutouts," said U.S. U-15 Girls' National Team head coach Mark Carr. "Today against the Dominican Republic, we had some clear objectives on what we wanted to work on and I thought all of the players absorbed the concepts and demonstrated them in the game. We are now looking to rest up and fine tune a few things before the knockout stages begin. I know this group is hungry for more and focused on our quarterfinal."
2016 CONCACAF U-15 GIRLS' CHAMPIONSHIP GROUPS
Group A: United States, Mexico, Trinidad & Tobago, Haiti, Dominican Republic
Group B: Canada, Costa Rica, Venezuela, Jamaica, El Salvador
Group C: Puerto Rico, Nicaragua, Santa Lucia, Grenada, St. Vincent & the Grenadines
Group D: Barbados, U.S. Virgin Islands, Curaҫao, Anguilla
Group E: Bermuda, Cayman Islands, Antigua & Barbuda, Bahamas
U-15 Girls' National Team Match Report
Match: United States U-15 Girls' National Team vs. Dominican Republic U-15 Girls' National Team
Date: August 13, 2016
Competition: CONCACAF Under-15 Girls' Championship
Venue: Field #18 – ESPN Wide World of Sports, Orlando, Fla.
Weather: 88 degrees, sunny
Scoring Summary:    1          2          F
USA                             4          2          6
DOM                            0          0          0
USA – Samantha Meza (Makenna Morris)                2nd minute
USA – Samantha Meza (Sunshine Fontes)               3
USA – Sunshine Fontes (Mia Fishel)                         9
USA – Kalyssa Van Zanten (Samantha Meza)         17
USA – Sunshine Fontes (Hollyn Torres)                    40
USA – Payton Linnehan (Hollyn Torres)                    41
Lineups:
USA: 12-Lindsey Romig; 2-Makenna Morris (13-Payton Linnehan, 36); 6-Natalia Staude; 5-Leah Scarpelli; 3-D'awncey Jones-Black (17-Talia Dellaperuta, 23, 4-Tori Hansen, 47); 7-Samantha Meza; 11-Eleanor Glenn; 10-Mia Fishel (14-Madison Mercado, 36); 8-Hollyn Torres; 18-Sunshine Fontes; 9-Kalyssa Van Zanten (16-Croix Bethune, 56)
Subs not used: 1-Ruth Jones; 16-Gabrielle Robinson
Head Coach: Mark Carr
DOM: 1-Carla Peralta; 2-Miranda Montes; 4-Richeymi Mejia (8-Deborah Tavarez, 44); 5-Katia Constanzo; 6-Karla Muniz (7-Jordy Espinal, 30); 9-Claudia Alcantara; 11-Marianelys Perez; 13-Nathaly Acosta (10-Yorgelis Martinez, 68); 15-Ruberki Minyeti (3-Jaely Encarnacion, 64); 16-Carmen Lorenzo; 18-Yamely Lopez
Subs not used: 12-Nayelis Lopez; 14-Georgina Hernandez; 17-Juanly Perez
Head Coach: Jose Alberto Saldana
Stats Summary: USA / DOM
Shots: 15 / 0
Shots on Goal: 10 / 0
Saves: 0 / 4
Corner Kicks: 10 / 0
Fouls: 5 / 6
Offside: 4 / 0
Misconduct Summary:
None
Officials:
Referee: Hector Martinez (HON)
Assistant Referee 1: Lidia Ayala (SLV)
Assistant Referee 2: Tonia Jordan (BRB)
Fourth Official: Kimberly Mora (CRC)