US Youth Soccer Southern Presidents Cup – Semifinals Recap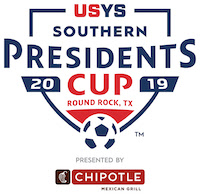 Schedules, Scores and Standings
Facebook | Twitter | Instagram | #USYSPCUP
Round Rock, Texas – Finals match-ups are set at the 2019 US Youth Soccer Southern Presidents Cup in Round Rock, Texas. The five-day event kicked off Wednesday with 13U through 18U Boys and Girls teams starting the action at the Round Rock Multipurpose Complex and Old Settlers Park.
Regional champions in all age groups will be crowned on Sunday, June 16. The event features more than 130 US Youth Soccer boys and girls teams competing for a regional title and a chance to advance to the 2019 US Youth Soccer National Presidents Cup presented by Chipotle, July 10-14 in Murfreesboro, Tenn.
Semifinals and Group Stage Recaps:
13-Under Boys
United Stars Miami (FL) and Miners FC 06 (TX-S) both used convincing shutout wins to secure spots in the finals. United Stars defeated MS Rush 06 Premier (TN) 4-0, while Miners FC 06 took care of business against Dallas Rebels 06 (TX-N) with a 7-0 win.
13-Under Girls
Jaelyn Carr's goal was the difference in Impact FC 06 Bertelsen's (TX-N) 1- 0 semifinals victory against 06 WHYFC 07 White (NC). Impact, which has yet to concede a goal this tournament, will play Cape Coral Cyclones (FL) in the finals. The Florida side leads all teams in the age group with 20 goal in four games.
14-Under Boys
PSG Homestead (FL) and OKC United FC Mejia (OK) will meet in the finals after each team notched 2-1 victories in the semifinals. PSG outlasted Katy Premier Diamond (TX-S), while OKC United went down 1-0 to FC Lil Warryors 05 (TX-N) in the first half courtesy of Jose Pantoja's age group leading sixth goal, but Edgar Velasco and Francisco Perez would score for the Oklahoma side to secure a spot in the finals.
+READ: Semifinals set at 2019 US Youth Soccer Southern Presidents Cup
14-Under Girls
Florida Elite Soccer Academy (FL) clinched a finals spot as Jianna Ramirez's age group leading eighth goal combined with a goal from Chloe Iliff for a 2-0 win against MUFC 05 (AL). Florida Elite will play FC Westlake 05 Red, which came back from a 1-0 deficit to ultimately win in kicks from the mark against Sparta FC 05 (TX-N) to advance to the finals.
15-Under Boys
FC Dallas ETX 04 Premier booked a ticket to the finals with a 2-1 win against 04 NCF GUSA Gold (NC). Emmanuel Rodriguez and Nathan Eidam found the back of the net for FC Dallas, while Gabriel Wagnerscored for 04 NCF. Gustavo Lopes is now tied for the scoring lead in the age group after netting his fifth goal for the tournament, which combined with a goal from Gabriel Oacris Salcedo, resulted in a 2-1 win for R9 Ronaldo Academy (FL) over OEFC Central 04 Green (OK). Jasper Cainscored the lone goal for the Oklahoma side.
15-Under Girls
Natalie Salazar's goal late in the second half off a set piece would be the only goal in a 1-0 KEFC (TX-N) win against MSC Lady Strikers Premier (TN). The North Texas side will play 04 CR WG Burgundy Rapids (NC) in the finals in a rematch of each team's first game of the tournament. Burgundy Rapids advanced to the finals courtesy of goals from Izabel Hoover and Anna Smith to defeat Town & Country 04 Emeralds (TX-S) 2-0 in the other semifinals match.
16-Under Boys
Auden Quinonez and Davda Jabateh found the back of the net to give Sporting United 03 Videla (TX-n) a 2-1 semifinals win against Klein FC Aztecas (TX-S) and ultimately a spot in the finals, where they will play Nashville United Soccer Academy (TN). The Tennessee side continued its high-scoring ways in a 4-2 victory over Coast FA 03 Red (SC). Malachi Jones netted a hat trick to give him 12 goals on the tournament, which is triple the second most goals in the age group. Levin Jones added fourth goal for Nashville United, while Devin Ardeljan and Gregory Hurnscored Coast FA.
16-Under Girls
Hannah Opie netted her fifth and sixth girl of the tournament, while Anna McGinnis and Kaile Alford would add insurance goals as MSC Lady Strikers 03 (TN) defeated Americas FC (TX-N) 4-0. MSC Strikers will now play a North Texas side for a third straight game when they meet 2017 Southern Presidents Cup champions Solar 03 Wells in the finals in a day three rematch that resulted in a scoreless draw. Solar advanced to the finals after Amaris Jasso and Olivia Rueckert found the back of the net in the second half in a 2-0 win against Tennessee Soccer Club Premier (TN).
17-Under Boys
Alejandro Herrera's second-half goal against Soccer Paradise (FL) secured a 4-0 record in Group A and a spot in the finals for Dallas Kicks 02 Selecao (TX-N). Dallas Kicks will play CFA Correcaminos (GA) in the finals after the Georgia side defeated OK Energy FC East Green (OK) 3-0 courtesy of goals from Jesus Mendiola, Adrian Barragan and Antony Ramirez.
17-Under Girls
GPS Coastal Academy 2002 Gold (SC) is headed to the finals after Emily Rosales and Katherine Carnes scored in a 2-0 win over Plant City FC Lancers (FL). 02 NCFC Gold North (NC) received goals from Megan Flockhart, Anna Grossheim, Aryn Cimmerer and age group scoring leader Abigail Clarke en route to a 6-2 win over BUSA 02 Premiere (AL).Eleanor Kyle and Katie Culhane scored the goals for the Alabama side.
18-Under Boys
Quinton Brown scored the lone goals in West Texas Rush Sharks White's (TX-S) 1-0 win over Klein Celtics 2001 (TX-S) in an all-South Texas semifinals. Justin Hicks scored a pair of goals, including the game-winner from around midfield that chipped the keeper in a 2-1 win against OU United (TX-N). Renzo Osaderuk scored OU United's goal.
18-Under Girls
Rage FC (TX-S) cemented its spot at the top of Group A and in the finals with a 3-0 win against Q Factor 01 (TX-N) as Alexandra Cereceres,Valeria Hawkins and Nicole Valenzuela all scored. CRFC Sky 01 (SC) awaits Rage FC after the South Carolina side clinched a finals spot on Friday when Catherine Mckeown's goal resulted in a 1-0 win against 01 FSC Force Blue (NC).
For complete event results for the Southern Presidents Cup, click here. For more information on all US Youth Soccer Regional and National Presidents Cup events, visit the US Youth Soccer Presidents Cup Homepage at www.usyouthsoccer.org/presidents-cup.
Note:  The US Youth Soccer Presidents Cup is a separate series of events from the US Youth Soccer National Championship Series.