US Youth Soccer Region I Championships Day 1 Recap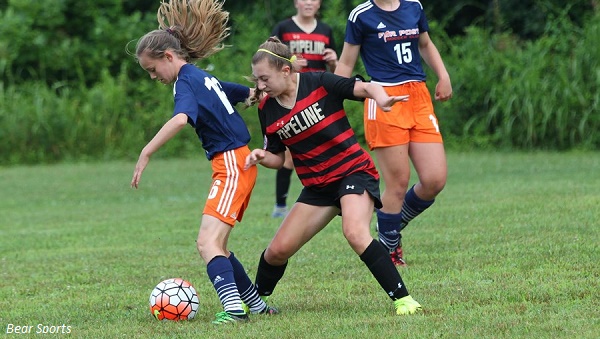 Preliminary Games, Day 1 of 3
Click here for an entire box score of today's games. 
Barboursville, W.Va. (Via US Youth Soccer) – The first day of round robin play kicked off at the 2016 US Youth Soccer Region I Championships today at the Scott Orthopedic Soccer Complex, the Soccer Stadium at Marshall University and Barboursville Soccer Complex in Barboursville, W.Va.
The Region I Championships feature top teams in the Under-12 through Under-19 age groups and began on June 30, with opening ceremonies at Joan C. Edwards Stadium in Barboursville, W.Va. Round robin games take place today through Sunday, July 3, with semifinal matches Monday, July 4. The regional champions will be crowned following final games on Tuesday, July 5.
US Youth Soccer State Champions and select wildcards in the U-12 through U-19 Boys and Girls age groups from 15 state associations, including host West Virginia, are participating in the event.
Eleven teams are back to defend their 2015 regional titles…
Girls
U-13G HMMS Eagle FC Impact (PA-E)* 4-0 Levittown Wildcats (NY-E)
U-13G Ginga FC (CT)* 1-2 FCUSA Coastal Impact (MA)
U-15G HBC Impact 00 (NY-E)*  4-1 Rochester Rhinos Elite (NY-W)
U-16G FC Pennsylvania Strikers (PA-E)* 6-1 Fuller Hamlets (MA)
U-17G Beadling Bulldogs (PA-W)* 1-0 ASA Azzurri (MD)
Boys
U-13B PDA Drogba (NJ)* 6-2 DE Rush 02 (DE)
U-14B Baltimore Darby 01/02* (MD) 4-2 Wall Cosmos (NJ)
U-15B McLean 00 Green (VA)* 11-0 Velocity Premier SC Burningham (ME)
U-16B Fewster FC (MD)* 4-1 99 North United Premier (PA-W)
U-17B Penn Fusion (PA-E)* 4-0 Century V 98/99 Gold (PA-W)
U-18B Baltimore Celtic 97/98 (MD)* 3-1 Arsenal FC of Pa (PA-W)
Notes from a few of today's games…
Under-13 Girls
HMMS Eagle FC Impact (PA-E) is on the road to defending its regional title after defeating Levittown Wildcats (NY-E) 4-0 on the first day of play. It took HMMS 20 minutes to score despite its pressure on the New York side.  The opening goal came from an Emily Mashinski cross that was delivered low through the box to a racing Sydney Adkins. Adkins tapped the ball home at the back post to give her side a 1-0 lead. Mashinski added her team's second in the 40th minute showing her versatility with passing and scoring and Adkins completed her hat-trick as she scored two more times, just a minute apart, in the 69th and 70th minutes to bring the final score to 4-0.
Under-14 Boys
Under-14 Boys Baltimore Darby 01/02 (MD) started its title defense a little shaky. Wall Cosmos' Mickenna Church drew an early penalty kick and teammate Aden Castell stepped up and put Wall up 1-0 in just the 8th minute of play. Baltimore secured a corner kick and the ball rolled through everyone in the box to an open Shawn Diboti Lobe who evened the score. Diboti Lobe got taken down in the box just two minutes later and Baltimore teammate Peter Magione gave his team the 2-1 lead. Baltimore got their third when the Wall keeper was bumped and dropped a high ball setting up Richard Nichols for a goal. Diboti Lobe added his second goal early in the second half, as did Castell, to bring the final score 4-2 in favor of the Maryland side.
Under-15 Girls
Under-15 HBC Impact 00 (NY-E) won its opening game 4-1 over Rochester Rhinos Elite (NY-W). Gina Giovinco started the game's scoring after receiving a long diagonal ball, then dancing around a rushing Rochester keeper and placing the ball in the net. Rochester evened the game in the 45th minute of play with a goal from Kendrick Tarmino but HBC rallied to put the game away. Julia Hannon scored what would be the game winner in the 52nd minute, and Giovinco added her second of the game just nine minutes later. Jade Fixon-owoo finished off the scoring and capped of HBC's 4-1 victory.
Under-16 Girls
Under-16 Girls FC Penn Strikers (PA-E) picked right up where they left off in 2015. The reigning champions' pressure ended up being too much for Fuller Hamlets (MA) as Strikers picked up six goals from four different players. 2015 Region I Championships top goal scorer Kayla Mesaros picked up two goals along with two from Hannah Morgan and teammates Camryn Lexow and Emily McNesby finished off the scoring for the Eastern Pennsylvania side. However, FC Penn Strikers didn't complete the shutout as Fuller Hamlets' Lauren Arthaud gave her side its lone goal of the game in the 53rd minute.
Under-17 Boys
In a game of Eastern Pennsylvania vs PA West, Penn Fusion 98 (PA-E) came out as 4-0 winners against Century V 98/99 Gold (PA-W). Penn Fusion pressed hard and high early as they looked for Century V to make mistakes. In the 32nd minute their pressure finally paid off as Penn Fusion blocked a clearance from the back. Aiden McFadden got to the loose ball and slotted it in the net for a 1-0 lead. Frank DeRosa gave Penn Fusion a 2-0 lead in the 45th minute and Jallah Acqui scored just two minutes later to make it 3-0. Alexis Ayala scored the final goal in the 76th minute of play to bring the final score to 4-0.
Under-17 Girls
After day one of play, Beadling Bulldogs (PA-W) have now gone six games since 2015 in Barboursville, W.Va., without losing or allowing a goal. Beadling picked up a 1-0 victory against ASA Azzurri (MD), the exact same scoreline as their game against each other last year. Beadling's Lauren Bell scored in the 43rd minute to give the Pennsylvania team the 1-0 win. ASA almost evened the match when a Hanna Hoefs free kick hit the hand of a Beadling player to earn her team a penalty kick. Hoefs stepped up to take the shot but Beadling's Megan Virgin stonewalled the attempt. The Pennsylvania side ran out the clock by playing the ball to the corners and picked up a tight 1-0 victory.
"Extremely important to get this win and probably the biggest win that we have on our schedule this weekend," said Beadling coach Rob Fabean. "They seem to be in the same division and bracket with us in every tournament we're at and it's a very good start for us. We knew this game would probably be a determining factor who would win our division so a very good win for our girls."
"Being champions last year gave them the extra drive to want to come back and defend that title. We want to get to Frisco, Texas for sure and this is now six straight shutouts for us in the last two years at the complex and we intend to keep that rolling the next few games."
Regional winners of the Under-13 through Under-19 age groups earn a berth to the 2016 US Youth Soccer National Championships to be played July 25-31, at Toyota Soccer Center in Frisco, Texas.