US Youth Soccer Piedmont Conference season continues with event in Columbia, S.C.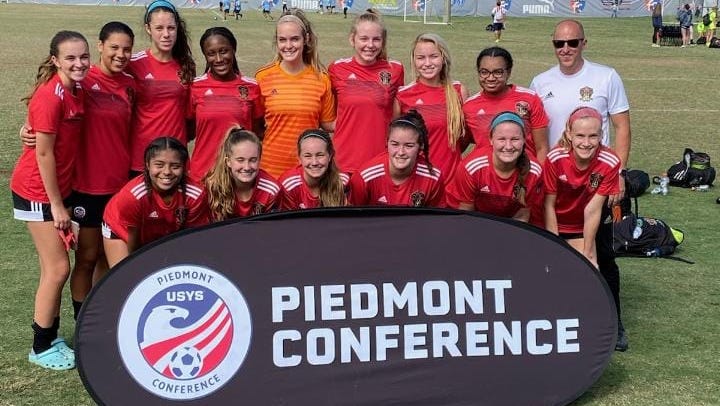 COLUMBIA, S.C. — The 2020-21 US Youth Soccer Piedmont Conference season continued this past weekend, as 90 teams from Georgia, North Carolina and South Carolina in the 14U-18U Boys and 14U-19U Girls age groups competed at SCUFC West Soccer Complex and SE Freight Lines Soccer Center in Columbia, S.C.
This marked the last event weekend for the 2020-21 Piedmont Conference regular season. Teams will conclude their Piedmont Conference seasons by playing their remaining self-schedule games over the next few months, as the top spot in most age brackets is still up for grabs.
Following the action in Columbia, three teams have now clinched Premier I Division titles, while a number of other sides put in strong performances over the weekend to secure victories and move up in the standings.
In the 17U Girls age group, CFC Redstar 04G Elite (GA) clinched first place on Sunday with a 5-0 win against Piedmont Triad FC 04 Lady Black (NC).
Early in the first half, CFC Redstar's Kendall Wilson played a perfectly weighted ball over the top of the defense, and her teammate, Dylan Driver, was able to head it into the goal in the 15th minute. CFC Redstar struck again in the 36th minute when Brianna Conley hit a driven shot that was saved, but Ellie Hammer was there to put it home. Driver picked up her second goal of the day when CFC Redstar's Alexis Steinhauser and Conley combined on the left wing before Driver was able to beat the keeper with a strike to the near post. Driver later got her hat trick when she capitalized on a penalty kick in the 73rd minute.
Driver picked up her fourth goal in the 83rd minute when Wilson played another through ball that Driver was able to place past the keeper. CFC Redstar was without their two starting center backs for the game, but the Georgia side still had a strong defensive effort from Caroline Kimmel, Katherine Kimmel, Kendall Wilson and Jean Hightower that contributed to the shutout win.
"Sunday's game was against an undefeated Piedmont Triad team, and we knew the Conference title was on the line," CFC Redstar 04G Elite head coach Eric Steinhauser said. "We talked about leaving no doubt. We felt we were the best team in the Conference and our mentality was to just go out and leave no doubt. I felt we were able to do that today with a commanding 5-0 result.
"Two years ago, we were Regional Finalists — missing out on a trip to the National Championships by one game. Last year we won our National League division but unfortunately the opportunity to compete for the National Title was taken away from us by COVID. This year, we are 100% focused on earning that opportunity again and with us winning the Piedmont Conference it gives us two chances to get there — either via Regionals or the National League Playoffs in six weeks. We have big goals this year, and this was a nice first step."
Other teams that have secured Premier I Division titles within the Piedmont Conference are All-In FC 03G NL Elite (GA) in the 18U Girls age group, as well as South Carolina United FC 02 Boys (SC), who clinched first place in the 19U Boys age group.
For more information on the Piedmont Conference, including schedules, scores, and standings, click here.
For more information on all of the National League Conferences, the National League Showcase Series, and the National League Playoffs, click here.