US Youth Soccer ODP Girls Thanksgiving Interregional Day 5 Recap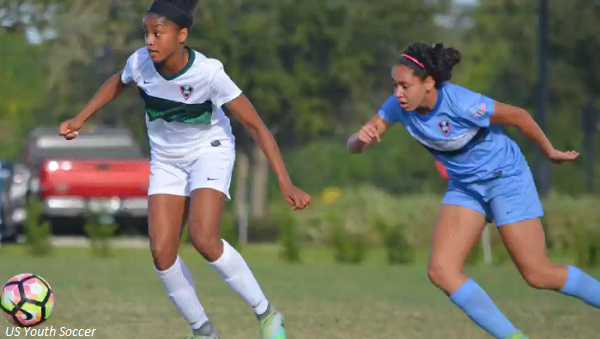 Day 5 of 6
Schedules, Scores & Standings
Rosters: 1999 | 2000 | 2001 | 2002 | 2003
BOCA RATON, Fla. (Via US Youth Soccer) — The US Youth Soccer ODP Girls Thanksgiving Interregional continued Thursday in Boca Raton, Fla., as teams completed the fifth day of play.
The six-day tournament, which runs through Nov. 25 at Spanish River Athletic Park and Florida Atlantic University, features teams in the 1999-2003 age groups comprised of the top female players in the country.
The nearly 400 participating players were selected from US Youth Soccer State Association and Regional level evaluations. Throughout the week, players will attend training sessions and compete in matches against other Regions, in front of U.S. Soccer national staff and collegiate coaches to maximize their exposure for selection to the next level of play.
+Read: US Youth Soccer ODP Girls Thanksgiving Interregional Day 4 Recap
Highlights from Day 5:
2000s | Region I 3, Region III 2
The Region I 2000 team picked up its second win in as many games after holding on for a 3-2 victory against Region III. Michelle Money put Region I in front with a 22nd-minute strike before Hannah Telleysh responded shortly after with an equalizer for Region III. Money once again put Region I on top shortly after halftime, and Jenna Butler recorded her second goal of the week to extend the lead to 3-1. Region III pulled within a goal in the 87th minute when Abbegale Newton struck a free kick over the wall and watched her shot dip nicely under the bar and inside the near post. However, Region I held on for the 3-2 win and will play the U.S. Under-14 Girls National Team on Friday to try and wrap up a perfect week.
2002s | Region II 5, Region IV 2
A strong second half helped the Region II 2002 side come away with a 5-2 win over Region IV. Mollie Griswold helped Region IV get off to a quick start with an eighth-minute goal, but Region II's Joyelle Washington responded quickly to tie the game at 1-1. Region IV regained the lead with a 28th-minute strike by CeCe Cross and took that advantage to halftime. However, Amelia Horton netted a pair of goals after the break to put Region II up at the hour mark. Eva Gaetino extended the Region II lead with a goal of her own, and Horton curled a 74th-minute shot around the keeper and inside the near post to record a hat trick and seal the 5-2 Region II victory. The win capped a 3-0-0 week for the Region II team.
2002s | Region III 2, Region I 0
Region III put in a strong performance on Thursday to earn a 2-0 win against Region I in the 2002 age group. The Region III side broke through in the 22nd minute when Abigail Brighton found the back of the net. Region III extended the lead midway through the second half, as Avery Patterson slid a left-footed shot past the keeper and inside the far post. The defense held off late pressure from Region I to help Region III finish its week with a shutout victory.
+Read: US Youth Soccer ODP Girls Thanksgiving Interregional Day 3 Recap
2003s | Region I 3, Region III 2
After conceding and early goal, Region I bounced back to earn a 3-2 win over Region III in the 2003 age group. Chloe Luliano put Region III in front in just the fifth minute, but Region I's Payton Patrick equalized shortly after when she bent a left-footed free kick over the wall and inside the right post. Patrick doubled the lead with a strike shortly before halftime, and Flora Lange pushed the Region I advantage to 3-1 with a 46th-minute goal. A late own goal pulled Region III within one, but it couldn't produce an equalizer. With the win on Thursday, Region I finished first in the age group with two wins and a draw.
2003s | Region II 3, Region IV 3
An exciting back-and-forth 2003 game ended with Region II and Region IV each earning one point thanks to a 3-3 tie. Region II's Brittany Probst supplied all the first half scoring. She netted an 11th-minute goal and doubled the lead with the final touch of the half — bringing down a cross at the back post and burying her shot into the back of the net. Region IV came out strong after halftime and leveled the score with two quick goals from Kayla Adams and Caetlyn Johannes. Adams appeared to net a game-winner in the 69th minute, but Region II's Tara Simon responded less than a minute later to force the game to end in a 3-3 draw.