US Youth Soccer ODP Girls Thanksgiving Interregional Day 4 Recap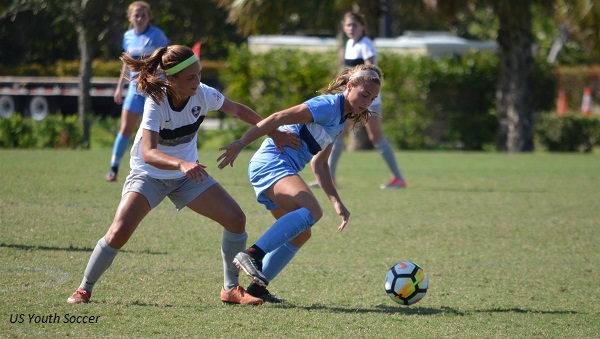 Day 4 of 6
Schedules, Scores & Standings
Age groups: 2000/2001 | 2002 | 2003 | 2004
BOCA RATON, Fla. (Nov. 22, 2017) — The annual US Youth Soccer ODP Girls Thanksgiving Interregional continued Wednesday in Boca Raton, Fla., as teams in the 2000/2001 and 2002 age groups competed on the fourth day of play.
The six-day event, which is taking place Nov. 19-24 at Spanish River Athletic Park and Florida Atlantic University, features teams in the 2000-2004 age groups comprised of the top female players in the country.
The US Youth Soccer Olympic Development Program has produced many U.S. National Team players. Among them is World Cup and Olympic champion Brandi Chastain, who is part of the ODP West coaching staff.
+READ: US Youth Soccer ODP Girls Thanksgiving Interregional Day 3 Recap
"There is no doubt that ODP was incredibly influential in my career," Chastian said. "What I gained from ODP was the sense of competitiveness and eltie level that I didn't get playing at home.
"It gave me the chance to be exposed to some higher coaching and ultimately helped make my way to a youth national team pool and then onto the national team."
Chastain talked about how critical ODP is to the careers of a lot of the players. Participating in this event puts players in an elite level environment against other fantastic players and in front of college scouts that really gives them a sense of what will come at the next level.
"Coming to this event is a challenge on a lot of different level for these players," Chastin continued. "Playing soccer is going to be the physical challenge but being put in front of college coaches and these girls aspiring for the next level is more about their mental capicty and decision making under pressure."
+READ: US Youth Soccer ODP Girls Thanksgiving Interregional Day 2 Recap
The nearly 300 participating players were selected from US Youth Soccer State Association and Regional level evaluations. Throughout the week, players will attend training sessions and compete in matches against other Regions, in front of U.S. Soccer national staff and collegiate coaches to maximize their exposure for selection to the next level of play.
Highlights from Day 4:
2000/2001s | East 2, West 3
After going down 2-0 in the first half to a strong East side, the 2000/2001 West team fought back to claim a 3-2 win. East controlled the possession and chances in the first half and it got on the board in the 19th minute when Michelle Money made a perfectly weighted pass to Kendra Oldroyd. Oldroyd made no mistakes and placed her shot beyond the keeper. Money notched a goal to go along with her assist when she finished her chance ten minutes before halftime. West started battling back in the second half and got its first goal in the 58th minute. Emily Chiao slid a pass through the defense to Jamie Shepard who finished her shot to make it 3-1. Midway through the half, West struck again when Alicia Cardenas hit a shot from deep. The East keeper made a fully extended attempt at Cardenas' shot but could not get enough of the ball to keep it out. West earned the win five minutes from the final whistle off a free kick. Bridget Rieken stepped up and whipped in a kick that teammate Kiley Kuter got a foot to just before the onrushing keeper. Kuter's touch knocked the ball down right in front of her allowing her to tap-in the winning goal.
2000/2001s | Midwest 2, South2
The South and Midwest teams played to a 2-2 draw that contained a scoring clinic by South's Hailey Whitaker and Midwest's Kristin Boos. Whitaker scored the lone goal in the first half to give South a 1-0 advantage going into the break. Boos leveled the score in the 61st minute hitting a beautiful right-footed curler into the upper right corner. Boos did not wait long to add her second as she muscled beyond her defender and finished her chance to give Midwest a 2-1 advantage. Just five minutes later, South's Taylor Rish played a great ball into Whitaker who beat a defender in a footrace to the ball and finished close range. The defenses by both sides held strong in the final minutes to secure the 2-2 tie.
2002s | Midwest 1, South 1
The Midwest 2002 team remains undefeated after coming back to tie, 1-1, against South in a close game. Midwest dominated the first ten minutes of the game and that possession play led to a great chance for Piper Biziorek. Biziorek received a through ball in on goal but South's Lauren Swoopes made a great save to keep the score even. South took the lead in the 13th minute when Tori Paul got down the right flank on a quick counter attack. Paul flicked the ball passed her defender and then hit a hard shot to beat the keeper near post. Midwest had a chance to level late in the first half but Swoopes was up to the task again by stopping a great attempt on goal by Tori List. Midwest leveled the score midway through the second half thanks to some great play by Grace Blumfeldt and Amurie Coder. Blumfeldt worked her way into the box, cut passed a defender and then found Coder for the goal. Each team had a chance to take the win but saw great chances hit the woodwork.
+READ: US Youth Soccer ODP Girls Thanksgiving Interregional Day 1 Recap
2002s | East 4, West 1
A solid performance on both ends of the field guided East to a 4-1 victory over the West team. Chloe DeLyser got the scoring started early, putting in a goal within the first ten minutes. Mia Vaughan doubled East's advantage but West's Acacia Vanlandingham put her team back within striking distance when she scored just before halftime. DeLyser did not wait long into the second half to add another goal on the scoresheet. Megan Donnelly worked a great pass into DeLyser who finished right side to make the score 3-1. DeLyser almost added an assist to her name as she whipped in a great cross into the box but West's keeper, Isabella Mendoza, made a great dive to get her fingertips on the ball to push it wide of the onrushing attackers. The East kept pressing and DeLyser saw an attempt hit the post before finally finishing her hat trick. The East side worked the ball from right to left and found DeLyser who beat her defender and then placed a perfect shot into the back post.