US Youth Soccer ODP girls regional teams compete in Costa Rica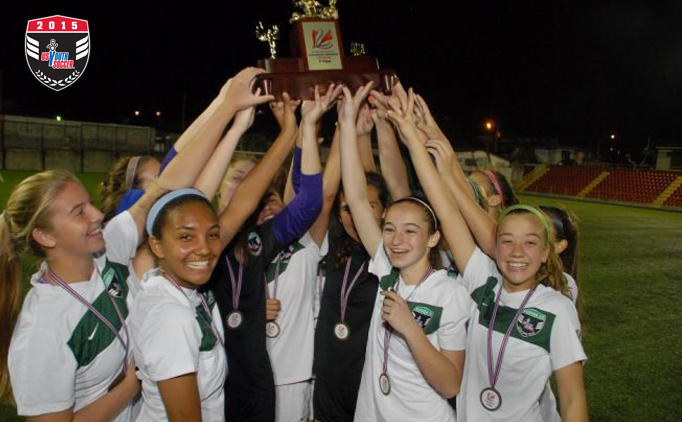 FRISCO, Texas (Via US Youth Soccer) – The US Youth Soccer Olympic Development Program (US Youth Soccer ODP) Girls Region I, Region II and Region III teams traveled to Costa Rica Feb. 13-18 to experience international play in a round-robin tournament. All US Youth Soccer ODP teams had the opportunity to compete against three Costa Rican First Division teams – Saprissa, Moravia and UCEM Alajuela – in the Rohrmoser Stadium in Pavas, San Jose. With their third shutout on the final day of play, Region III took first place becoming the only undefeated team in the competition.
"We kind of hung on at the end, they put a lot of pressure on us, but I think we fought pretty hard and the team's very happy," said US Youth Soccer ODP Girls Region III Head Coach Chris Petrucelli, following their third win against Saprissa.
+Read: Las Vegas schedules announced for US Youth Soccer National League 
Region III and Saprissa played an even first half, and the match remained scoreless entering halftime. A Saprissa win would have meant the Costa Rican side would win the championship and
a tie would have given Region II first place. The deciding factor occurred in the 56th minute after Trinity Thomas (N-TX) was fouled in the box and the referee called a penalty kick in favor of Region III. Saprissa's goalkeeper was unable to stop the ball and Ashton Smith's (GA) successful shot not only gave Region III the game winner but the title as well. Earlier in the week, Region III started strong with a 5-0 win over Moravia, and a 2-0 win against UCEM.
This is the second title in three years for Region III after the US Youth Soccer ODP 1998 Region III team went undefeated in 2013 to win the championship. Region II took home the crown following last year's event, without any losses just as this year's Region II team did to earn second place. See below for complete results.
+Read: Schedule and rosters announced for US Youth Soccer ODP Championships
Elite players in the US Youth Soccer ODP program have competed abroad in Costa Rica, as well as other international locations such as Italy, Switzerland, Holland and Germany. The international competition has given them the chance to experience playing styles in other countries, and providing them with an additional cultural experience.
"It's very interesting. It's a lot different than the U.S.," said US Youth Soccer ODP Region I player Taylor West (MD). "It's a lot warmer here; right now we have a snow day back at home. And the soccer … the speed of play is really fast, but it's really fun to learn from their different styles of play."
Results:
Game 1: Saturday, Feb. 14, 2015
| | | | | |
| --- | --- | --- | --- | --- |
| Region I | 0 |   | UCEM | 1 |
| Region II | 3 |   | Saprissa | 3 |
| Region III | 5 |   | Moravia | 0 |
Game 2: Sunday, Feb. 15, 2015
| | | | | |
| --- | --- | --- | --- | --- |
| Region I | 0 |   | Saprissa | 2 |
| Region II | 4 |   | Moravia | 3 |
| Region III | 2 |   | UCEM | 0 |
Game 3: Wednesday, Feb. 18, 2015
| | | | | |
| --- | --- | --- | --- | --- |
| Region I | 2 |   | Moravia | 3 |
| Region II | 4 |   | UCEM | 0 |
| Region III | 1 |   | Saprissa | 0 |
| | | | | | | | | |
| --- | --- | --- | --- | --- | --- | --- | --- | --- |
| Team | GP | W | T | L | GS | GA | GD | Pts |
| Region III | 3 | 3 | 0 | 0 | 8 | 0 | 8 | 9 |
| Region II | 3 | 2 | 1 | 0 | 11 | 6 | 5 | 7 |
| Saprissa | 3 | 1 | 1 | 1 | 5 | 4 | 1 | 4 |
| UCEM | 3 | 1 | 0 | 2 | 1 | 6 | -5 | 3 |
| Moravia | 3 | 1 | 0 | 2 | 6 | 11 | -5 | 3 |
| Region I | 3 | 0 | 0 | 3 | 2 | 6 | -4 | 0 |