US Youth Soccer ODP East Region Championships conclude in Delaware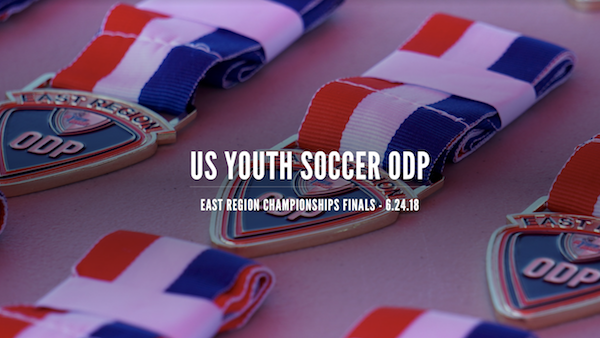 FRISCO, Texas (Via US Youth Soccer) — After two weekends of competition, six teams have claimed US Youth Soccer Olympic Development Program (ODP) East Region Championships. Sunday saw boys and girls sides in the 2001, 2002 and 2003 age groups earn titles following championship matches at the Kirkwood Soccer Complex in New Castle, Del.
The event began June 8 with more than 175 state-level US Youth Soccer ODP teams from the 15 State Associations that comprise the US Youth Soccer East Region. After a two-week break, the 2001-2003 age groups held semifinal matches on Saturday before crowning champions on Sunday.
Eastern Pennsylvania won four titles, while Massachusetts and Virginia each came away with one champion.
"It means a lot to be able to play with some of the best players in our state and then compete against some of the best teams in the region," said Grace Sibert, a member of the Eastern PA 2003 Girls team. "We were able to put together a good weekend two weeks ago and a good weekend the last two days. It was hard with overtime and penalties yesterday and overtime today, but it's a really good feeling to push through and come out on top."
Championship Match Results:
Division
Home
Away
2001
 Girls
CT 01G
0
MA 01G
3
2001
 Boys
NJ 01B
1
EPA 01B Red
2
2002
 Girls
EPA 02G
3
VA 02G Red
1
2002
 Boys
EPA 02B
3
NJ 02B
0
2003
 Girls
NYW 03G
1
EPA 03G Red
2
2003
 Boys
VA 03B Red
4
VA 03B Blue
1
"It means a lot to win this tournament because we worked hard for a full year with this team," said Sean Vaghedi, a member of Virginia 2003 Boys Red. "It was really challenging to get to know each other as players. Winning the tournament – coming out on top in the group stage and knockout rounds – and finally playing our other Virginia team, it was very tough. We know how they play, so it was a battle of physicality and mentality."
The US Youth Soccer East Region includes the following State Associations: Connecticut, Delaware, Eastern New York, Eastern Pennsylvania, Maine, Maryland, Massachusetts, New Hampshire, New Jersey, New York West, Pennsylvania West, Rhode Island, Vermont, Virginia and West Virginia.
US Youth Soccer ODP is the original Olympic development program. With programs in all 55 US Youth Soccer State Associations, it is available to any player. US Youth Soccer ODP is the only elite player development program that can claim members of Major League Soccer and the National Women's Soccer League, as well as the majority of current and past national and youth national team members, as alumni.