US Youth Soccer ODP Boys Winter Interregionals Day 2 Recap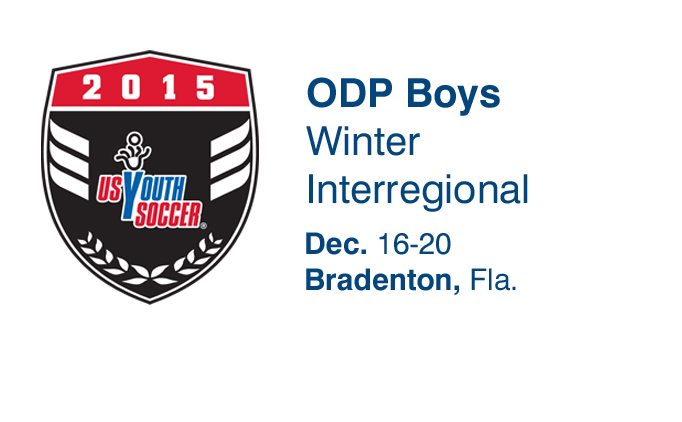 Day 2 of 3
Scores, Schedule and Standings
Event Schedule
Rosters: 2000
BRADENTON, Fla. (Via US Youth Soccer) – The annual US Youth Soccer Olympic Development Program (US Youth Soccer ODP) Boys Winter Interregional continued Saturday, Dec. 19 in Bradenton, Fla. The three-day tournament, which takes place at IMG Academy, features elite boys teams in the 2000 age group from each of the four US Youth Soccer Regions.
The players were selected from US Youth Soccer State Association and Regional level evaluations. Throughout the week, players will attend training sessions and compete in matches against other Regions, in front of U.S. Soccer national staff and collegiate coaches to maximize their exposure for selection to the next level of play.
+Read: US Youth Soccer ODP Boys Winter Interregionals Day 1 Recap
Highlights from Day 2:
2000 Boys: Region I v. Region IV
After falling 2-0 to Region III yesterday, Region IV responded with a 2-0 win of its own against Region I. Jared Mehaffey, who competed with Idaho 00 in the 2015 US Youth Soccer ODP Region IV Championships, scored Region IV's first goal of the tournament before Lincoln Augenstein, who's La Roca South CS 99/00 Premier (UT) team currently sits in first place of the 2015-16 US Youth Soccer National League Blue Division, doubled Region IV's lead.
2000 Boys: Region II v. Region III
Region III also earned its first win of the tournament with a 2-1 victory. Two-time US Youth Soccer Alabama State Cup champion with BUSA 00 Elite Blue (AL), David Wrona netted Region III's first goal, and Florida's Arturo Ernand added the game-winner. Region II's goal came from Iowa's Gada Ambo, his second in as many days. All four teams will enter the final day with 1-1 records.
+Read: US Youth Soccer ODP Boys Winter Interregionals Day 3 Recap
Goal Scorers and Results | Saturday, Dec. 19, 2015
| | | |
| --- | --- | --- |
| 2000 | Region I | Region IV |
| Final Score | 0 | 2 |
| Goal Scorers | | Jared Mehaffey |
| | | Lincoln Augenstein |
| | | |
| --- | --- | --- |
| 2000 | Region II | Region III |
| Final Score | 1 | 2 |
| Goals Scorers | Gada Ambo | David Wrona |
| | | Arturo Ernand |