US Youth Soccer National League 2018-19 Season: 19U Boys Preview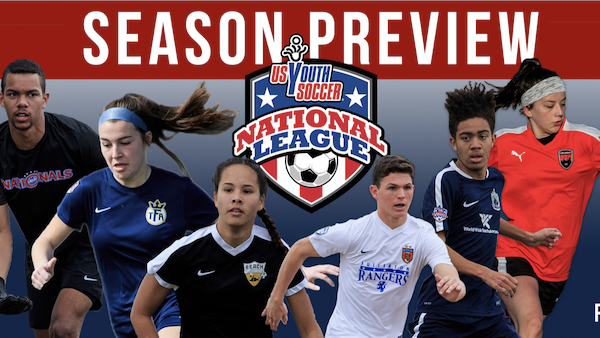 (Via US Youth Soccer) – With the 2018-2019 US Youth Soccer National League season upon us, take a look at the entire 19U Boys age group, which features two competitive divisions with some of the nation's top clubs represented.
With the field narrowing to 16 total teams in the age group, the 19U Boys Blue Division features a collection of teams with a long list of accomplishments. Among them is Downtown LVSC 00 Academy (NV), which finished as the runner-up at the 2018 US Youth Soccer National Championships after winning the 2018 US Youth Soccer Far West Regional Championship.
Three other teams that competed at Nationals join LVSC in the Blue Division. OC Surf 00 Armour (CA-S) is the returning Blue Division champion and advanced to the National Championship semifinals, where it fell to LVSC. CTC South Florida FC 2000 (FL) won the 2018 US Youth Soccer Southern Regional Championship after finishing second in its National League division a season ago, and Michigan Jaguars 00 Green (MI) also advanced to Nationals by winning the 2018 US Youth Soccer Midwest Regional Championship.
+READ: US Youth Soccer National League 2018-19 Season | 15U Boys Preview
The Blue Division also features two Regional Championship finalists in Ohio Premier (OH-S) and FC Dallas Youth 00 (TX-N), as well as Regional semifinalist [St. Louis Scott Gallagher Elite 2000 (MO)] and an unbeaten National League division runner-up [Lehigh Valley United 2000 Black (PA-E)]. With so much experience in the group, it will be a fun season to see who finishes in the top two spots and punches a ticket to the 2019 National Championships.
Like the Blue Division, the 19U Boys Red Division includes a group of teams with filled resumes. However, it will be difficult to find a team with more accomplishments last season than Baltimore Celtic SC 00 (MD). The Maryland side claimed the 2018 National Championship, which capped a season that included the National League Red Division title, an Eastern Regional League title and the US Youth Soccer Eastern Regional Championship.
Washington Premier 2000 Black (WA) will have a chance to overtake Celtic after the Maryland side won the matchup of the two in the National Championship semifinals. Washington advanced to that stage by winning the National League Black Division with a 5-0-1 record. Last year's White Division winner, Sparta 00 JK (UT), is also in this year's Red Division field, and the Utah side will aim to continue its success in the National League.
+READ: US Youth Soccer National League 2018-19 Season | 16U Boys Preview
Meanwhile, FC Dallas 00 Premier (TX-N) won its Regional League division and advanced to the Southern Regional semifinals. LMSC Rats (PA-E) will aim to build on its first-place finish in the Eastern Regional League and earn a trip back to Nationals after missing out in 2018. Nationals Union 00 Black (MI) and 00 NCFC Elite (NC) each won their respective Regional League divisions, and CUP 00 Gold (OH-S) will look to continue its club's history of success in the National League.
David Mizrahi (Davie United Sharks 2000 Blue) – Best XI at the National Championships
Ian Tomancik (Davie United Sharks 2000 Blue) – Best XI at the National Championships
David Gaspar Pacheco (Sparta 00 JK) – Best XI at the National Championships
Ryan Belfiore (Baltimore Celtic) – Leading scorer at the Eastern Regional Championships with six goals
Andoni Garrogericaechebarria (CTC South Florida FC) – Leading scorer at the Southern Regional Championships with 11 goals
2018 US Youth Soccer ODP Boys Interregional – 2001 Roster
East Region – Thomas Hoy (LMSC Rats)